May 5, 2016
This capsule wardrobe puts me in the mood to watch baseball – I have NO IDEA why… Maybe just typing the words tomato and mustard? But what a fun capsule wardrobe for accessories!
I've mixed up the order for the accessories this time, primarily so I could get another pair of shoes into the mix and give our poor wearer a break from those red loafers! Because this entire wardrobe has a warm feeling to it, I thought beautiful brown leather would be a great accessory option:
Because this outfit felt like three separate colors (maybe because it IS 3 colors…. duh….) I thought a necklace would be a good choice – something to pull things together and to break up the big patches of solid color. I particularly like the multicolored necklace – it has lots of colors in it, way beyond what our wardrobe includes… For some reason, it still blends in well.
Earrings are important to many of us; don't forget that there are hoops in all KINDS of shapes, in addition to the tried and true (or is it tired and true) round?
A warm leather watch band gets us back to that whole brown leather accessory idea:
Ditto with brown sandals. It's always worth remembering, if you have a wardrobe of colors that seems tough to match, that neutral leathers, as well as metallics, will always work. This wardrobe could easily embrace bronze or copper accessories!
The leathers don't have to match exactly, because the eye of the beholder will blend them a bit. But it's pretty important that your pieces at least look like they're cousins, if not identical twins…
Wardrobe accent colors are the perfect place to indulge in bold or vivid accessories, especially in the summer when just about the only thing you can stand to wear is a pair of earrings or a bracelet. There's a bracelet out there in pretty much any color you can imagine!
It wouldn't be wrong to have all 3 pair of earrings…
Casual canvas shoes are an easy way to bring an accent color into your accessories without breaking the bank. You've got to wear some sort of shoes most of the time, so why not some fun ones?
Gotta have a tote bag:
Since this shirt was a garment chosen to bring the slightest hint of dressiness into this otherwise super-casual wardrobe, I thought that a subdued scarf (for that over the top air conditioning!) would be an appropriate choice here. Remember that a scarf can also be worn as a belt, if you're so configured, or tied to a handbag for a wee swish of color…
This top doesn't require much else going on to be visually complete, but a small bracelet could be a nice touch. And remember that you can wear more than 1 bracelet. Without veering off into that whole silly "arm party" fad, multiple accessories can make a statement without being cluttered or irritating to wear.
I saw this scarf tied around a wide straw hat, blowing in the breeze…
Your loved ones asked me to remind you to buy some GOOD sunglasses, and to wear them regularly. They are the single most important items in this entire post, and maybe this entire blog!
Dozens and dozens of possibilities, for almost any occasion you can imagine in warm weather. While it might not pack into a carry-on bag, it would easily fit into 1 checked bag, and you'd be ready for whatever comes!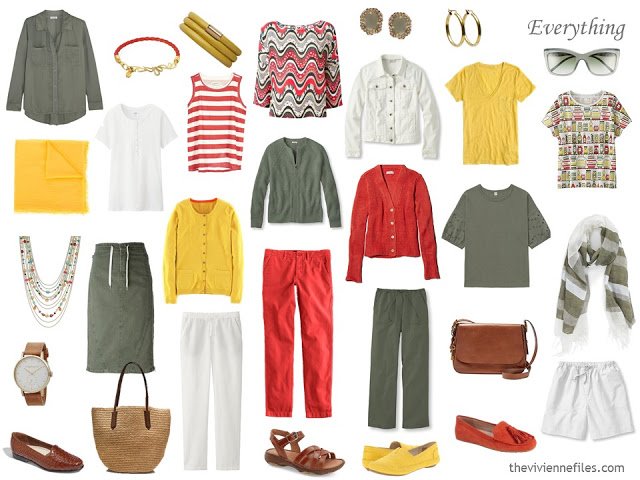 love,
Janice