May 4, 2016
It's been quite a while since I've done any capsule wardrobes using the "1 Piece at a Time" scheme, and it seems to me that this is a great time of year to get back to this. If my experiences are any indication, some of you might still be stuck wearing warm-ish clothing, but thinking daily about how you're going to gradually evolve your closet when (if?) the weather gets warmer…So let's start with this – a cheery tee shirt, neutral pants in an already summer-weight fabric, and a linen cardigan. Although this outfit would be reasonably comfortable on a cool day (with a pair of socks – maybe bright yellow ones?), it's also composed of good building blocks for moving into warmer weather. And while beige or brown shoes would certainly work well here, I couldn't resist the red!
Any shade of green can be tough to find in stores, but it always makes a lovely and distinctive neutral; I had some luck searching for this color under Sage and Laurel, as well as Olive. And I love a good dab of mustard…
It might be dull as dishwater, all on its own, but a simple white top is a lifesaver a dozen times when the weather is warm and you don't know what to wear. Don't be distracted by the flashy, glittery or sequined to the point that you neglect these simple basics!
This is an important concept if you want to build a really versatile wardrobe – look at something you really love, like a nice pair of pants, and find a couple of pieces that go with it WELL. This is the most deconstructed possible version of a suit, and it will be well worth the effort to search out.
A similar idea here – if you love your green pants, maybe a skirt or shorts in the same color? Now that you have the matching cardigan in hand, this opens up all kinds of possibilities…
You've been very disciplined with your first purchases, so it's time to pick up a snazzy accent color! If the bright yellow in your print tee shirt is part of what drew you to it in the first place, maybe a solid top in the same color will hold some appeal? You could consider other accent colors too, so long as they are wearable with the green, and ideally the red too.This is the step at which you want to think long and hard about sticking with the red cardigan as a major building block. You could keep it just to wear with the 2 tops that are already in your wardrobe, and veer off in another direction. But if your choose a top that won't look good with red, make certain that this is what you intend. You have to keep your eye on the overall picture…
Since we're moving into warmer weather with these clothes, a lighter neutral is a natural choice. I considered another cardigan here, but I like the chance of pace provided by a white jacket.
Nobody's going to believe you if you buy white linen pants and say that you need them for your "suit," but that's kind of what you're doing here. And beware – some of us are comfortable with the thinness of white linen, while others might prefer something a bit more on the lines of canvas or cotton twill. If you aren't comfortable wearing something, it has no business in your closet!
It's time to bust out for something unabashedly summery! This has nice wide straps, high armholes, and a higher back – no plunging necklines necessary.
This cardigan HAD to be part of this wardrobe – between the vivid yellow color and the perfect red neckline trim – it was made for this grouping!
As always, if you're not a fan of shorts, you can always include a skirt, or a pair of shorter pants (pedal pushers!) here. But these shorts aren't super-short, so they're worth considering.
The majority of this wardrobe is very casual, but a classic shirt might be exactly what you need to elevate almost any of the "bottoms" to a level appropriate for a nice dinner. Dressy sandals, some pretty earrings, roll up your sleeves…
Once you've isolated a color scheme, you're free to really indulge if the perfect top catches your eye…
Okay, this might be a tough reach for some of us, in which case I'd say look for another piece in green – maybe capris. But it's summer, and these pants with that red Missoni top would be amazing…
Yes, you need plenty of tops in hot weather, but they don't all have to be completely boring – the sleeves on this little top change everything…
By starting with a clear color scheme, and sticking to the plan, we now have a 16-piece travel wardrobe, or just plain old stay at home wardrobe, that's practically foolproof. I think this is pretty close to "Whatever's Clean, " just so that summer can be a little bit more relaxing!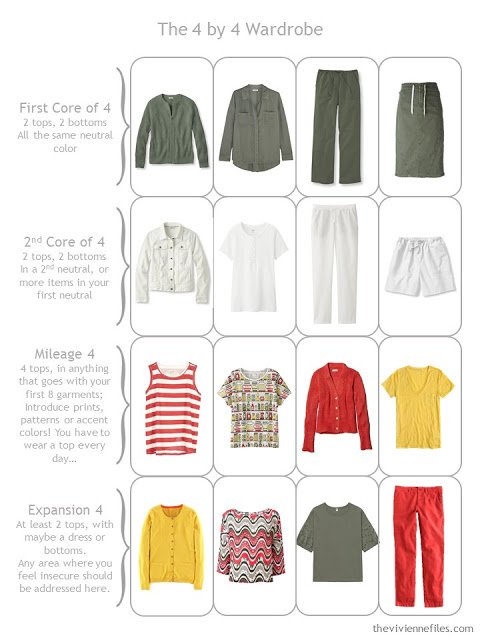 love,
Janice