May 7, 2016
A couple of you have expressed an interest in seeing a white blazer in a capsule wardrobe on The Vivienne Files, and I'm always happy to try to oblige!White blazers seem like the most obvious handy piece for warm weather, don't they? And my first instinct was to show them with a simple, timeless pair of navy pants; an easy pairing to pull on Monday morning when you don't know what to wear, but you know you have to look good!
But then I was stumped for an accent color; someone had asked for aqua, and someone else for teal…
Then I realized – this is one of the very FEW starting points in modern clothing that can lead to almost ANY accent color; the only color that might be tricky is beige, but I bet I could even make that work.
So I "Roy G. Biv'd" the heck out of these 2 pieces of clothing! And then I tossed in gold, grey, and brown, just because I could.
Let's start here:
Any shade of red, from pink, to barn red, to bright red, to burgundy…. I could have done an entire post on shades of red!
Orange, to me, means everything from the palest warm blush through to the darkest pumpkin!
Yellow is so obvious for summer, isn't it?
And every green from pale aqua to deep deep emerald would work well.
Where they say blue, I veered into turquoise. Because OF COURSE, there are navy and turquoise shoes in the world!
Technically, this is supposed to be indigo, but I just went to navy and stayed there.
And violet is a whole world of possibilities:
I couldn't resist the idea of adding in a navy and/or white top, and then tossing in some gold accessories; note that the first ensemble is all about zig-zags, and the second is all about chains and links…
I love grey, and many of us look quite gorgeous in it, so it had to be considered. But they grey shoes I saw didn't meet me standards, so I just opted for simple navy shoes. When in doubt, match your hemline!
A finally, because I really wanted 20 outfits total, I thought I'd take a look at the possibilities with brown and beige. I particularly like these because they're very unexpected…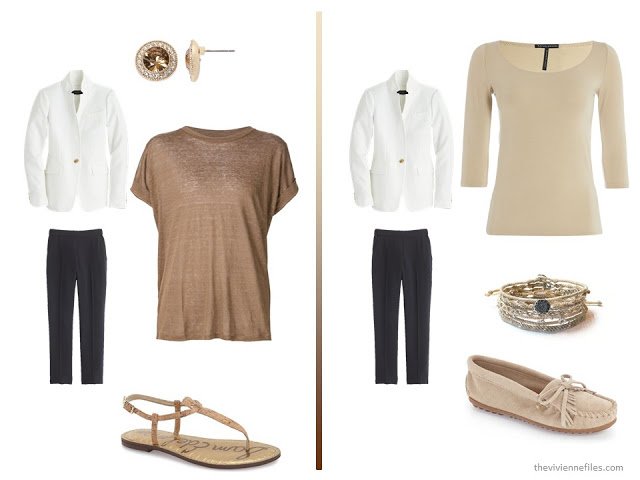 Blazer – J. Crew; pants – J. Crew; earrings – Monet; dark tee – Balmain; sandals – Sam Edelman;
light tee – Sarah Pacini; bracelet – Wakami; moccasins – Minnetonka
And just in case you're not interested in a blazer, or in a pair of pants, think of the other possibilities! This could be a summer wardrobe theme, with as many accent colors as you felt reasonable…
As a nod to hot weather, I did this with ONLY tee shirts, and no scarves; imagine the possibilities if we considered a simple sleeveless button-front shirt, or a linen scarf!Favorites?
love,
Janice