May 28, 2016
Doesn't this look comfortable?
And this painting could single-handed provide someone with plenty of colors to have a wardrobe with great variety, and a lot of options: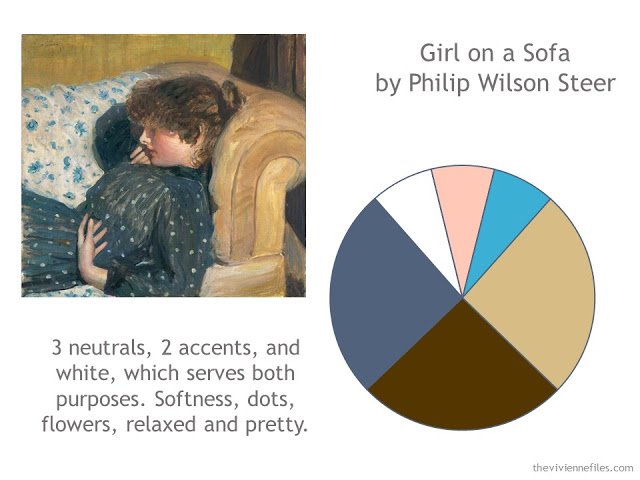 I've been thinking a lot about packing (big surprise, eh?) and about the wisdom of packing your favorite outfits and letting the chips fall where they may. So let's explore that idea a bit!
In keeping with the relaxed feeling of the painting, I've tried to keep everything soft, rounded, flowered or flower-like, and just a touch slouchy.
First up, a simple column in a muted navy blue, with a soft white blazer, gold jewelry, and some brown leather accessories. This could be the outfit for the meeting, or the presentation, or the ceremony, or just a nice evening event.
Secondly, you love turquoise! So a casual outfit of camel pants and a top, with fun shoes, pretty earrings, and those essential sunglasses:
And you're feeling like a skirt might be handy, plus you really love apricot, too! So you toss this outfit into your bag too:
All six colors in your wardrobe plan are represented, and you've got quite a few options already.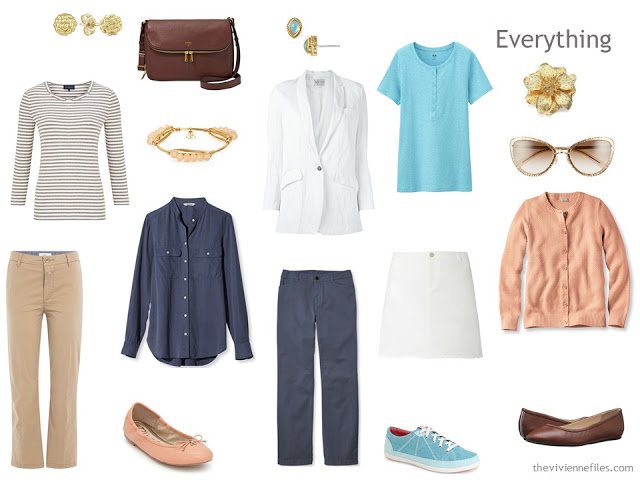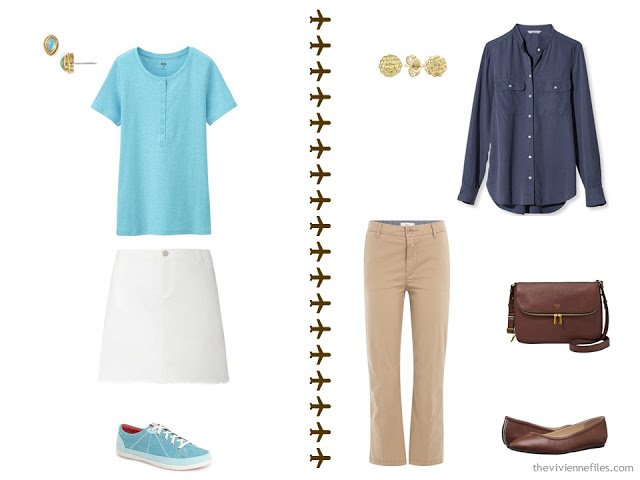 But here's where a bit of thought might come in handy. Maybe you want to add just a couple of pieces to your bag, in order to give yourself more options. Or MAYBE, if your wardrobe is composed of a collection of outfits, you're looking for ways to build in a few more pieces in a strategic way.
I grouped everything by color (except the jewelry), and then thought about what might be possible to include: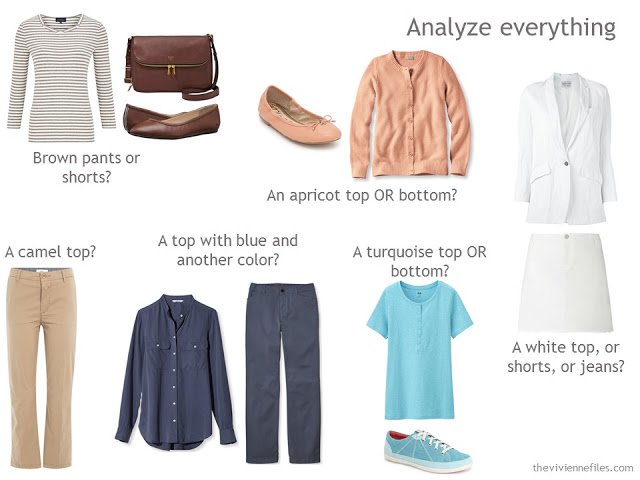 Because it's Memorial Day Weekend in the United States, I thought I'd add another piece of white; this is the unofficial beginning of summer, and let's take advantage!
And because the girl in our original painting is wearing a dotted dress, I thought that a dotted tee in blue and white would be an appropriate addition. These 2 tops won't take up much additional space in a closet, nor in a suitcase, but they work really well with your existing wardrobe to open up some new possibilities.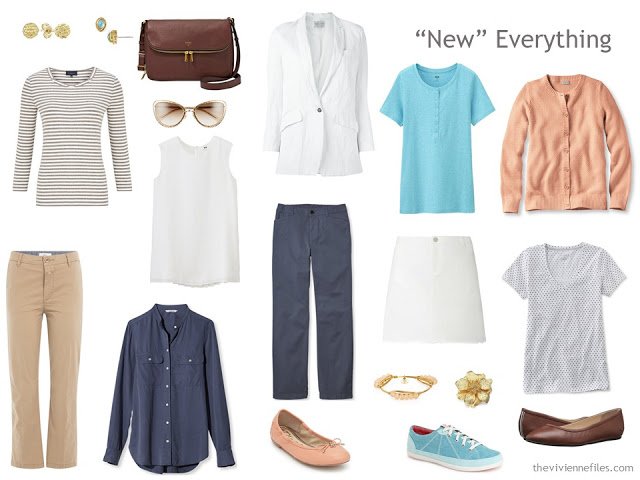 Here are some of the ways that the 2 "new" pieces can be worn with the pieces you've already included: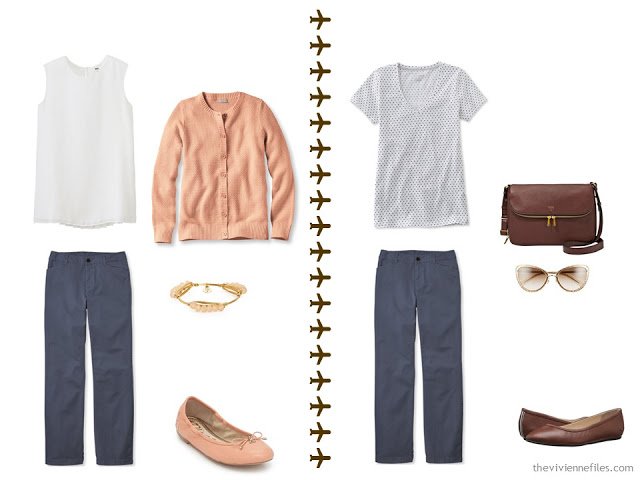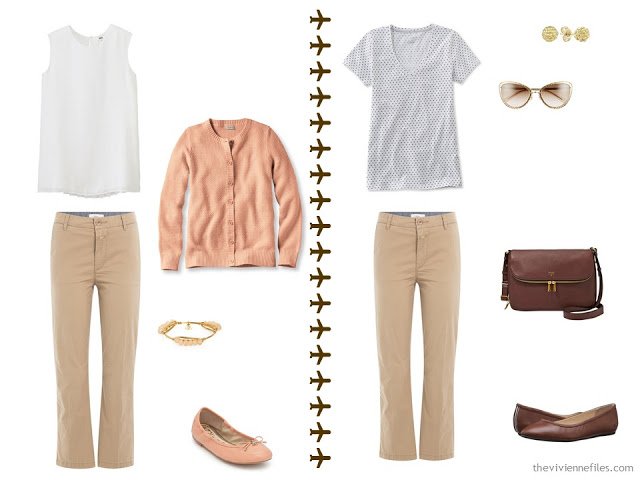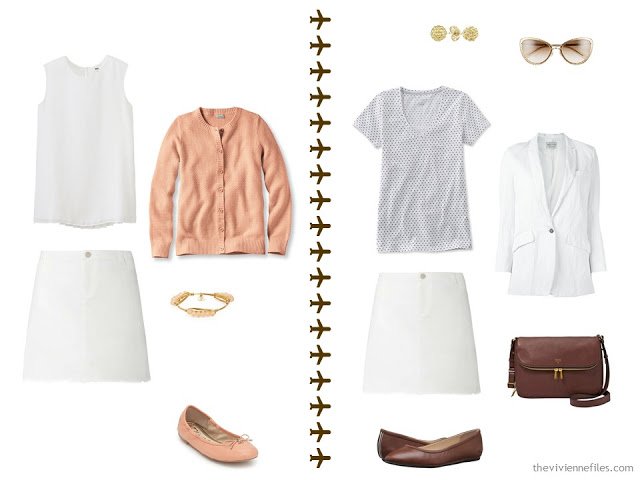 If you wanted to include even MORE pieces, you can just go back to the original analysis of what gaps can be filled; this is a good way to pack, or to shop!
love,
Janice
p.s. I hate to do this, but I'm going to have to take a month off from blogging. (for the most part…) I desperately need to catch up on things at home, and to clear my mind a little bit. I've posted for 6 days a week pretty regularly for the last FIVE years, so you've got a wealth of archive to explore…
There will be at least a couple of posts during the month, as I pack for 2 upcoming trips. I will continue to Instagram (#theviviennefiles) pretty steadily, too.
Thanks for your understanding…. xoxo