February 11, 2016
To me, changing the color palette of your accessories is more difficult than shift a wardrobe of clothes! Jewelry might be valuable, scarves might hold sentimental value, and shoes can be just plain hard to find…Especially when you're starting with a very nice assortment of items like this: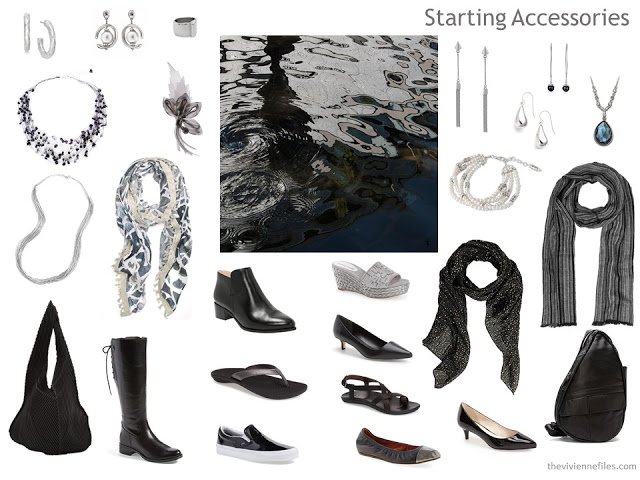 Hoop earrings – Charter Club; pearl earrings – Uno de 50; ring – Chico's; pearl necklace – Nareerat; brooch – Chloe; square scarf –
ImageDiary
;
tassel earrings – Cole Haan; teardrop earrings – Simon Sebbag; black pearl earrings – Khun Boom; blue necklace – Swarovski; bracelet – Withaya Cheunjit; silver necklace – Elina Miro; fringed scarf – Elizabeth Gillett; tote – Issey Miyake; boots – Bussola; booties – Clarks; sandals – OluKai; slip-on shoes – Vans; slides – Donald J. Pliner; pumps – Charles by Charles David; sandals – OluKai; ballet flats – Lanvin; speckled scarf – Saachi; pumps – Cole Haan; striped scarf – Mila Schon;
backpack – AmeriBag
Step 1 – Defining Accessories need to change!
As hard as it is to let go, this scarf WAS the defining core of the wardrobe from last week. (see it
here
). And you'll want a new pair of earrings, tobring your warmer colors near to your face. And since your wardrobe is going to be more limited for a while, another scarf is a good choice – you can wear it to help your 2 color palettes work together.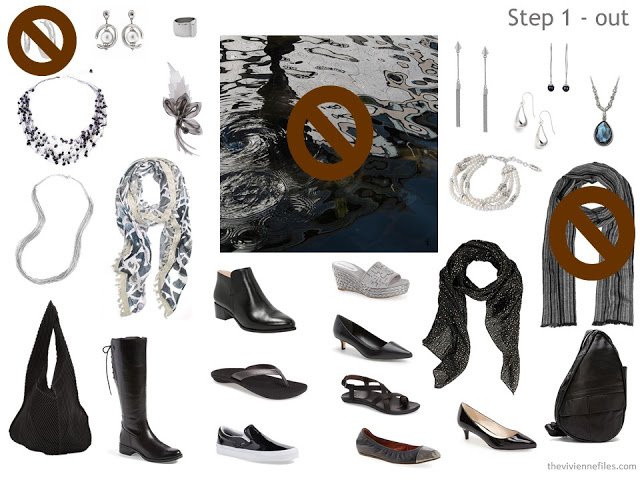 There are 2 very different ways to approach your new purchases when you're making a major wardrobe change.
buy relatively inexpensive things, in case the whole project doesn't work out well, or
buy extremely nice things, so that if the whole project goes "toes up," you can re-sell your new purchases, and at least feel like it wasn't all a total loss.
I'm going to mix the two options, because I'm trying to show the best available items, regardless of the price. I guess this is a 3rd approach to take, eh?
An Hermes scarf might seem a completely insane route to take, but if you're REALLY sure that these are the colors that you want, a beautiful scarf can help you focus your colors, and give you something that you don't mind wearing frequently.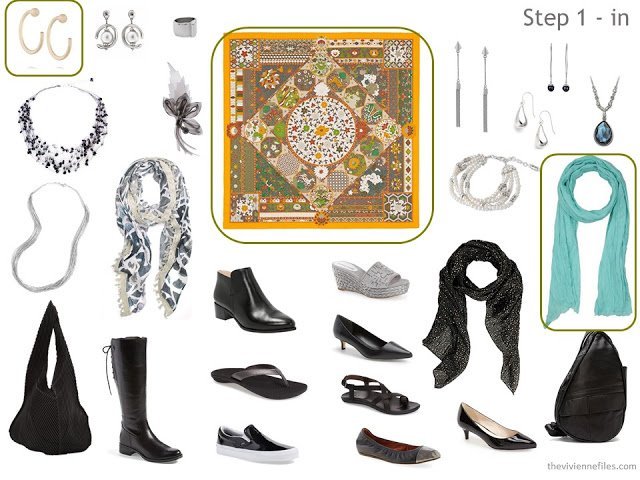 Hoop earrings – Melissa Joy Manning; square scarf – Hermes Collections Imperiales; turquoise scarf – Blugirl
Step 2 – Essential Boots and Bag, plus a necklace (for fun)
Step 2 of the clothing shift involved replacing a full 3-piece outfit, so you're definitely going to need shoes! Replacing a handbag can be a good way to put your color change "in your hands" on a consistent basis, since you handle your handbag a lot – this is a good way to test your comfort level with the new colors. And a necklace is far from an essential purchase, but it gives you options (in addition to your scarves) to wear with your new clothes.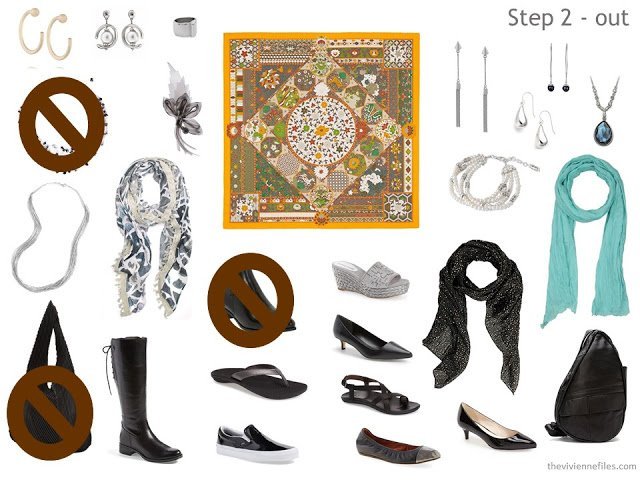 Step 3 – Another Important Pair of Shoes, and 2 Accents
Another 3-piece clothing ensemble is getting replaced in Step 3, so another pair of shoes is important; you don't want to be stuck with just your new boots as your only "warm-colored" option. Your choice of accessories to replace is pretty wide-open, but I think a 2nd pair of earrings, and a solid, neutral scarf might get the most mileage.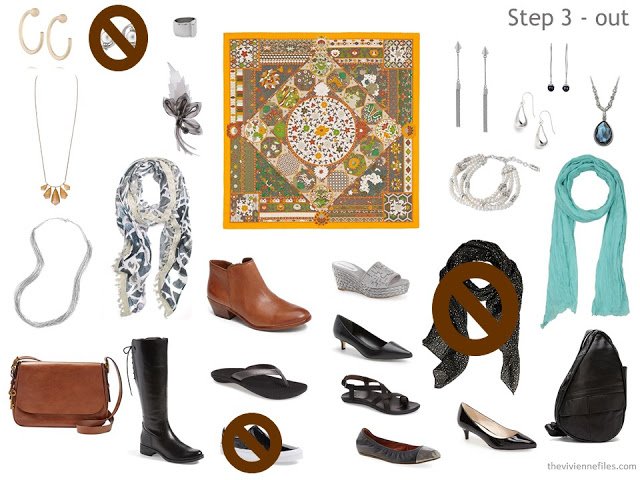 Step 4 – Flat Shoes, and 2 Pieces of Jewelry
Yet again, an entire outfit of clothing is being replaced in this step, so another pair of shoes should go along. With ballet flats, loafers, and boots, you have a good range of footwear for a variety of weather conditions. Two more pieces of jewelry can also be replaced at this stage, to keep up with the "3 per step" approach. Remember, there's NO schedule by which this is supposed to be done.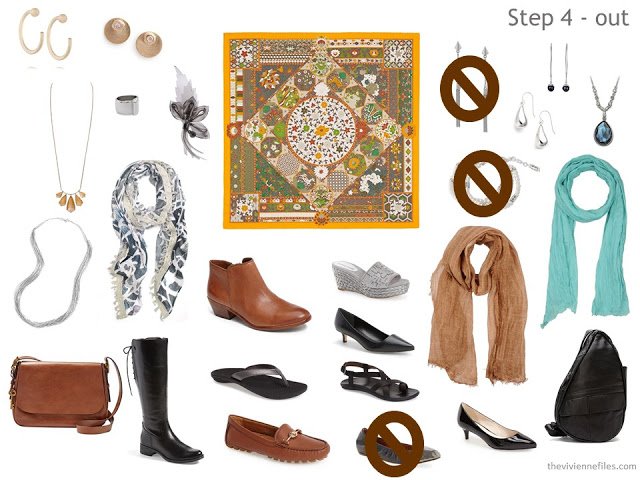 And if at any time this start to feel uncomfortable or just plain wrong, STOP SHOPPING! You can't buy your way into a comfort level with the wrong colors. If this is not, in fact, the right move for you, just accept that you've made a mistake, forgive yourself, and hold your current position for a few weeks or months, until your preferred future path is more clear. Shopping will NOT fix an error…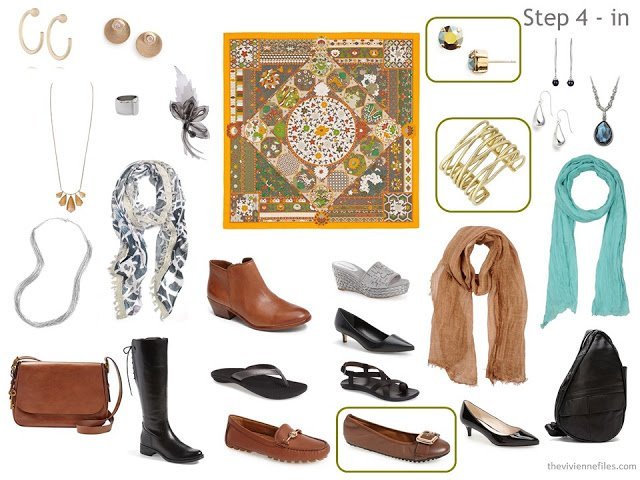 crystal stud earrings – L. Erickson; wire cuff – Louise et Cie; ballet flats – Bella Vita
Step 5 – Pumps, Casual Sandals, and a Great Necklace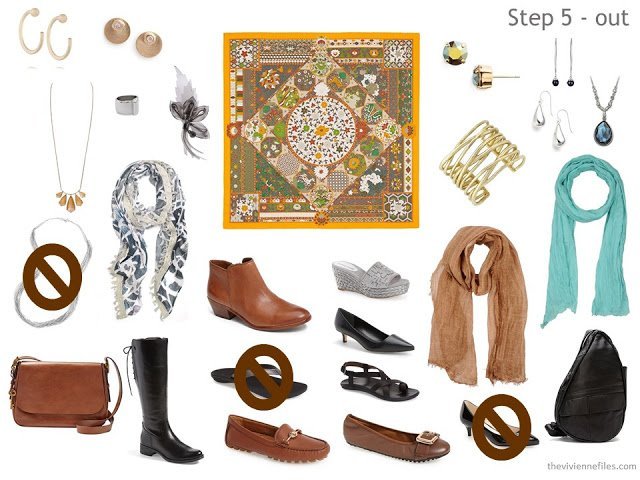 We are at the point in the clothing shift in which a new dress appears, so new pumps are in order, as well a pretty necklace. And since you're getting new shorts too, a pair of sandals is critical.
Speaking of which, these are REALLY comfortable sandals. It takes about 10 minutes to get used to the degree of support which they provide, but then you'll be addicted. I have two pair…. so far….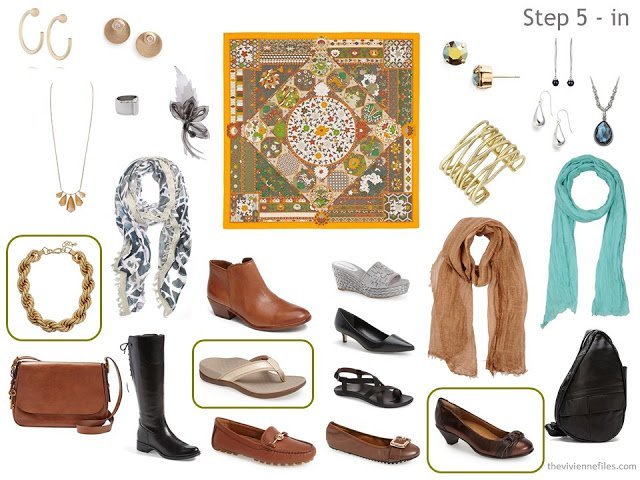 Chain necklace – Robert Lee Morris; gold flat sandals – Vionic; pumps – Softspots
This definitely looks like it has one foot in each bathtub, doesn't it? But until all of your clothes are migrated to your new color palette, it's important to be able to wear everything in an attractive ensemble. Patience is a key variable in a process like this!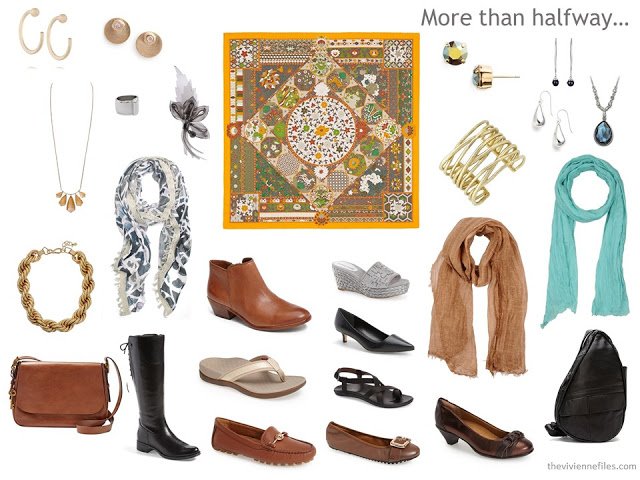 Tomorrow, I'm going to finish replacing "cool" accessories with "warm" ones, and show the final wardrobe of both clothing AND accessories!
love,
Janice