February 13, 2016
Okay, let's finish shifting this wardrobe!By now, you should be REALLY comfortable with the colors of your new clothes, and you should also be feeling slightly uneasy when you wear your older things. If you aren't finding this shift to be a big improvement in your love for your wardrobe, STOP SHOPPING. Don't make this shift if you're not 100% sure it's the right thing, and don't continue the move if you feel at any time that you might be making a mistake. There's no shame in stopping at any stage for a lengthy reassessment, and there's no shame in deciding part way through that it was a bad move. The only shame would be in persisting in taking advice from someone else about your wardrobe, when your instincts and emotions tell you it's the wrong thing to do!
So this is where we are after the first 5 steps of the move: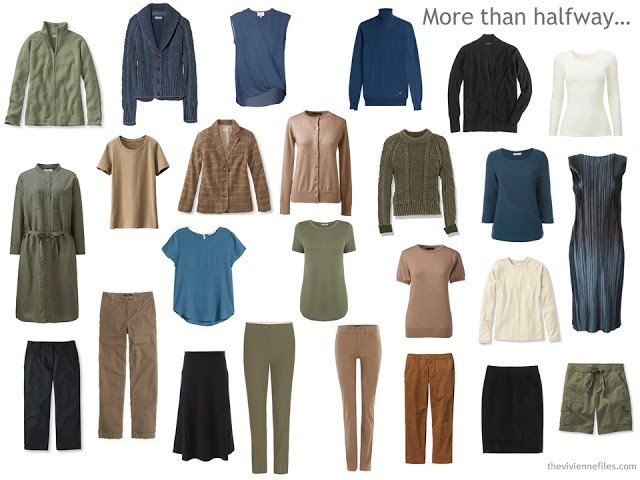 Step 6 – A Neutral Shift for 3 Pieces
The next step is pretty clear – get rid of more of that black! When you survey the wardrobe as a whole, it's clear that the black doesn't fit in at all well…
I love this color, named oatmeal, beige, or whatever:
Step 7 – New Casual Wear – Capris and a Pair of Tops
By now, you should be committed to the change that you're making, so it's time to clear out the last black garment, and find a couple of fun pieces to wear with most of your new things: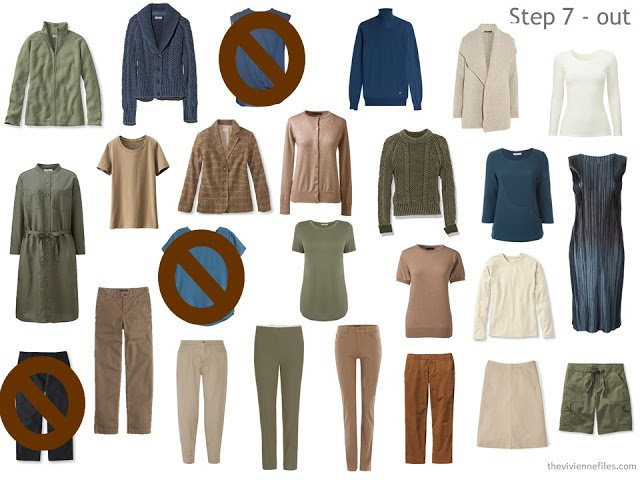 Since we're adding a pair of shorts here, I thought that a couple of nice tee shirts would be fun companions. Both of these tops will go with most of your cardigans, pants, and your new skirt.
Step 8 – Refreshing Accent Color Tops
Frankly, you could hold onto these blue pieces until you get absolutely sick of them, because they are really quite compatible with the rest of your wardrobe. But in the interests of really finishing off EVERYTHING, let's get some new tops, in more flattering colors.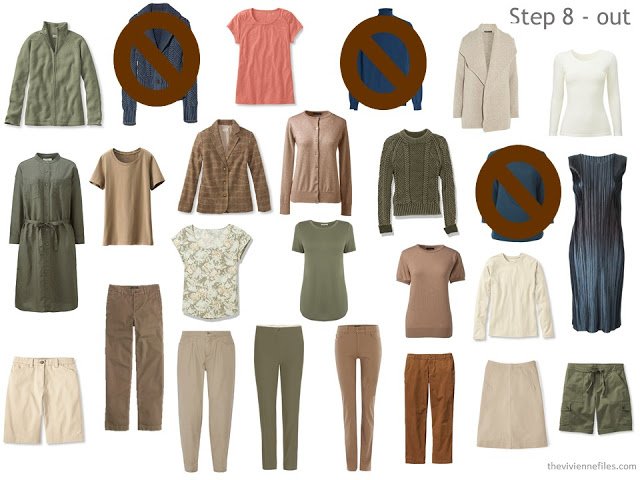 Since you're sure you're going to be wearing your new colors for the foreseeable future, this is a good time to invest in something really gorgeous, like a cashmere twinset. Even if you're not the twinset type, having two pieces in the same color gives you the option to use the same jewelry and scarves with either piece.
Step 9 – The Last Step: A Special-Occasion Dress
If it was my choice, I'd keep this dress forever… but of course, it will eventually wear out, or you will find that you just NEVER put it on: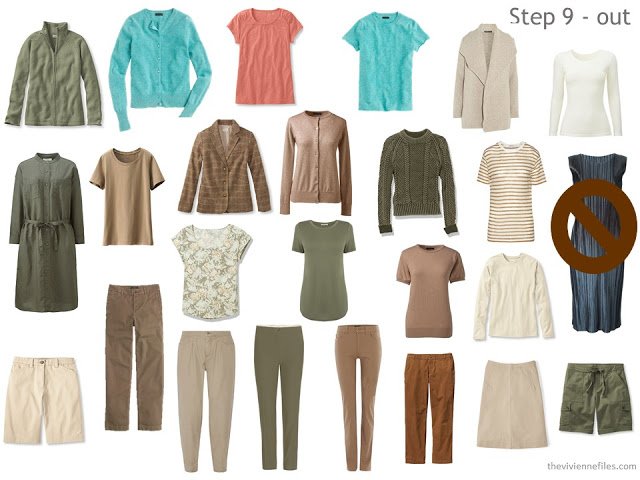 So, since it's your only really dressy dress, we're going to go WAAAAY over the top for this one:
Nine steps, an undefined period of time, but this is where we end up. The overall structure of the wardrobe is very similar to our starting point, but it looks completely different, thanks to the warmer colors.
Next, I'm going to start shifting the accessory wardrobe from cool to warm – it should be interesting!
love,
Janice