February 9, 2016
It's a timeless question, frequently asked here on The Vivienne Files: "I recently had my colors done, and was told that I should wear warm colors. Most of my wardrobe is black – HELP!!!"
First and foremost, always remember that you don't HAVE to do what one color consultant tell you to do. Remember when I described two color consultations that I had. Two RADICALLY DIFFERENT recommendations…. sigh…
But if you choose to shift from cool to warm, I have some ideas about how it might be managed.
Let's start with the wardrobe from last Friday:
If I do say so myself, this is a pretty gorgeous wardrobe, and would see you through a lot of activities and events. But if you're trying to move away from cool colors, you're going to have to make some changes. For each step, I have chosen 3 garments that I consider to be the most obvious "problems" in the wardrobe, and then made suggestions about what replacements to find.
Step 1: Replace the Harshest Colored Tops
I would first recommend getting rid of simple, relatively inexpensive things like dark neutral tee shirts – they're worn close to your face, so the unflattering nature of the color is most pronounced. In their place, I would find 2 light neutral tops that can still be worn with your black (or navy) pieces, but which put a slightly warmer shade nearer your face.
I would also suggest foregoing a sweater in a neutral and looking for an accent color top that you could wear frequently. As much as anything, this is a real "test drive" of your new color scheme. If you don't find that you like the accent colors recommended for you, when you're wearing them, then you might want to reconsider the entire "recoloring."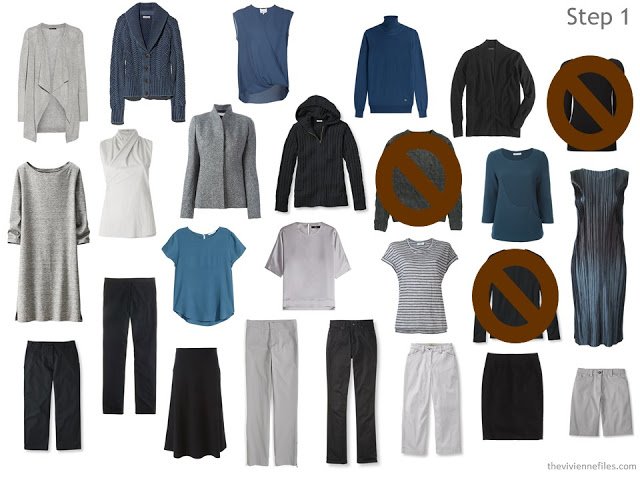 Step 2: A New "Suit" and Top
The next step is to replace a 2-piece "suit" sort of paring with 2 pieces in a new dark neutral. I'm getting rid of this hooded sweater, and the black pants, because they are both real workhorses in a wardrobe, and you want to find NEW pieces that can be worn at least twice a week.
For the 3rd piece to replace in this step, I think a top that will match up very closely with your new 2-piece grouping is a good choice.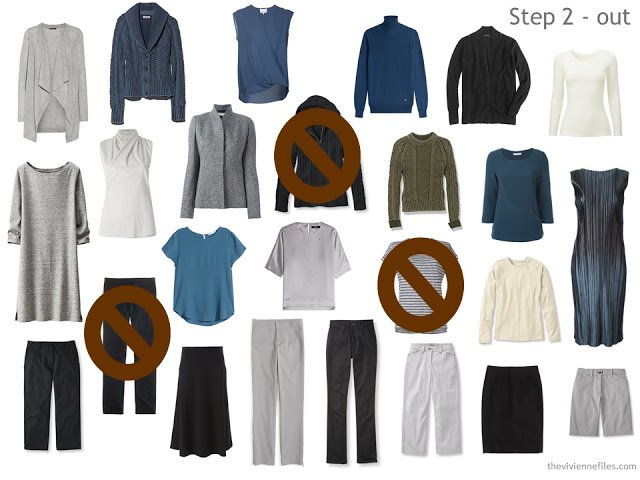 Step 3: Another New "Suit" and Top
This step is sort of the same thing, in terms of replacing a 2-piece jacket (or cardigan) and pants (or skirt) ensemble. But this time, instead of dress pants, I really want new jeans for this person! Jeans are something that can be worn frequently without arousing any attention.
Again, replacing a relatively unflattering neutral top with something equally versatile, but in your new color scheme, will give you a nice outfit from your new 3 pieces. Of course, these new garments also integrate nicely with everything else you've purchased so far!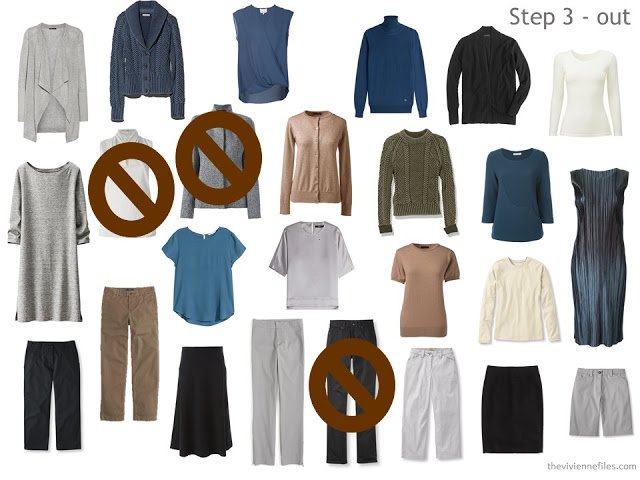 Isn't that the silliest photograph of a pair of jeans you've ever seen?
At this point I guess I should explain that, although the blue in this wardrobe isn't a warm color, it's pretty close to a warmer color, and it's an accent that will look great with all of the brown and olive that you're adding. Eventually, the blues are all going to migrate more into the turquoise range, but for now, I felt like it wasn't a big problem to keep them here.
Step 4: Yet Another Cardigan, Pants and Top
Same 3 pieces being replaced, but this time I've gone for a 2nd neutral. With a decent core of brown consolidated in this wardrobe, this is a good time to branch out into the green. (except for the gorgeous sweater you've had since Step 1, of course)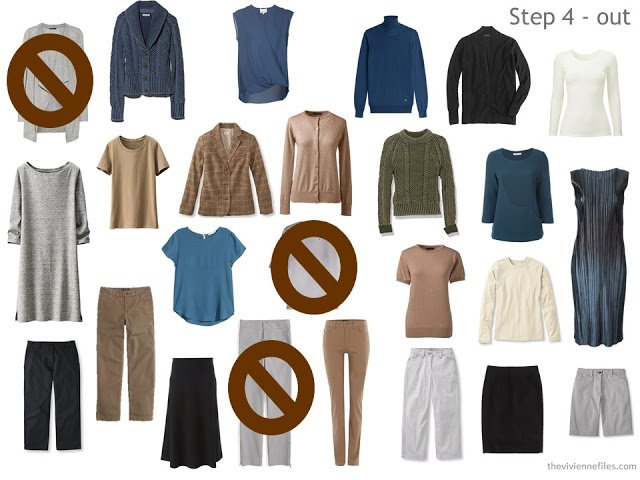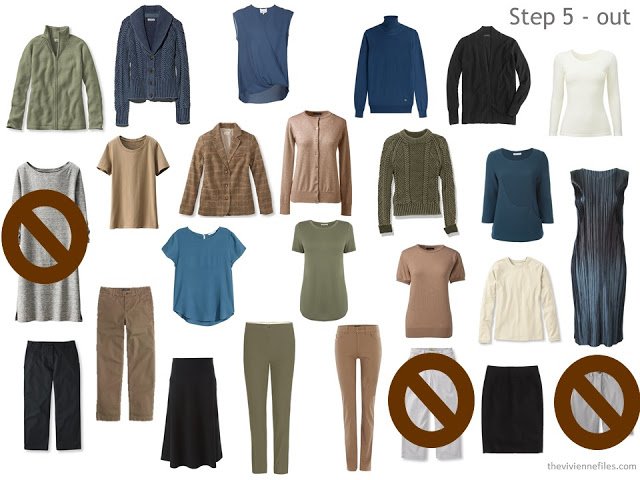 Step Five: Getting Rid of Lingering "Bad" Garments"
At this point, the grey dress, capris and shorts stick out like 3 sore thumbs – time for them to be replaced!
After these 5 steps, you have 15 new pieces of clothing – more than half of the 25 pieces with which this wardrobe started. You're still sitting with a black cardigan and a couple of skirts, but those pieces are still wearable (albeit a compromise) with your warmer tops.
Please note that there's no time-frame in which this MUST be done. Many of us might try to complete one step each month, which other might try for a step each week. I can only advise not to rush yourself, and to be acutely aware of how you feel during this process.
If, at any time, you start to have doubts about these color changes, STOP SHOPPING. Gut check your responses. Ask the advice of true friends, with good taste. Go back to the color consultant and ask for a re-do. Do whatever it takes, but don't spend yourself into an unsatisfactory wardrobe when your heart is saying no…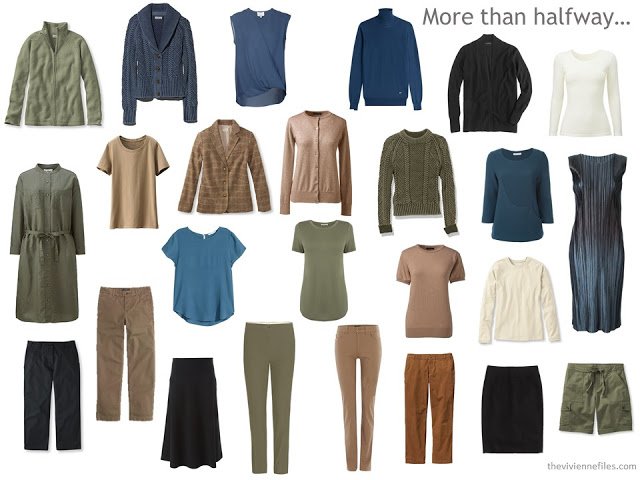 Thursday, I'm going to finish the shift in this wardrobe, and in the days following, I'll make the same updates with the accessories!
love,
Janice
PS – For a splash of even more color, check out the latest Pantone Color Planner and other documents in the Planning Documents section of the website.