January 19, 2016
Many people wanted me to revisit this painting, and many of you are interested in seeing posts with warmer colors, and many of you are looking for lower-contrast wardrobes. I'm tackling a lot of ideas in one lovely painting!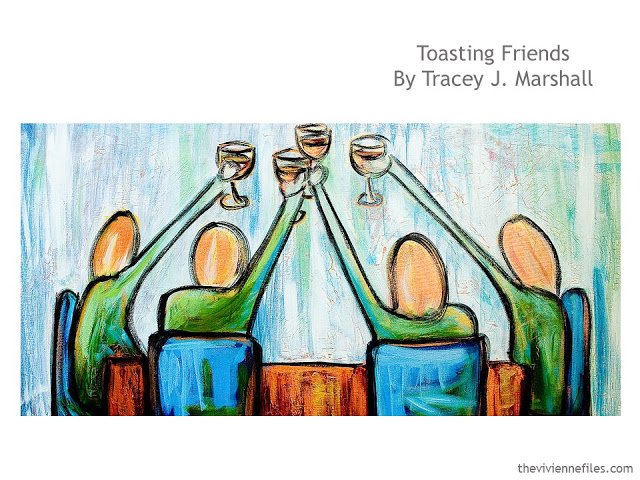 One of the fun things about this painting is the range of lovely colors included. I've madly exaggerated the amount of camel included in the painting, but I'm going to use shades of camel, beige and coppery brown as neutrals…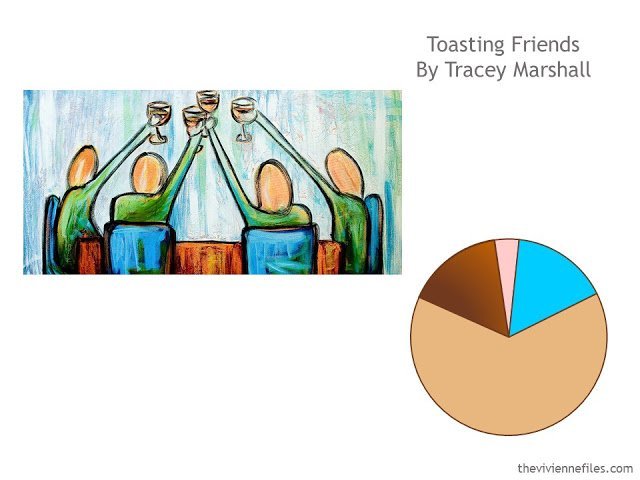 The most difficult thing about writing The Vivienne Files (well, except for having dozens of ideas, and not enough time!) is choosing a color scheme and then realizing that the colors I love and want to use aren't necessarily available in beautiful clothing! Patience is SO necessary when shopping – I think you should always remember how long it took to EARN your money, and then not be terribly rushed to buy the first thing you see that's acceptable. You NEVER have to settle, unless you're in a situation of having to go to some event nude… (okay, I exaggerate…)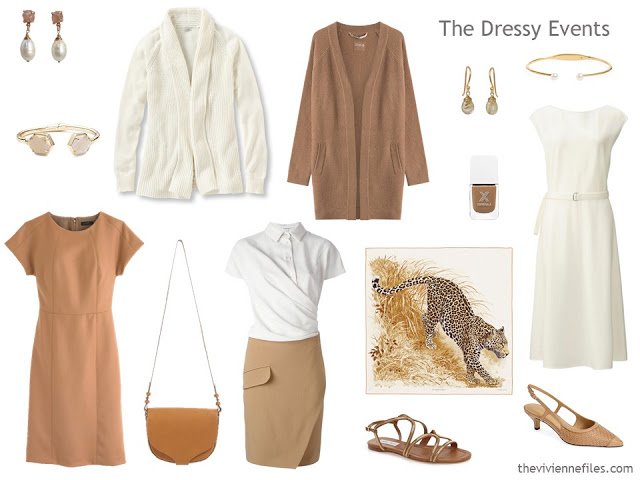 Rose quartz and pearl earrings – Saranarat; hinged iridescent drusy bracelet – Kendra Scott; camel dress – J. Crew; off-white cardigan – L.L.Bean; pearl cuff bracelet – Nadri; slingback pumps – Trotters; cream and camel dress – Carven; camel cardigan – 81 Hours; rutile quartz earrings – Khun Boom; "Taupe Pearl" nail polish – Formula X; bag – Sophie Hulme; flat sandals – Jimmy Choo; off-white dress – Uniqlo; square silk scarf – Hermes Panthera Pardus
I liked to think that the woman packing this travel wardrobe is someone who wears dresses for dressing up, and the rest of the time is casual. She likes earth tones – all of the browns and beiges and coppers and khakis, but livens them up with beautiful pinks and a snazzy blue.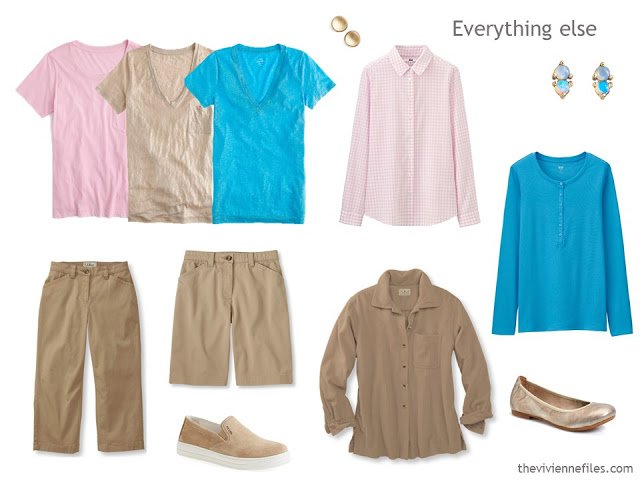 Pink tee – J. Crew; gold tee – J. Crew; blue tee – J. Crew; gold stud earrings – Alexis Bittar; pink checked shirt – Uniqlo; opal earrings – Wwake; blue Henley – Uniqlo; cropped pants – L.L.Bean;
shorts – L.L.Bean; suede loafers – Prada; camel corduroy shirt – L.L.Bean; ballet flats – Born
Even though it seems that there's a lot of distance style-wise between the dressy and the casual, the cardigans from the dressy clothes would be wonderfully useful with the more relaxed clothes. And the corduroy shirt-jacket could easily be belted over the off-white dress – maybe the other two also? – for a relaxed, cool evening.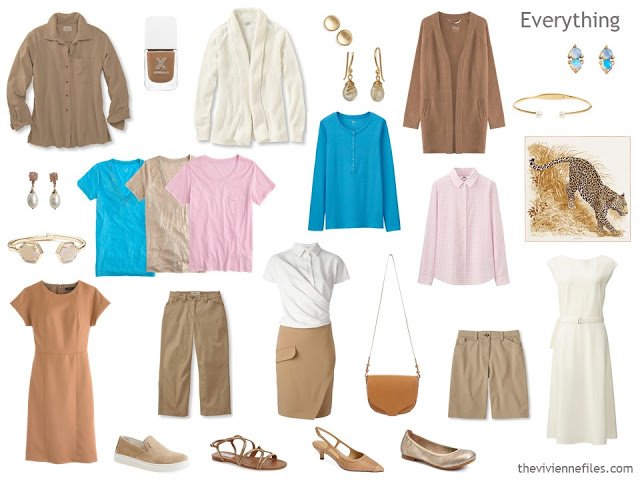 It's so easy to feel relaxed and comfortable when your suitcase contains a well-chosen range of goodies – you have lots of options, no matter the event, or the weather.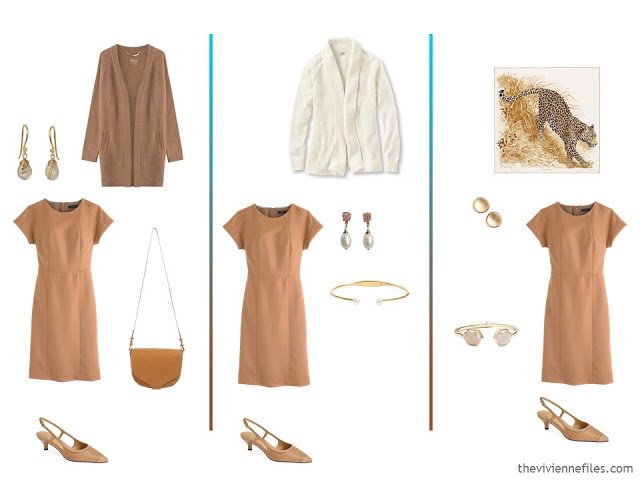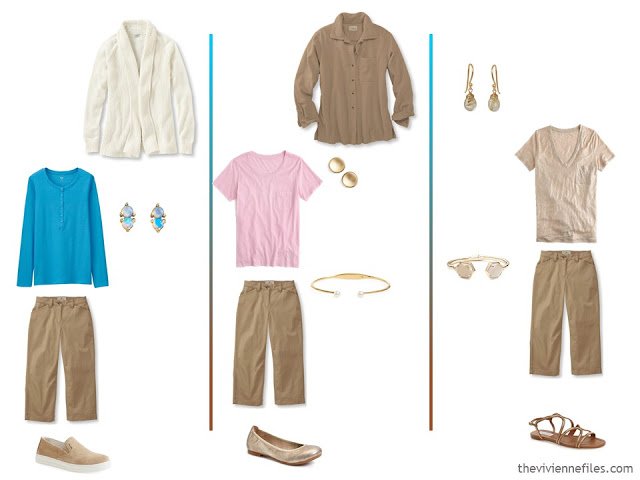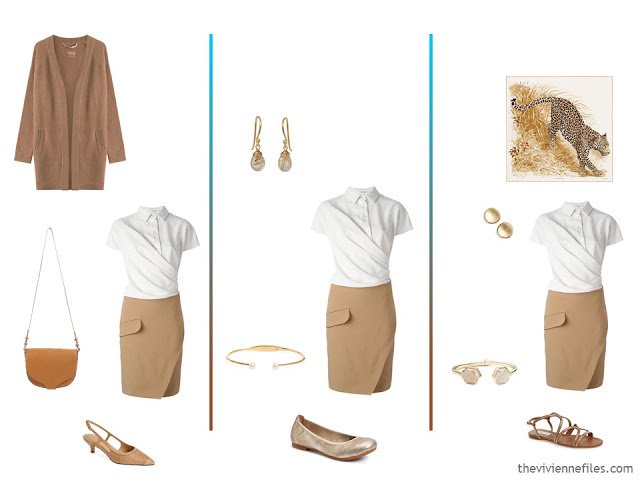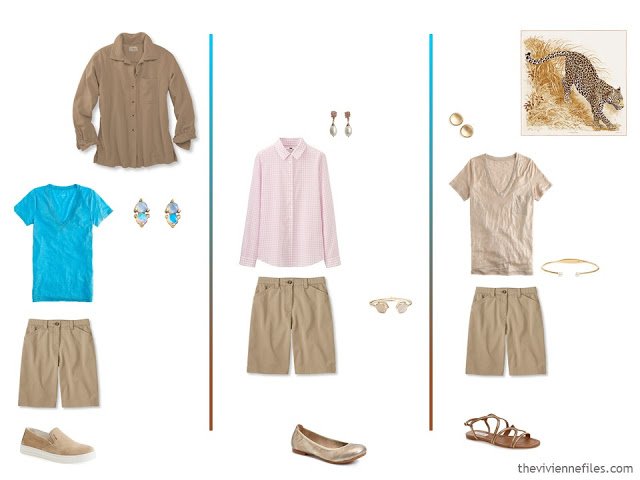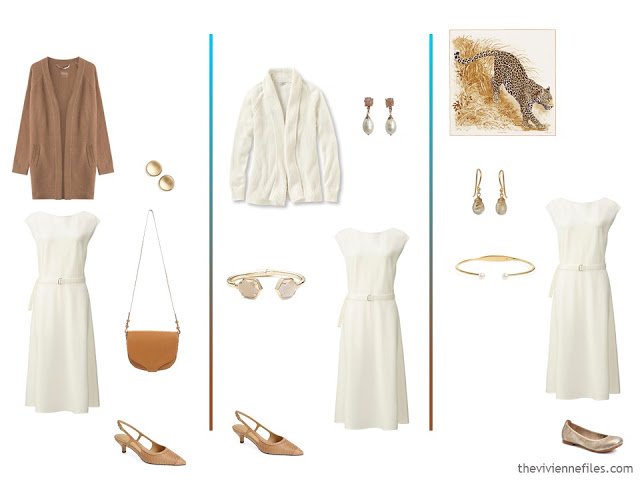 This is the original template – I've taken some liberties here; I don't remember EVER using three dresses in a wardrobe before!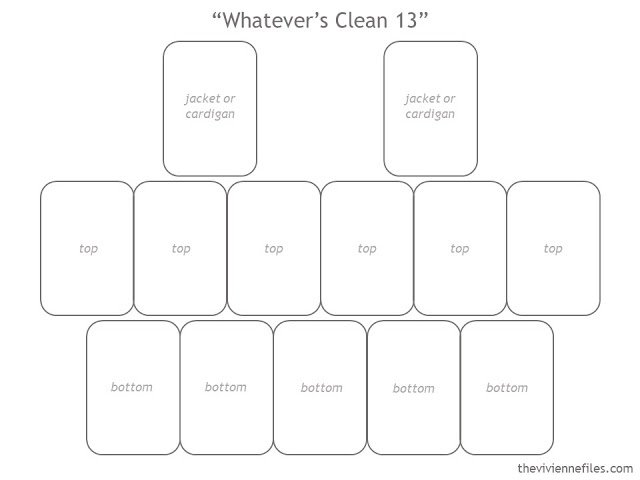 A pretty nice option, for our dress-wearing traveler!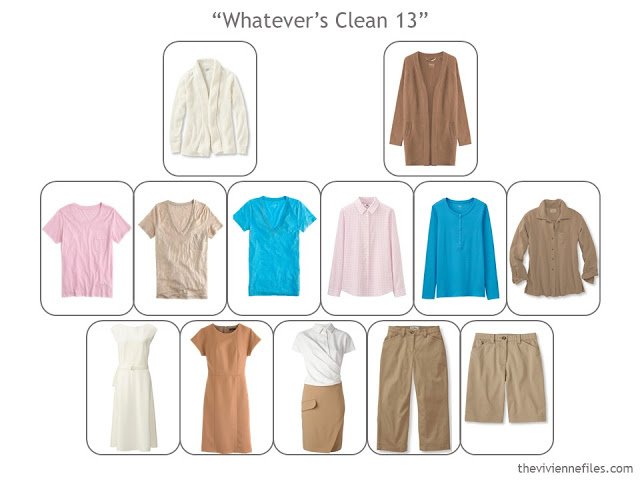 Tomorrow I'm going back to visit that Cheval Surprise Remix scarf, with some different color choices in my scheme…
love,
Janice