January 15, 2016
So many of us have these events coming up this spring or summer – a wedding, graduation, bar mitzvah, baptism, or other celebratory event. What a nice excuse to travel!
But it does require a bit of planning, because in just a few days, you might well span the full gamut of activities from a very dressy event or two, to things like cleaning out a dorm room, or playing frisbee with nieces and nephews. Barbecues, picnics, and more relaxed family activities require a completely different wardrobe from what you'll wear to the actual event itself.What to do? Just plan to take more! A normal long weekend is a great time for a 6-Pack or an 8-Pack, but for these very special weekends, I think 13 pieces is perfectly reasonable.And what better art to use, to inspire us, than Toasting Friends?
Often, you will be "assigned" a particular color to wear, because you're part of the wedding party, or standing up with the parents, or because it's the "official" color of the graduating class. Unless the color is completely ghastly, this is a great time to buy a simple, but VERY pretty dress! (I don't know what to tell you if the color is ghastly. Maybe harken back to the "Wearing Unflattering Colors" posts…)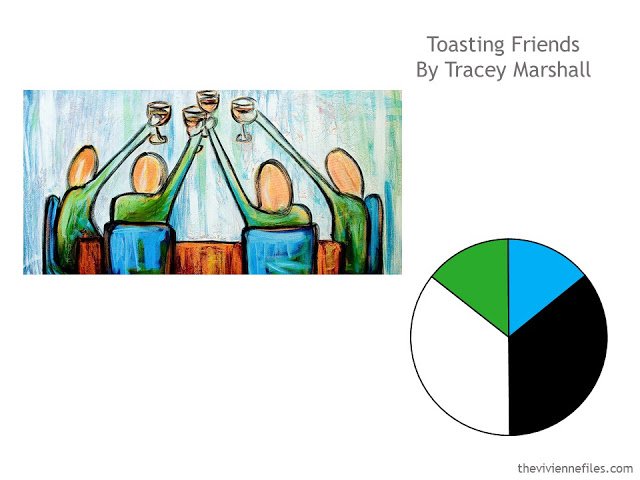 First, and more importantly, you want to plan for your dressy events. I personally would put together a "suit-ish" twosome in cashmere and silk and then find accent tops that can be worn with the neutral pieces.
And HECK YES, a hat, or fascinator! Some events will require you to cover your head, and others just give you a chance you might not have any time soon – go for it…
These five pieces give you plenty of options for lovely dinners, and for the event itself:
Next you want to be sure to have casual gear – in this case I chose both shorts and jeans. A hooded sweatshirt is never a bad idea, too.
Then you will want to fill in that middle ground of "not too dressy, but not too casual" with simple trousers and a couple of tops. There was no way I was going to resist including this scarf, which is SO ideal in this color scheme!
Assuming that you wear three of these pieces, the other ten, plus the accessories, shoes, and other necessities should all fit in a carry-on bag and a tote: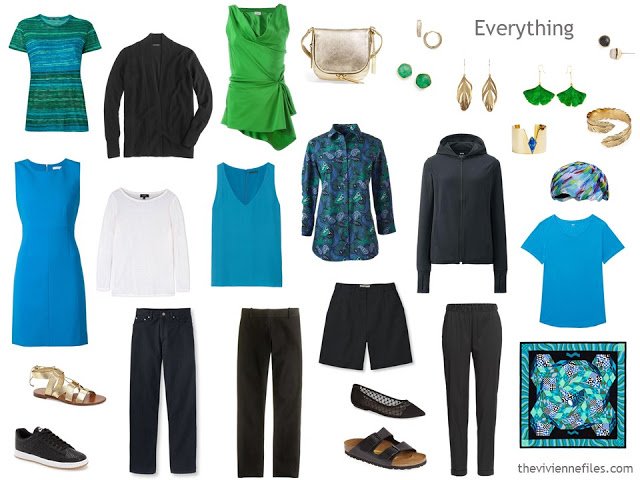 Plenty of options, as usual. I would even consider wearing the hoodie over the dress, with sandals…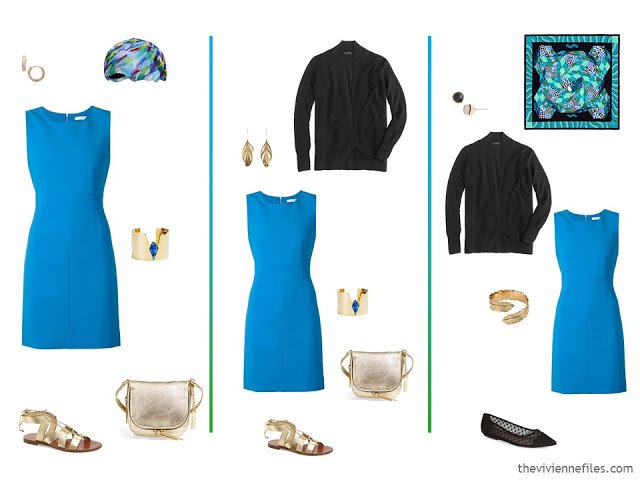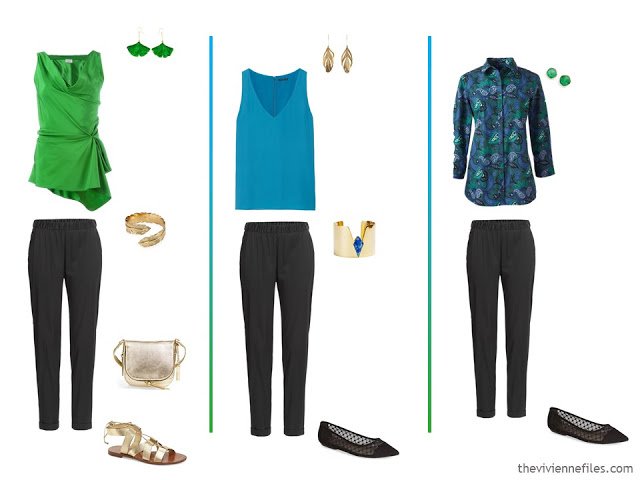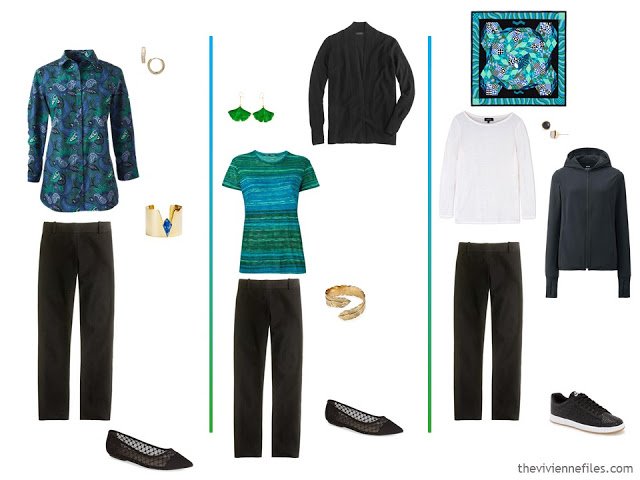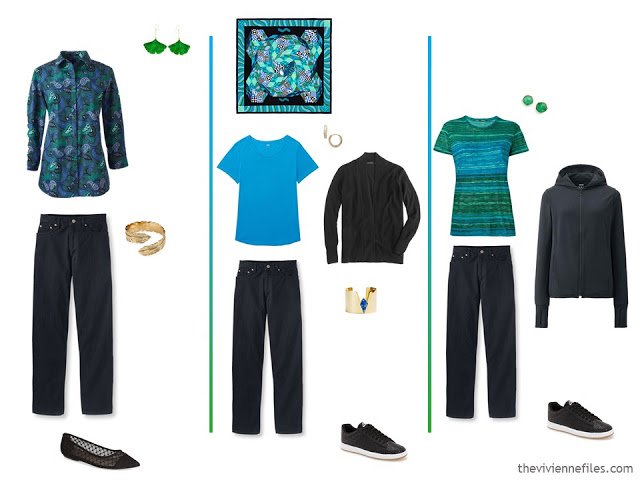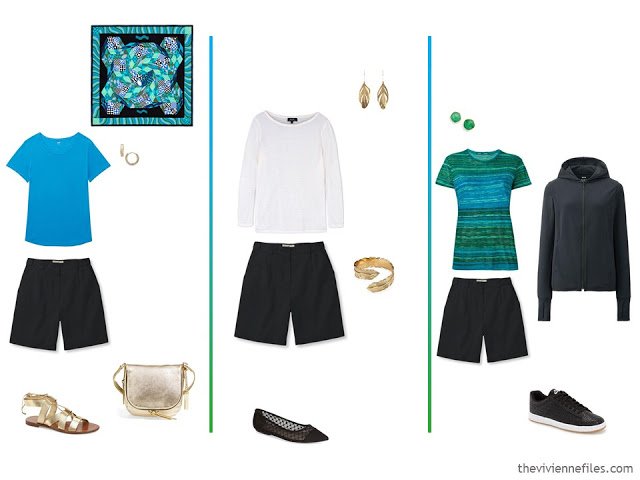 Although this might look like it was chosen without a scheme, you know better! A reminder here of what "Whatever's Clean 13" might look like: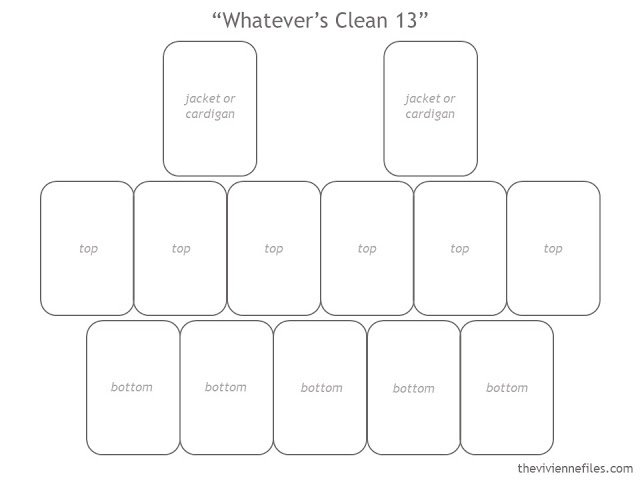 And how it looks with the clothing filled in – ranging from most dressy at the left, to most casual at the right: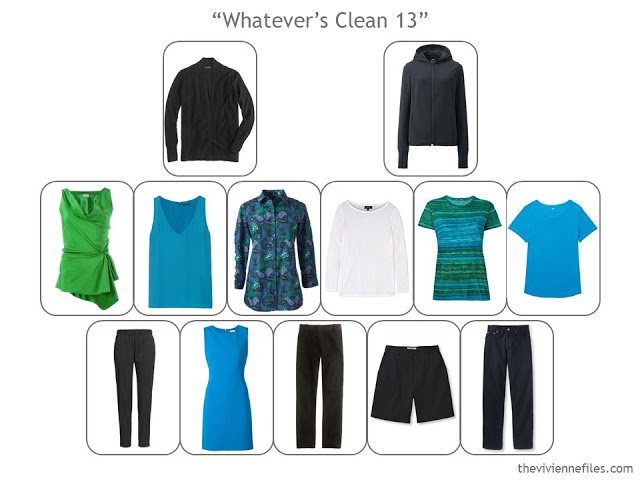 I'm going to revisit Celebration Travel packing for a few days, because many of you have asked about special color schemes. I think these are great all-purpose travel for anyone who goes out in the evening and likes to look special, but who still spends days in a normal, relaxed travel mode.
love,
Janice