I adore purple – I could easier become a really nutty "wears nothing but purple" person… There's a woman here in Chicago who wears EVERY shade of purple, and nothing BUT purple, every day. She combines the shades and nuances with reckless abandon, and carries it off with panache. I don't always like it, but I always notice it. And she seems very happy….Frankly, I'm not convinced that all of these combinations work – certainly they wouldn't work for me. But everybody gets to decide for themselves, and if you love it, go with it!
This grouping all started with the very cool purple shoes…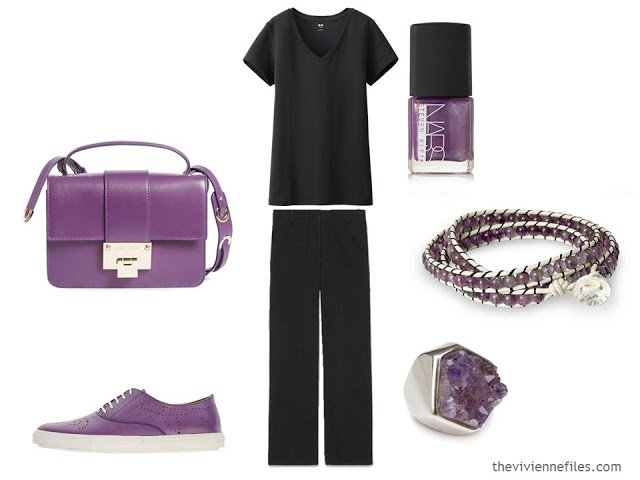 I'm really not sure about this combination, but I have to admit that the accessories are all pretty nice. (and the jewelry is VERY affordable….)I think it's a question of the confidence and conviction with which one wears something – if you look like you love it, you're going to be fine; purple flowers grow from brown soil, so it's not like we're breaking any big rules of life here!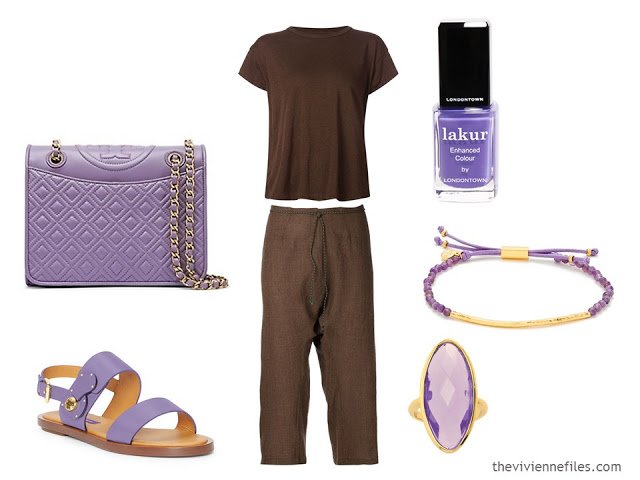 I think this combination looks really natural and pretty. The shoes, again, were the starting point, but I could easily have been inspired by the jewelry too…
I really HAD to include this pair of shoes – I'm fascinated by iridescence! And the bracelet was a match made in heaven…The backpack idea for test-driving, or indulging, in a favorite color is a good one; there are backpacks available in EVERY color of the rainbow; it's kind of amazing once you start looking at them all!
And if you're REALLY committed to an unusual color, and want a pair of excellent shoes in that color, look at Tod's. They're eye-wateringly expensive, but since they do so few styles, they do a bajillion colors. And once you have a pair of them, you've got them pretty much for life – they're that good!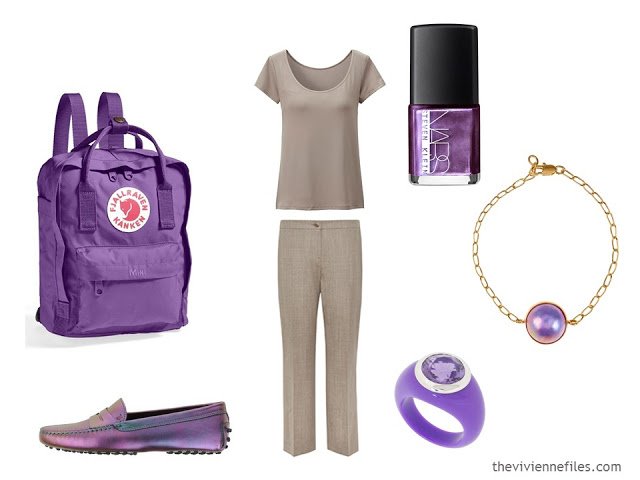 This was so easy, once I found the handbag! And this is a really nice color – easier to wear than many shades, and relatively easy to find in a variety of accessories and clothes. Don't forget that when you're looking for things that are purple, you have to also search for violet, lilac, lavender, wisteria etc. etc. Just think of a purple flower – some designer SOMEWHERE has used it to describe items they've designed!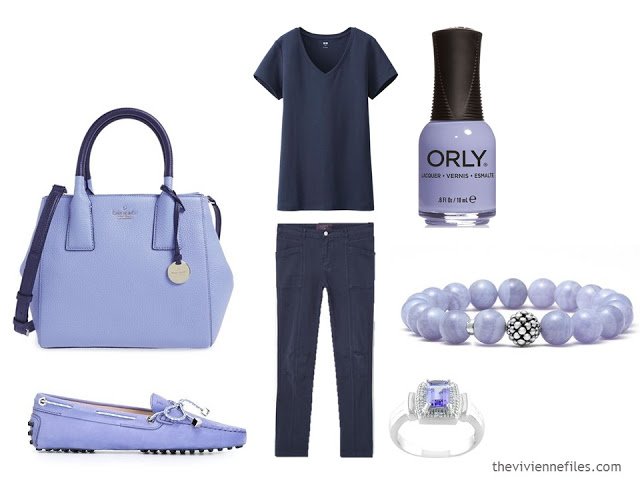 I think I missed a memo somewhere… In searching for all things purple, I kept seeing this color, described as lilac. Now, I've SEEN lilacs this color, but this is NOT what I would CALL lilac…
Whatever. I'm including it here, because it's really lovely, and because I love the juxtaposition of a traditional Coach handbag with Converse high-tops…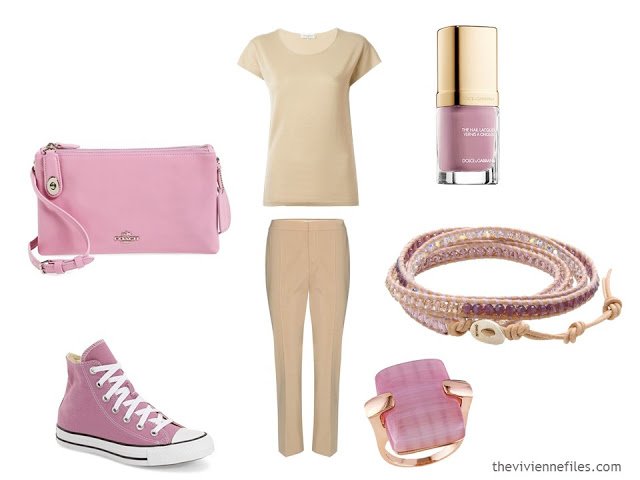 I'm going to try chartreuse, although I'm not really sure that I'll find enough items to make it happen… it might stray into acid green and neon yellow….love,
Janice