December 23, 2015
It's a frequent question: "I really love ______, but it looks terrible on me!"
Well, first, let's answer 2 questions:
Does it REALLY look terrible on you, or were you told that once, about 40 years ago, and it's stuck with you since then?
Are you sure that you want to wear this color, or is there some other way to solace your longing? Towels, thrown cushions, table wear, a cell phone cover – there are lots of ways to inject a color into your life without putting in on your person.
Okay, you really DO want to wear this color, and it really DOES make you look ghastly. Maybe it's one of those "local high school" things, or college homecoming, or…. YOU JUST LOVE THE COLOR. You don't have to explain, nor apologize, for the things you love. That's what makes you, you. Never be talked out of it…
But now, let's be practical. Get that color away from your face, and then go wild!
I don't know why I started with green, because there's a shade of green that flatters almost anyone. Still, I think this is an interesting exercise; six neutrals, in lighter-weight tee shirts and pants as we begin to dream of longer days (in the Northern Hemisphere)…
I start with black, and with a true green. In this particular case, if you actually got to own this ring, it would be worth building an accessory family around it!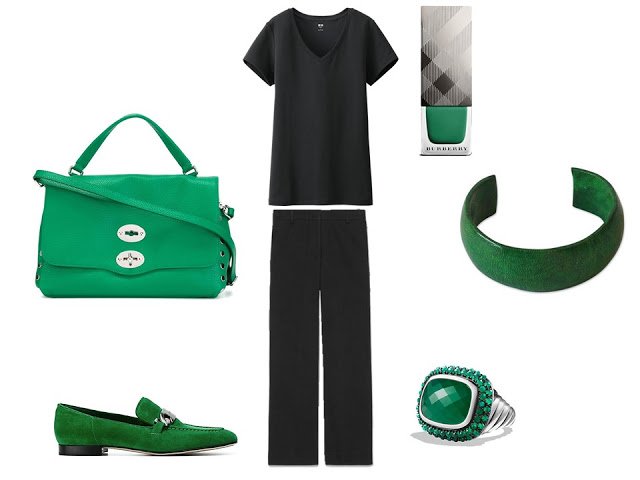 bag – Zanellato; loafers – Jimmy Choo; tee shirt – Uniqlo; crop knit pants – Helmut Lang; Sage nail polish – Burberry; green leather
bracelet – Ily Suleyman; ring – David Yurman
For the warmer brown, I swung toward a grassy green – especially after I found that really great green and brown ring. If you ever stumble on this kind of item, grab it and run! These sorts of pieces can tie together otherwise unlikely color combinations very easily.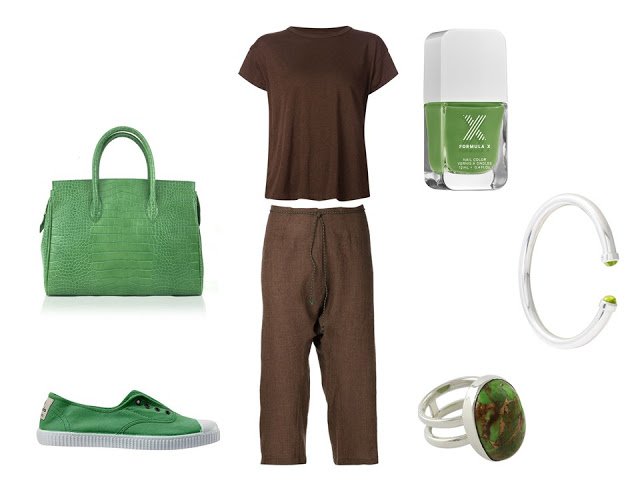 handbag – Ella Valentine; canvas shoes – Victoria Inglesa; brown tee – The Great; capris – Dosa; Grassy Green nail polish – Formula X; Bracelet
– Mateo Brown; ring – Shanker
This whole grouping started with the really dark green ring, set in silver. I liked the intensity of the green against the softness of the grey; it's unexpected, but works!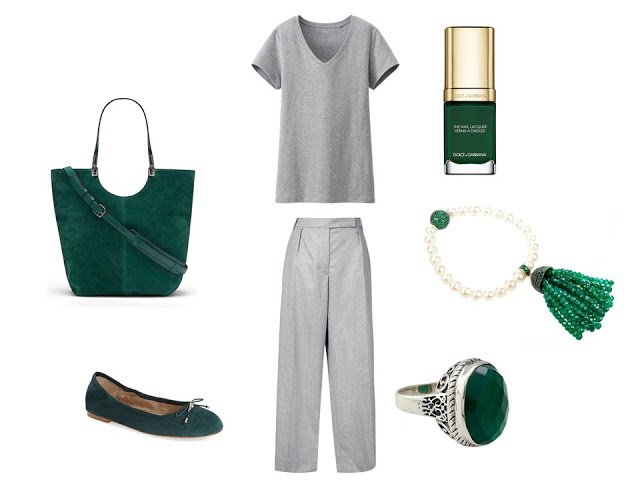 Handbag – Elizabeth and James; suede flats – Sam Edelman; tee shirt
– Uniqlo; trousers – Carven; Wild Green nail polish – Dolce & Gabbana; pearl & tassel bracelet – Latelita London; oval stone in silver setting – Chintan
It's worth noting that difficult to wear colors might be easier in warmer weather, when we can polish our toenails and wear sandals; nothing is farther from your face than your feet!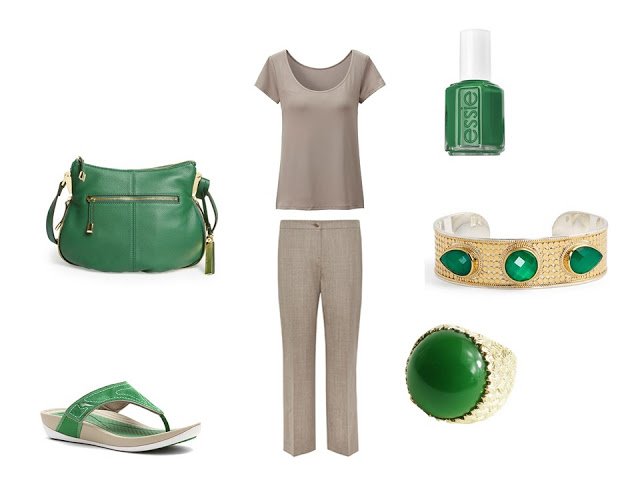 Bag – Vince Camuto; sandals – Dansko; taupe tee – Uniqlo; trousers – Austin Reed; Pretty Edgy nail polish – Essie; 3-stone bracelet –
Anna Beck; round ring – Kathryn Duncan
And please note that the setting of the ring, and the bracelet, both have a woven element to them. Of such details are my pleasure made…Green and navy are classic, so I decided to go with a really intense deep emerald, rather than the more expected kelly green. Yes, a velvet bag in the daytime – why not?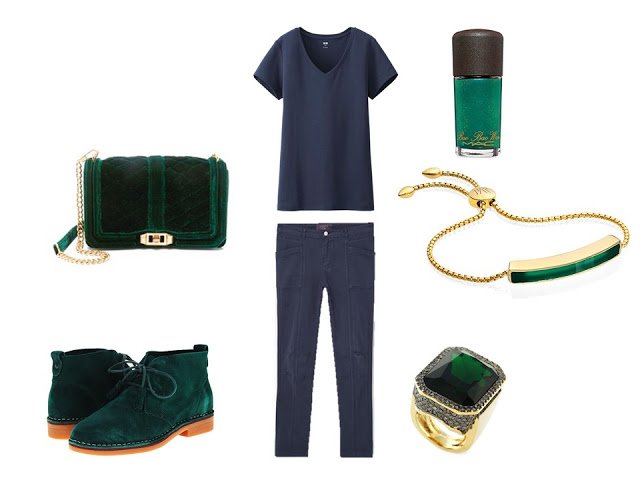 Velvet bag – Rebecca Minkoff; shoes – Hush Puppies; tee shirt – Uniqlo; trousers – Mango; gold bar bracelet – Monica Vinader; Imperial Green nail polish – MAC; square stone ring – Vince Camuto
Here's another neutral that looks really happy alongside a bright green. Inexpensive things like backpacks are a good way to "test drive" a color that you're not sure you want to invest in heavily. If the backpack gets used constantly and you love carrying it, then you can seriously consider buying a more "adult" handbag. Or you can just buy another backpack!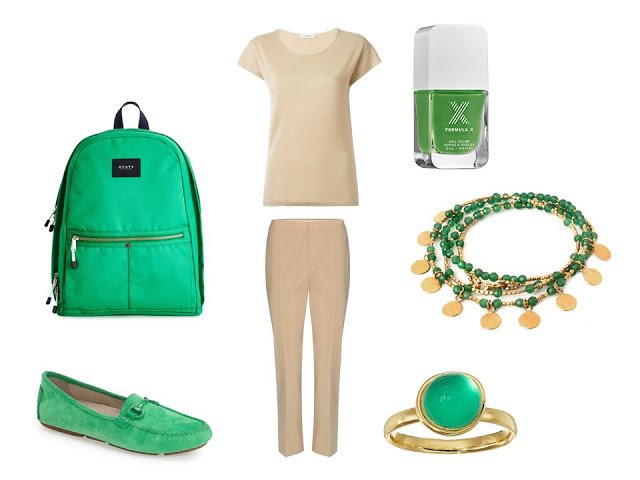 Backpack – State Bags; Loafers – Patricia Green; tee shirt – Etro; cropped pants – Chloe; Grassy Green nail polish – Formula X; dangling coin bracelet – Khun Boom; ring – Alexis Bittar
What color(s) look horrible on you? I'm going to look at this with orange and yellow, at least. Probably brown. Maybe peach…. or lilac? hmmmlove,
Janice