December 22, 2015
First up: food!!!
I personally find it pretty difficult to eat badly in Paris; if you go someplace where you only understand a fraction of what's going on, and where there are lots of people from the neighborhood, the food is bound to be at least acceptable.My last day, I was wandering pretty aimlessly near the Marais, and I spotted a nice looking restaurant, so I decided (since it was nearing 1 p.m., and I was peckish), to stop in for lunch. The formule (set price menu) looked interesting…
A lovely woman seated me, and gave me directions to the toilet. When I wandered back, bemused, she explained that the door slid rather than swung! On such small details swings (or slides?) many a language lesson!
The lunch special was "Salmon in Wok." I get my own, personal little wok, with a nest of noodles in the bottom, a half-dozen pieces of salmon (each about the size of a phone charger), and a bunch of vegetables, along with some elusive and delectable sauce. Arguable among the very best foods I've EVER eaten!
I finished with coffee and Crepes Suzettes; WHY NOT????
I even love the coffee in Paris! I've heard all sorts of negative remarks about the coffee there, but that has NOT been my experience…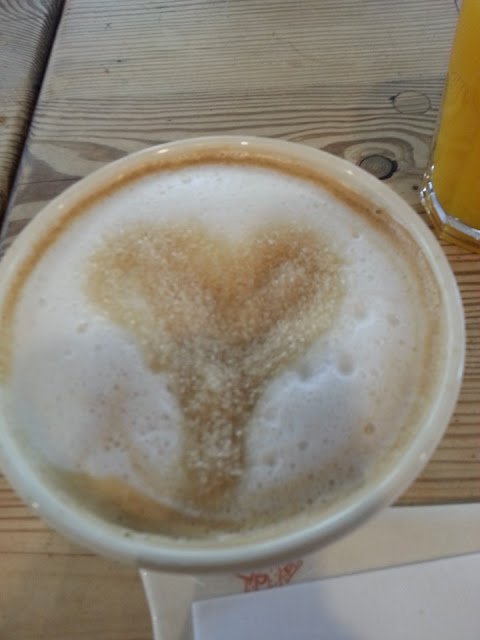 About my hotel: the Hotel des Grands Hommes, Place du Pantheon, Paris 5:
Belovedest and I stayed here 18 years ago, when we first went to Paris. That was back in the day when you had to pick a hotel from a guide book, and then telephone them or fax to get a reservation. What a different world now!
I need to stay in hotels from time to time, if only to keep my "decoration-challenged" brain alert to all of the possibilities. I'm a big fan of pattern mixing, but I don't know that I would have ever thought to put this carpet with this wallpaper! And the fake-book nightstand is charming, too.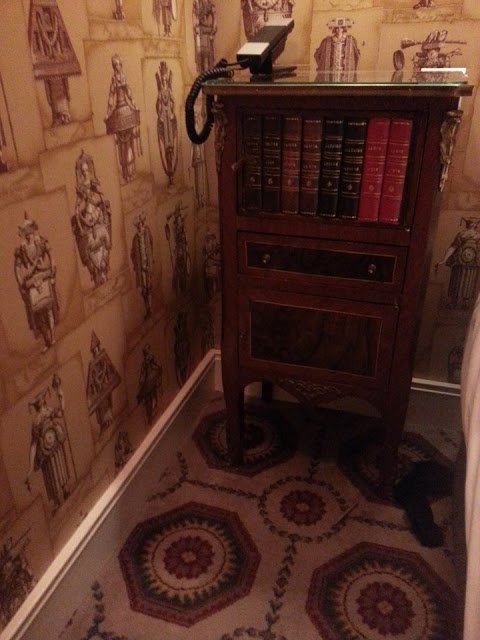 This was the view laying on the bed. The door to the left is into the (really quite large) bathroom, and the mirrored doors to the right conceal the television and the mini bar. There's another pair of mirrored doors to the left of the bathroom door, where the closet is found.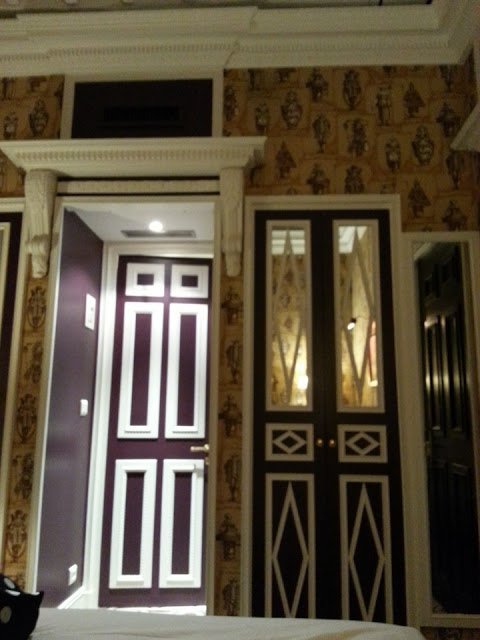 This room was quite dominated by the queen-sized bed, but it would be, theoretically, workable for 2 people who were determined to be organized. B and I could do it, if we unpacked immediately into the closet, and then stashed luggage. We would then have to put dirty laundry someplace immediately every evening, and manage the purchases we made very carefully. Despite the best space management, one person would have to get in and out of bed over the foot of the bed, as the small table blocks access to the "far from the door" side of the bed. Not a major sacrifice, really.
But the decor! I would never dream of hanging images on a figural wallpaper like this, but it works fine here: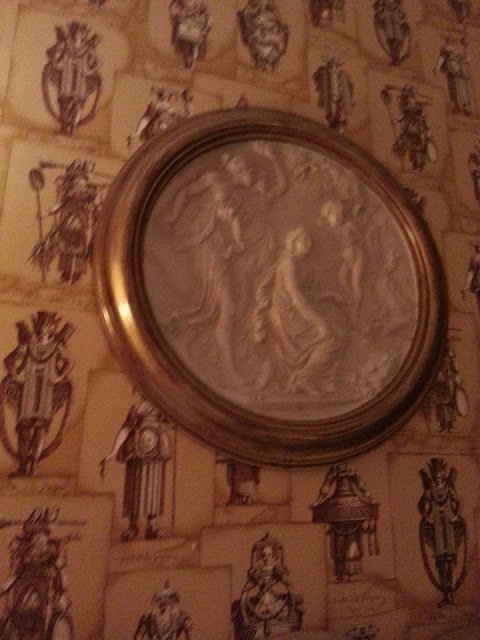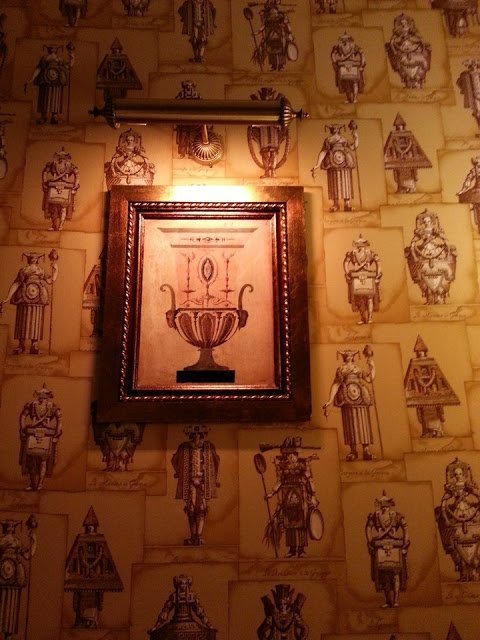 And double sconce lamps, with dangly sparkly bits? Sure, why not?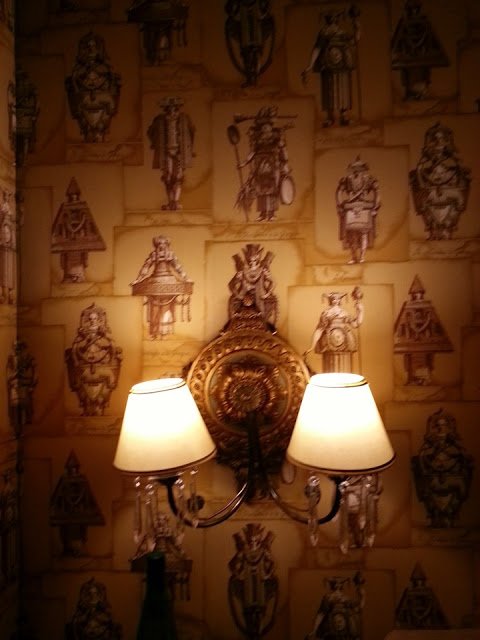 On to what I saw people wearing!
Yes, people in Paris wear scarves ALL THE TIME. Literally 95% of the people you see, including children, will be wearing scarves as soon as the weather dips into the 60's Fahrenheit.
This year, I noticed for the first time that quite a few people were wearing scarves which matched their coat, and which were solid. Lots of bulky/chunky scarves, with chin(s) tucked in…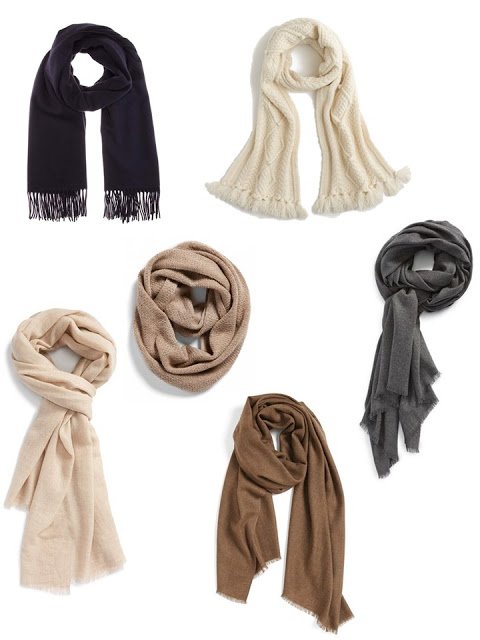 Navy scarf – Acne Studios; cream scarf – J. Crew; oatmeal scarf – Nordstrom; camel infinity scarf – Halogen; gray scarf – Nordstrom; brown scarf – Nordstrom
For the past few years, I've often seen younger women wearing opaque tights with jeans – it's become so ubiquitous that I ever see it in Chicago. But this is the first time that I can remember seeing walking shorts worn with tights! This is pretty cool for me, given my fondness for all things that smack of the tomboy… Most of the time, this look was indeed styled in a very boyish, yet feminine, way. I love this look…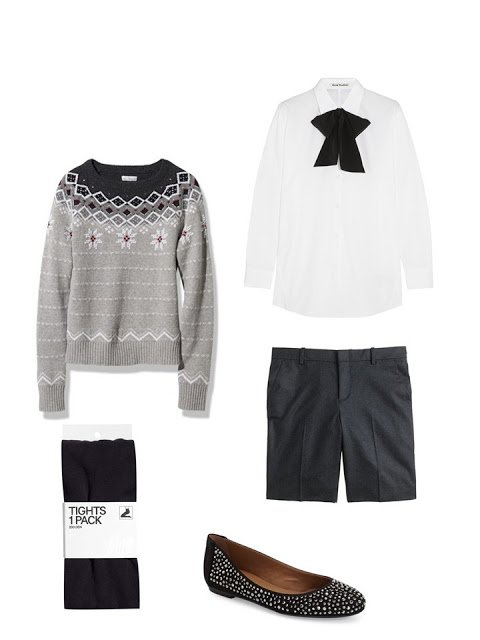 Sweater – L.L.Bean; white shirt – Acne Studios; bermuda shorts – J. Crew; tights – H&M; flats – French Sole
And there's nothing incongruous about showing J. Crew clothes when talking about Paris; there is an entire J. Crew section at Bon Marche (as well as a section of their children's clothes, Crew Cuts).Despite all warnings from the trend watchers, I saw very few fringed handbags, and almost no ponchos. But I DID see tons of fluffy, fringy, eyelashy, and thread-y sweaters around…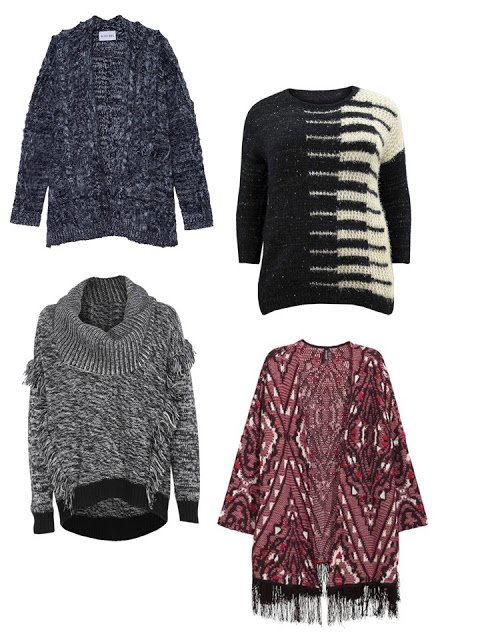 Navy marled cardigan – Olive + Oak; black & gold sweater – Koko; cowl-neck sweater – Dex; red fringed cardigan – H&M
Since we're smack in the heart of winter holidays, it wasn't surprising to see quite a bit of metallics around, but there was a surprisingly large volume of silver goodies everywhere. I, personally, was all over this; I am currently typing this with silver finger nails…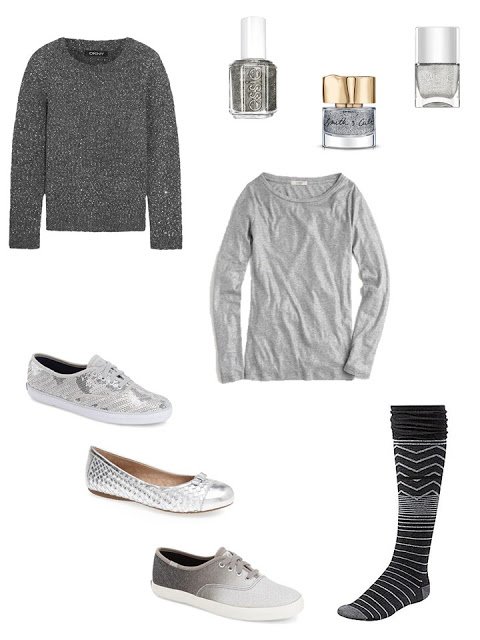 Sequined sweater – DKNY; Ignite the Night nail polish – Essie; Teen Cage Riot nail polish – Smith & Cult; Winter Mews nail polish – Nails Inc.; silver tee – J. Crew; sequined sneakers – Keds; ballet flats – SoftWalk; ombre glitter sneakers – Keds; metallic socks – Smartwool
There's a certain subversive pleasure in the thought of wearing "Teen Cage Riot" nail polish…I leave you, and we leave Paris, with this inexplicable image. The stories that could come from this – Boyfriend #1 coming in the front door, while boyfriend #2 goes out the window?
There was no sign of damage or distress here, so we are free to image without feeling of worry or guilt.
It is so quintessentially French, n'est-ce pas?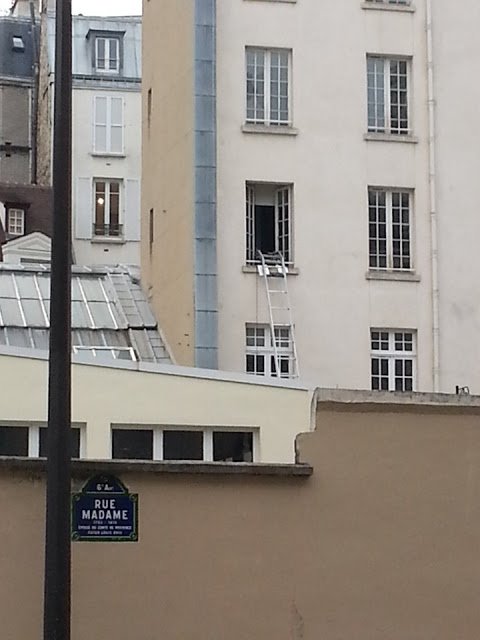 love,
Janice