December 7, 2015
This is the time of year when I'm supposed to be BURYING you in links to expensive gifts, so I get lots of commissions. But NOOOOOO, I'm a knucklehead, and I'm going to talk about scarf tying today. Sometimes, I do the most un-businesslike things….First off, let's be clear – you don't EVER, in your life, need to own an Hermes scarf. You will be just fine, trust me. But they are beautiful works of art, so if the opportunity presents itself, and you find that you do indeed love wearing scarves, it's something to consider.
But you should make sure that you wear scarves a lot, and in order to do that, you want to start with much more reasonably priced scarves from places like Talbots, Nordstrom, Brooks Brothers, or our friends at Kathkath.
Let's get to the fun!
Step 1
Start with your lovely scarf FACE DOWN, and fold two diagonally opposite corners to the center of the scarf. This isn't geometry class, so you don't have to be manically precise, but try to do a good job of it…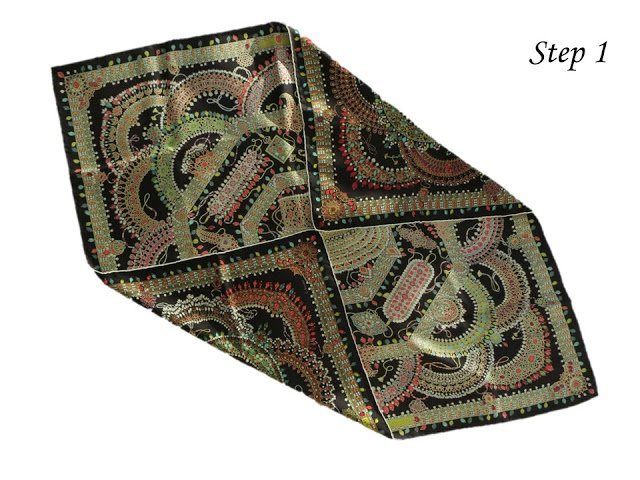 Step 2
Now, take the new folded edges which you just created, and fold THEM in to the same middle point. The general aim here is to make a narrower scarf, with a lot of fabric layers that touch each other on the bias. Bias fabrics have fibers running diagonally, and they therefore "grab" and hold other layers of fabric more securely than if you fold them along the length of the fibers. Technical, but true…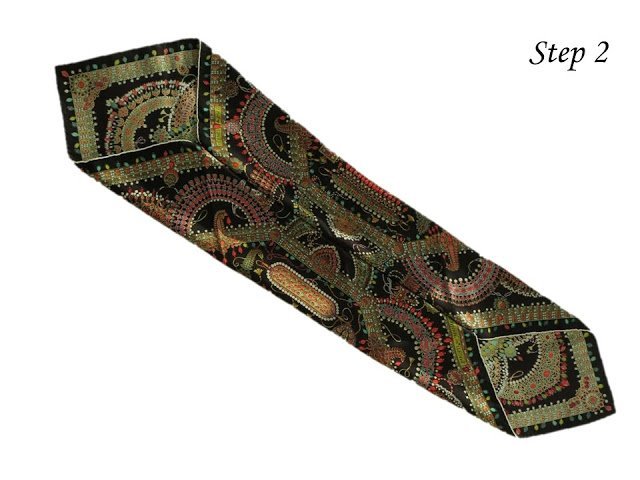 Step 3
Do the same thing again, the longer edges get folded to the middle point again. This becomes tricky if your scarf is slippery, but it doesn't have to be perfect…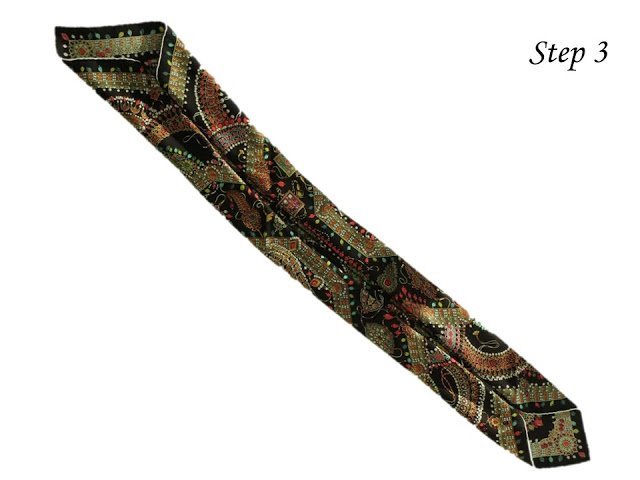 Step 4
If you can manage it, fold your scarf edges to the middle one more time, but it's not critical. Now, fold the scarf in half lengthwise by laying one of your long diagonal folds against the other one. At this point, you can't see ANY of the back of the scarf, if all went well. (now you can see why we started with the scarf face-down!)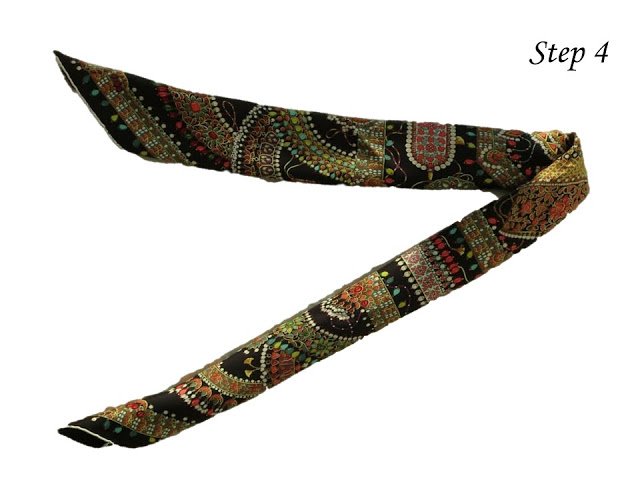 Step 5
Working carefully, so that you don't unfold everything, tie a loose fold-over knot in one side of the scarf. If you eventually want the knot down lower in your scarf (and your bosom), tie the knot lower. Otherwise, I usually put the knot about 6 or 8 inches up from the tip of the scarf. This is a VERY imprecise science, and you just have to experiment to see what works best for you.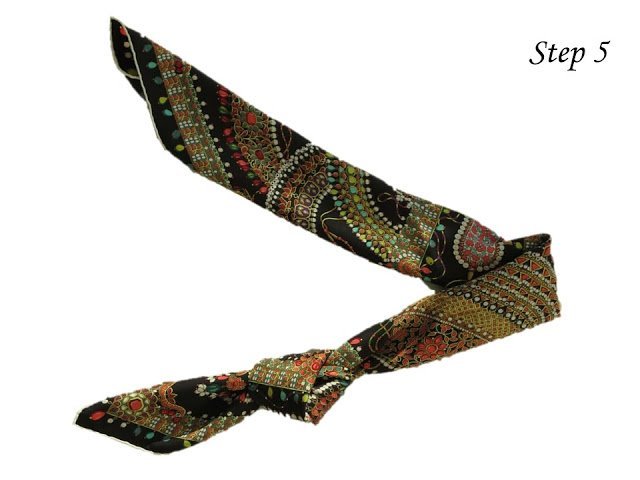 Step 6
Now, take the stray tip of the other, non-knotted end of the scarf, and carefully pull it through any opening in your knot that you can find. In reality, there's usually a clear place through which you can pull that end. In this photograph, you can sort of see the tip of the loose end peeking out of the knot…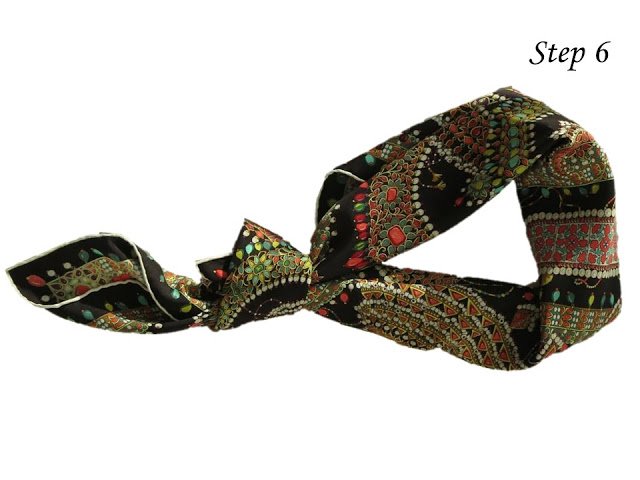 Step 7
Pull the loose end of the scarf through the knot until the ends are about the same length, and then tighten the knot. At this point, you can look at your "scarf necklace" and see which side of the knot looks better, and you can slip your scarf over your head with that side of the knot facing outward.
You might have to loosen the knot a bit to get the scarf over your head…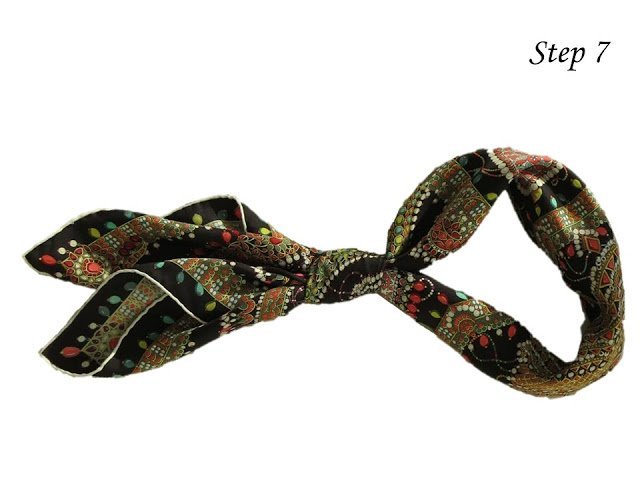 If you want to wear your scarf over a shirt with a collar, you can slide the neck-part of the scarf under the collar, and think of the knot as a sort of man's tie. When wearing a scarf with a turtleneck or crewneck, you can wear it as high or as low on your chest as you prefer.
And when you're out to eat, you can just toss the knot behind you, so that during dinner, the scarf floats down your back. Before you get all lit up about the heresy of this, I first saw this done in Paris, so I feel like it's totally acceptable. And if it isn't, I will find a way to not mind!
Step 8
Once you've mastered the bias fold technique, the world is your scarf oyster. One option that is very simple, if you like a more "horizontal" disposition for your scarf ends, is to just tie a square knot. (remember, left over right, then RIGHT over LEFT…)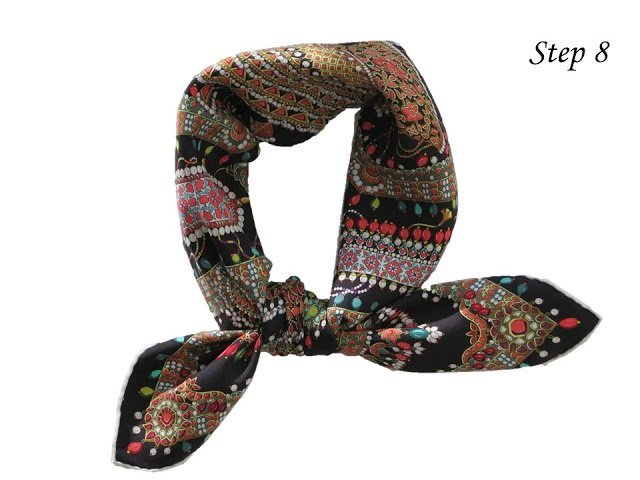 Another way to tie, in really cold weather, is to center the middle of the bias-folded scarf in the FRONT of your neck, wrap it around and bring the short ends to the front, and THEN tie a square knot. It's a lot of scarf wrapped high on your neck, but it's also warm…
A bias-folded scarf ties beautifully onto the handles of a handbag – but be sure you don't carry your bag too close to the ground. Dragging a scarf is never chic.
And you can tie this scarf in the "infinity knot," which I showed here.
Make sense?
love,
Janice