November 18, 2015
This is the scarf of the day:
Falling in Love, Gradually…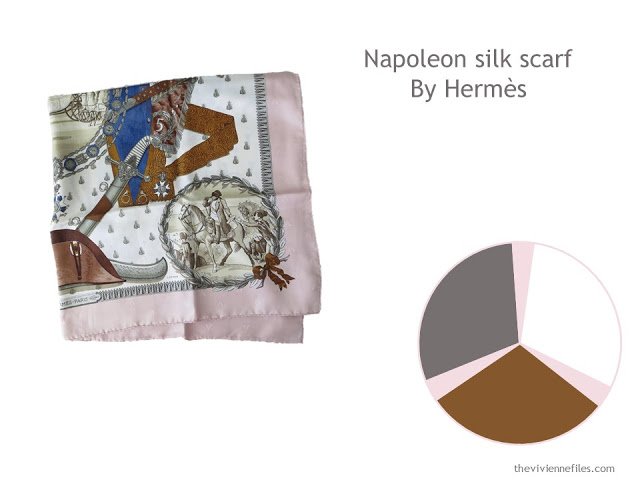 She knew the scarf was beautiful – rare, intricate, quite fascinating just to look at, to pick out little details that weren't apparent when the scarf was being worn…
But it took her a while to realize how many different ways she could wear it!
Her love for Napoleon was long-standing – she has the "bee" jewelry to prove it. So she started carefully, gradually, wearing her gorgeous scarf with a simple brown dress (but NOT with the matching fabric belt!), and then with a white sweatshirt and her brown corduroy pants. Every time she put it on, she loved it a bit more…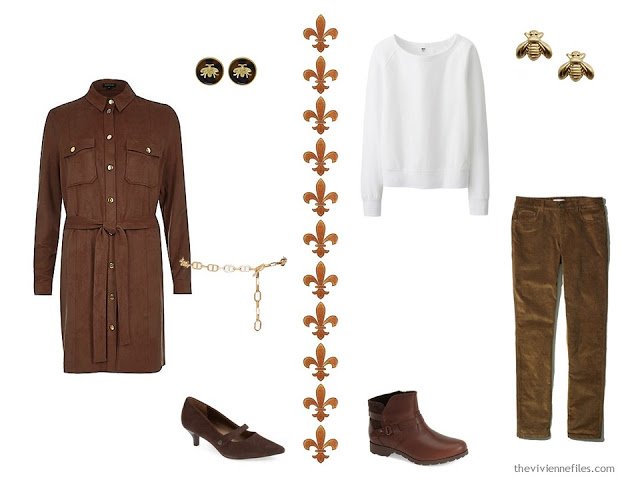 Dress – River Island; brown earrings – Fornash; gold belt – MICHAEL Michael Kors; pumps – Trotters; sweatshirt – Uniqlo; bee earrings – IlyCouture; cords – L.L.Bean; waterproof boots – Teva
The more she looked at her scarf, the more she realized that a lot of the detailing was outlined in shades of grey – and THAT opened up a few more doors:
Grey sweater – Mango; smoky quartz earrings – JCPenney;
skirt – Theory; riding boots – Arturo Chiang; brown sweater – Hope; grey cords – Citizens of Humanity; woven bracelet – Caputo & Co.; loafers – Robert Zur
Time passed, and she began to express her fondness for pink in gradual additions to her accessory wardrobe – she was building a legitimate "pink family" of accessories! So one day, when she just plain wanted to wear jeans, she could wear her scarf too, and it looked perfect.The final step was when it was dead summer, too hot to imagine wearing a scarf, and she decided that it would make a great belt over a white skirt and top. It was then that she knew the love was absolute, and permanent!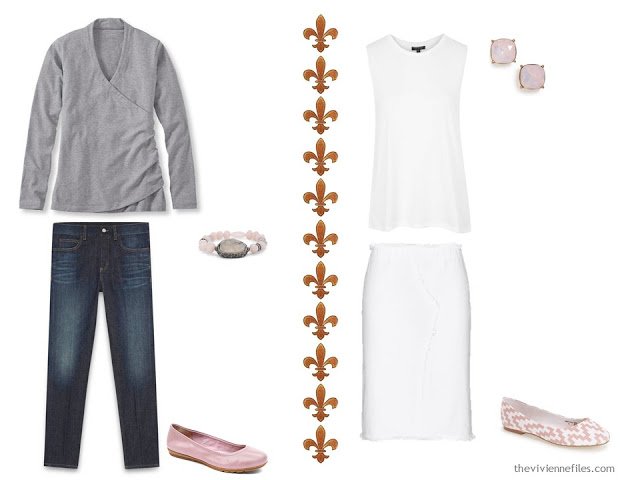 Wrap top – L.L.Bean; jeans – Gucci; bracelet – Chico's; ballet flats – Rockport; white top – Topshop; pink earrings – BP; denim skirt – Vanessa Bruno; woven flats – The People's Movement
Now, when she needs to pack, all she needs to do is pull out her Napoleon, and then build around it: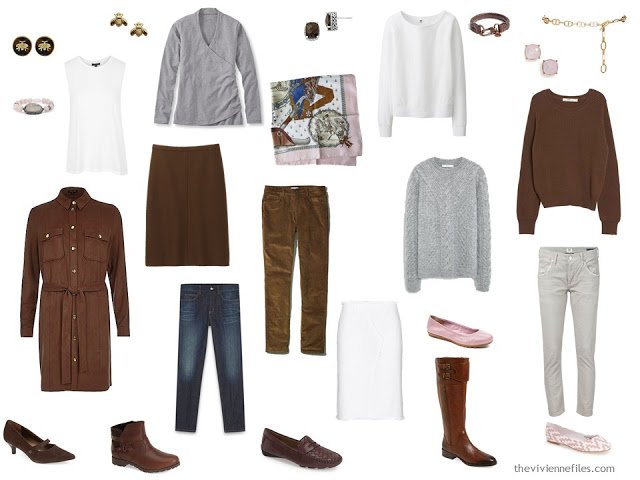 It is, of course, absurd to love an inanimate object, but there's nothing at all wrong with admiring something A LOT… (which sounds like love, if you're not paying attention…)
love,
Janice