BIG UPDATE!!!
Saturday's scarves – Katie Quattro – #1, and MJM – #2, are yours if you are still interested in purchasing them. Send me a note at theviviennefiles@gmail.com to make arrangements…
I'm going to do a flurry of posts about the scarves that I want to sell, because I want to sell them FAST, because… I'm still going to Paris on December 10th. I know people will worry, I know that I'm going to make a couple of adjustments to my usual travel organizing, but I'm still going to go…
I just love it too much there…
So today, I'm offering up this vintage wonder:
This scarf is long out of production, and will (as far as anybody can tell) never be produced again in this incarnation. This has little bees woven into the fabric (B for Bonaparte – it was a motif that he used in architecture, and probably other things, knowing him…)
Here are close-ups – this is one amazing scarf…
Let's get business out of the way: $250, leave a comment explicitly expressing interest. Otherwise, leave a comment expressing brilliance and charm!
Falling in Love, Gradually…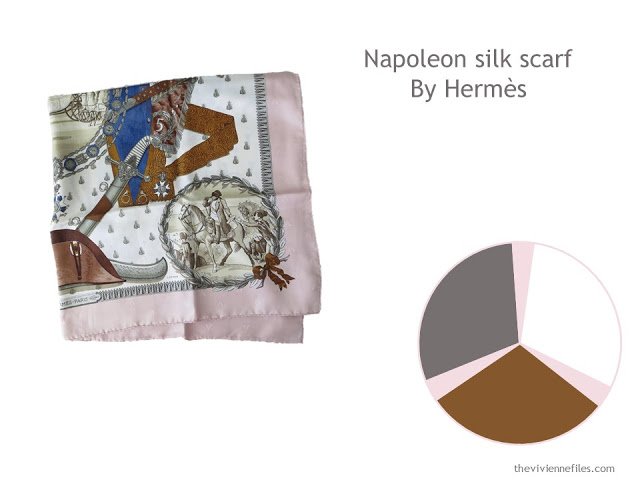 She knew the scarf was beautiful – rare, intricate, quite fascinating just to look at, to pick out little details that weren't apparent when the scarf was being worn…
But it took her a while to realize how many different ways she could wear it!
Her love for Napoleon was long-standing – she has the "bee" jewelry to prove it. So she started carefully, gradually, wearing her gorgeous scarf with a simple brown dress (but NOT with the matching fabric belt!), and then with a white sweatshirt and her brown corduroy pants. Every time she put it on, she loved it a bit more…
The more she looked at her scarf, the more she realized that a lot of the detailing was outlined in shades of grey – and THAT opened up a few more doors:
Time passed, and she began to express her fondness for pink in gradual additions to her accessory wardrobe – she was building a legitimate "pink family" of accessories! So one day, when she just plain wanted to wear jeans, she could wear
her
scarf too, and it looked perfect.
The final step was when it was dead summer, too hot to imagine wearing a scarf, and she decided that it would make a great belt over a white skirt and top. It was then that she knew the love was absolute, and permanent!
Now, when she needs to pack, all she needs to do is pull out her Napoleon, and then build around it: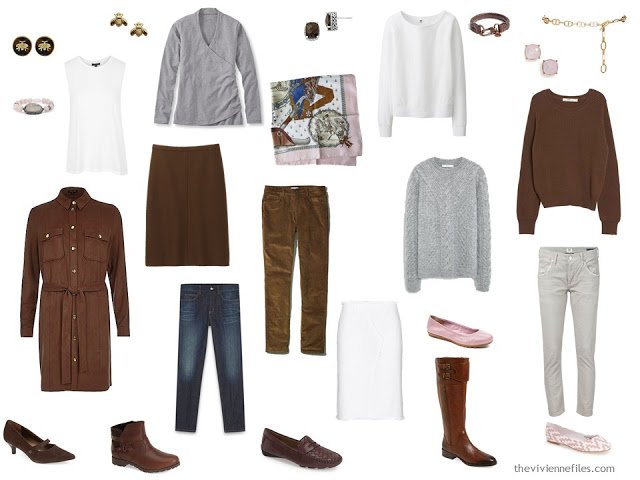 It is, of course, absurd to love an inanimate object, but there's nothing at all wrong with admiring something A LOT… (which sounds like love, if you're not paying attention…)
love,
Janice