November 19, 2015
For a long time, I've been saying that I think the outfit in which you travel is the most important clothing you have to choose for a trip, and I'm sticking with that belief. Recently, Belovedest had dinner with a co-worker who spent over 48 HOURS in an airport in Egypt, trying to get home. (when they were finally allowed to board a plane, they had to leave all luggage and carry-on bags behind, and could only take with them what they could carry visibly in their hands, i.e. phone, passport, and wallet…)Okay, that's a very extreme case, but it's not at all unheard of to be delayed, or have to be re-routed to an unexpected city (where you hang around either on the plane or in the airport for an undetermined period of time). Frankly, the more I think about it, the more I'm convinced that there's no harm in being prepared for a long haul when you're traveling…
And, of course, I'm pretty methodical about how I do things, so I was thinking about how this could be put into a template…
My primary thought when considering the best way to dress was to work with the "Triple Top Secret" idea of wearing three tops – a tee shirt, a button-front shirt, and a cardigan or jacket.
If you're somewhere that gets really warm – strip down to the tee shirt. If it's cold (like on the plane) you've got three layers. If the weather is fine, but you're delayed for AGES, you can let your tee shirt take all of the stress/sweat abuse the first day, take it off the second day (and burn it?), and just wear your button-front shirt, which is still relatively clean. If your cardigan has buttons up the front, you always have a third-day options of ditching the shirt and wearing just your sweater.
I'm also including walking shoes (that don't look like marshmallows, but that will still let you walk for miles), and a scarf, for essential cuddling, or putting over your head when you want some privacy.
Oh yea, I'm including a watch here too, so that you don't have to constantly pull out your phone to check the time. Phone battery power in not something you'll want to play fast and loose with, and sometimes your hands are just too full. And it's not crazy to want your phone tucked away where it's safe; in a crowded airport, valuable things can suddenly disappear… so the watches aren't terribly expensive, nor are the earrings. This is not the time to be panicky about mislaying something.
Maybe I'm crazy, but being able to visualize things helps me a lot.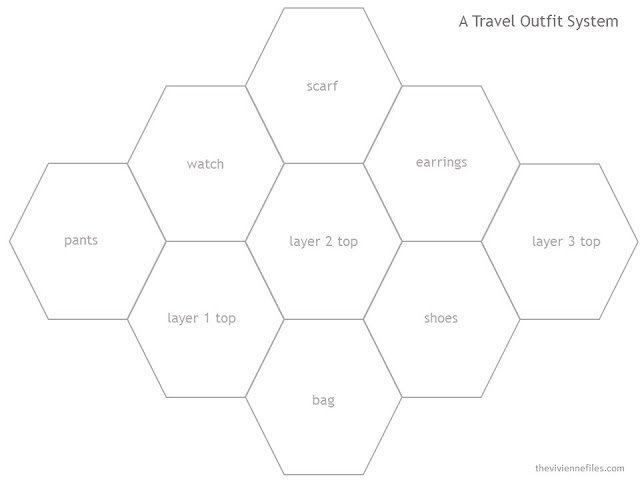 If you're a true snuggler, your button-front shirt might be flannel (and I love the juxtaposition of flannel with sparkly earrings):

I personally am pretty smitten with the idea of mixing black and white prints:

Some of us can't think of "shirt" without thinking blue cotton! I'm not sure that I, personally, would want my tee shirt to be white, but it is an option, and would certainly be nice and cool looking if things got overheated.

The love of all things pink continues…
As you can see, there are a lot of possible ways to work this. A denim shirt would be genius…
48 hours…. I'm still thinking about that…
love,
Janice