November 20, 2015
Oh. My. Goodness….If this somehow became mine, I would wonder WHAT in the world was going on, and then I would indeed build my entire wardrobe (and that of my bodyguards!) around it. What a beautiful piece of jewelry…
But even if one is not destined to own this, it can still certainly be used as a style focal point, or inspiration. The colors are straightforward enough: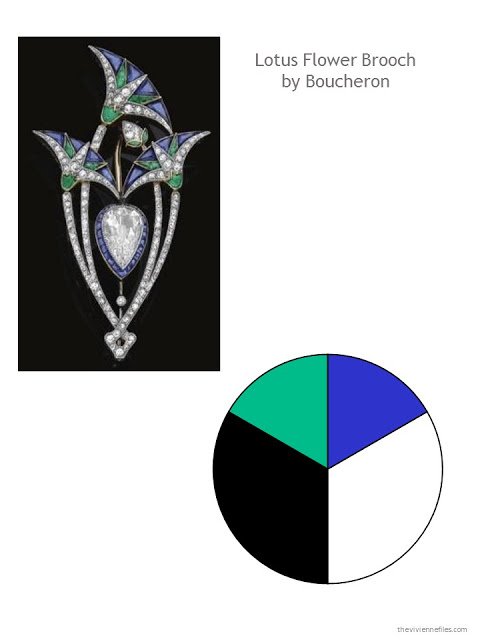 Yes, I included the black of the background; I think it serves well as a foil for the diamonds, sapphires and emeralds.
So she's heading home for a long winter holiday weekend. She doesn't wear lavish, or amazing clothes – mostly things that are readily available. But in her mind, she remembers the brooch, and it changes everything about how she carries herself…
Even if she's just wearing jeans and a tee shirt, the choice of colors, and the careful attention to accessories, reminder her that the beauty of the brooch she so admires can be carried with her everywhere. It just requires a bit of creativity, and discipline. Nobody else realizes…
And she was clever enough to realize that malachite and lapis can be the same colors as emeralds and sapphires, and she can have jewelry that makes her heart sing without missing a rent payment!
This is everything she has with her for the long weekend. After even the most STRESSFUL family meals, seeing these things in the closet remind her of who she is, and of the beauty that she cherishes in the world.
Even though she only packed six pieces of clothing, she has plenty of options for getting dressed each day: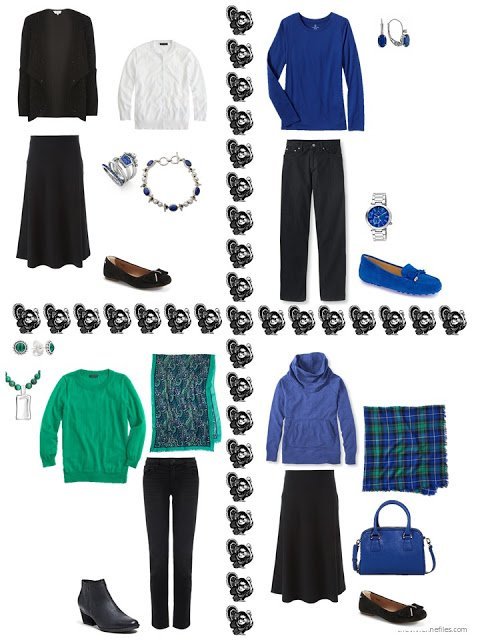 I'm staying home for Thanksgiving this year, and going out to a restaurant. I'll be breaking, just a little bit, out of my fashion comfort zone!
What are you doing?
love,
Janice