This is a painting that easily provides a second color scheme! Remember
last week
, when I used more pastel colors as the accents?)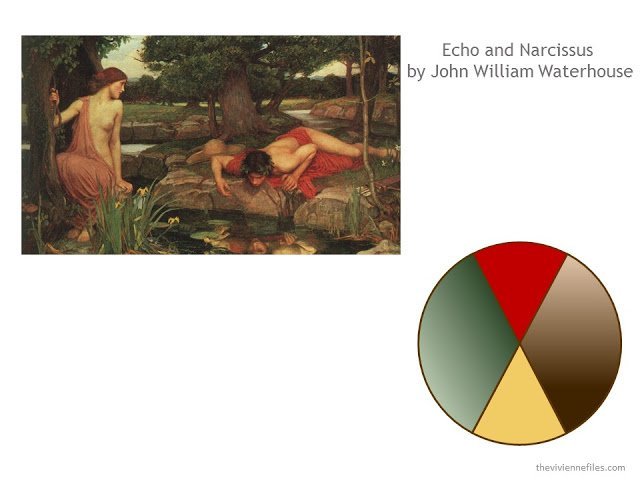 Today we will see how a change of accent colors alters to whole mood of the "Whatever's Clean 13."
Start out – the same outfit as before – I'm still deeply smitten with this sweater….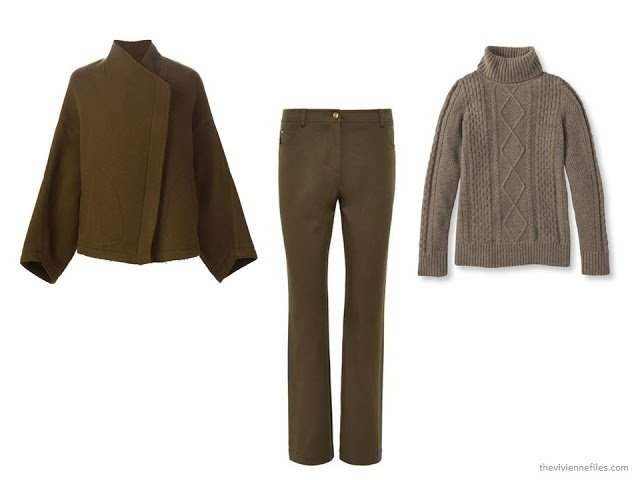 I changed a couple of pieces here, just to show you a little bit of variety: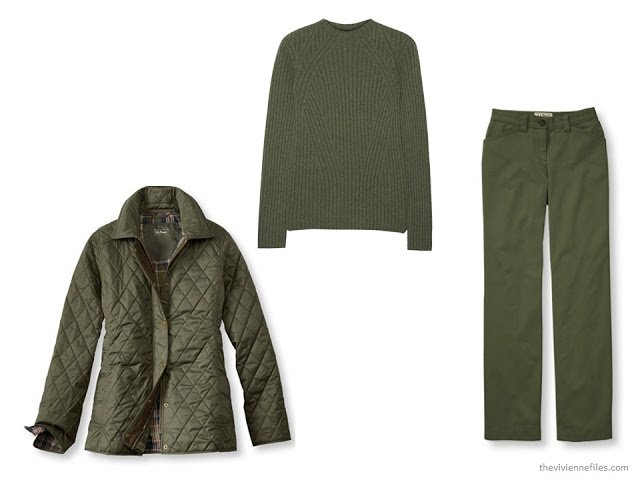 And at this point, I still feel that some accessories are handy – at least you're going to want some shoes or boots! A scarf that pulls the colors together is helpful, and a pair of earrings never goes amiss…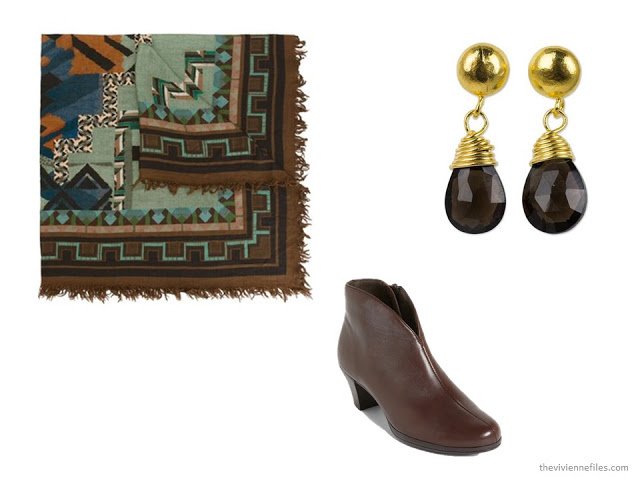 Scarf –
Etro
; loafers – Munro; earrings – Khun Boom
Here's where everything changes! Bright accent colors, with accessories that include the accents as well as the neutrals. Instead of a white or off-white top, I included a more beige tone this time.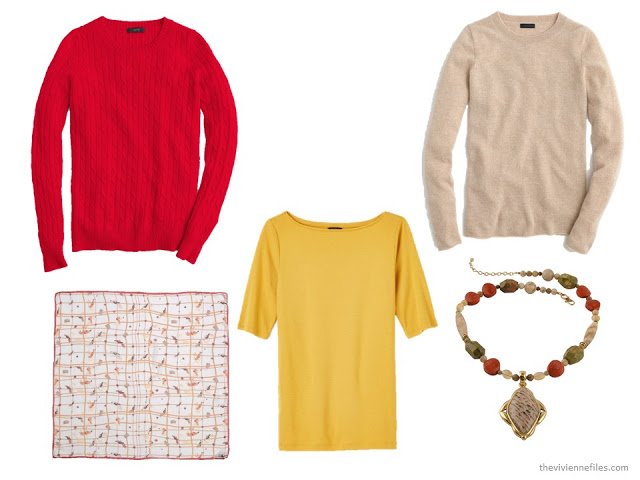 As before, you need to add a couple of "bottoms", and a top that can be worn with everything. If you wanted to, you could include a piece or two in one of your accents here – there's no real strict rule about any of this!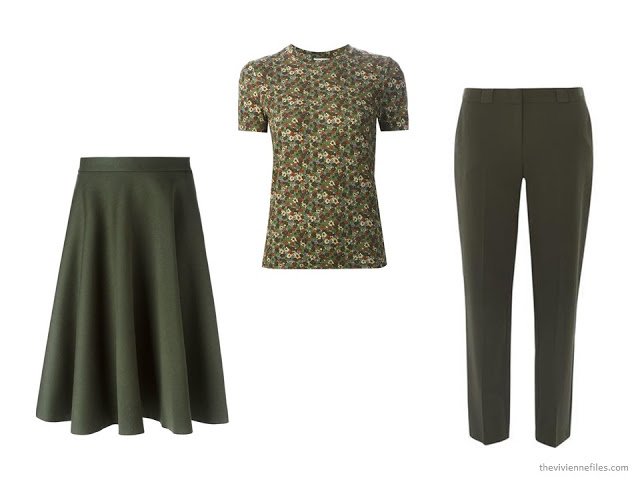 And the last step is one more "bottom" (which I see are now on sale…), as well as another footwear option, and maybe a bag, piece of jewelry, or other accessory that gives you choices about what to wear, as well as giving you a sense of having everything you need. I found a bigger bag that looks good with these colors – some people just don't do well without a tote bag!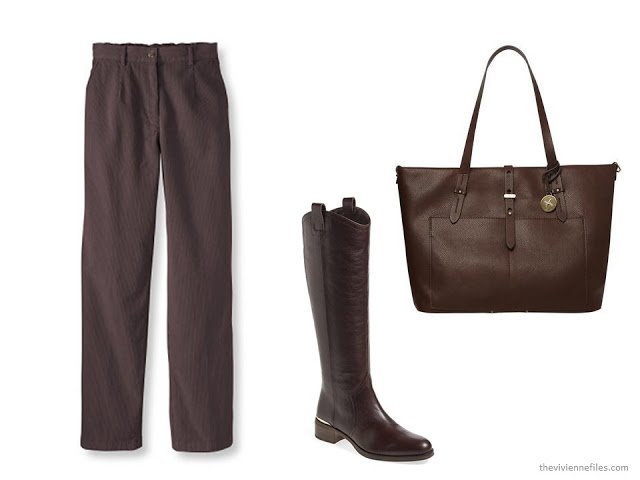 If you compare the overall mood of this ensemble to that from last week (view it here), you can see that just changing up a very few pieces makes the entire wardrobe feel different. That's the power of accent colors!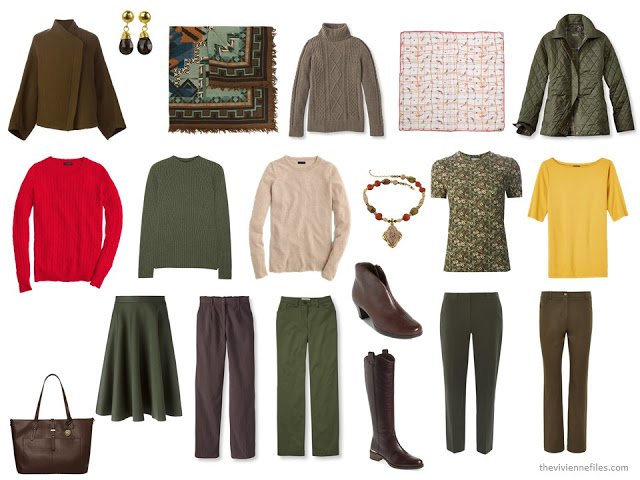 As before, this is ideal as a travel wardrobe, or just a capsule to have pulled together in your closet to minimize stress when getting dressed. Less stress is always good!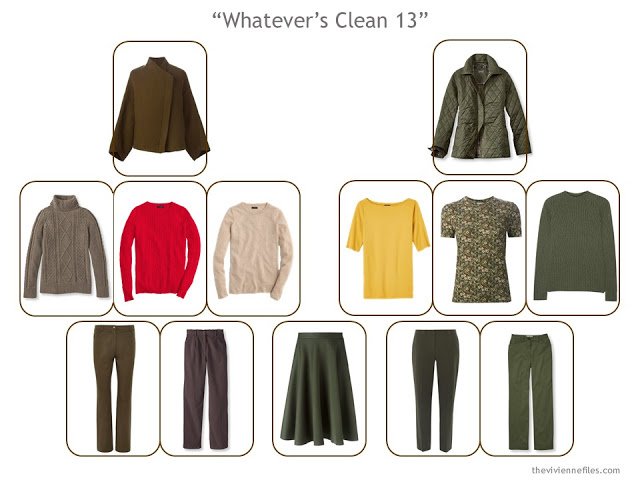 And yes, you ABSOLUTELY can include all four accent colors in your wardrobe! As long as you're working with a solid core of neutral garments, the sky's the limit for accents colors. Your preferences, your budget, and your coloring are the only constraints.
love,
Janice