Something that I struggle with a lot, personally, is my accent color, or colors. I'm always thinking that something
other
than red should be my "color", but who am I kidding? I keep coming back, over and over, to red…So I was playing around with a variety of accent colors, using simple black garments as a core, and building around quilted vests, just for the heck of it…
When you're looking for these vests, make sure you look for "quilted," rather than "down," unless you specifically want down. Some of the vests with synthetic insulation are just as warm, and quite lovely; you'll miss them if you don't include everything quilted…
Yes, these would make nifty little templates for buying gifts, too. But if you go shopping on Thanksgiving Day, don't tell me, because it will make me feel really bad for the staff that has to work. I spent enough years in retail to believe that everybody deserves at least a couple of FULL days off…
And for the multitudes among you who don't wear black, I'm also going to visit this idea with a few more neutrals, both warm and cool. Brown, grey, olive, and navy are on my list…
First, the 4 garments: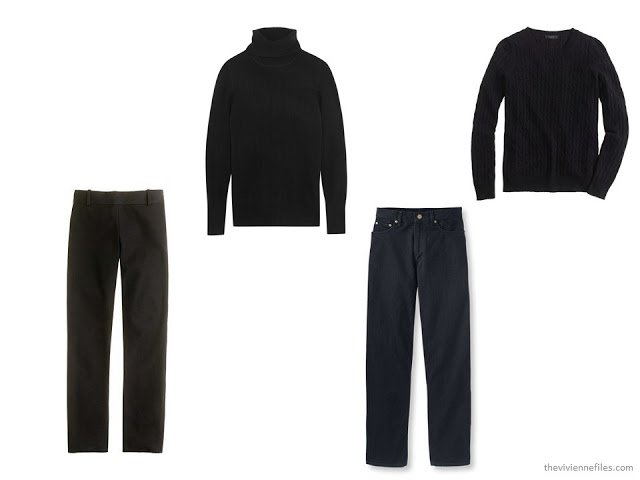 My first experiment was to use a 2nd neutral as the accent color. This is kind of fun, because you might also have a complete outfit in the accent color, and use black as the accent for that, etc etc…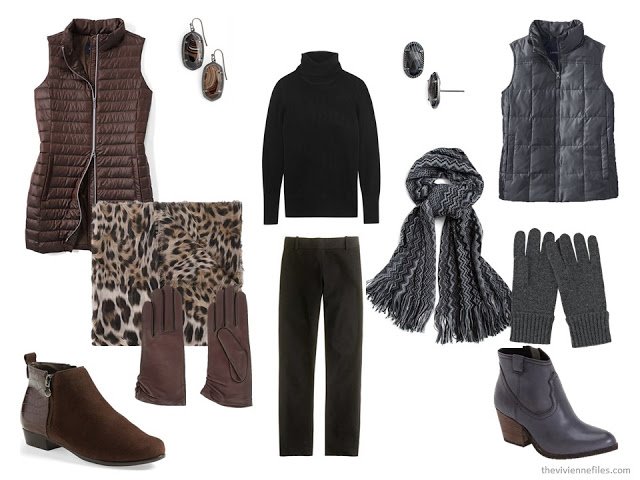 Brown vest –
Lands' End
; brown earrings – Kendra Scott; leopard print scarf –
grey cashmere gloves – Uniqlo;
grey boots – Steve Madden
For what it's worth, I'm NOT suggesting that these ensembles be worn with ALL of the accent pieces – that might be a bit overwhelming. I'm sure that these images will get separated from this text almost immediately, and someone is going to think that I've gone completely daft…
Second up, I had to look at bright colors – they seem so natural with black. Many of us are going to gravitate to these immediately!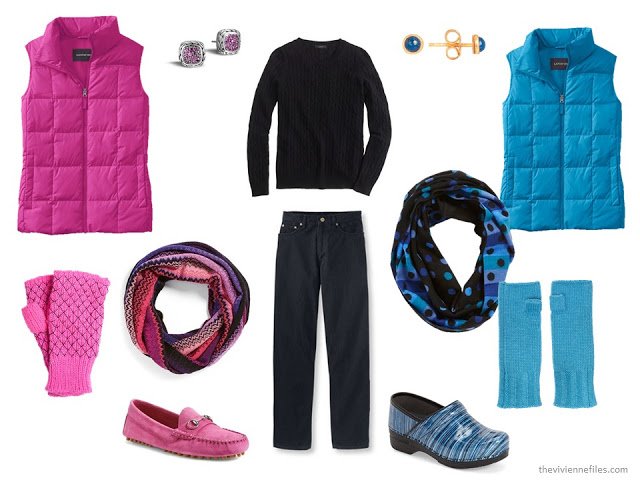 fingerless gloves –
Scoop
; clogs – Dansko
These are colors that you don't immediately think of when you think of an accent for black, but I really like the way both of them look. I think, for someone transitioning from black to warmer colors, these might be excellent ways to get started. Test-driving a color in a small "sample" like this would never be a bad idea.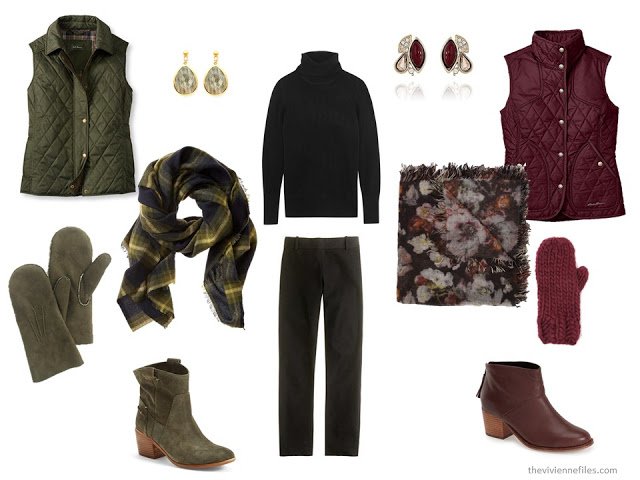 olive plaid
scarf –
Banana Republic
; olive boots – Vince Camuto; cluster stone
Similarly, for those among us who are developing lighter hair as we age, the juxtaposition of pastel colors with black is unusual, but could be very flattering. I would consider adding light blue to my wardrobe just to own those amazing blue loafers…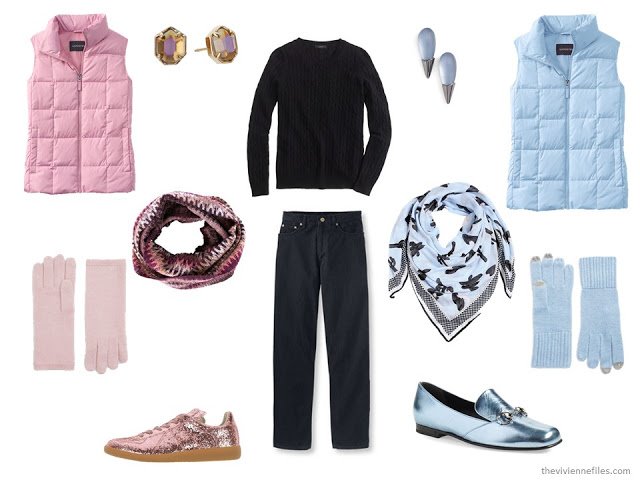 – Alexis Bittar;
light blue vest –
Lands' End
; blue scarf –
Kenzo
; blue gloves –
But, after everything, I'm pretty certain that I'm a red girl…
And you?
love,
Janice