November 25, 2015
I mentioned a few days ago that I'm going to be moving slightly out of my comfort zone for my Thanksgiving attire…It all started when my contacts at House of Fraser offered to send me something – they had a list of garments that were available (I'm guessing they were buyer samples?), and let me choose. The only item in my size that really interested me was this:
Until now, I only rarely wore anything metallic, and never a dress like this. But because I am so comfortable in knit and sweater dresses, this wasn't a real "reach" for me… And it is a really cool dress!
We're going out to a restaurant for Thanksgiving dinner, so I can wear this with opaque tights and low-heel dress shoes, and be both comfortable and dressy. Perfect solution!
That got me thinking about you, of course. Maybe, the answer to finding the perfect holiday outfit is as simple as looking in your closet. What's your favorite style, or signature garment? Is a version of that piece available in a "festive" fabric? It's just that easy – holiday-ready, but still in silhouettes or pieces that you know you love. No "costume" feeling, and no discomfort…
Let's start with my favorites, knit dresses. If you already have something like the grey dress hanging in your closet, there are LOTS of other options available in knit dresses, kicked up a few notches for evening wear.
When you're looking for this kind of garment, look for these keywords: sequined, beaded, embellished, ornamented, jacquard, velvet, metallic or brocade.
If you always wear button-front shirts, finding a shirt in a gorgeous dressy fabric is a very straightforward way to dress up; you can even wear your dressy shirt with the pants and skirts you already own! Add a pair of earrings, or a fancy shoe, and you're finished.
Jeans? Black velvet jeans are everywhere! But don't miss the chance to look at the jacquards, brocades, and satins that are available, too.
If there's one dressy garment that I think almost everyone should own, it's a cardigan. It can instantly change the dressy level of a simple tee shirt and pants, or anything else you wear with it.
And if you're a blazer person, that is a wonderful option. I'm particularly taken with the J. Crew sequined tweed…
Tee shirts? Heck yes!
If you live in pants that aren't jeans, you have lots of choices for dressing up your daily look. And I have to point out how very easy it would be to make a pair of pants like this – there are lots of people giving sewing lessons these days; they would love to help you.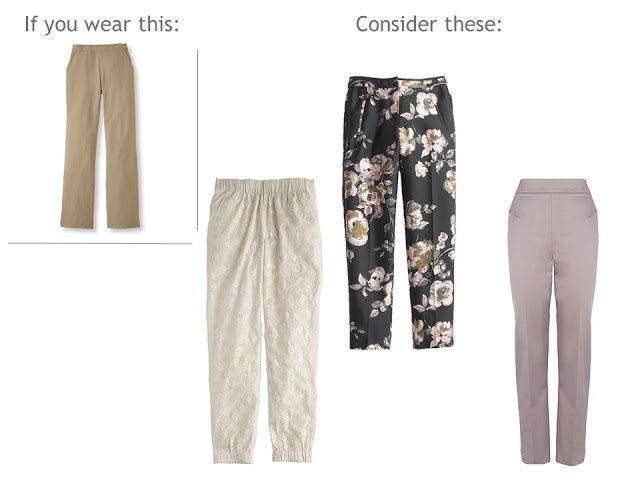 Perfect fit khaki pants –
L.L.Bean
; ivory sequined pants – J. Crew; flowered pants – J. Crew; mink brown satin pants – Coast
The idea of a dressy sweatshirt really appeals to the iconoclast in me – it's the perfect thing to wear when you have NO IDEA how dressy an event will be. If everybody's casual, you're wearing a sweatshirt. If everybody is really decked out – you're wearing sequins, beads, or some other dressy element. Plus the comfort level… sigh…
for what it's worth, a sweatshirt with a logo in sequins doesn't really feel festive to me – I feel more like I'm a billboard, rather than a woman dressing for fun!
If, like me, you live in black sweaters, a sweater with a touch of embellishment is easy to find, and changes everything.
And if you are most comfortable in tunics, you have tons of choices. Never forget that our friend Eileen Fisher makes DOZENS of tunics in luscious fabrics…
If you're really at a loss for finding something amazing for the upcoming seasonal parties, don't forget to browse some of the deep discount sites like yoox, Neiman Marcus Last Call, Saks Off 5th, or the Outnet.
You might find something of which you could only have dreamed, marked down to a price you can stand! Plus, they're a great source of ideas, and occasionally a good laugh…
Have you got holiday clothing sorted out? With my new dress, and my old sequined black sweater, I'm pretty certain that I'm covered (literally and figuratively) for anything my holiday season throws at me!
love,
Janice