I have too many scarves. It's just that simple – when I'm looking for a specific one, I struggle to find it, and I wander past a LOT of beautiful scarves that aren't getting the love and attention they deserve.
So I decided to clean up!
For no really good reason I can think of, I decided to choose 10 scarves to send out into the world. And from there, my methodology was bizarre, but effective…
First off, I got to thinking about how there are really only two kinds of clothes – good ones and bad ones. You can define these two terms however you like, but for me, good means good fabric, well constructed, by people who are paid a decent wage and work in decent surroundings, and which are sold by people who are also treated with respect and dignity.
And then, secondly, clothes fall into the camp of being suitable for you – your style, your taste, and your life – or being unsuitable.
So with two criteria, we get four quadrants. (yes, I love graphs…)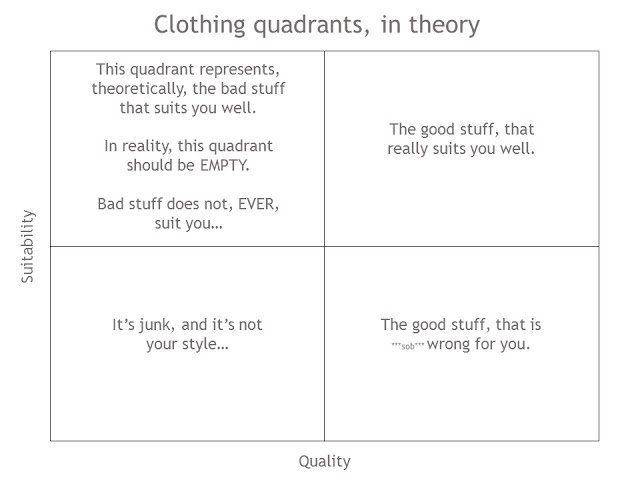 But in nobody's life do these quadrants look like this…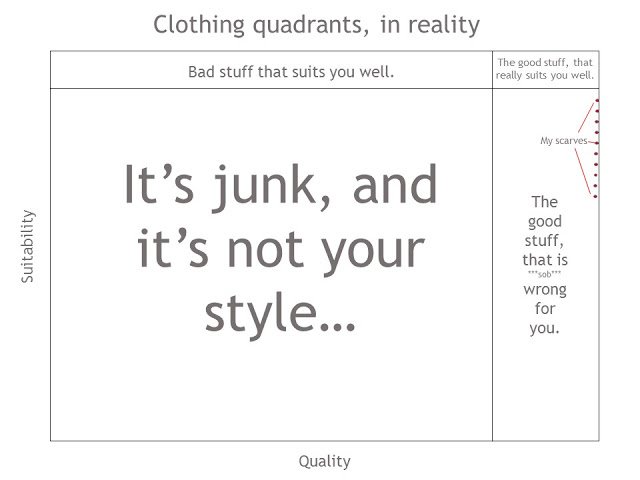 This is more like life in the modern clothing retail world – a ton of stuff that's not worth your attention, a fair number of things that appeal but that aren't right for you, and a wee corner of the world that's perfect for you…
And thus, I was able to see that, while my scarves are of good to excellent quality, they don't suit me. Some of them are perfect for me except that they are redundant for my needs i.e. WAAAAAY too much of a good thing…
So these are the scarves that I'm going to sell between now and the end of the year. (now you can start scheming which one you most want!) My plan is to do a blog post about each scarf, which will include more photographs of all the scarf details. I will build a wardrobe around the scarf, and ask that anyone interested in purchasing that specific scarf leave a comment explicitly stating their interest. (this way, people who don't want to buy the scarf can still leave comments and initiate discussions)
Seven days later, I will choose someone at random to buy the scarf from me. This keeps the sales from being strictly "first come, first served", which is heavily biased against the West Coast of North America!
I hope you're all okay with this plan – if you have better suggestions, I'm always eager to make improvements that will help us all.
love love love,
Janice