September 26, 2015
Last week, I did a post (see it here) in which I took eight very brightly colored garments and incorporated them into outfits, using black as the neutral to offset the color.So I was thinking (I'm ALWAYS thinking) that the range of garments was a pretty interesting list – it included pretty much all of the major garment "categories", with one exception. So I took the original list of items (taken from my favorite French fashion book: Ma To-Do List: Dressing, by Laure Gontier and Jeanne-Aurore Colleuille) and made one change: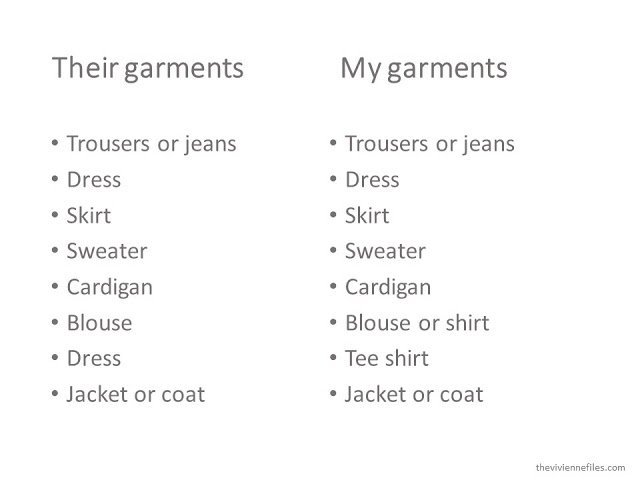 I stuck pretty faithfully to their colors, except for the pine green, which is more neutral to me. I substituted purple, because…. well…. PURPLE!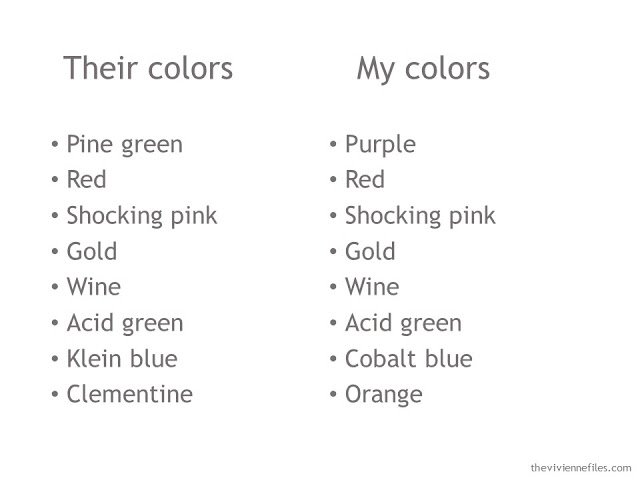 I then alphabetized the two lists, and matched them up. I was going to go straight across left to right, but the first THREE items were identical to ones that I played with last week. So I make up a fake random-ish matching system…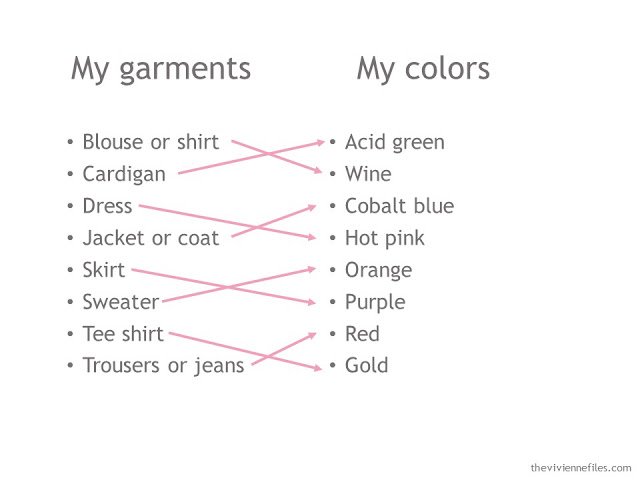 Since I exhausted black last week, I'm going to dance with just THREE simple navy garments this time:
Oy, this color is a real struggle for me, but I'm delighted to hear that some of you wear it well, and frequently. I knew you had to be out there somewhere!
I figure, if you're going to wear this color, go all-out! Athletic shoes, a PVC handbag? You will NOT fade into anybody's background like this:
I think many of us could get on board with this color – these seem like they would be pretty universally flattering:
This seems like the easiest possible "nice, but not fussy" dinner outfit possible. An untucked shirt can hide a multitude of overeating sins…
Yes, I'm reusing some of the accessories from last week's post; I don't do this from laziness, but rather to show how versatile a handful of well-chosen jewelry and scarves can be.
I loved my cobalt coat from back in the 80's; I could easily be tempted again!
Sometimes it can seem tough to mix shades of blue, but the scarf here makes all things possible!
This is another case of a color that might be flattering to a lot of us. While it might take a bit of confidence to wear something this bright, there's no question that each of these dresses is constructed to be very flattering. Maybe instead of another black (or dark neutral) dress, this is something to consider?
Exactly the same necklace and clutch as last week's hot pink, with a pair of simple low-heel sandals. This would be appropriate for SO MANY different events…
Orange can be tricky, but this Boden cardigan is pretty tempting!
When I was searching for orange sweaters (and searching, and
searching… you can't imagine how many garments I look at every day!), I ran across this v-neck… What a great color…
This is another instance of a color that could brilliantly take the place of black for dressy occasions. Imagine the long pleated skirt with a soft white silk top and silver sandals, or that AMAZING ruffled skirt with a simple black sleeveless top…
Yes, the ruffled skirt costs a fortune. Sometimes, I just have to show you some of the things that I find, even though I don't for a heartbeat imagine that any of us are going to buy and wear them. It's good to admire beautiful things, even if we never own them; it's not always about ownership…
Note that this skirt is cotton (aka all year) and has pockets!
Red trousers or jeans! Red's practically a neutral, insofar as you can wear it with EVERY other neutral I know (navy, black, grey, taupe, brown, beige…).
So often, accent colors are worn near the face; I think this is a nice change of pace.
Yes, gold doesn't always mean bright yellow! J. Crew often carries metallic tee shirts, and I can vouch for their versatility.
If yellow is hard to wear close to your face, the cardigan, and the scarf, help dilute the more "jaundice-inducing" effects.
Frankly, I'm loving this project, and I really want to pursue it with gray, beige, brown…
I hope you don't mind!
love,
Janice