August 31, 2015
For all of us who are art lovers, it's important to remember that we can indulge ourselves while supporting our favorite museums. Gift shops make a real point to find the most beautiful items available, and they always have a certain quality that you just don't see in every store…This beauty screams fall, doesn't it?
What really appeals here is the way that the strong camel and brown tones provide a perfect backdrop for the clear red, green and blue:
Under the Radar
She wanted to travel. A lot. She has a project, and some goals in mind. So she wants to get out of town, maybe as often as every other weekend, through the autumn and winter…
There are LOTS of cities really close to her – just 2 or 3 hours by train.
But if it turns into a big project every time she tries to get out of town on Friday afternoon, it will never happen. So it's imperative that she come up with a system to stifle any big conversation about how often she travels…
First up, if she wore this same outfit to work every other Friday for 6 months, who would notice?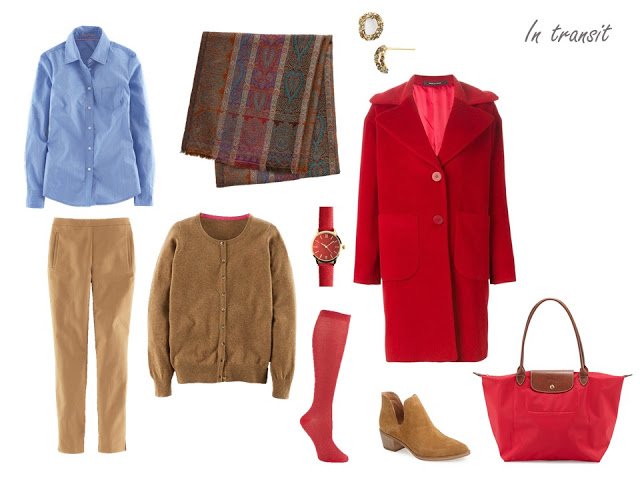 And she could keep these things packed all the time. Come back into town Monday morning, go to work, do laundry Monday night and repack everything…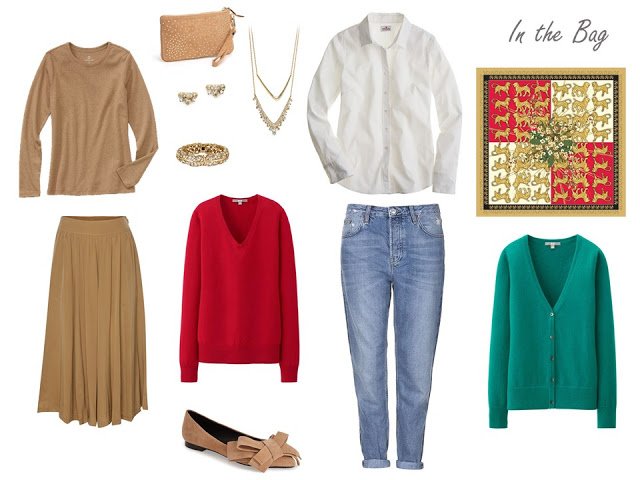 Camel tee – Lands' End; silk skirt – Apiece Apart; wristlet – Deux Lux; bracelet – Alexis Bittar; earrings – Alexis Bittar; red sweater – Uniqlo; camel flats – Jeffrey Campbell; boyfriend jeans – Moto; white shirt – J. Crew; square scarf – Laleh Fayaz; tiered necklace – Alexis Bittar; green cardigan – Uniqlo
It's really not all that many things to segregate from the rest of her wardrobe. Nobody's paying that much attention to what she wears – they'll never know that there are 9 pieces specially reserved for her adventures!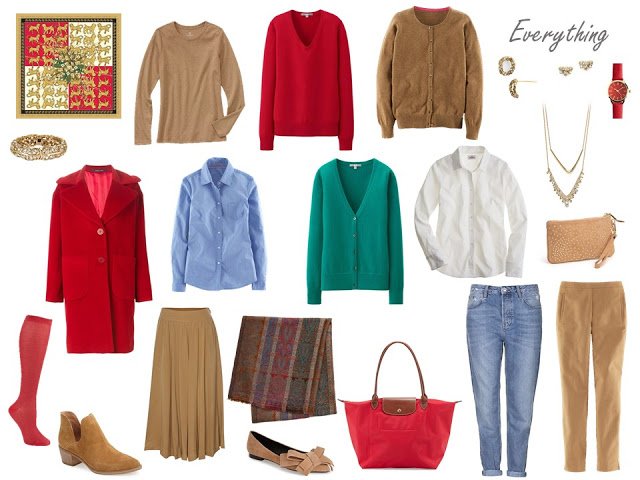 And no matter what she pulls out of the bag, she can get dressed without worry!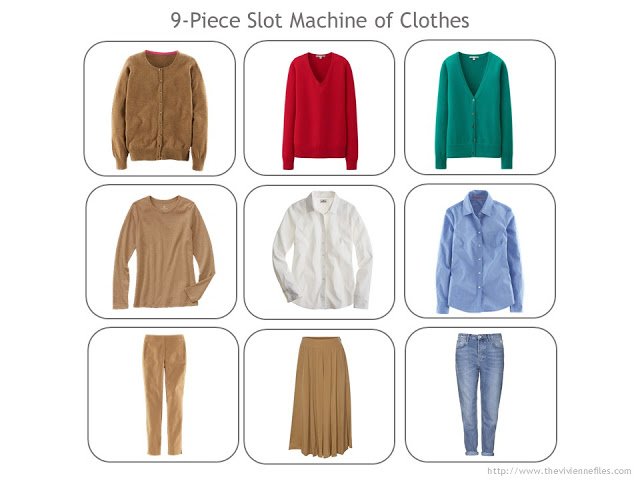 Even if she has to come back to work on Monday in the same camel trousers, her outfit might be completely different. Certainly sufficiently different that it won't excite any comment…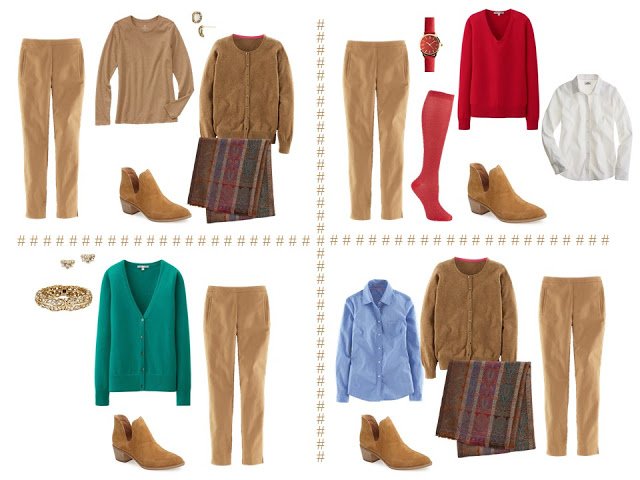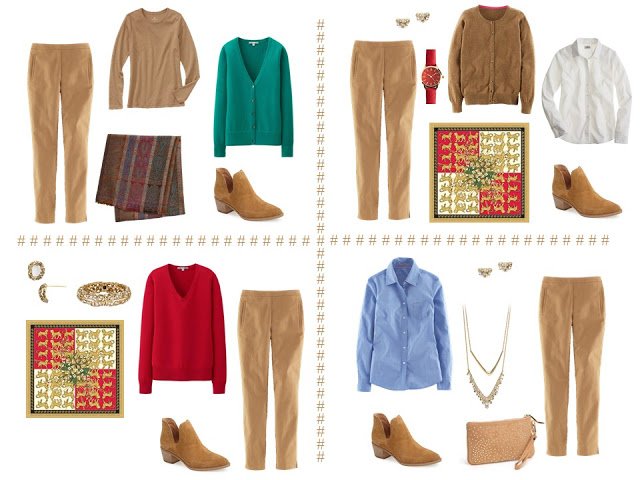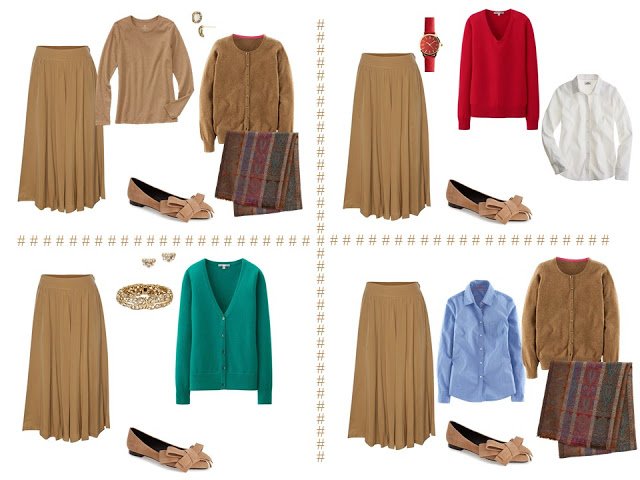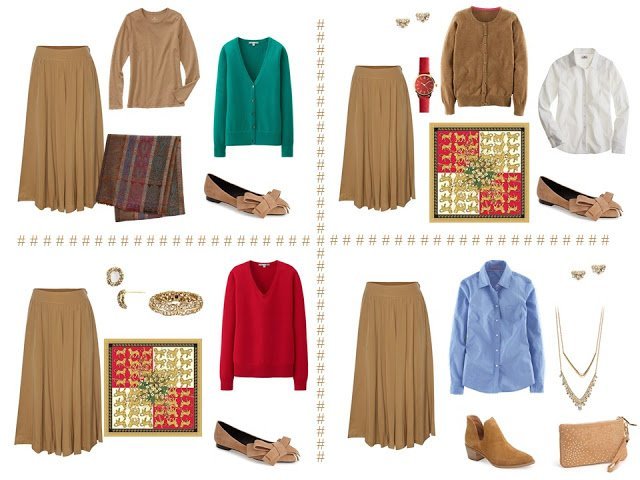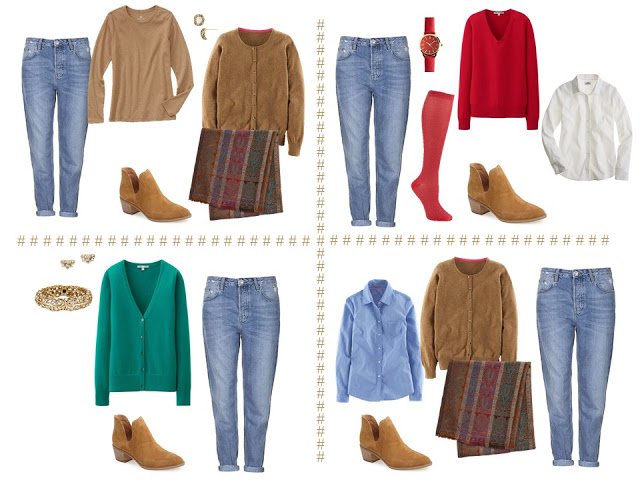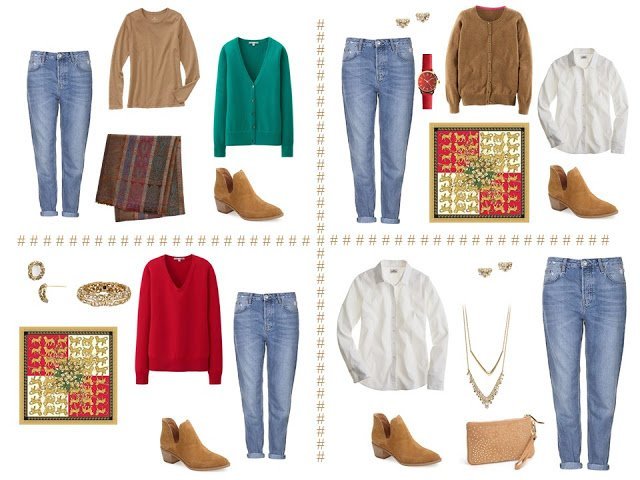 And some Monday, she'll walk into the office and give her notice. She will have found the job, and the apartment, in one of those other cities. Maybe THEN, when she's on her way out of the door, someone will notice what she's been doing…
love,
Janice