August 29, 2015
The wealth of colors in this painting lead me in all sorts of directions, so I thought I'd share with you my thought process as I finalized a color scheme for us to work with here.
My very first instinct was drawn to the fabrics in the background of the painting – the vivid blue was the first thing that I envisioned as a lead neutral for a color scheme, with accents of the white fabric, all of the red flowers, and the oranges.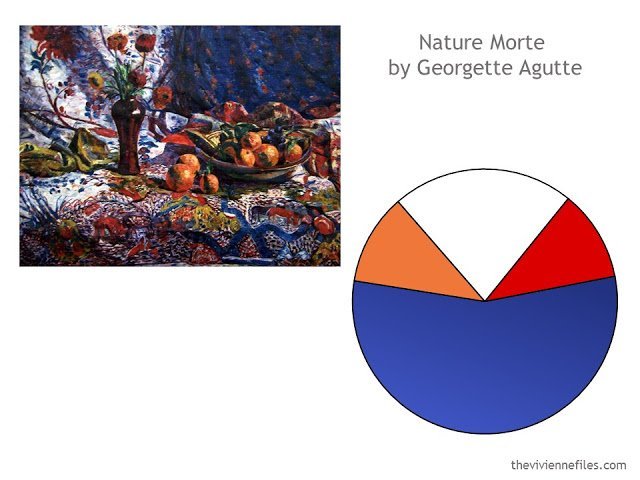 But where this would make a great scarf, or piece of jewelry, I realized that there wasn't going to be any easy way to find enough garments in that shade of blue to put together even the smallest capsule wardrobe. (this is a BIG advantage to being able to sew – you could make your core garments yourself!)
So I turned to the color in the vase – this year's supposedly trendy marsala/burgundy/wine whatever… Giving myself the ability to use a range of shades in this color opened up more possibilities: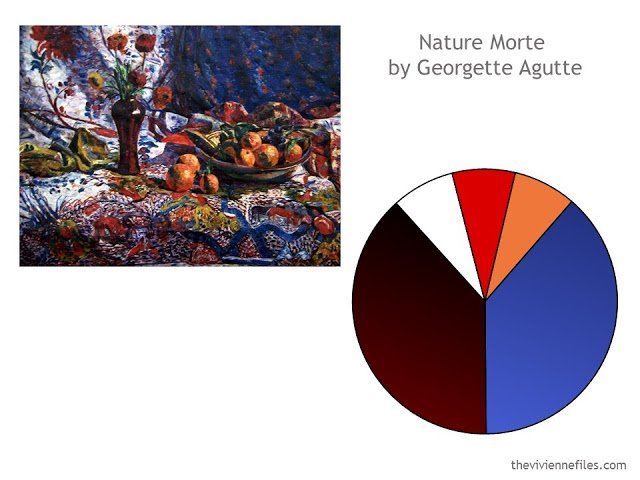 But I'm still just a little bit too stuck on that gorgeous blue – there's no way it can carry its own weight as a 2nd neutral. So I shifted it back to a role as an accent color, and at this point, this is the scheme with which I want to proceed: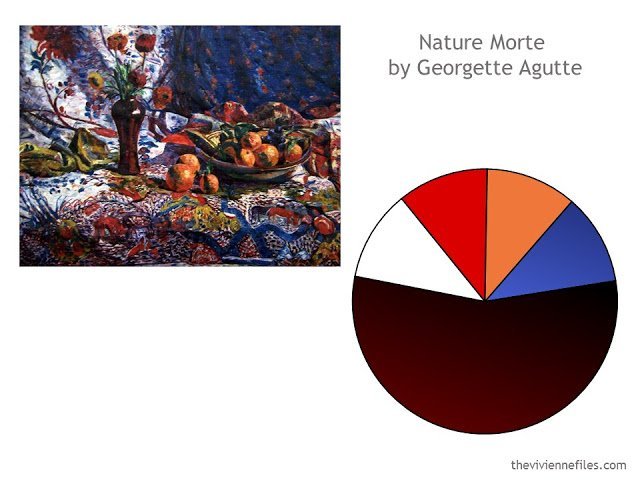 After my mad color wanderings, I decided to keep this travel capsule to a super-small Four Pack. First step was to find a gorgeous coat in the primary neutral! I underpinned it with a very simple black outfit, maroon boots, and a tote bag. For accessories, I tried to find things that reflected the ornate and detail-filled nature of the painting.
Maybe because I keep hearing about people having to make this kind of a trip, but I envisioned our heroine making a quick overnight trip for a wedding. These are a cinch to pack for, once you know what you're wearing to the wedding!
This wedding will probably be somewhat dressy, but we're not entirely sure, so an outfit that balances a really over-the-top skirt with a simple cashmere sweater will keep our options open. If she arrives and finds that the wedding is REALLY more casual than she expected, she can tuck her amazing necklace into her equally amazing clutch bag. At least across a dinner table, she will look as if she's just wearing simple black…
(if your mortgage is paid, and your children are through college, take a look at the absolutely gorgeous lace skirts at Dolce & Gabbana – they are art works in fabric… and the lace shoes…)
An early afternoon wedding, with dinner and dancing to follow, will eat up the entire day, so the only other clothes she really will need is for the trip home. The same trousers from the first trip can be worn again, as well as the sweater from the wedding. In order to keep everything happily in harmony, a print blouse in the maroon of the winter coat will look great with the black. Grab the wrap from the wedding and throw it around your neck, and you're ready to head home. The day after a wedding is no time to agonize about what to wear!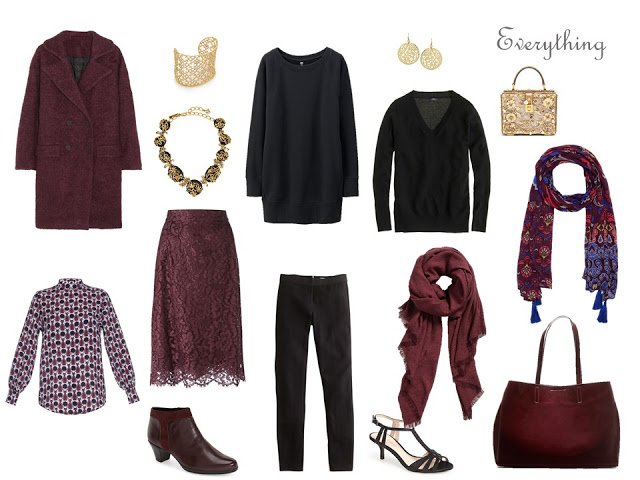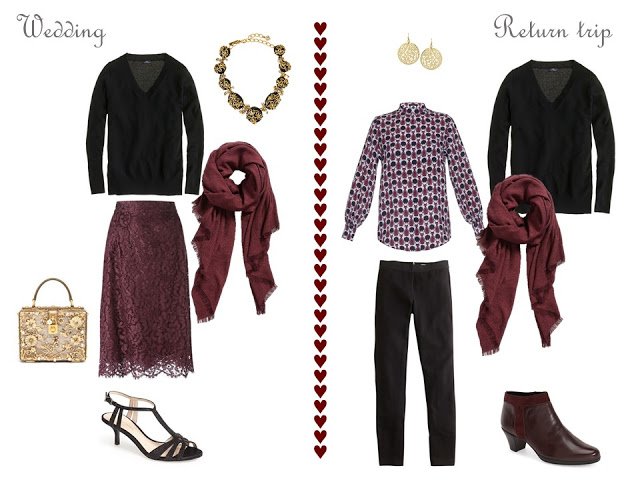 I have to admit, as much as I personally adore all of these things, I also have a completely different vision about how this could have turned out, still using our color scheme. So next week, this painting, and this scenario will be back, with a very different approach to things.
There are so many possibilities in life!
love,
Janice
p.s. It has come to my very HACKED OFF attention that many of you aren't getting emails when I post. Rest assured that, even in the absence of email notifications, I'm probably posting every day but Saturday, and you can just check in here to visit with me. I'm trying to fix this problem, but Google isn't exactly fully engaged in the process with me, if you know what I mean… xo