July 29, 2015
I am really glad that I asked you all to send me painting suggestions – otherwise, I would never have seen this gorgeous thing!
The Rose Garden by Ute Laum is an example of a painting in which the camel/cognac plays a very small, but absolutely essential, role. None of the other colors would have nearly the same impact if the golden touches were missing.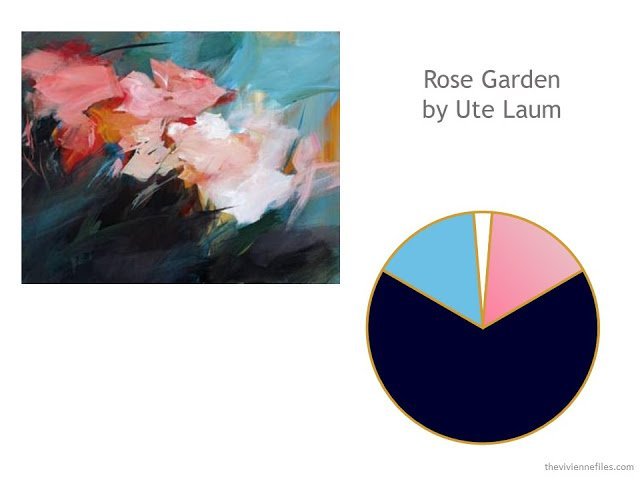 Today, I'm sorry there's no story, but I've received so many requests for travel wardrobes that I feel like I should address the overall logic or philosophy of putting together a travel capsule wardrobe. There's probably no way that I'm ever going to be able to answer all of the travel questions I receive, so I think an overview of how I think about travel wardrobes might help a little bit. It bothers me no end that I just can't put together hundreds of wardrobes, to fulfill every possible request and answer every potential question.
Starter – always pick a dark neutral color. Travel is inherently not the cleanest activity, and having a Core of Four in a dark neutral gives you a good base for the rest of your travel wardrobe. Two tops, two bottoms, but there's flexibility in that guideline. The tops can both be "next to the skin" pieces like sweaters, blouses or tee shirts, or you can include a cardigan, which will do a LOT of heavy lifting when you're on the road. And the bottoms can include jeans, trousers, capris, skirts, and shorts in any combination that suits your destination and planned activities. I'm ALWAYS going to tell you to include a pair of long pants, just as I'm always going to tell you to have a pair of closed-toe shoes. You have NO idea when the weather can get cold; the 4th of July weekend here in Chicago saw temperatures below 20 Centigrade…
Second step for traveling is to pick a secondary color – maybe a neutral – to bring with you in some quantity. I was thinking of this trip as being one that spanned moderate to cold temperatures, so the camel "segment" of our wardrobe is more woolly. (and suede-y …)
Again, this is a good place to go with two tops and two bottoms – same guidelines as for the First Core of Four. (note that camel is a color for which it's not really necessary to precisely match colors – a nice "family blend" is sufficient.)
In planning your wardrobe, this next color choice might be most important – you need an accent color that will work equally happily with each of your first two colors. The painting made this easy – shades of pink! Note that tee shirts and blouses don't have to all match, since you almost certainly will never wear them together.
At this point, you have 12 pieces of clothing, and you could certainly close your suitcase and be fine. But in the interest of providing more options, you might want to include 4 more pieces.
This is a great place for a second accent color; same constraint applies in that it must work beautifully with both neutrals you've chosen. This is also the time to introduce another "bottom", in either of your neutrals, or maybe a print. I always like to consider adding a white shirt to any wardrobe, because of the ease of integrating it with any other colors. I know that it's going to need to be laundered at some point, but a menswear-styled shirt might be one of the easiest pieces of clothing to have cleaned, because it so closely resembles a man's shirt. And if you want to pack a dress, it does NOT have to be neutral! You should at least consider making sure that it works with your neutrals, though, so that you can use your cardigans or jackets with it.
Accessory packing is where the fun is! Scarves are, for me, essential; look for scarves that include some combination of one of your neutrals with one of your accent colors. There's really no reason not to pack as many scarves as you want – they're light and small, and they make a big difference in the appearance of an outfit.
I try to limit packing to 3 pairs of shoes. In theory, if you were going to wear an outfit from this capsule, you could have a 4th pair of shoes (the ones you wear in transit) – maybe camel oxfords?
If you're struggling for shoes to wear with a "non-neutral" dress, don't forget the possibility of nude pumps or sling backs. (nude = YOUR skin color, not mine, and not what some department store calls nude)
And jewelry – nothing mad expensive – is another light and easy thing to pack that can change the look of what you're wearing. Even something as small as a ring can make more difference than you might think! (okay, there's a mad expensive bracelet in here…)
I would be comfortable traveling for an unlimited amount of time with this assortment of clothing: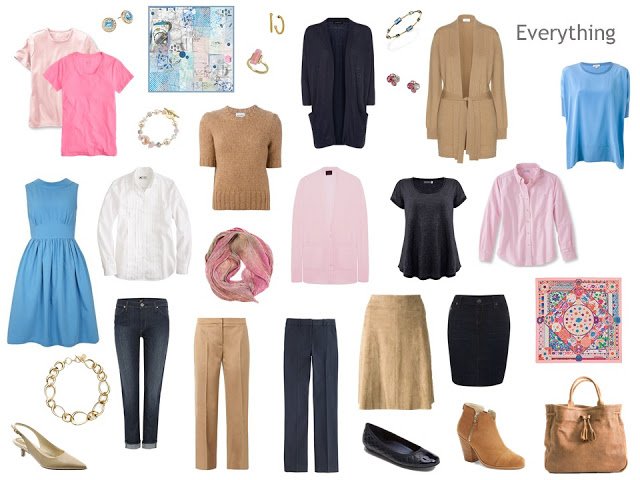 As always, a wide variety of possible combinations: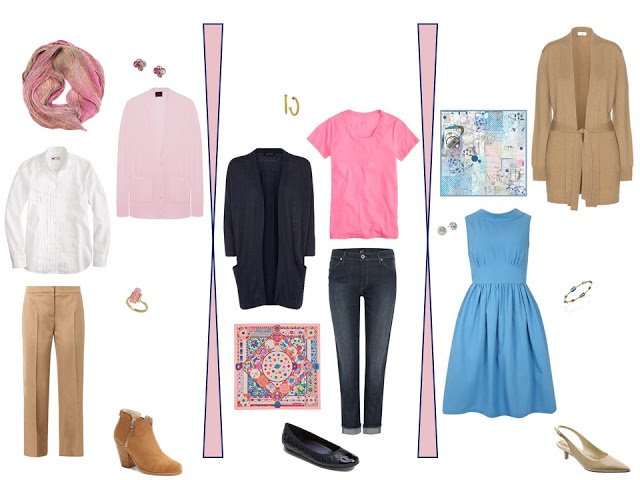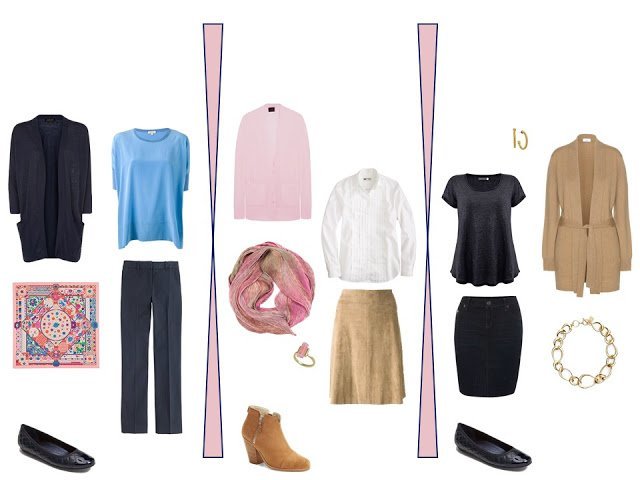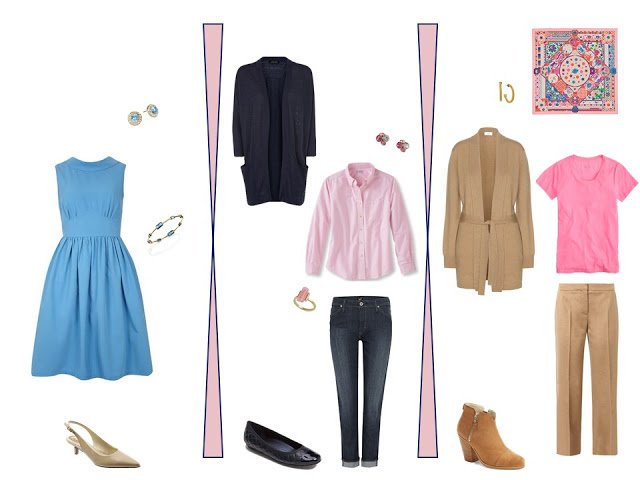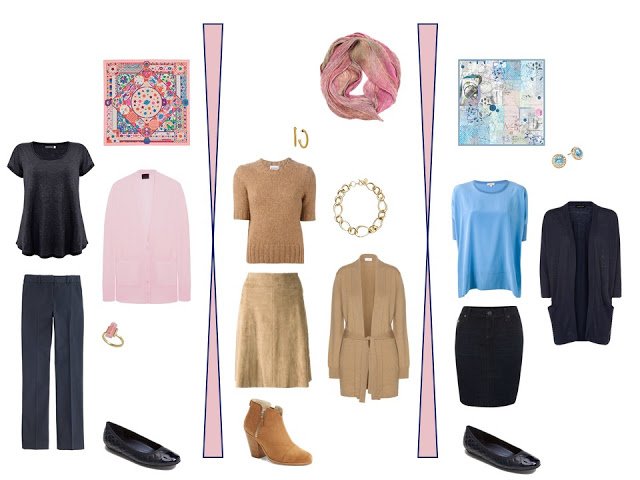 As with all Four by Four wardrobes here, these choices fit neatly into our template: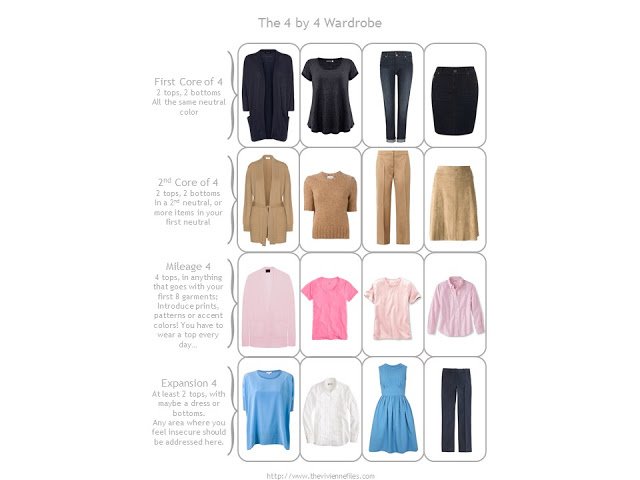 Assuming a reasonably narrow range of weather conditions, could you travel for a month or six weeks with just 16 pieces of clothing?
love,
Janice