July 9, 2015
This painting is great – I want to revisit this one with a more fall/winter orientation. For warm weather, my first thought was that the shades of blue reminded me of denim and chambray, accented with that YELLOW, the rose, and some acid green (which I didn't address here, but might in the future!)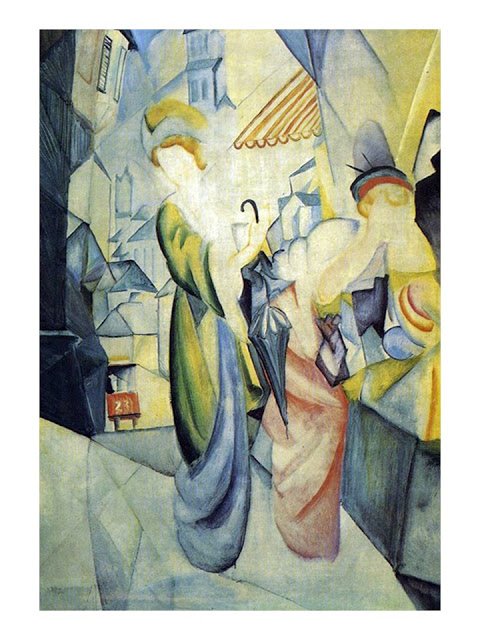 So this is my warm-weather color scheme: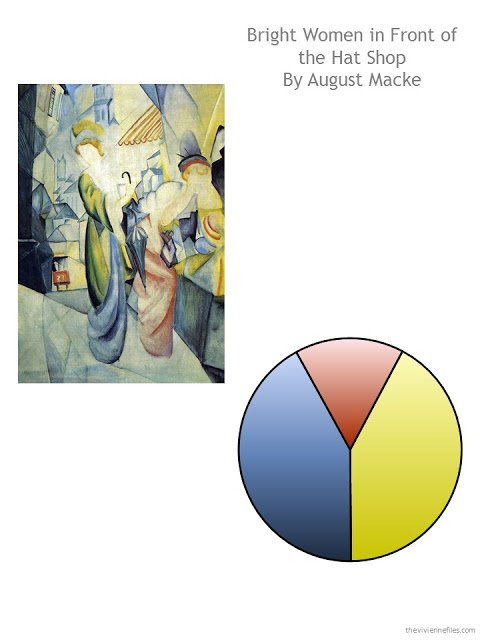 Everyone is at the lake but you…
Yes, everyone else went to the cabin last night. But you KNEW that you had to go into the office this morning – that client report wasn't going to write itself!
But if you put your head down and WRITE, you can be out of the office by 2:00 or so – in time to get to the lake for cocktails…
Since you never know who might be in the office on weekends, you chose NOT to wear yoga pants and a tee shirt. Yes, they will be impressed that you're there on Saturday, but they'll be MORE impressed if you don't look like you just rolled out of bed.
Your plan is to spend all day Sunday doing nothing more strenuous than the crossword puzzle, and maybe take a nap. And if you can muster the discipline to get up between 4:00 and 5:00 Monday morning, you can stay over Sunday night and drive to work Monday morning. It's worth it…
So you just need something to lounge in on Sunday, and something to wear to work on Monday. It never hurts to have a skirt or dress with you, just in case someone flames out the barbecue, and you have to go to a restaurant Sunday night. (It HAS been known to happen, no matter how bad your brother's memory is…)
Isn't this pretty?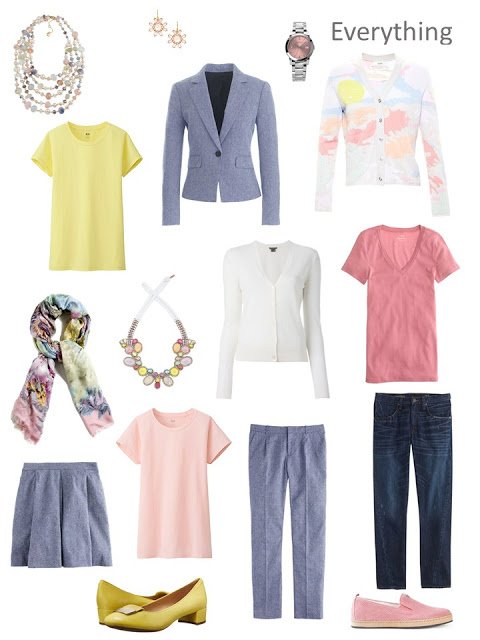 A simple, pretty outfit for Sunday – a cardigan if it's cool, as it can often be at the lake. And nice earrings, just because you can!
And for Monday morning, even though you will have been awake for HOURS before anyone else gets to work, you will look sunny, but still office-worthy. Yellow pumps make ANY day better!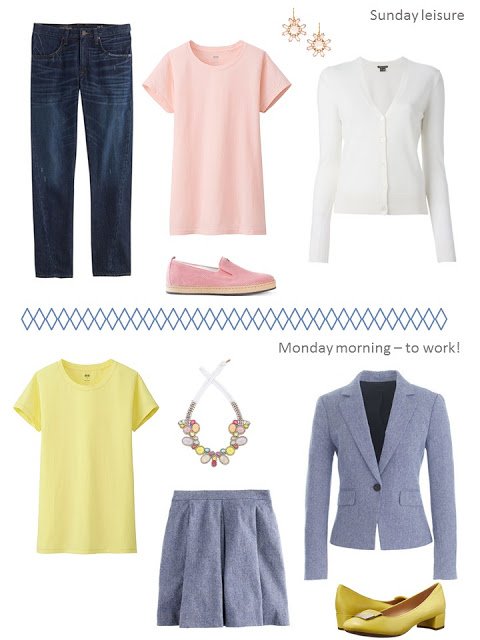 The plan gives you lots of options – if the white cardigan gets grimy, you have options. If a tee shirt falls in the lake, you're still okay. The point of having 27 different combinations is NOT that you can travel for almost 4 weeks, it's that "wardrobe malfunctions" don't slow you down.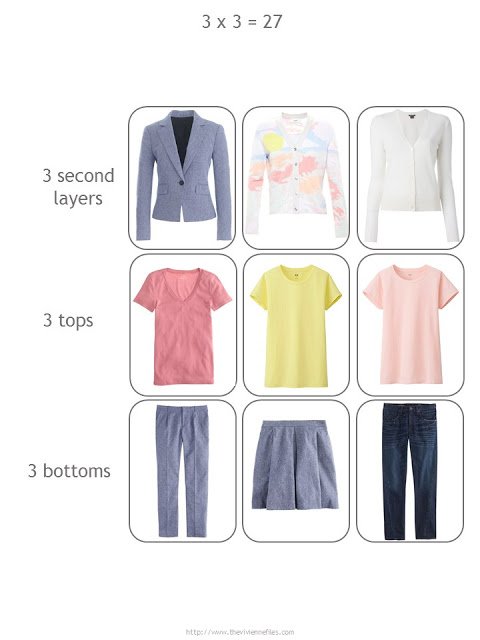 Chicago gets empty on weekends – half the city seems to go to Wisconsin, the Indiana Dunes, or Michigan. Thinking about how to be prepared for invitations to these destinations wouldn't be wasted energy…
love,
Janice