June 30, 2015
Wow! When I asked for paintings, you all came through with some beautiful suggestions…
This John Singer Sargent is so lovely…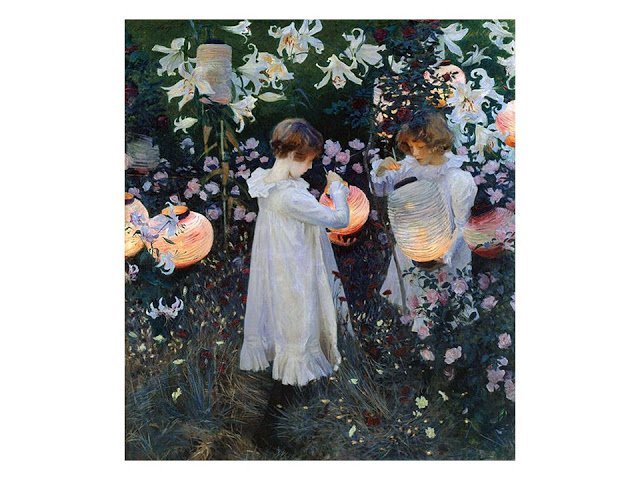 In the deepest shadows, I saw navy, although on another day, it could be deepest gray, or maybe something else – really good paintings are wonderful in the way they can have so many different aspects over time.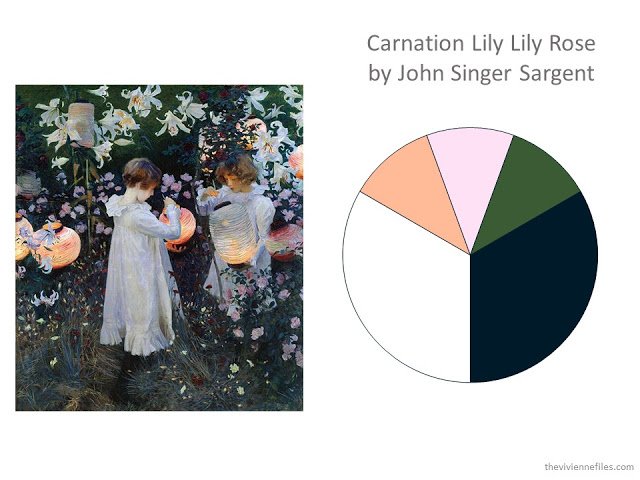 I'm embarking on a 4 by 4 that's particularly challenging: a casual wardrobe in soft and fluid navy and white. So VERY often, navy and white are crisp, and starched, and nicely pressed and snappy – which is pretty great. And I'm sure that at some point earlier in the fictional day, these lovely white dresses were immaculate and pristine, but NOT by this time of day! So this time, I'm looking for flowing, pleated, gathered, draped and lacy…
Here, I was able to find a sheer, lace-like yoke, and some shimmer too!
I was lucky to spot crocheted trim, lace, and lots of supple draped fabric:
This wardrobe wouldn't be ANYTHING without flowers! Some pleats too, and a nicely relaxed tee shirt:
One of the many great things about this wardrobe is that you can indulge in lots of pretty pastel tops, as well as making sure that you have a nice core of navy and white things in soft, feminine prints and fabrics. Two different approaches to the same navy and white core!
This skirt is shown on the store site as being very "evening", but this is the kind of thing that could easily be worn during the day with sandals and a casual top, too! When you're packing, this kind of versatility is very useful.
This wardrobe gets the very prettiest flower earrings, as well as a pair of espadrilles that are NOT ordinary – lace, satin trim, and a ballet silhouette gives these the more feminine look we're after, without making them twee or unwearable.
This would set you up quite handsomely for summer, wouldn't it?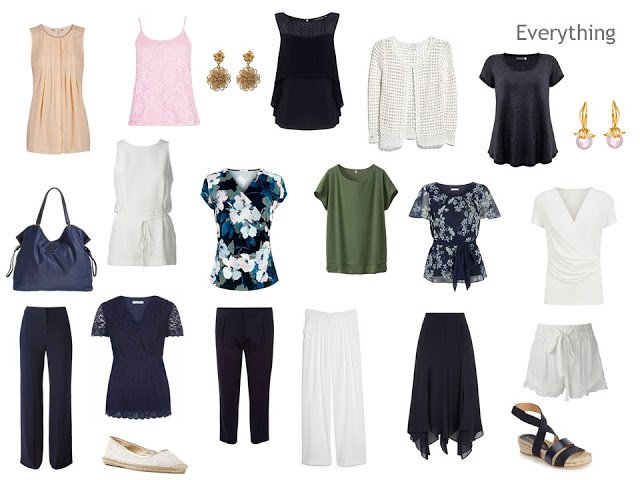 And here's how it fits into the 4 by 4 Wardrobe Template.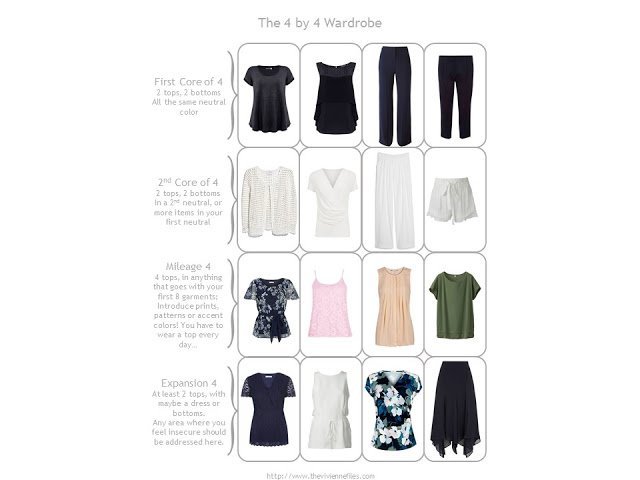 And as an added special bonus "undercover" secret – this is what you need if you HATE to wear skirts in the warm weather – Jockey Skimmies. Imagine you took the most comfortable imaginable hosiery, and hacked them off above the knee. Light, smooth, no lines or bumps, no thighs rubbing together… Just trust me on this; you can find them
here
.
would I steer you wrong?
love,
Janice