July 27, 2015
Someone particularly special sent me this painting, with a request for a Start With Art – what a wonderful idea!
These were the colors that I chose. While there's a ton more orange in this painting than anything else, only the rarest among us will be able to pull together any kind of a wardrobe, no matter how small, with mostly orange. So I gave the warm brown prominence…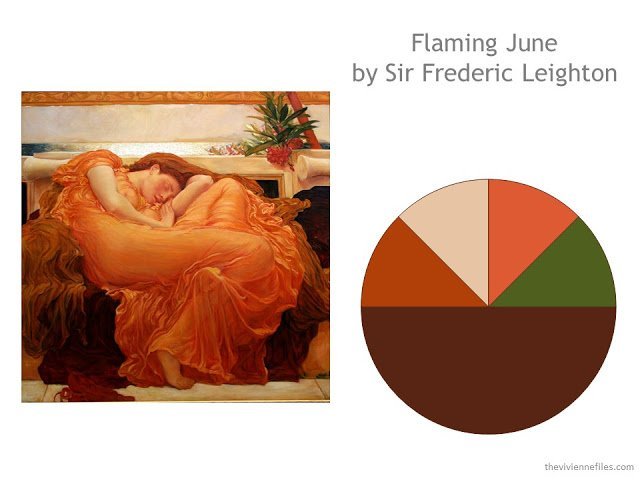 I was really thinking about texture and flow here – draping was important!
Just enough to be able to get away for a long weekend – lots of emphasis on dining-out attire! And the budget was unlimited madness for this wardrobe – suede pants and a bank-breaking dress and sweater. But very reasonably priced shoes, and a downright inexpensive clutch bag:
Wouldn't this be nice to see in the armoire of the hotel?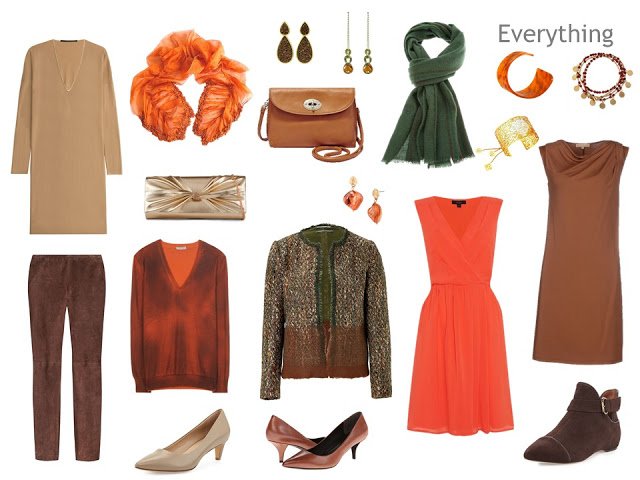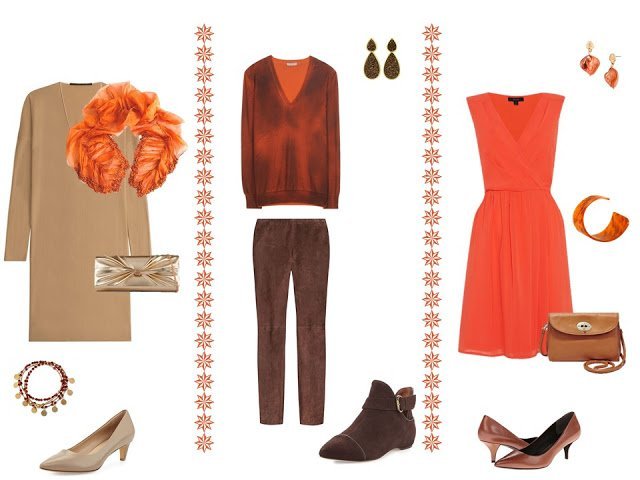 This wardrobe took me quite a while to put together – some of the pieces were tough to find – and so I had a lot of time to mull over how we all might handle our upcoming change of season purchases… I was actually sort of imagining a woman who took careful stock of her fall clothing situation, and had determined that the things shown above were going to be her autumn/winter shopping list. (unlimited budget, you know…)
Right now, if your email is anything like mine, you're inundated with advice about big summer sales (which are handy IF, and ONLY IF, you've trashed something in your current wardrobe to the point of unwearability), and of course the WONDERFUL PRE-SEASON sales…
But what if??? We ignored all of that?
What if, instead of looking at specific, very beautiful items, we took about 10 steps back, and thought about our color palette? the adjectives that we want to use in building our appearance and our image for the next year? the overall feeling, aura, sensibility or mood that we want to surround us?
And then looked at the stuff we already own, to see if we're already okay?
And ONLY THEN, maybe, look for the things that we need?
Our cart is very much in front of our horse these days; we get these emails, or read these editorials, about beautiful things on sale, and then we decide to buy them – we're letting the external stimulus create for us the buying decision.
Shouldn't we, as mature adults, decide what we want, and then look for it? This isn't as easy, certainly; stores aren't terribly good about carrying the things that would best suit us. But if we let the merchandise drive our choice, then we're just admitting that we're willing to settle. If you're running short of clothing, that might be necessary, but a lot of us have the time to wait…
There will be beautiful clothes in the stores next month, and the month after, and the month after. And there will always be another sale…
love,
Janice
p.s. If you've sent me a painting request for a Start with Art in the last month, please re-send! I've lost a few emails in my pain-killer pleasure dome…