May 2, 2015
I know I've mentioned it before, but I really can't recommend a Longchamp Pliage bag highly enough; tossed into another tote bag, or into luggage, it can come in handy more often that you would imagine. Just for groceries, it's been used hundreds of times. And on vacation, it makes a great stash for dirty laundry during your trip, and then a handy way to get gifts back without crushing them in your regular (very small) luggage…
So today, let's envision the potential of a bright orange bag:
The same old, same old, simple navy group of garments. Who could imagine that we could do so much with such simple pieces of clothing?
Orange shoes weren't at all difficult to find – although the various shades of orange might make you mad if you try to match too closely! Just make sure that they feel similar, and you'll be fine; if anybody wants to get all lit up because your shoes and your bag aren't "dye-lot" matched, let them. It will keep them from causing some other sort of trouble for someone much more fragile than you!
Today, I thought I'd look at some jewelry, to see how we could pull some bright accents into our outfit in a new way:
Sunglasses are a necessity, so it only makes sense to use them as a way to integrate a new color!
I love this look – perfectly classic, but far from expected!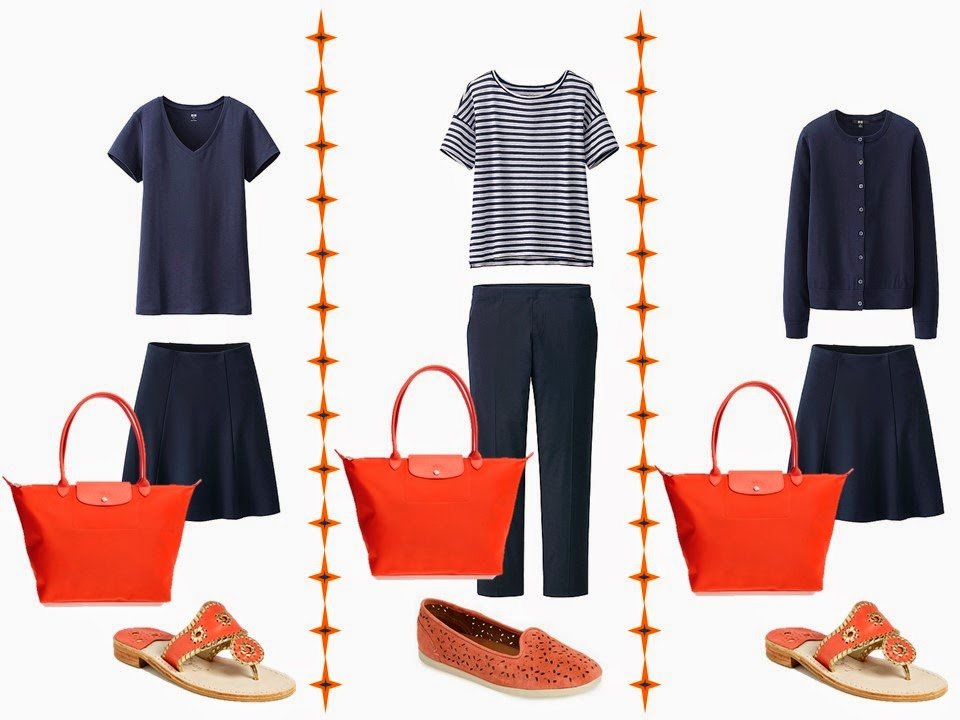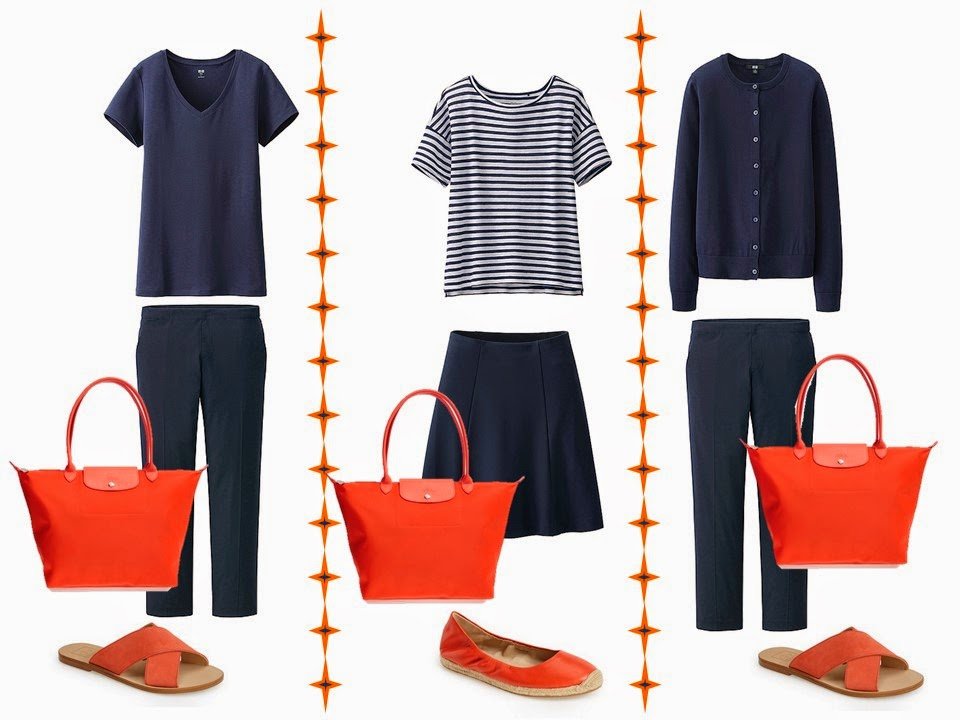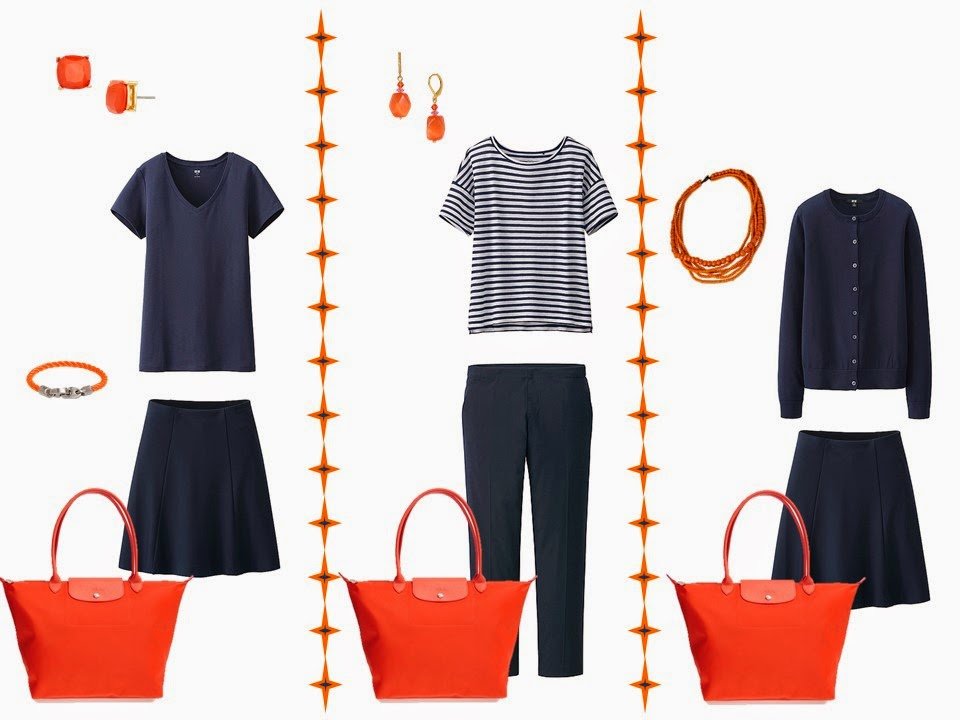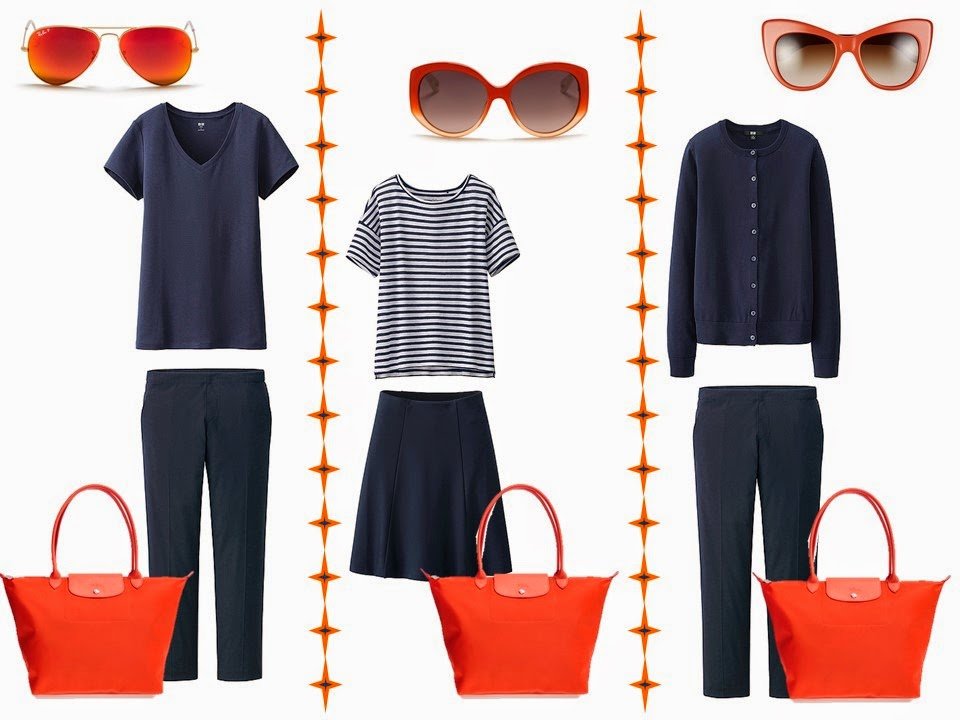 Monday I'm going to take a crack at yellow and navy, with a print or two… And there was a request for turquoise, and for cobalt…
love,
Janice
Looking Back:


2014: A Winter Capsule Wardrobe, and the Full-Year Assortment, from "Ma To-Do List: Dressing"
2013: "You're So French" – the most recent addition to the Style Shelf
2012: Packing: summer on the coast of Maine