May 4, 2015
I know I said I was going to take Mondays off. Some Mondays, I will. But today I had this whole yellow handbag question lurking in my mind, so I thought I'd share what I've found and learned.
First up, there are lots of nice yellow handbags in the world! I personally would carry this one with the shiny plaque against my body (I'm not paid to advertise for any brand; I don't do it for free!). But this is a nice size, and I have every reason to believe it's well made, and it is available in seven colors…
And of course I'm sticking with these five navy garments, because I delight in showing the inherent versatility of timeless classics.
My initial adventure into yellow was so nice – yellow shoes were easy to find! And these espadrille flats on the bottom right are the same shoes that I used previously in hot pink – they come in a handful of really great colors; I could see them becoming a summer wardrobe staple.
But here's where I ran into LOTS of trouble. I had recklessly promised on Saturday that I was going to find some prints to include in this post – I was envisioning a classic yellow and navy striped shirt, or a pretty skirt with a navy background and daisies scattered across…
The next time I promise prints, just ignore me. I'm crazy. Just because a garment seems to be an "easy to find – of course SOMEONE makes it" idea, doesn't make it so. I turned over every clothing rock I know of – and I know where to find a LOT of stuff – and found nothing that appealed, or even barely qualified…
So? Accessories!!! This assortment is smaller than usual, because it was expressed to me that nobody is going to go out and buy a whole stack of things to match a handbag. That was really never what I was suggesting, but I will take this opportunity to show the mileage available from just a very few new goodies.
Frankly, all you need are a snazzy pair of shoes OR a scarf OR a nice piece of jewelry OR a statement pair of sunglasses, and your outfit will be balanced, and the yellow will look deliberate and planned, rather than "dressing in the dark".
Even on days when I'm not terribly organized, I'd like my appearance to at least suggest that I have my act together!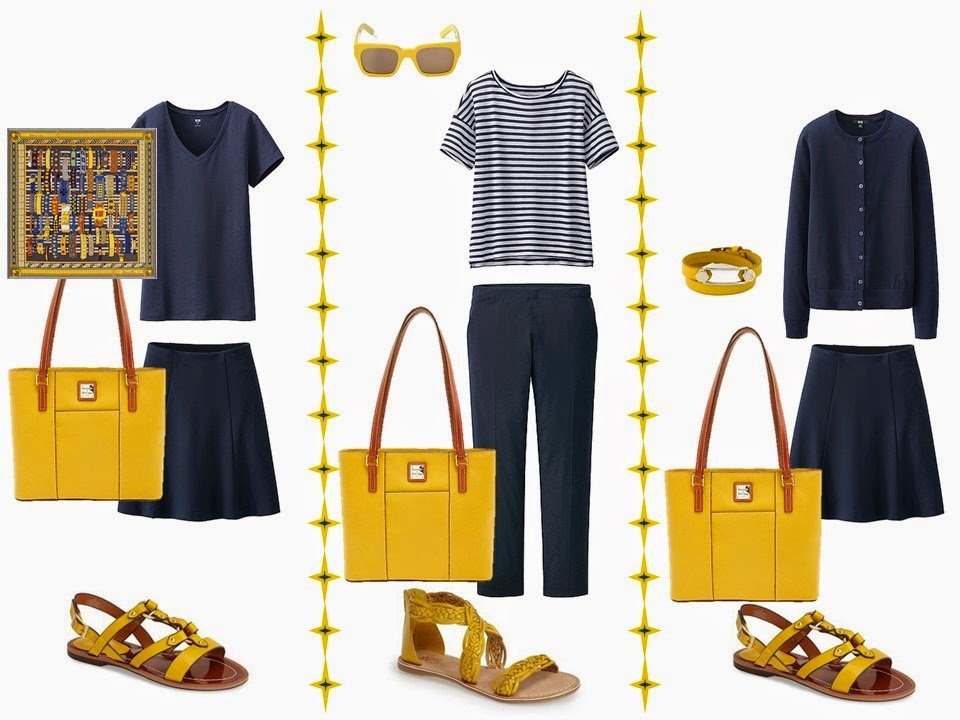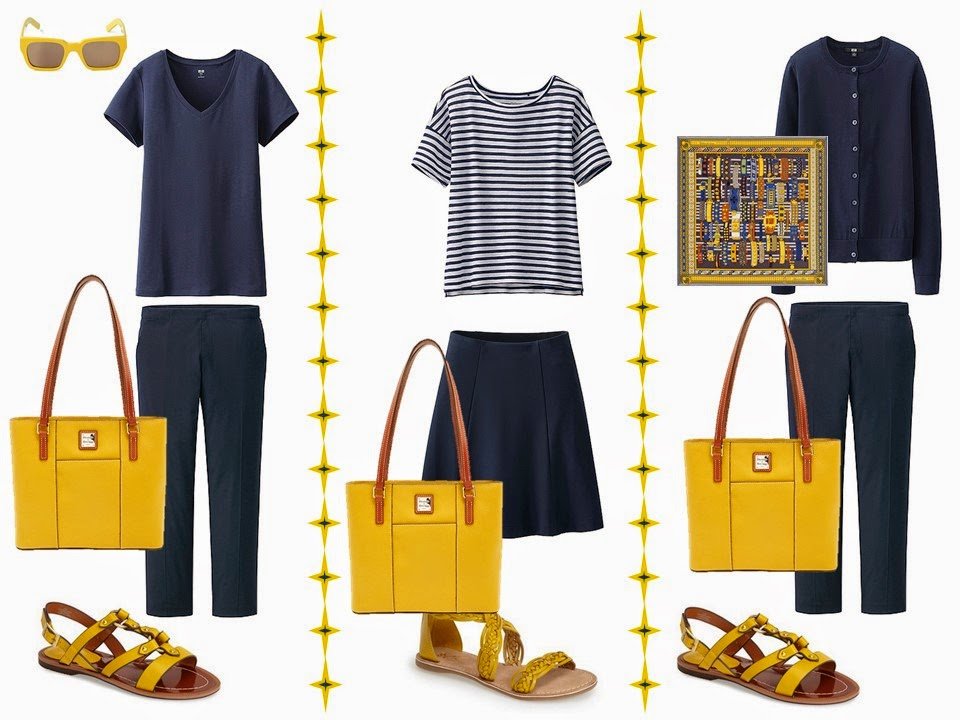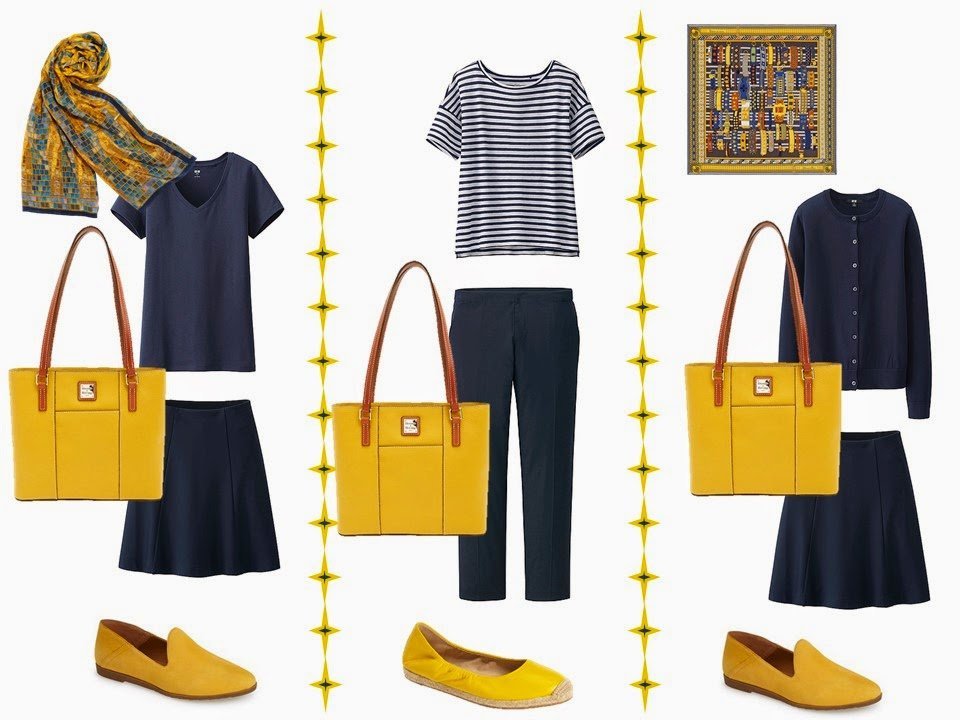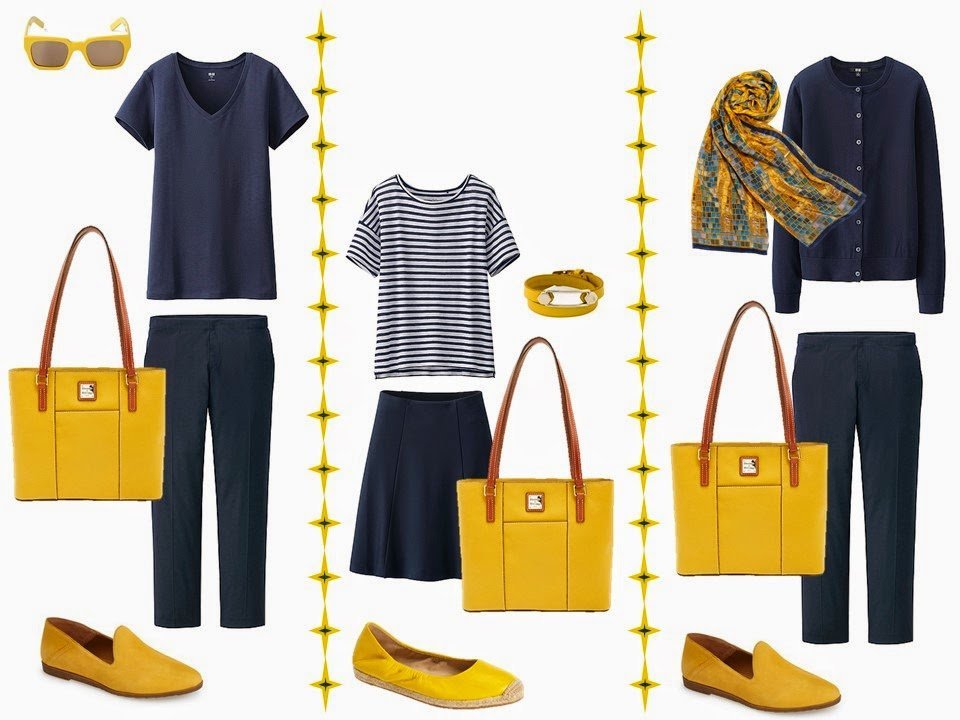 Next up is turquoise, and then I'm shifting to a grey core wardrobe and I'm going to talk about red. I've had a LOT of emails about red…
What color is bugging you – you love it, but can't figure out how to use it as an accessory? Let me know and I'll see if I can suggest something that will give you a few ideas.
love,
Janice
Looking Back:


2013: How to wear a White v-neck sweater – the final sweater installment
2012: 12 ways to wear a blouse: Hot Tips by Frances Patiky Stein