May 11, 2015
Red seems to be a color that a lot of us want to incorporate into our lives; I've received a few emails asking specifically about what to do with either a red handbag or red footwear (check out my post on integrating red cowboy boots)! Maybe a red sweater or dress is too bold, but smaller doses of red can be beautiful with literally any neutral color. I don't know of another accent that can be used as widely, and as universally, as red.
So I found a bag I really like; while this bag is styled very much like a tote bag, it's really just a medium-sized barrel shaped handbag or shoulder bag:
And I'm going to work with a VERY modest assortment of grey clothes this time. In addition to being a great way to illustrate the versatility of red accessories, this is a great object lesson in how to pack light! Wear jeans, a blouse and sweater in transit, pack these four pieces, some of the accessories, and go on a long, long trip…
Red shoes are great, unless you're super self-conscious about your feet. They're abundantly available in any style you want or need…
And red accessories are pretty easy to find too! A beautiful scarf with just a touch of grey is very versatile, and jewelry that combines red and silver pull together your dominant grey with your accent red in a way that's natural and uncontrived.
Here again, you can see that you can use as many, or as few, red accents with your outfit as you prefer. While many of us would be comfortable with earrings AND a scarf AND a bag AND shoes, others might want to use only a couple of red pieces. It's your choice! There's not a law or a rule about this – it's just whatever gives you a look of "red on purpose", without making you feel gaudy or too "matchy matchy".
Listen to your instincts…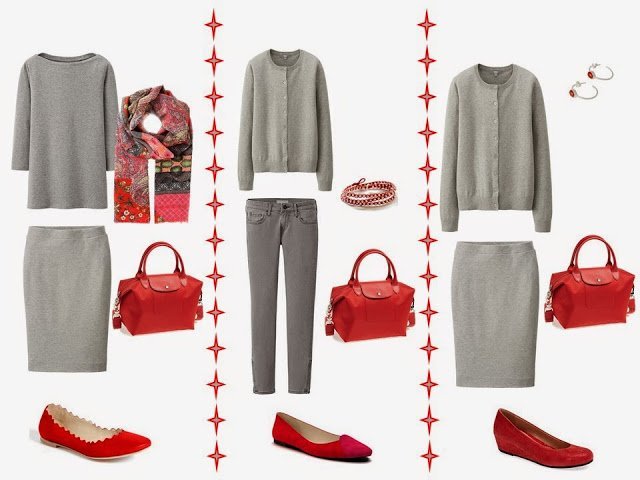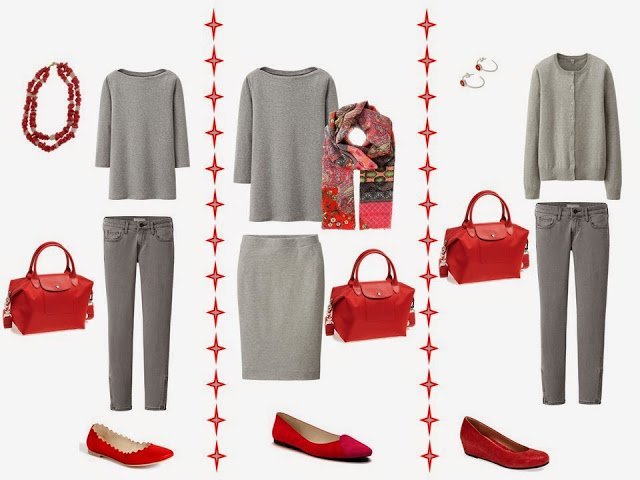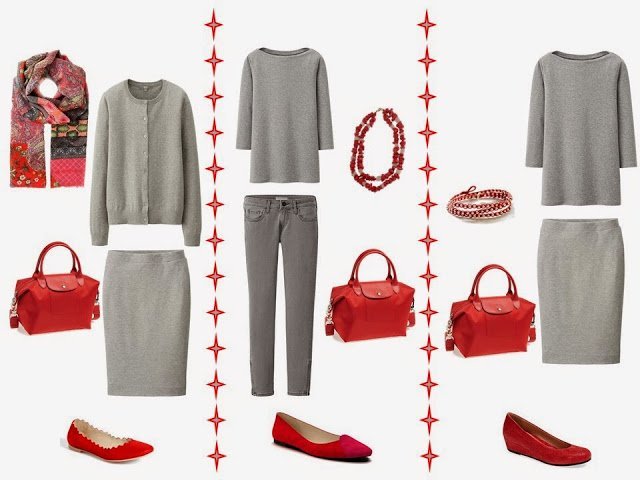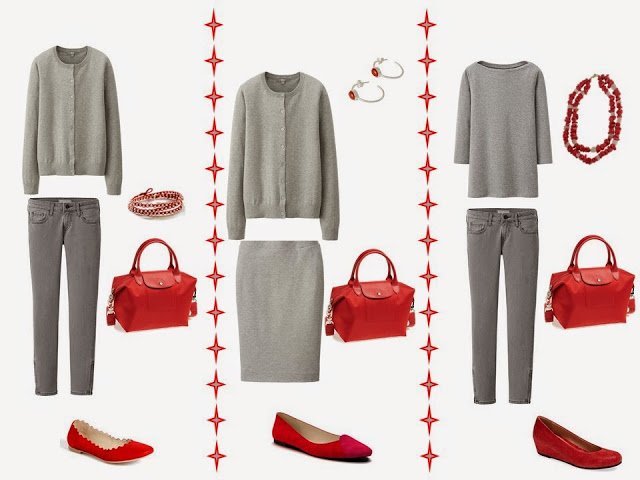 How many accent pieces are comfortable for you? I go overboard, but I'm an overboard kind of woman!
love,
Janice
PS – For other bag inspiration, check out the following posts: