May 18, 2015
You've seen scarves from kathkath.com on The Vivienne Files a LOT in the past: I used a beautiful pink scarf here, a rose printed one here, an amazing blue landscape scarf here, and one of my favorites – a marble printed scarf – here.If you leave me a comment below, telling me what you found on kathkath.com that you loved the most (or telling us anything else kind and loving), you will be entered to win this little (90cm square) beauty:
Yep, this is a 90 centimeter square scarf – same size as Hermes scarves. It's a glorious design – they have a close-up photograph of the pattern, and it's delectable…
So of course, I'm using this as the centerpiece of another "no-effort" weekend travel capsule wardrobe. How to pack light? Pick some colors, grab just a FEW things, and GO!!!
These are my colors – I tossed the touch of gold in there because it's in the scarf, and it inspired me to include gold accessories:
When you're only going away for a weekend, I assume that you're driving, taking a train, or the Jitney, so I'm willing to risk a white skirt. If this makes you too nervous, a blue skirt would work just as well.
And I'll admit, this tee shirt might not fall into everybody's range of desired garments, but I think summer is a good time to wear something that has some charm or whimsy. Not silly, mind you, nor embarrassingly juvenile, but lighthearted. Smiles are not just for the young…
And this is all you're packing! A couple of tops, shorts, and a pair of capris. Weekend are SHORT – unless you know you've got a busy agenda that requires clothing changes, or if you're utterly uncertain about the weather, don't pack more than you can fit into a tote bag. It just complicates things. A couple of pieces of white jewelry, a clutch bag and a 2nd pair of sandals (as well as your gorgeous scarf) and you're all set.
You can already see that you've got a world of possibilities. I don't show the cardigan as a part of any outfit, but if you have your scarf and sweater with you, everything will go together. Absolutely everything. How easy is that?
Every top goes with every bottom. Literally, a "Whatever's Clean" weekend…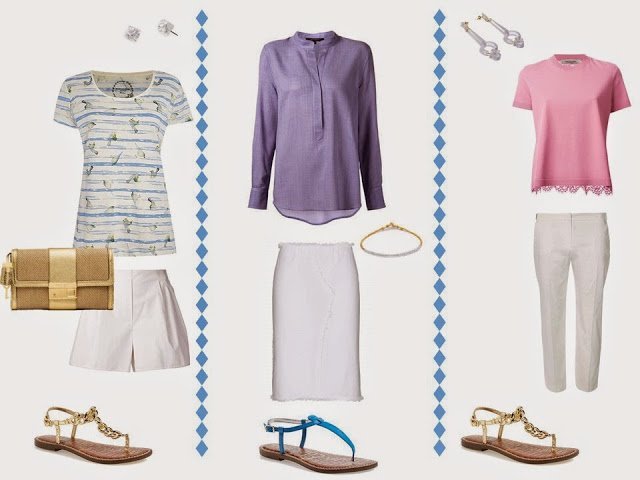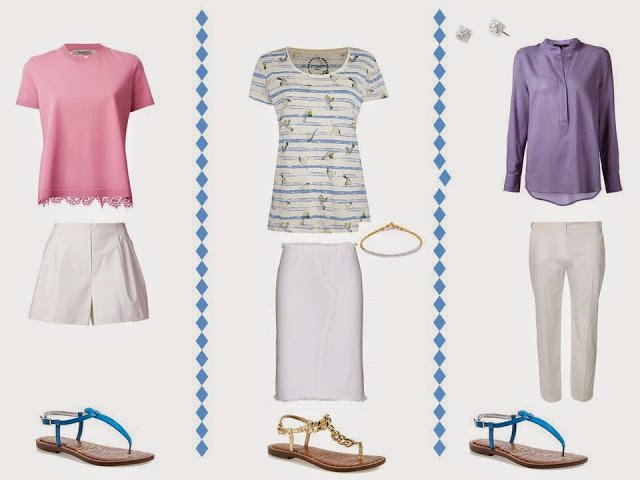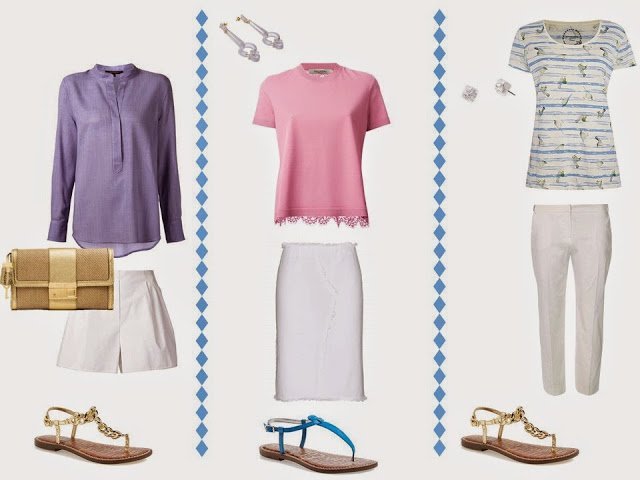 We're attending a massive family picnic next Sunday (not our family, but we're included!). And I think Memorial Day might be spent recovering…
Do you have a delight filled weekend coming up soon?
love,
Janice
Looking Back:


2013: The Navy and Pink Common Wardrobe – with Navy and Pink accessories!
2012: Four by Four: teal and navy