May 16, 2015
Chicago, and the Chicago area, has some of the greatest companies making beautiful clothes and accessories. Last Saturday, at that absolutely wonderful Fashion Expo in Millennium Park (aka my front yard!), I also had the pleasure of stumbling across She-Beads.
Don't be fooled by cheap imitations! (I love that sentence…) These designs and patterns are FORMED IN THE CLAY, and will not rub off, scratch off, or otherwise be diminished in the way that painted or decaled jeweled can be. Their site has a video of them making beads – it's amazing that these crafts can exist and we don't know anything about them. There are creative and skilled people everywhere…
I was thinking about what sorts of things one might toss into a bag for Memorial Day weekend. (the last full May weekend, in the United States). It might be warm enough for sandals and bare legs, but I don't think I'm going to be anywhere that requires a swimsuit. Much more necessary will be a sweater or two…
This is my color scheme; you could also take a lot of latitude with shades of blue in your own "pack".
I'm thinking that your voyage is either a drive, a train ride, or a very short flight. Otherwise, white jeans might be risky!
Further, I'm assuming that you're not going to take off your bracelets for pretty much the whole weekend, and that you're not going to mess with any additional jewelry. At this point, you could get dressed blindfolded and be okay…
Generally when I do an image that shows all of the garments that you have with you, I try to avoid putting things together in obvious outfits. But with these 9 pieces, there wasn't really any good way to avoid having the clothes fall together into natural and attractive grouping. So I just left them this way!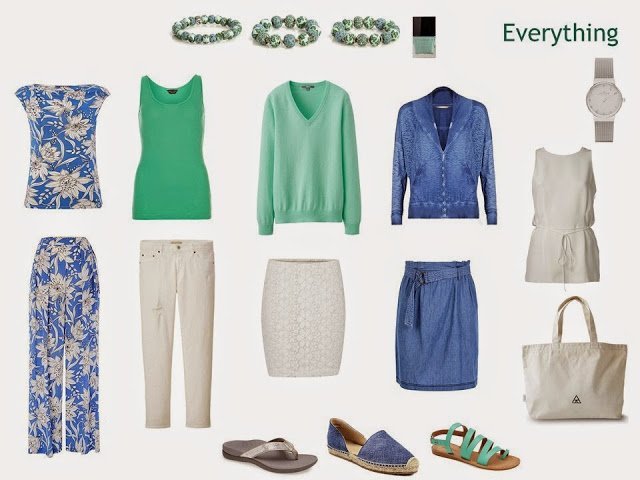 If it turns cold, you're covered (literally). If you go somewhere dressy, you're good. If you just lay around in a hammock and read for 3 days, you can certain do that!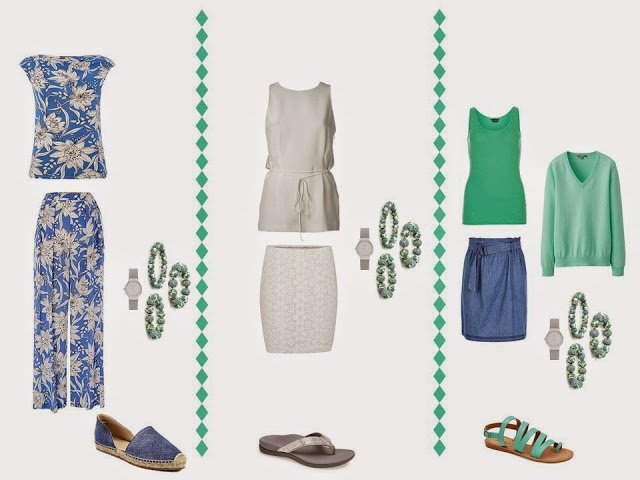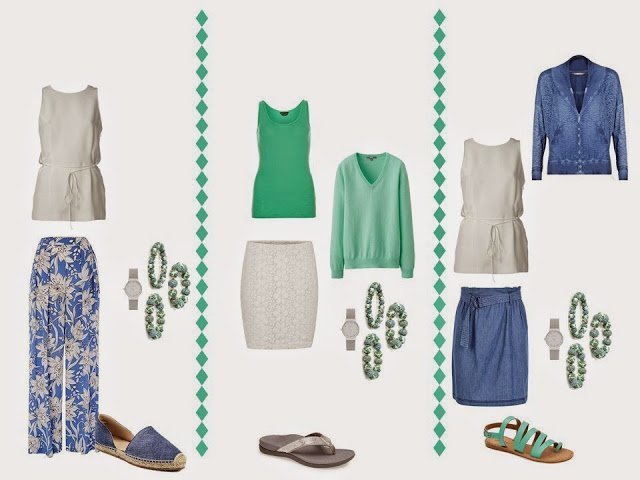 My only Memorial Day plans are to attend a positively legendary family picnic held by some new friends of ours. What are you doing? (even if it's not a holiday weekend where you are)
love,
Janice
Looking Back: