April 30, 2015
I've been thinking a lot about my friend's inclination to buy a bright green handbag. This time of year, when it feels like we haven't seen ANYTHING green since the Christmas tree came down, bright green can be really tempting. And if the bag in question is beautifully well made, in a classic design, the urge makes even more sense!
This was the bag in question – you might be able to see the allure:
But I, for some reason, just can't quite see an ensemble in which you're wearing other colors (in this case, navy), and the only green thing in your outfit is the bag. Other people are okay with this, but for balance and a sense of intentionality, I like to see another green something included. If you don't feel this way, this post isn't going to mean much to you!
So let's start with a handful of navy garments – just enough to give us a variety of ensembles. (for what it's worth, there are 10 possible combinations, not including silly things like wrapping a tee shirt around your head as a headband)
The easiest way to bring in a 2nd color to an outfit is through shoes – and if you find shoes that aren't smooth leather (woven, suede, or even fabric!), then the colors can be a bit "off" and still not be horridly clashing.
Yes, I would wear the Converse. Not for everybody, but certainly a possibility!
A green belt is another very fun idea. If you're looking for a wild assortment of belts, check out Yoox. Their choices come and go really quickly, but they have more options than anyplace else I've ever seen. (yes, they pay me a small commission; I'm very grateful!)
And it's not The Vivienne Files unless I'm looking at scarves… The scarf with the detachable charm is a fun idea – you could arrange the scarf in a way that the charm acts as a pendant…
This is how I envision the outfits; now if the weather would JUST get warm enough to wear this kind of thing…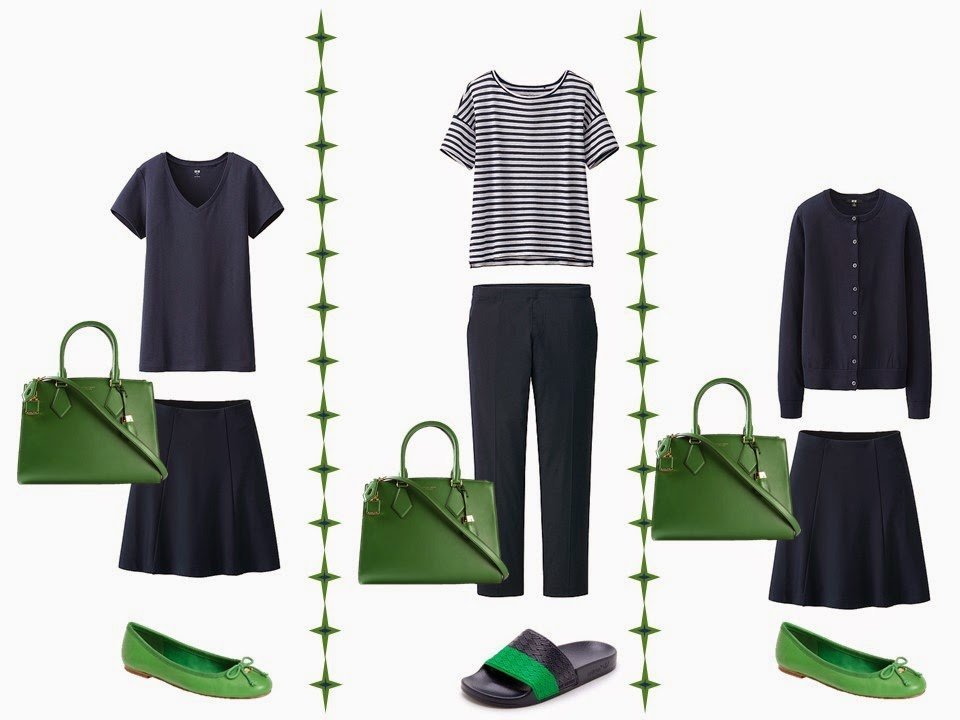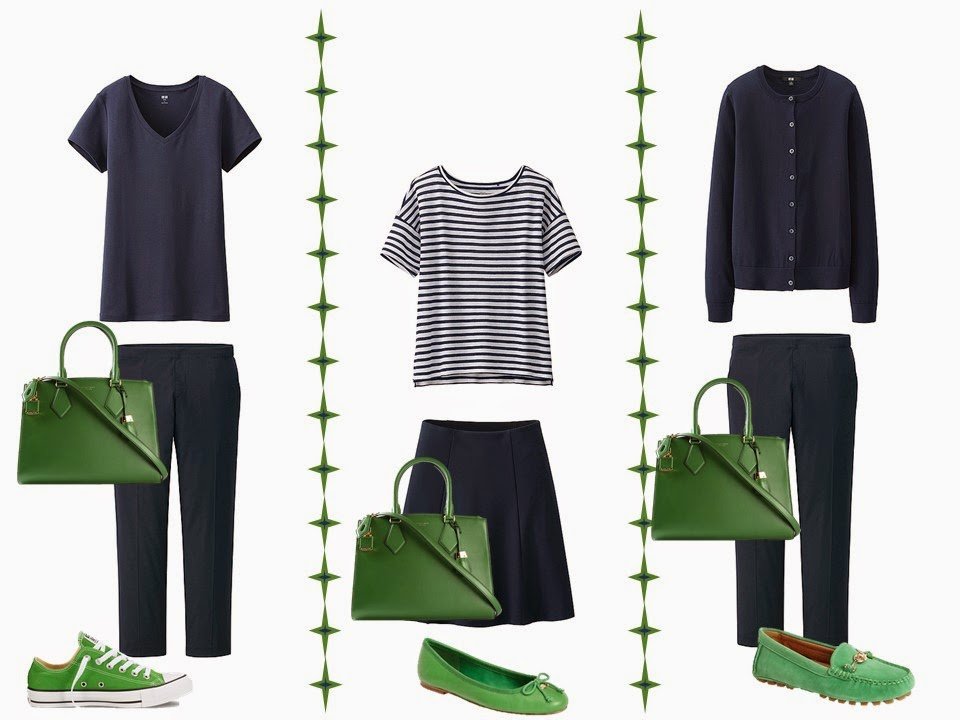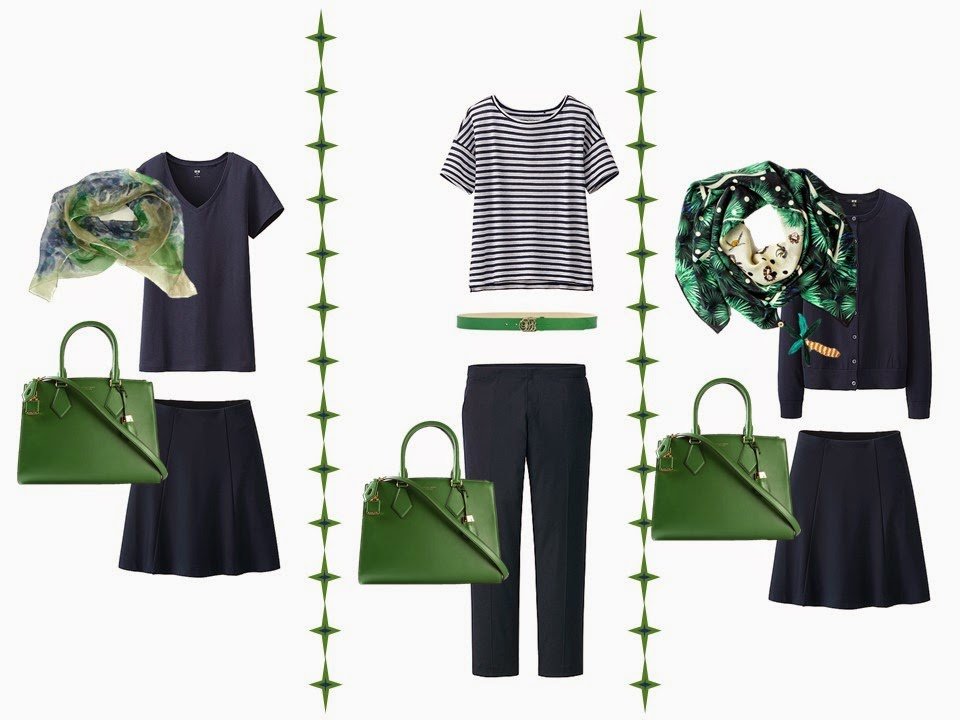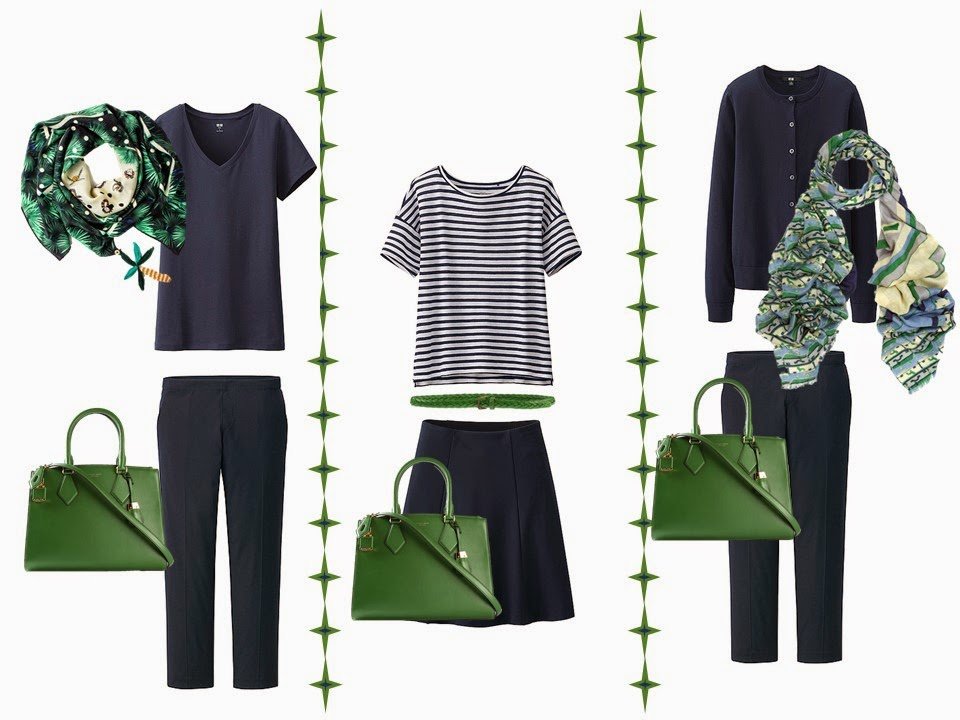 Someone has also asked me about a hot pink handbag – I think we'll revisit this tomorrow with some different accessories!
love,
Janice
Looking Back: