March 12, 2015
I'm often asked about the possibility of wearing only solid-colored clothing – nothing patterned. Because I show stripes and flowers (and every other kind of print) so often, some people seem to be concerned that wearing only solid colors is somehow prohibited.
First off, let me make it perfectly clear that, in my opinion, you can wear anything that makes you happy. So long as you don't get arrested, or fired from your job, go for it. Let your preferences shine through. Express your personal preferences, your inner nuttiness, or your freak flag – it's only clothing, and as long as you are truly, deeply happy with what you wear, the rest of us can just accept it. Ultimately, it's up to you!
Another request I recently received was to take a look at this jewelry, recently released by the Metropolitan Museum of Art Store. I love to look at the gift shops of museums, and I'm always fascinated to see what the Met chooses as their new releases each season. Given the depths of the ideas that they have at their disposal, you know that they had excellent, compelling reasons to select the items that they choose. This enameled jewelry is madly not my style but is really lovely – I particularly admire the way that the primary colors and black are set off by the muted silver metal. Plus the geometric designs are wonderful!
This woman looks good in strong colors, and isn't afraid to wear them, and mix them! She's the person who forces everybody else in the meeting to get to the point and quit wasting time. Management both loves and fears her, but also cherishes her ability to cut through the dross and get to the real value in any situation.
(note the very low-key watch, which doesn't distract from the jewelry)
Why yes, her tote bag is made of Tyvek…
When searching for this strong yellow, don't forget that it might be called ochre. Or goldenrod. When you're trying to find things designed by artsy types, you have to use a very creative vocabulary! For example, these green pieces are actually alexandrine…
Even though this wardrobe looks madly exuberant, note that there is indeed a Core of Four in black here to keep everything grounded and versatile.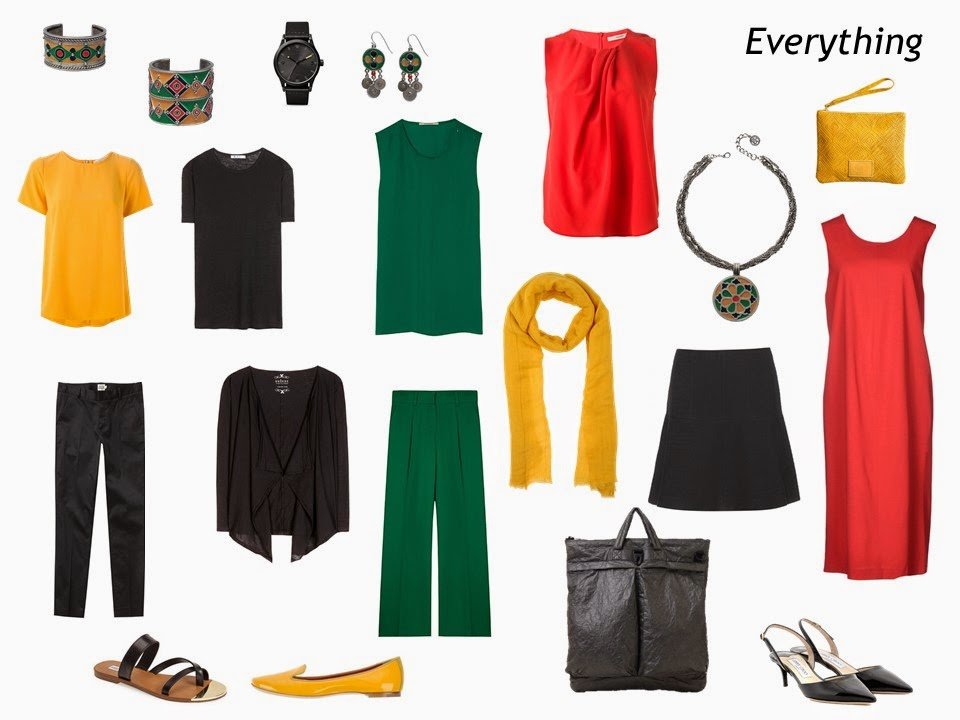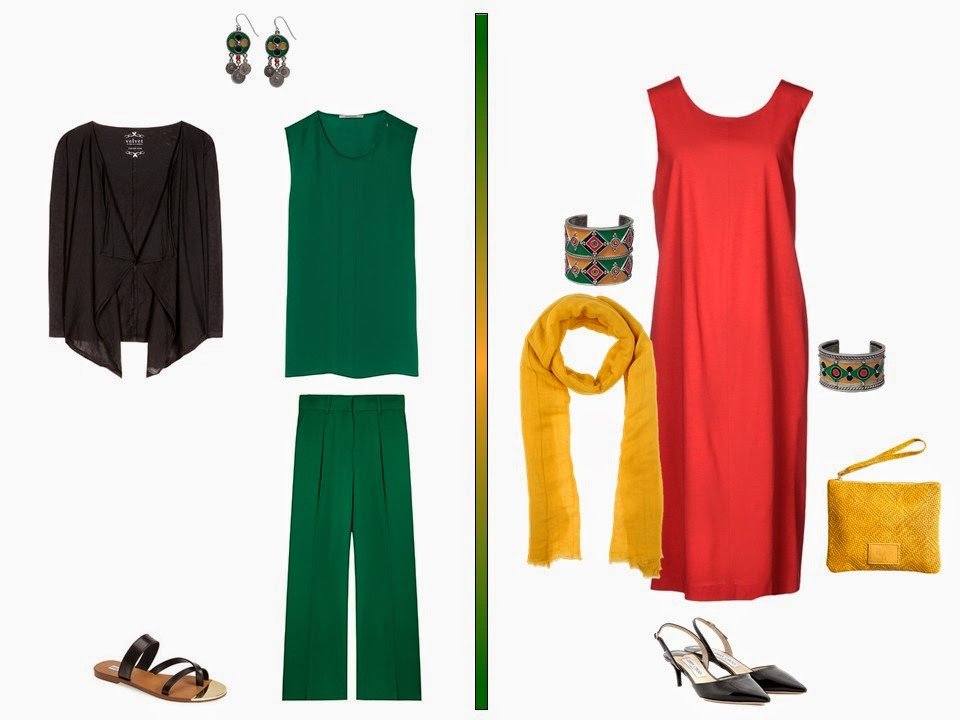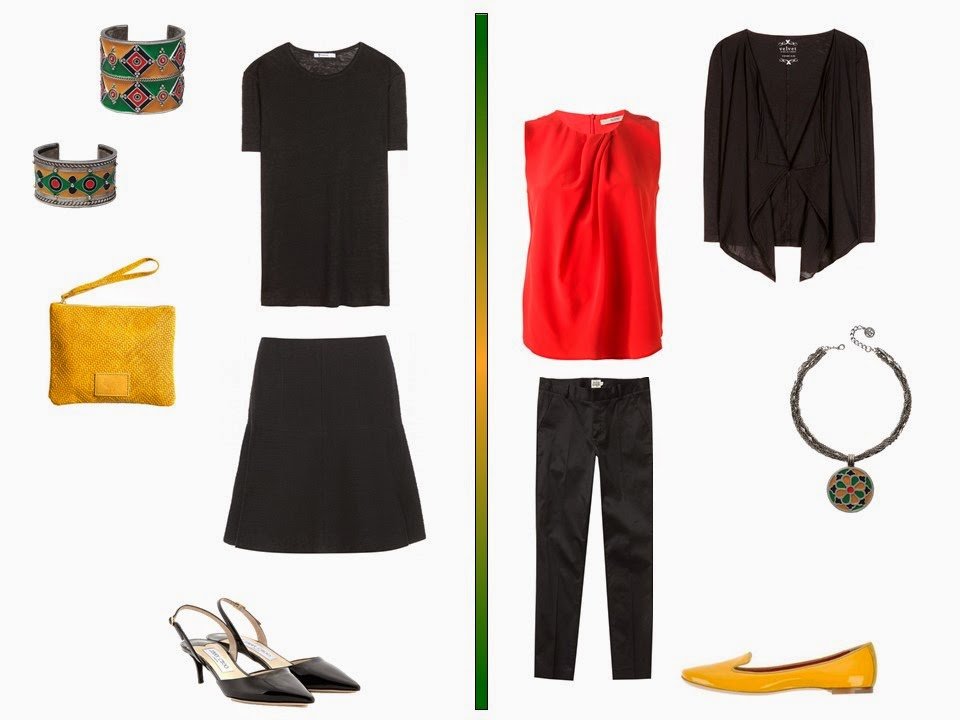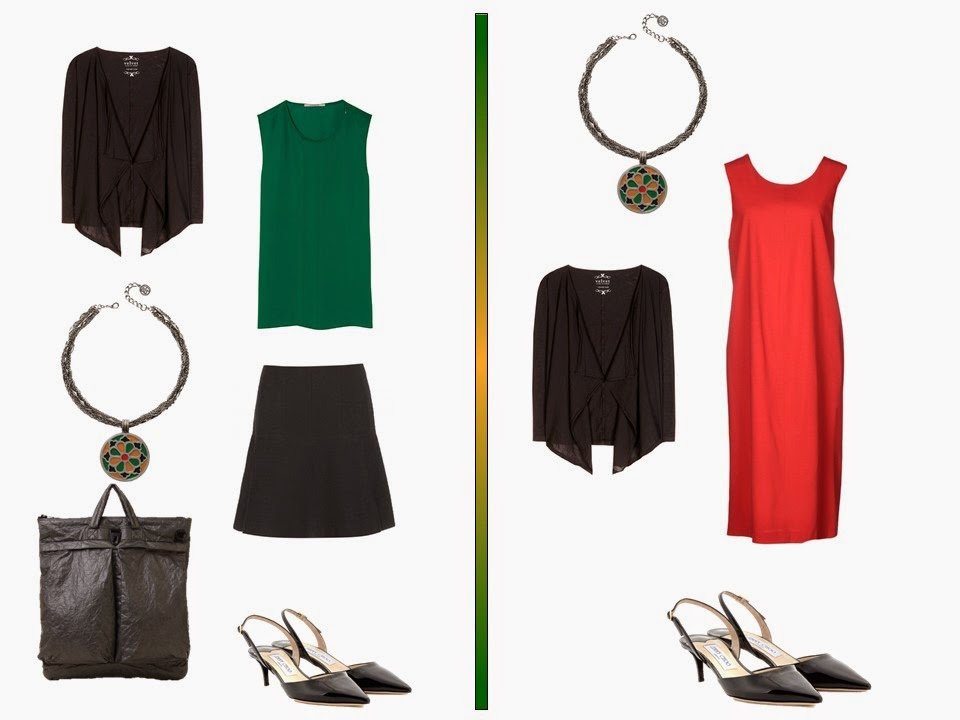 love,
Janice