October 31, 2014
One of my most loyal readers recently purchased this scarf and wanted to know what I would do with it – the answer is, of course, a LOT. One of the many joys of a scarf from Missoni is that they contain a wealth of colors that you wouldn't otherwise put together. I don't know why I saw bright pink here – when you get your nose right up against the scarf, it's not really there. There's teal, as well as a softer sage green, quite a bit of light blue, some slate greyish blue, navy… Lots of things to consider…
Missoni scarves are available in a lot of places, and often on sale. Different vendors get different designs, so if you have your heart set on one particular color scheme, don't forget to check Forzieri, Stylebop, My Theresa, Farfetch (who hooks you up with boutiques all around the world), Saks Fifth Avenue and Saks Fifth Avenue OFF 5th, yoox (they go really fast there), The Outnet (ditto), Nordstrom, or Neiman Marcus Last Call.
This was my color scheme – as you can see, there are literally dozens, if not hundreds, of possibilities.
The earrings were specifically chosen because they echo the ziggy feeling of the scarf… and the coat could certainly by substituted by one in a more muted rose pink; I don't know WHERE I was seeing bright pink, but I'm pretty sure you could get away with it. These scarves enable all sorts of color combinations to look good!
Notice how your really simple navy garments from a navy "
core of four
" get really jazzed up with a few accessories. I can't exaggerate to you enough how much use you get from these pieces of clothing, once you get them into your closet.
Here, I built on the other strong neutral in our scheme, (and decided to really leverage that gorgeous taupe bag!). The ivory top is sufficiently "unmemorable" that it can be worn repeatedly without feeling too conspicuous. And note the angular feeling to the earrings, again! Plus, they echo the taupe beautifully.
The teal tee shirt and scarf will be easy to wear with either pair of trousers, with or without the cardigan, and with either pair of shoes. The shine of the silk tee will give you a bit of dressiness, if that turns out to be something that's necessary.
As is pretty normal with these four packs, you have quite a few ways to wear the limited number of garments you have with you. A little bit of choice is always comforting!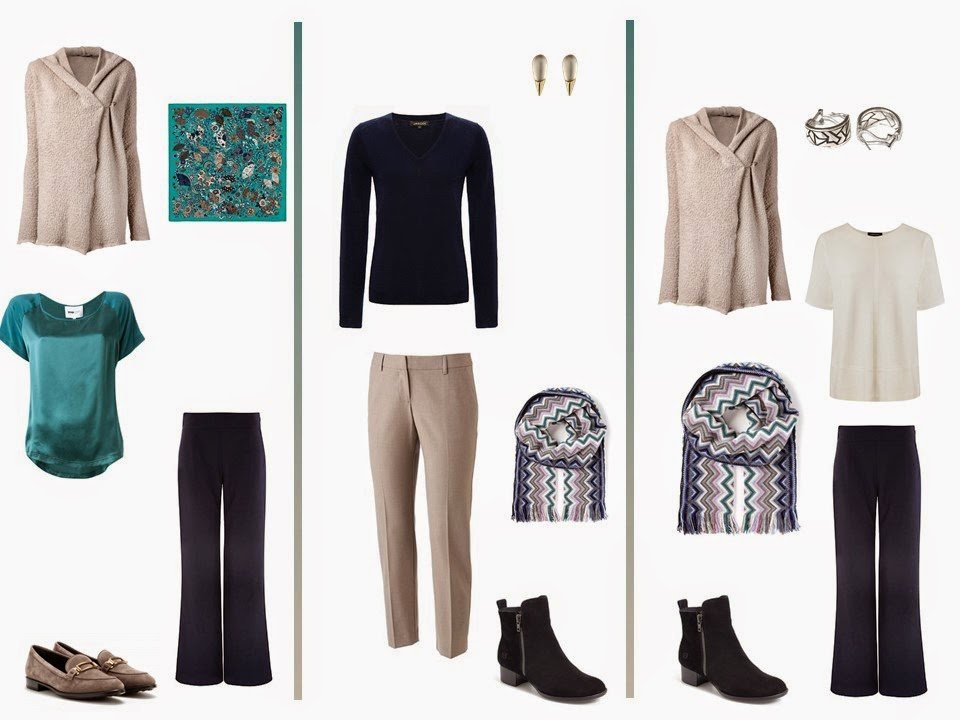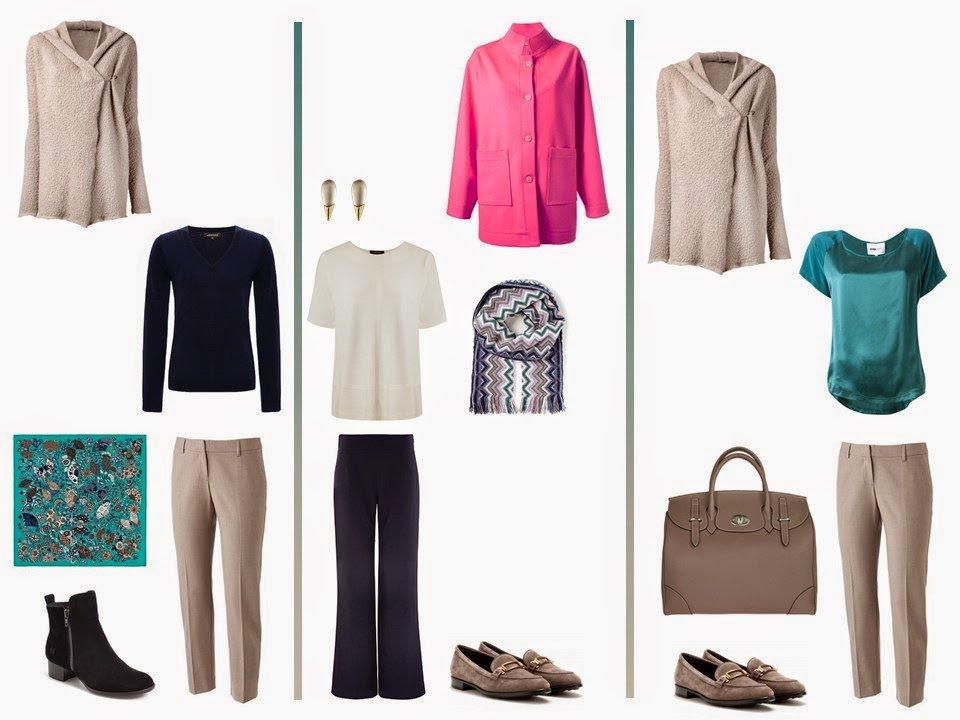 I do receive a commission from some of these retailers, and I won't lie to you – I'm always happy to get that little bit of income. But I hope you do understand that money is NEVER the criteria by which I choose things. Nobody every gives me free clothing or credits or anything like that!
love,
Janice