August 6, 2014
Okay, even the internet can't agree on what, exactly, puce looks like! But one of my favorite color references, Encycolorpedia, calls it puce, and that's good enough for me. This is certainly a color that you could tweak a bit – moving to something warmer, or lighter, as suited your wardrobe, your preferences, and your personal coloring. Never buy a color just because it's the "big" color for the year – that's just an industry device to get you to spend money you don't need to spend on things you don't need to own!
This color has been added here because I've recently read a couple of things that suggest that it's a universally flattering color. I believe that a color that matches your personal blush or lipstick is indeed flattering, but I'm not sure that this is it. But let us sally forth and see what we think of this color.
I fully appreciate that many of us can't really wear whimsical socks with success, but I wanted to show them here to remind you that they're a very inexpensive possibility for including a color in an outfit, and for bringing a bit of humor into your day in an unexpected way.
While the sweater and socks are something you can buy and expect to wear for a few years, a nice pair of earrings in a color that flatters your face might be something you'd want to keep for a long time. Once you've figured out all of the hundreds of semi-precious stones available in jewelry, you'll find that almost any color is available, and that some brilliant craftperson is working with that very stone.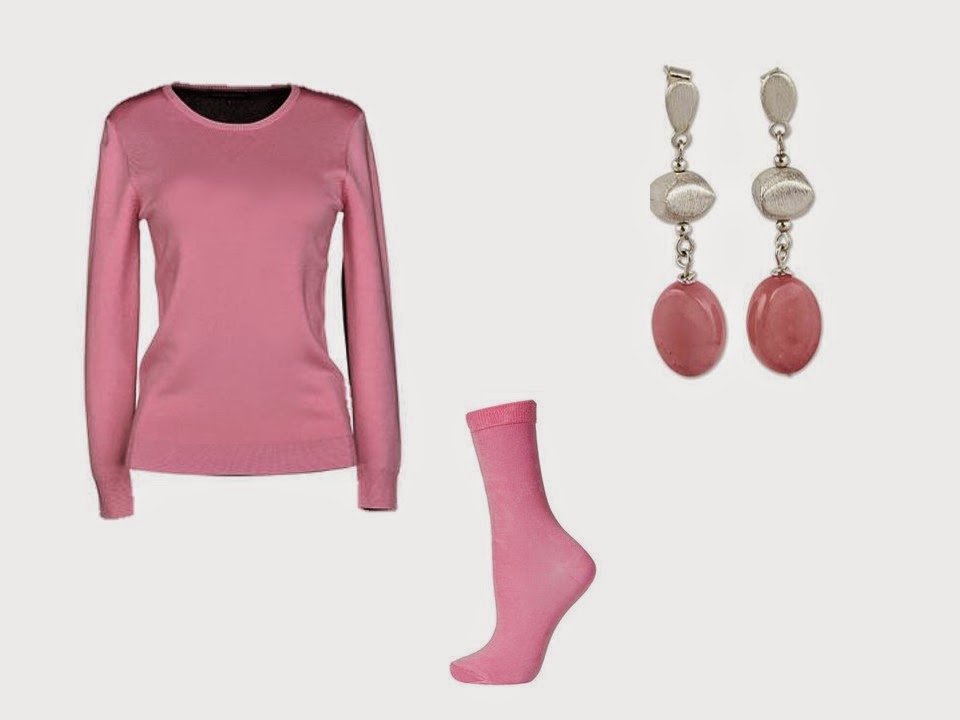 Sweater – Jonathan Saunders,
socks – Topshop, earrings – Sissi Bernal
I like the look of this blush-like color the navy and grey Starting From Scratch Wardrobe.
Pink with brown is not uncommon, but I know a lot of people who struggle with it. Maybe opting for the coral shown July 25th would be a better direction to go?
I just don't know about inserting puce into the black and caramel Starting From Scratch Wardrobe…. Maybe a lighter or warmer color? Pink and black can be great together, but the caramel brown that is in this wardrobe just doesn't feel right.
If I were building a khaki and olive Starting From Scratch Wardrobe, I would definitely sample this color in two or three things, and just never wear them with olive! I think this rosiness looks lovely with muted beige and khaki.
I love how this color brightens up the black and grey Starting From Scratch Wardrobe! I pretty much live in black and grey – a rosy accent might be in order…
Pink and brown together is unexpected, but can be really pretty. Your mileage may vary…