August 7, 2014
How maddening…. This is a great shirt. At a great price. And the way Uniqlo shows it on their website (with a superimposed color swatch) makes it look like there's something defective with the left sleeve. Really, do you NEED a swatch, in blue, overlapping a blue shirt. Did we think the shirt was really, surreptitiously, pink?Ahem…
I love this color. I wore it in the '80's, as did many of us. Maybe you can't shake those memories, but I'd encourage you to consider a little bit of bright blue…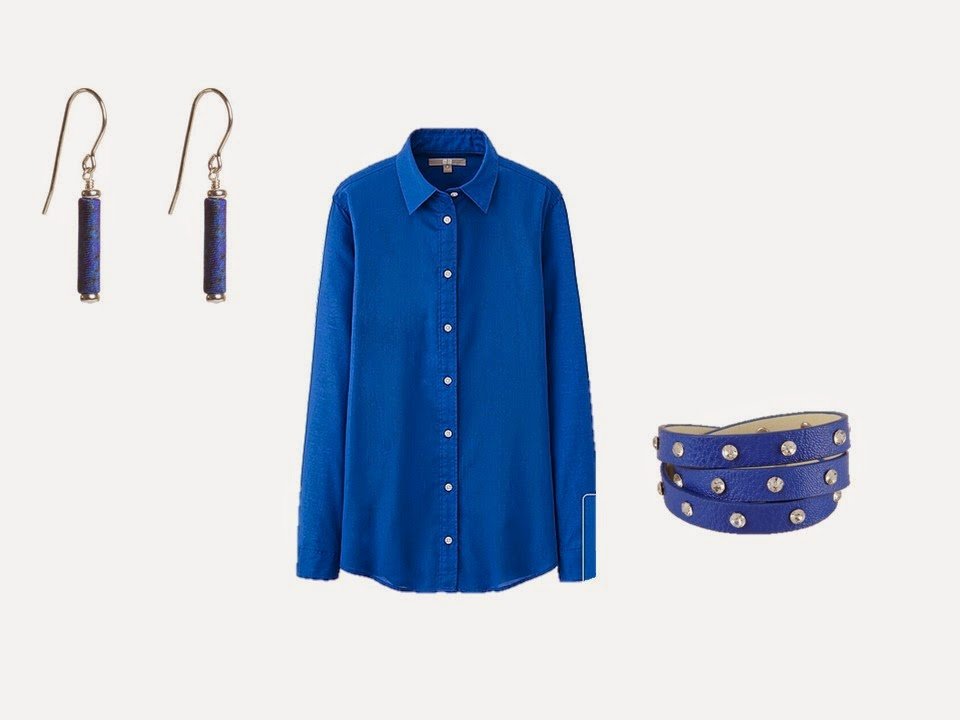 Earrings – Dorus Mhor, shirt – Uniqlo, bracelet – George J. Love
I loved this color with brown and beige WAAAY back when…
This is how I wore it back then, and how I'd wear it now! With shorts, the sleeves MUST be rolled. Layered over a white tank would be an option, too.
Here's a case where that bright caramel color looks great with our chosen accent.
Not sure about the olive… what a tough color! But it's so rich looking, and pleasantly uncommon. Just have to work harder if it's one of your favorites, I guess.
To wear cobalt successfully with navy, I think the navy has to be rather dark so that there's a definite contrast. If your navy is bright, it might look as if you were trying to match garments and failed dismally. To me, darker navy looks more elegant anyway!
I love the way cobalt changes to look of grey – grey is so versatile in that way. The difference between this blue and a soft powdery pink is like night and day.
love,
Janice