August 30, 2014
What do you do with a Four by Four Capsule Wardrobe if you want to dabble in a currently trendy accent color? This has been asked a couple of times in the last few days, and I think it's a pretty important thing to think about; we all know that stores will show colors WAAAAAY outside of our plan…
This applies to those of us will well-established Four by Four Wardrobes, and for any of us who are still considering what to use for accent colors. If you have a wardrobe that includes a LOT of your neutrals, sampling a seasonal neutral is a good way to give yourself some variety without breaking the bank.
I actually put together a little (relatively) document that shows all ten of this seasons "new" colors, juxtaposed against all 91 of the combinations of neutrals that we've been considering. You can see from this sample page that one of the colors that is considered seasonal this year – aluminum – looks a heck of a lot like just plain old medium grey! Let's be serious – you can't invent new colors. We've seen them all; all you can do is give them a snazzy name, and convince the merchandising world of their essential hipness…
This document is available in The Vivienne Files Document Store.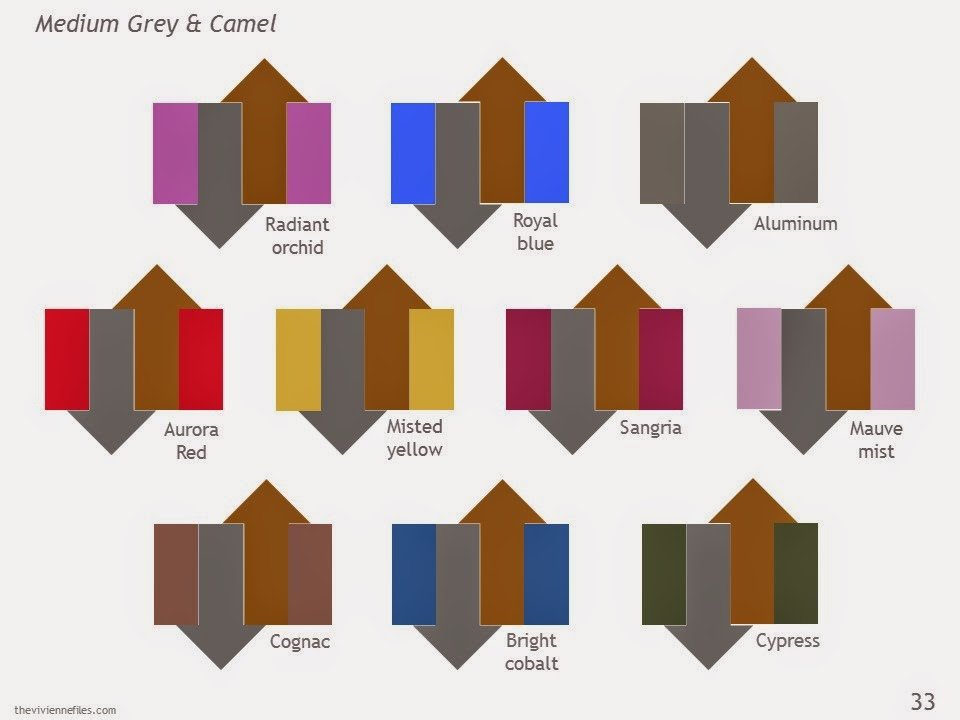 Let's build upon the wildly popular smoky blue, pearl grey, navy and grey wardrobe from earlier this week. So this is the new color that's being added – "Mauve Mist".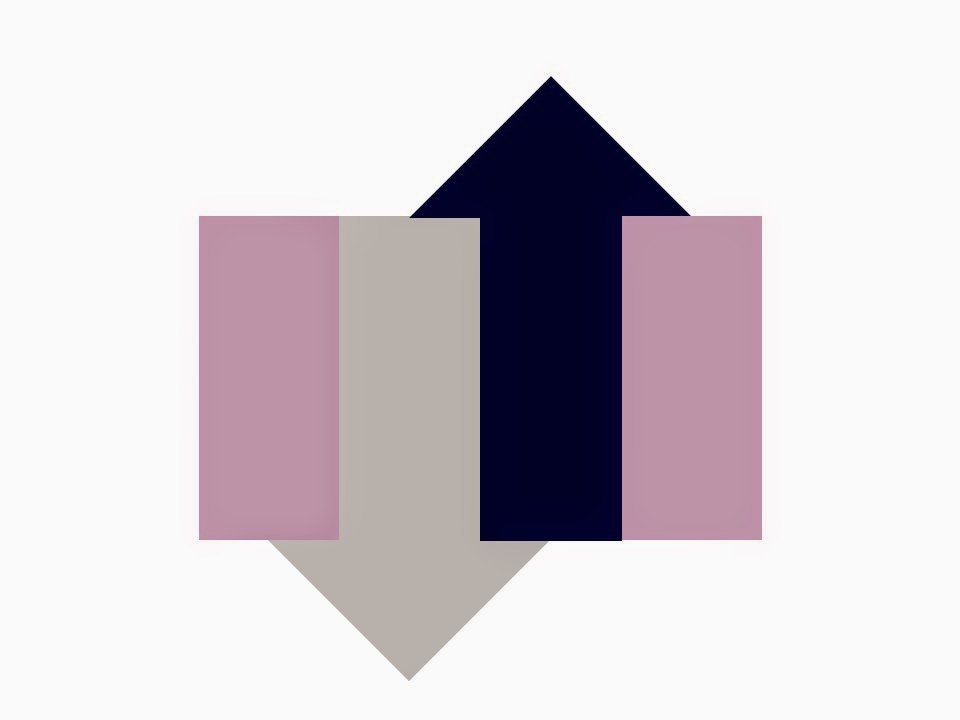 And this was the original wardrobe.
I'm submitting that you test the waters with this color by adding one garment, and a couple of accessories to tie everything together. You could use socks, a bracelet, maybe even lipstick could be considered for a color like this!
You can immediately see how well this color blends with your existing Four by Four Wardrobe – not just with the other colors, but with the mood and feeling of softness without being overly sweet.
And you have options, immediately, to wear your new goodies a lot!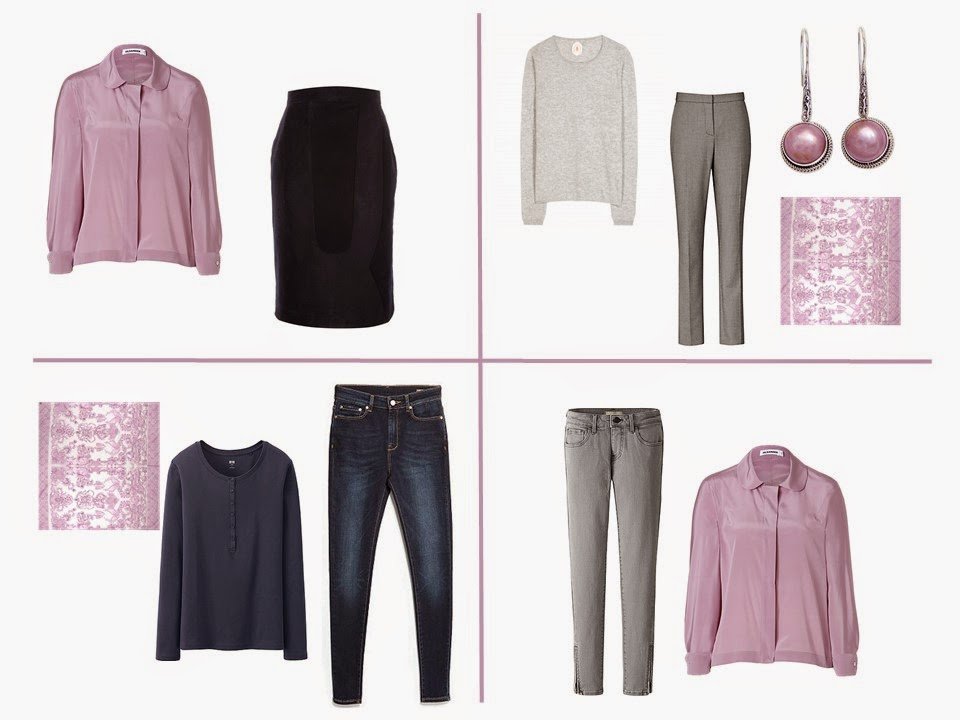 Which of the Pantone Fall 2014 colors would you try, if you were going to try any of them at all? Or are you going to sit out this wave of "new" colors and see what they cook up for us next spring?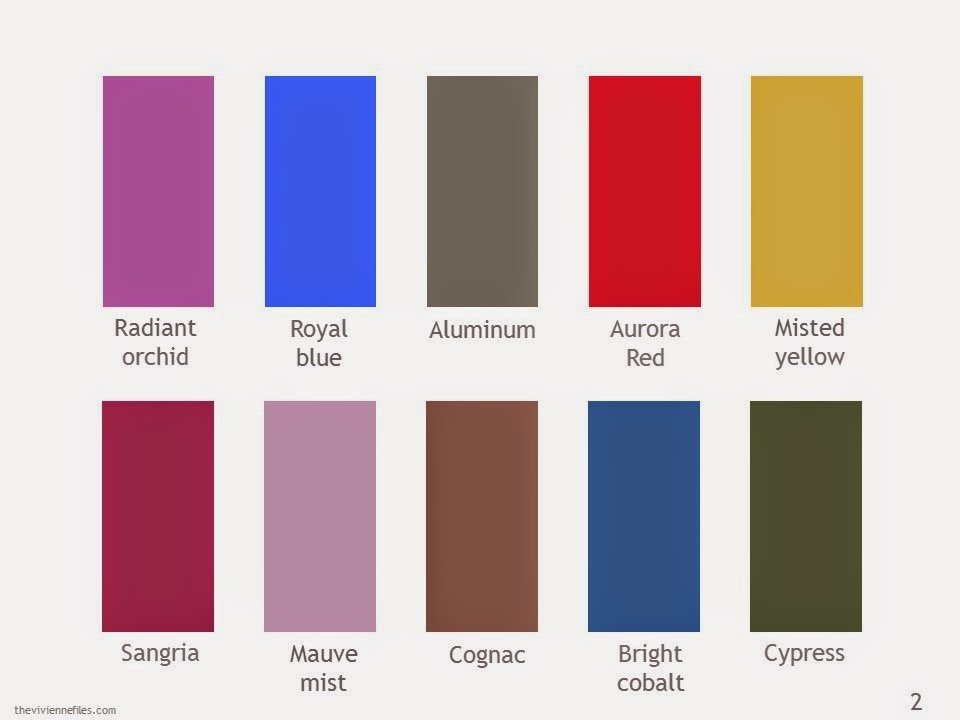 love,
Janice
PS – You can find the latest Pantone Color Planner and other documents in the Planning Documents section of the website.