August 29, 2014
Yes, there are lots more Four by Four Wardrobes on the way, but I like to mix things up a bit! I don't leave for Paris and Amsterdam for 20 days, but I'm already starting to think this one through. This is a particularly interesting packing adventure, because I'm currently living in hot summer weather (well, hot, cool, stormy, and just plain strange…), but I know that it's going to be more comfortable in Europe. Unless it's not. Sigh…
As usual, I'm planning to dress in layers, so worst case cold weather means more layers, and worst case warm weather means just a shirt rather than a shirt and sweater. If it gets too extreme, I go shopping, or I stay in the hotel. One can't pack for every eventuality, unless your entire wardrobe goes along. Not an option!
So I'm flying to Paris with a couple of photographer friends. and Belovedest is joining me a few days later. I've debated the merits of wearing a white tee shirt, or even a striped tee shirt, on the plane, but I know perfectly well that if I spill something I'm going to kick myself, so solid black with accessories is how we're going to roll. Slouch pants are comfortable, and have a certain insouciant charm that I really like; they flatter my very muscular legs too, which is nice! And please note – these pants aren't NEARLY as short on me as they show on the website; on me, they have a clear "break" in the front of the pants when I'm standing. I have no idea why they are shown as ankle pants – they just look stubby that way!
I'm one of those people who always are wearing matching jewelry, because much of my jewelry is pearls, and they all go together! I know that it's pretty "matchy matchy" for a lot of people, but I'm really comfortable with it, and that's the most important thing to me.
You might notice that I've got quite a bit of J Jill clothing. It's sort of become the go-to gift card to give me in my family, and I have a lot of luck finding basic clothes in petite sizes there. No, I get no commission whatsoever from them, more's the pity!
Our first few hours will of course be spent wearing the same clothes in which we flew – you can't just walk into your hotel room the second you arrive! But when we do finally get in, I will change tee shirts, grab a different scarf, and then SPRINT to catch up the the photographers as they take off down the street.
Second day I have to be prepared, again, to keep up with these two. We might well be climbing on things, or hanging upside down trying to get the perfect photograph – one never knows! I imagine that we're going to be eating somewhere savory but relatively relaxed – otherwise, I'll change into my dress.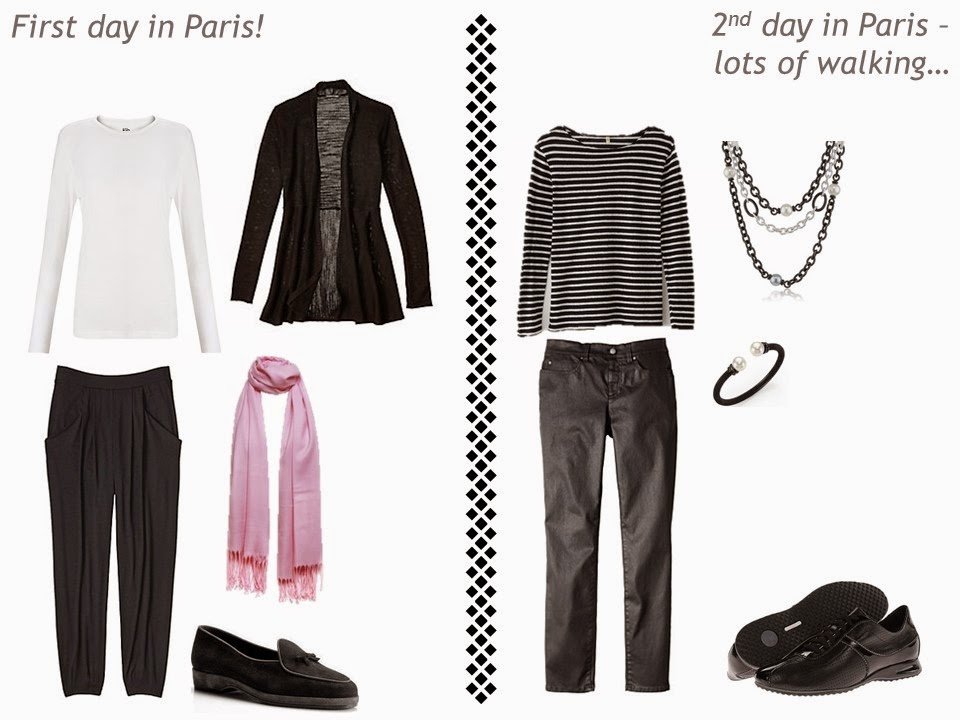 We've negotiated that I'm going to have some time alone during the day on Saturday; I might not do anything more strenuous than park myself at a cafe and take notes about Chic Sightings! Although I may very well buy a pair of shoes – I'm not packing a mountain of footwear, and I might want another pair of loafers before it's all said and done. These tasseled loafers are YEARS old, and might need to be retired and replaced…
Then Sunday, Belovedest arrives! The photographers head off for their tour, and B and I are going to Amsterdam! Of all of the places I've been in Europe, Amsterdam is a new one for me – I'm very excited.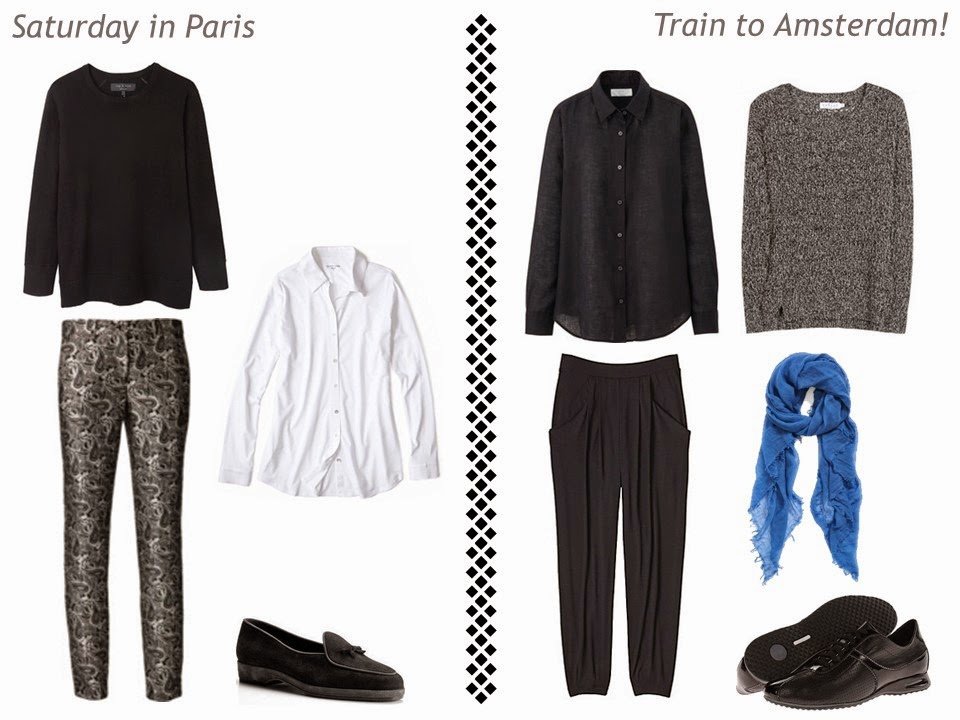 Much sightseeing and museum-going… Simple clothes, but THIS black sweater has sequins woven into it. Sort of a fun little touch… And the paisley pants will be quite enough activity in this outfit – a brooch to hold my cardigan shut, and some earrings.
I'm looking for restaurant recommendations in Amsterdam – any suggestions? What was the very BEST meal you've had there?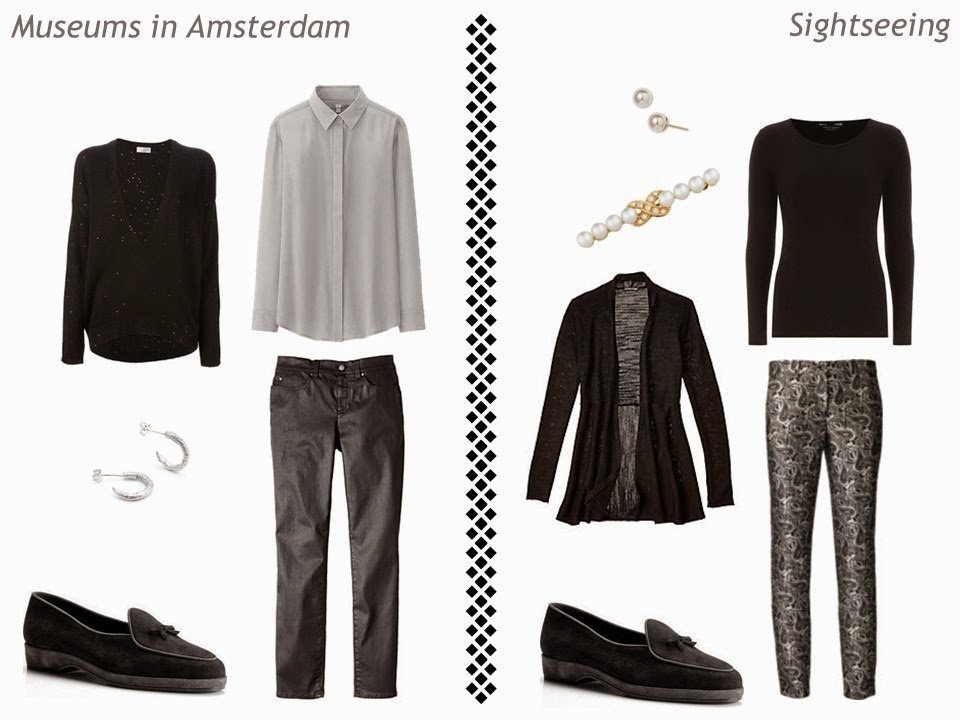 After a couple of days of hard-core walking about, I imagine that we'll have a more relaxed day now. This would be an ideal time for that "best meal" restaurant…
And then the train back to Paris – my original travel outfit, with a change of tee shirts!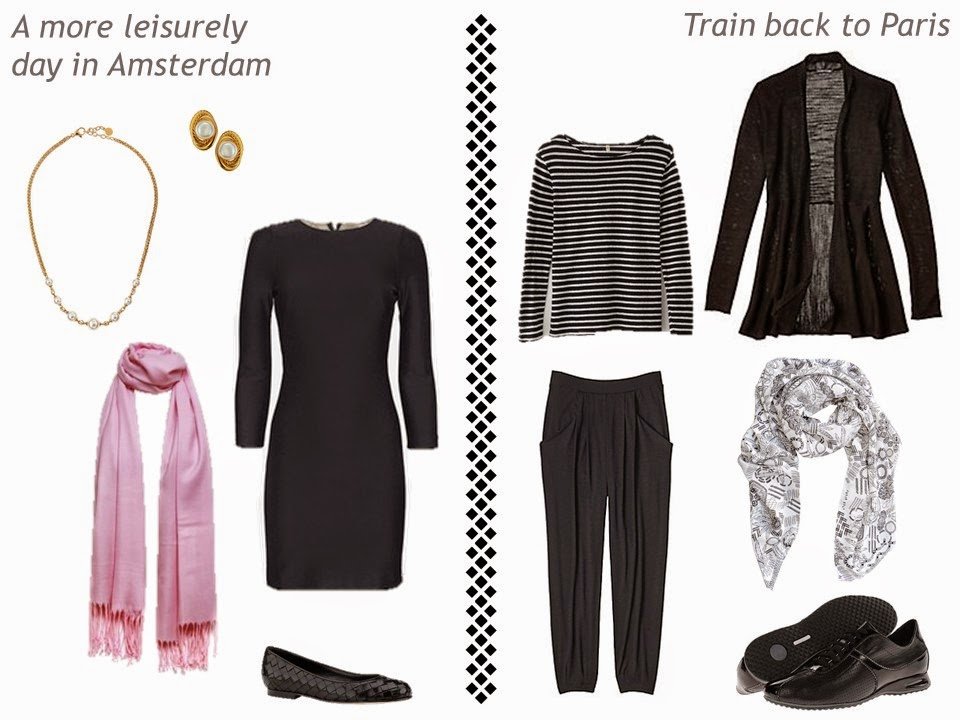 B has a lengthy shopping list… and then we're going out to dinner! When we're shopping I actually spend quite a bit of time sitting in stores, so I can probably get by the entire day in my dress and flats – they're built for comfort in addition to being very pretty.
And the last day? I don't know what we'll do. Walk, and walk, and walk, and walk, I'm sure!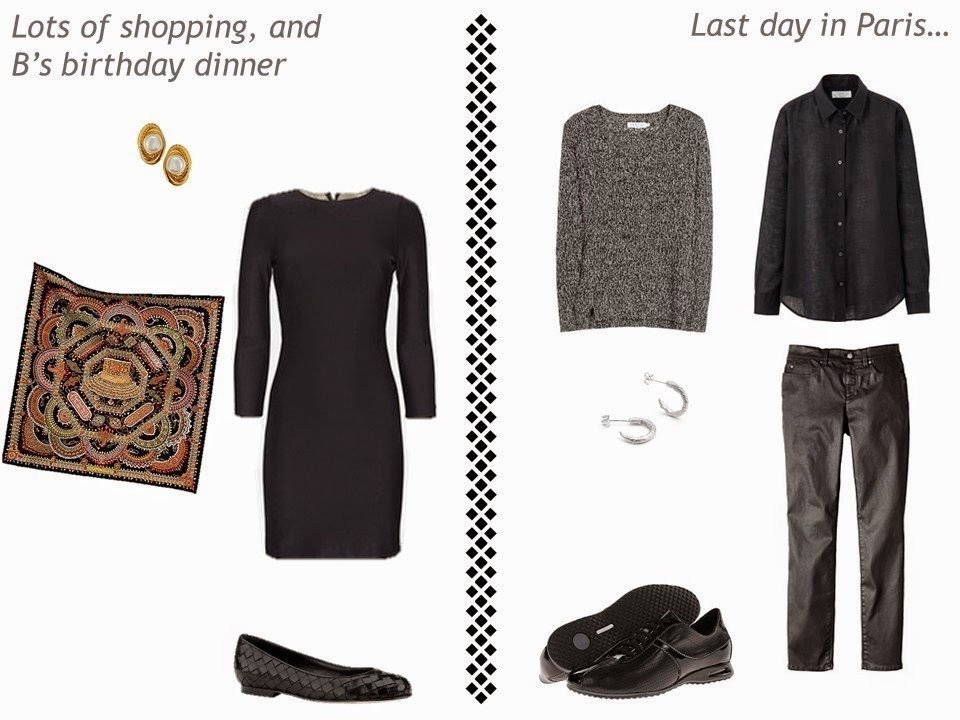 I'm eager to hear any suggestions you have about Amsterdam – everything that I've read and seen about it seems wonderful!
love,
Janice