May 8, 2014
Maybe, when you first saw this painting (or scarf) you saw the end of it with the black and red accents, and not the pastels…
The way you fold a scarf can make a huge difference in what's shown or concealed – the beautiful Mai Tai is a master at showing you how this works (and just, in general, how to wear a scarf to brilliant effect.)
So if you're more drawn to the high-contrast interpretation, here are some very different ways to approach the same neutral garments that I used yesterday.  (I know, I'm lazy…)
Using black or white instead of a pastel immediately changes the whole feel of the capsule.
Red and white works beautifully with olive accents.  And if you want to look for perfect jewelry in this color range, look for the stone labradorite – it often shows glorious greens and greys.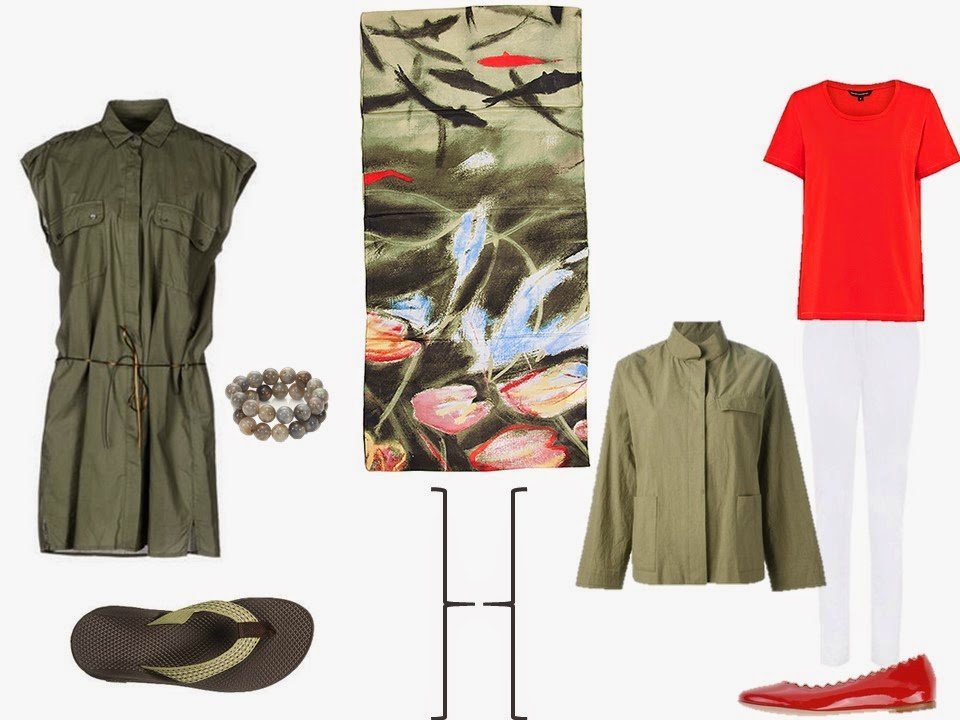 Scarf – Elizabeth Blackadder's Dark Pond, shirtdress- Hartford, bracelet- Nest, sandals – Chaco,  jacket – Isabel Marant Etoile, tee shirt – French Connection, jeans –  Kaliko, flats- Chloe
And now your shirtdress is red, rather than soft blue…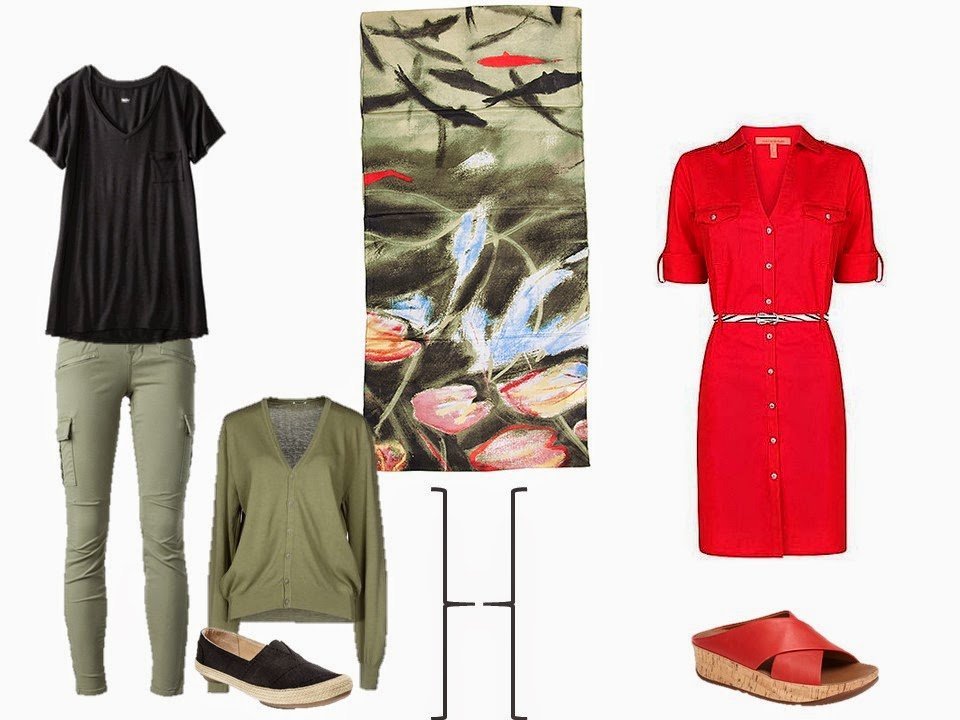 Scarf – Elizabeth Blackadder's Dark Pond, top – Mossimo, jeans – J Brand, canvas shoes – Cloud9, cardigan – Heritage, red shirtdress – Mango, sandals – Fitflop
This blouse is sort of preposterously expensive, but looking for something similar (especially with that red detail) is a good thought.  And while I don't generally adore obvious "logo" scarves, this one struck me as sufficiently subtle, and ideally colored.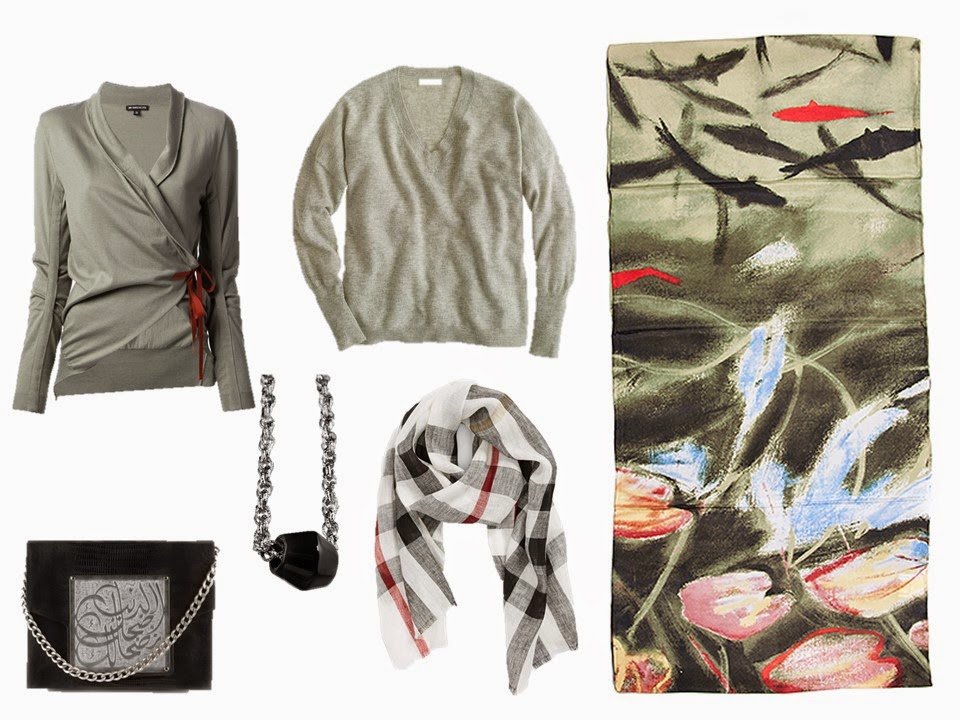 Scarf – Elizabeth Blackadder's Dark Pond,  wrap top – Ann Demeulemeester, necklace –  Caipora Jewellery, sweater – J.Crew, bag – Dareen Hakim, scarf – Burberry
What a great ensemble!
Giving you, again, a wealth of options…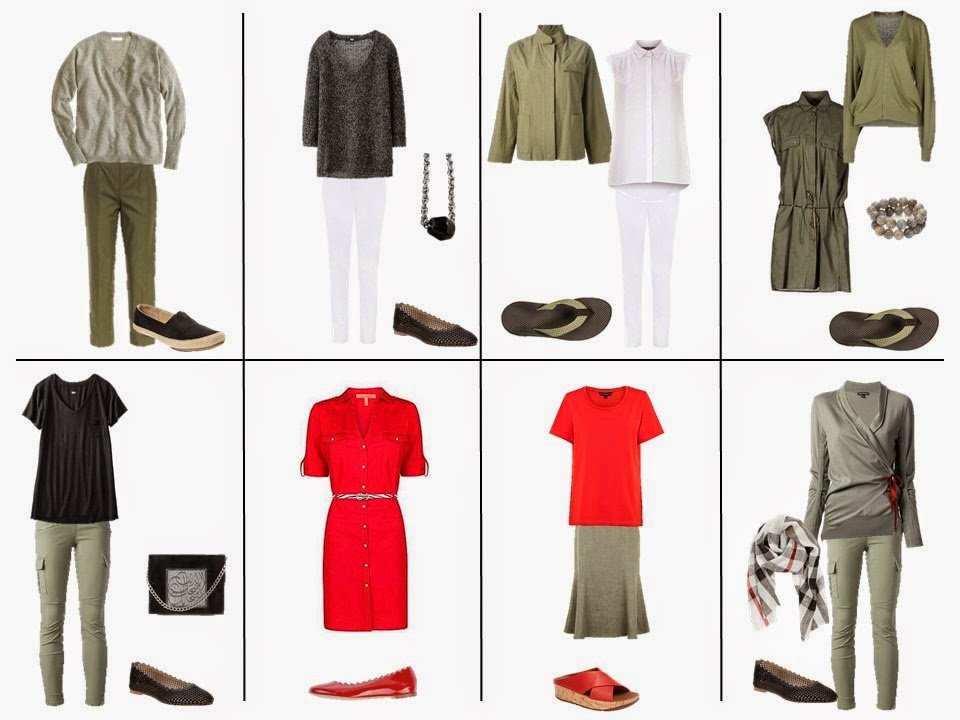 Maybe, if you currently have a high-contrast wardrobe, and you want to migrate to softer colors, some greyish olive green might be a new neutral to consider.
love,
Janice
Looking Back:
2013:
A different look at yesterday's scarf:
Turquoise & Orange: A Packing Capsule based on Hermes Fleuri de Provence
.