January 22, 2014
This scarf, currently available from Hermes, is incredibly beautiful – much more interesting in person than any photograph can do justice…
But it's easy to see how you could fall into the routine of wearing this scarf pretty much exclusively with black and white garments – it just seems reasonable. So I'm proposing a mental "reframing" of the scarf that might expand your comfort zone with it…
First off, think of the adjectives that characterize the unique beauty and appeal of this scarf. To me, this scarf is clear, graphic, and linear. This gives you a basis upon which to think about the sort of outfits that might benefit from the addition of this scarf.
And secondly, I like to always think of, and refer to, scarves as silk jewelry. So it makes some sense to look at some pieces of jewelry that reflect the same overall aesthetic that the scarf has. Then you could make the mental translation that if you would wear certain jewelry with an outfit, the scarf also might be a harmonious choice.
These pieces of jewelry are starkly black and white, but with textural or woven interest, and a sense of modernity and clarity.
For me, the obvious way to expand on black and white graphics is the addition of a solid, clear, bright, saturated color – red is the classic choice.
But clear bright blue is also beautiful with black and white. Notice the woven wristlet, and the woven ornament on the lapis earrings – all these little touches keep things harmonious and help define your personal style a bit more clearly.
And warm colors, so long as they are clear and bright, work beautifully – although the striped skirt with the patterned scarf is for the bolder among us!
The scarf itself has nothing about it which limits it to any season of the year, so this idea is as valid with a pair of shorts as it is with a suede skirt.
It's an interesting wardrobe – not what you usually see, but certainly workable and lovely!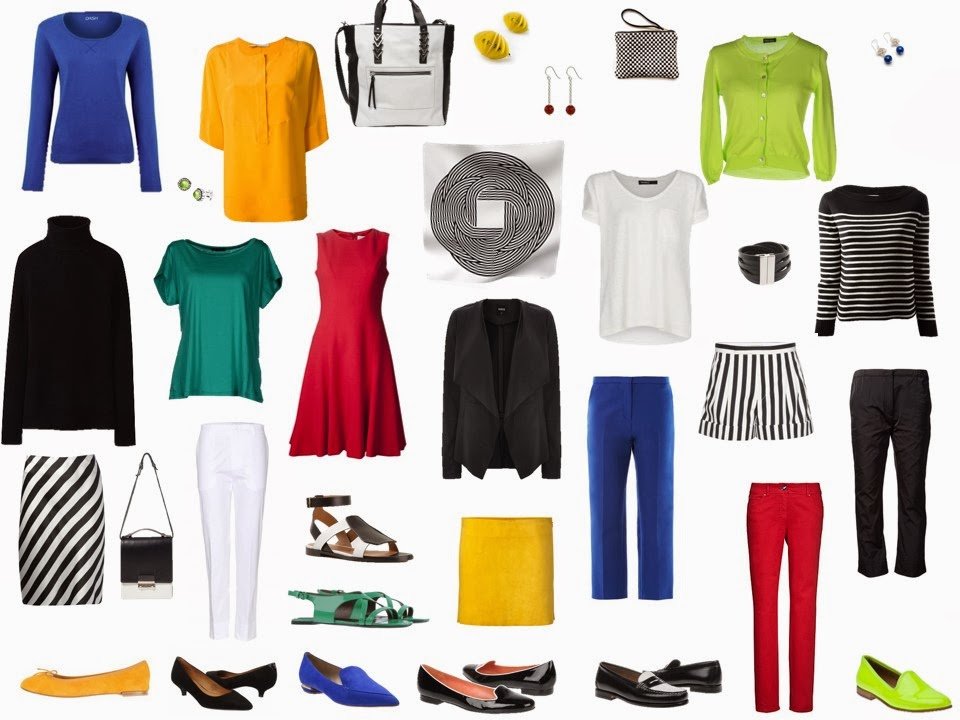 I have two other black and white scarves that have been suggested as subjects for some wardrobe thought. They are in gradually more subtle patterns, and I'm eager to see how my selections for wearing them will change as the nature of the scarf shifts.
love,
Janice