November 3, 2023
More heroines, making "festive dressing" choices…
First, our pastel-loving heroine: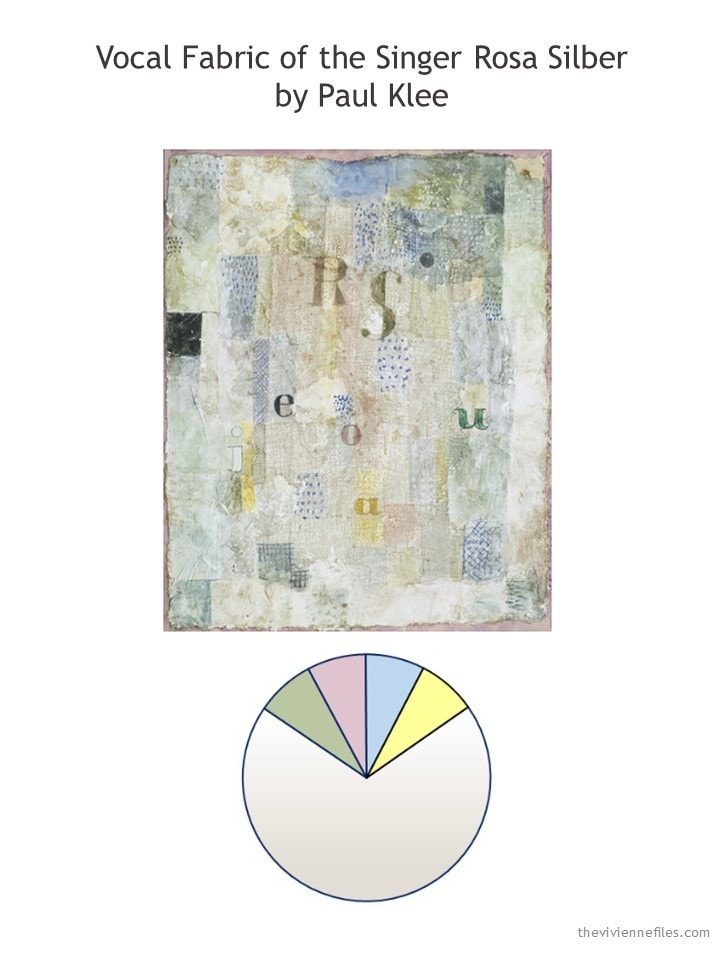 Her existing 32-piece wardrobe is complete, and depending on where she spends the holidays, she may be well-equipped…
But the weather is occasionally cool where she is, so she wants a sweater, and a neutral, dressy skirt. And when she sees the classic, elegant dress, her shopping is done!
Here's how her new purchases fit into her existing wardrobe – lovely additions!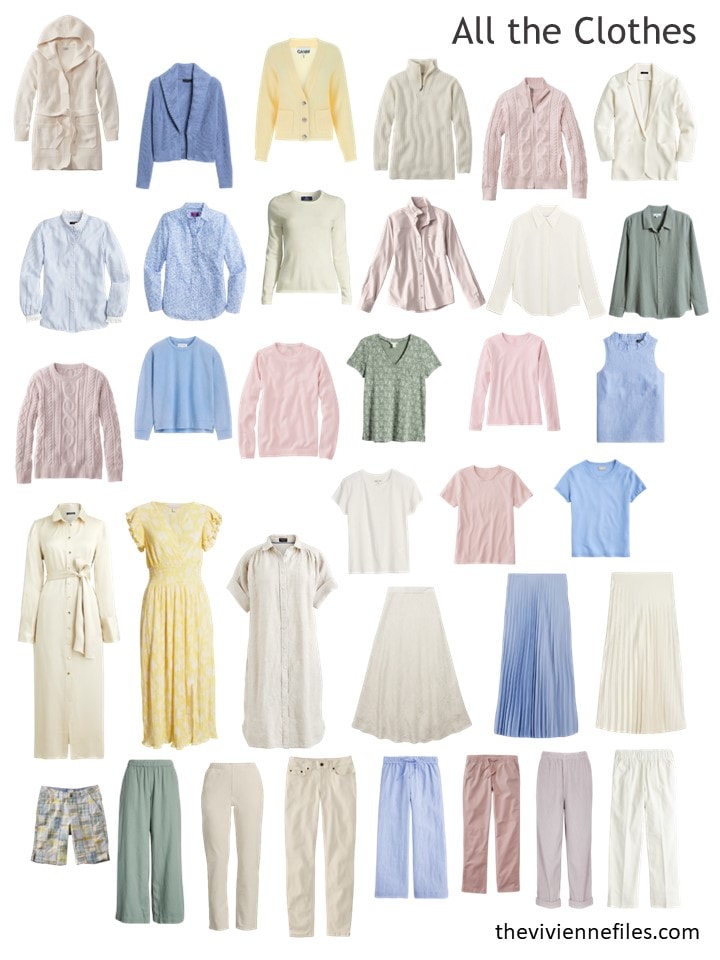 Her new accessories fit in well – although both her shoes and bag are unquestionably the dressiest ones she owns! But those 2 pieces, put with almost any outfit, will make a major difference…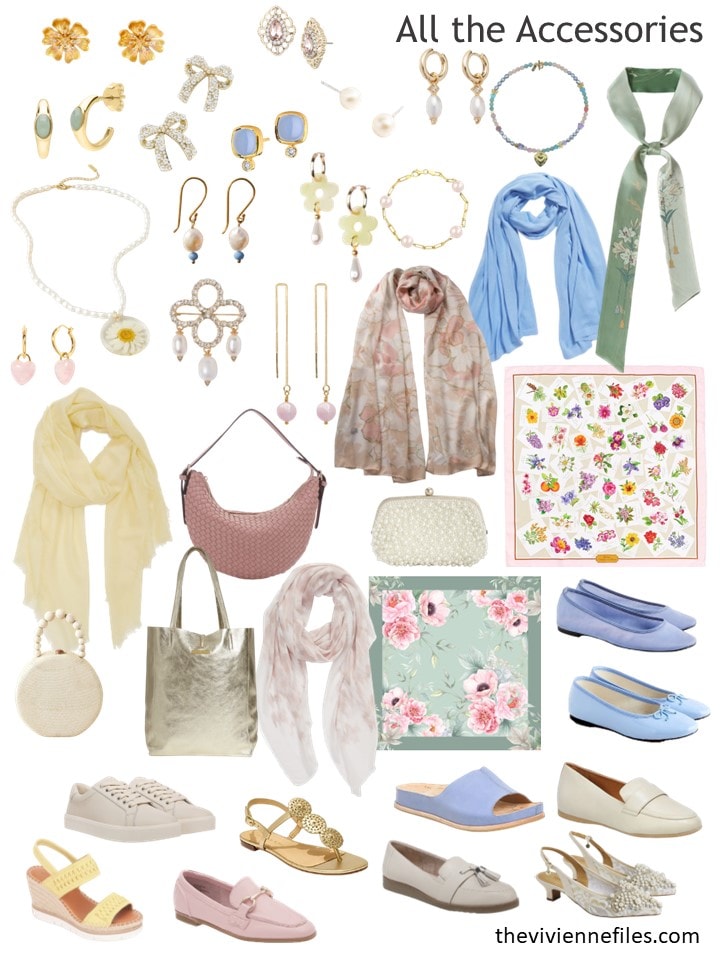 Her new skirt can be worn with (maybe) every top she owns! And of course it can be worn all year 'round…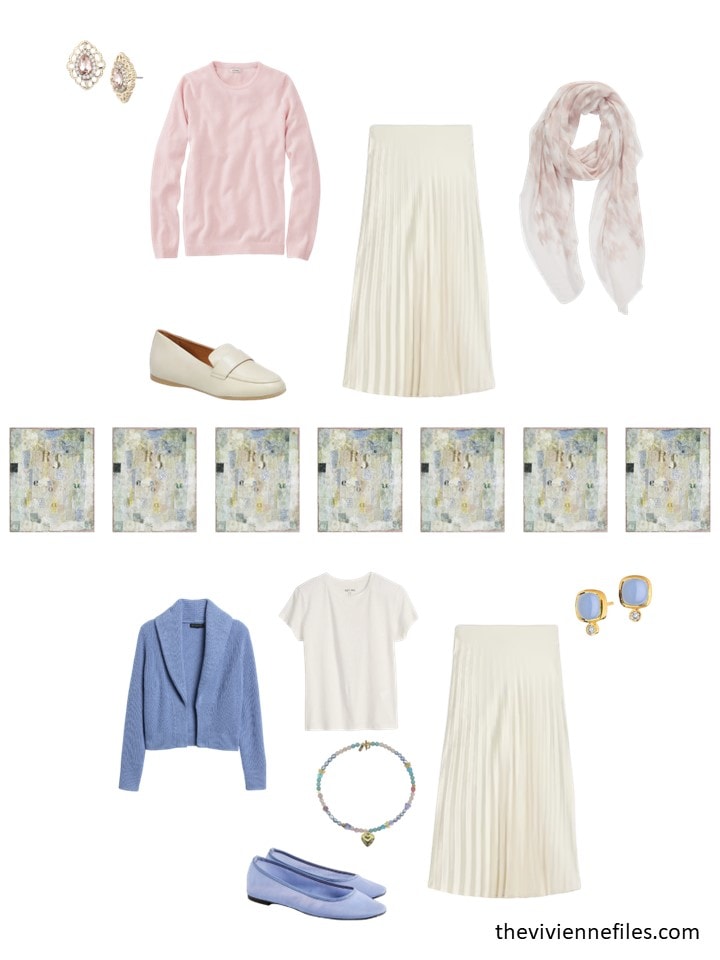 Her new sweater isn't particularly "holiday-ish," but she can wear it with (maybe?) all of the bottoms in her wardrobe. It's a neutral that should last for decades…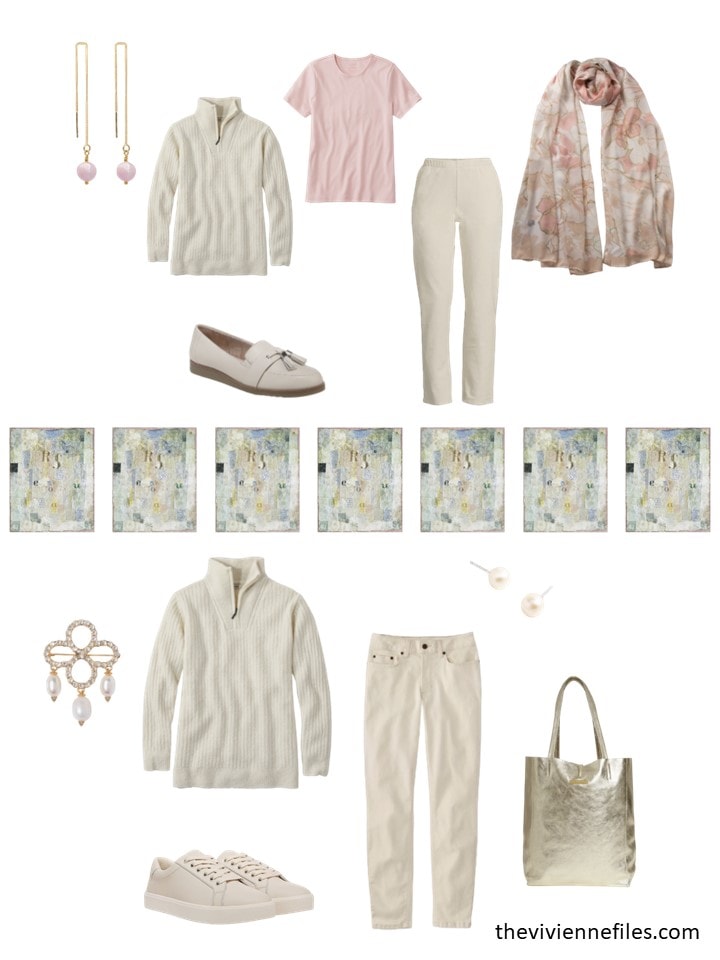 Her new dress is going to be worn a LOT through the holidays, and probably much of the year! She can wear a jacket or a cardigan over it, but to start, she's experimenting with what she can do with accessories…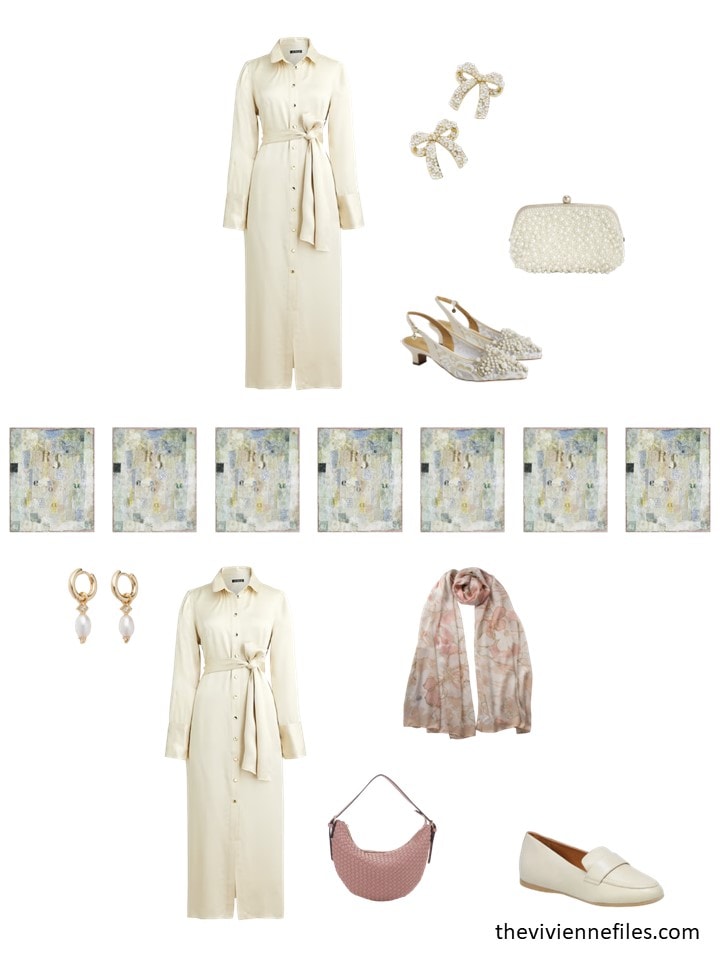 Our next heroine isn't going to have a particularly dressy holiday season – her friends are more likely to wear ugly holiday sweaters, or ornamented sweatshirts, than anything with sequins!
Let's enjoy her art inspiration for a moment: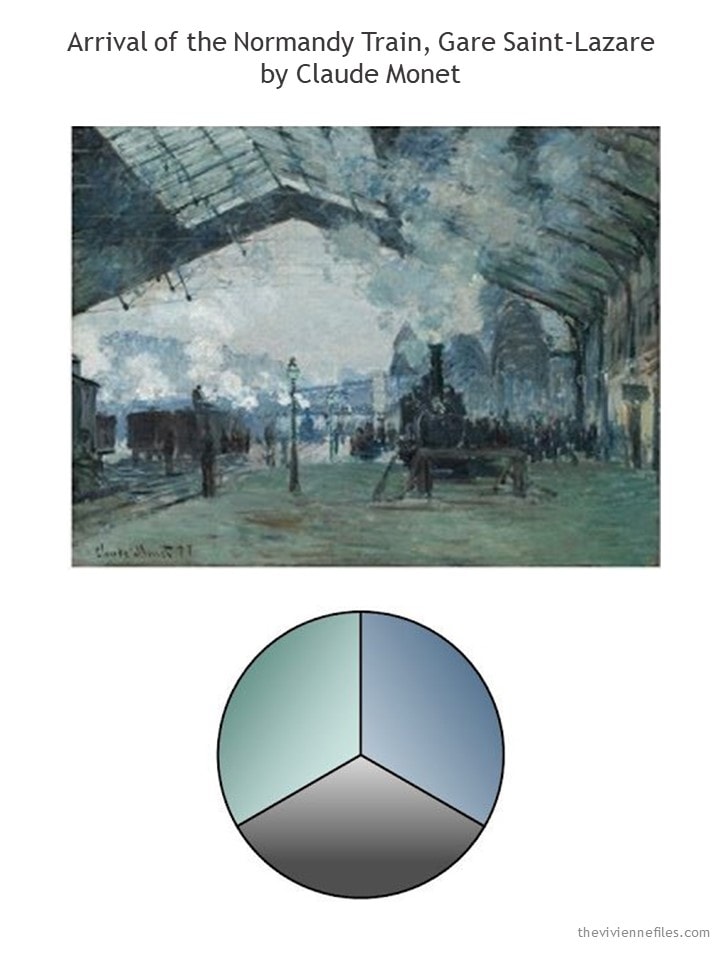 Her 32-piece wardrobe from October has lots of outfit options; if she's seriously NOT going to dress up, she's in a good spot…
But she sees a sparkly sweater that really catches her eye; dressy, but not frou-frou… A warm shirt, and a pair of pants in the perfect shade of grey for her new sweater, and she's set:
Her updated wardrobe looks almost EXACTLY like it did before – everything fits in perfectly. Clothes in a closet shouldn't all look alike, but they should at least share DNA…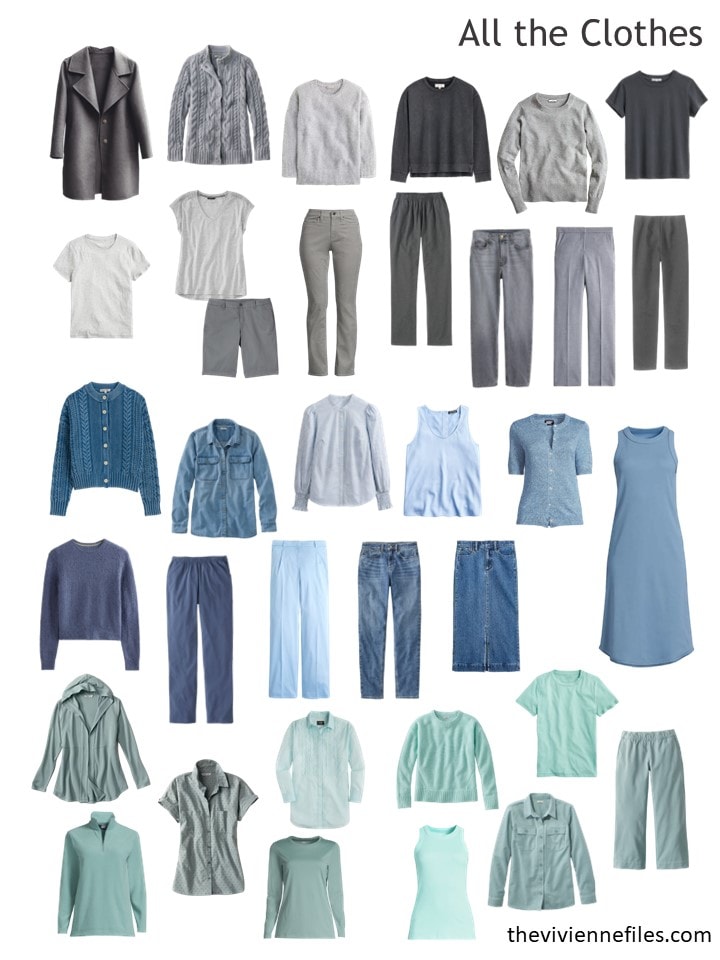 Green sneakers make a nice statement – especially with a matching scarf!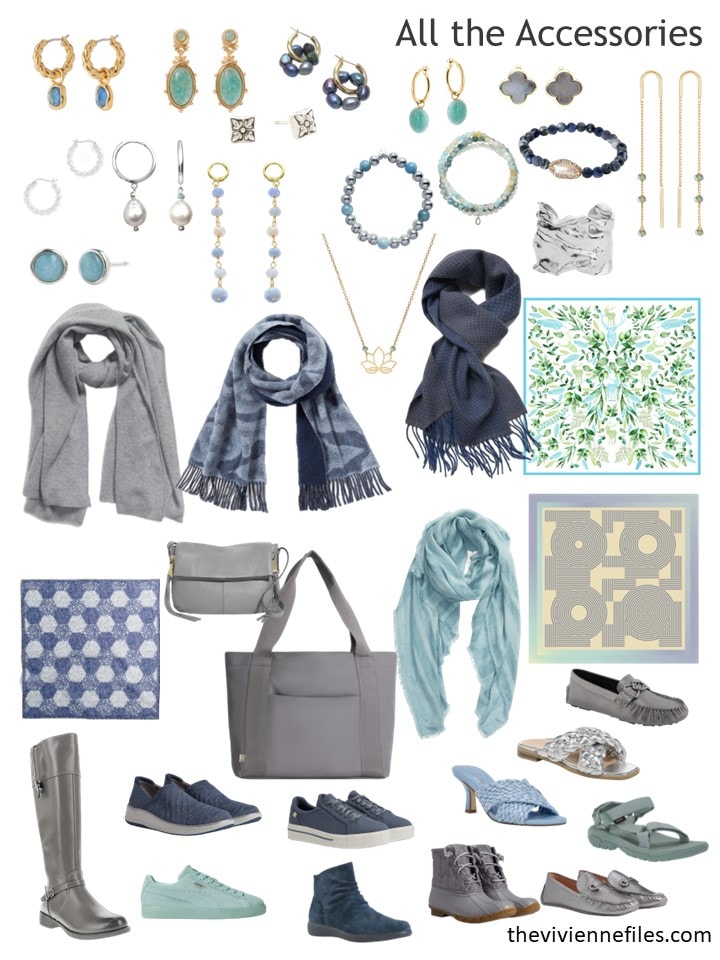 She loves her sparkly sweater, but she wants to wear it in a "toned-down" style – how about wearing it with denim?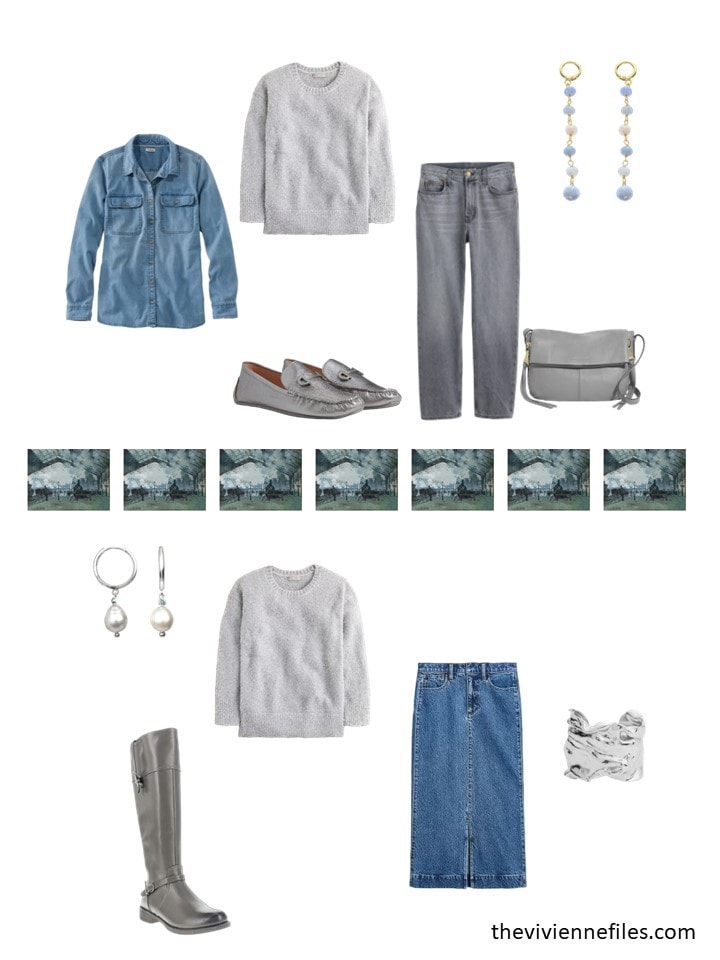 Her new pants are the kind of thing you reach for when you aren't certain of what's appropriate. They're pants, so they aren't TOO dressy, but they're lovely non-denim, non-canvas, non-corduroy pants, so they feel dressier…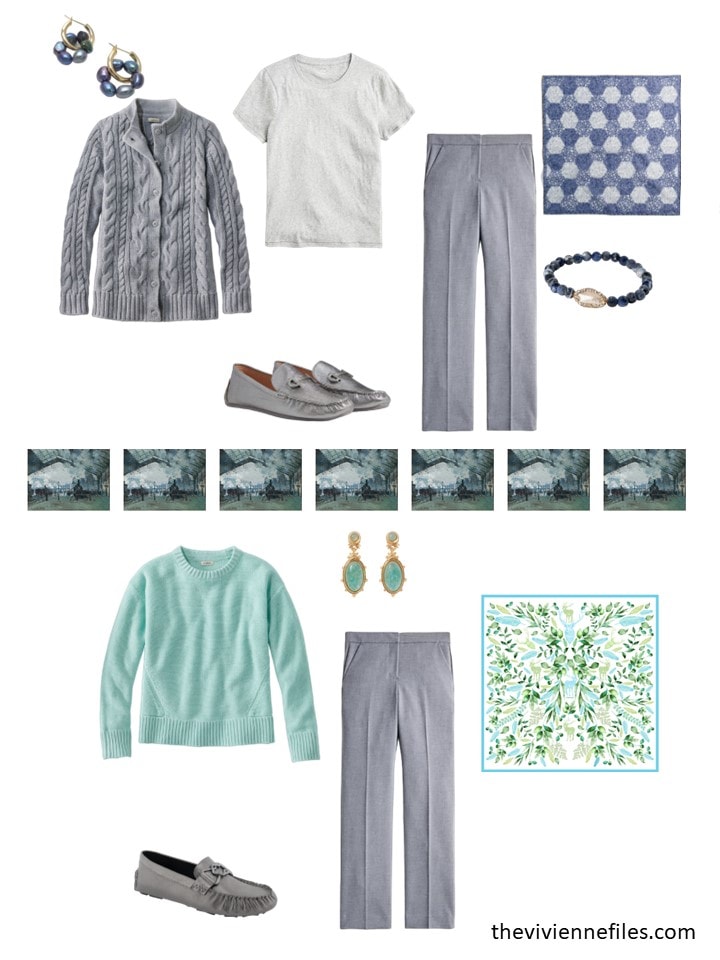 Her cozy chambray shirt can be worn on its own, but this time of year it really shines as a 2nd layer. Warm, relaxed, and a delicious color: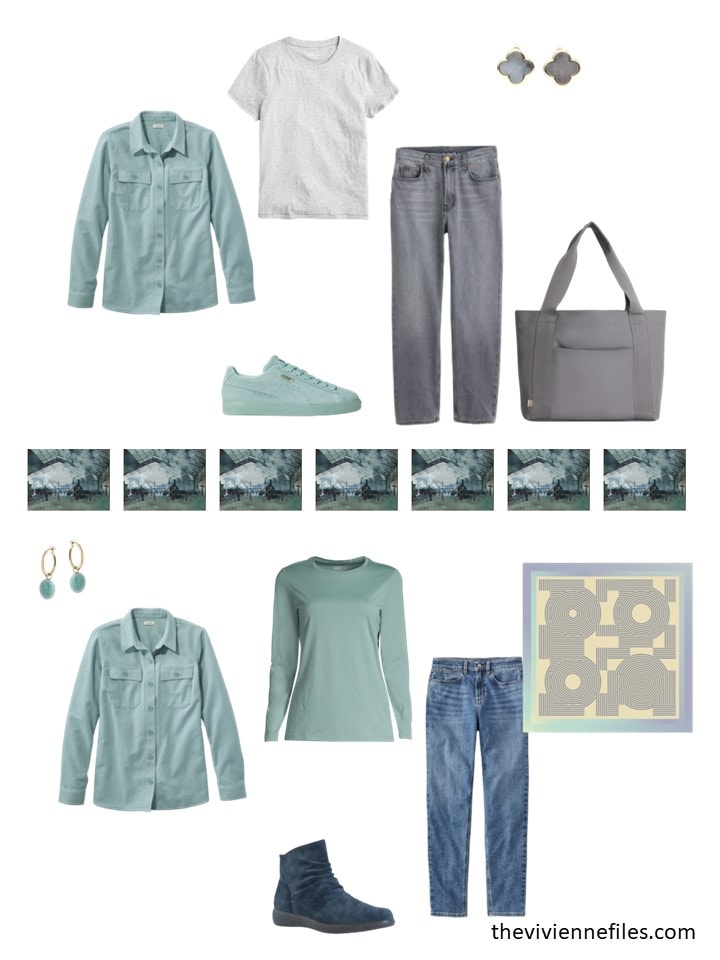 Do any of you celebrate Thanksgiving in a really dressy style? Normally my family has always been VERY casual for Thanksgiving, but then we started going out for dinner that day, and that changed everything!
(If you don't celebrate Thanksgiving, do you celebrate any other holidays in a dressed-up style? The way families sustain their traditions fascinates me…)
love,
Janice
p.s. You know I love to iron, right? Well, I recently had to buy a new iron, and I'm pretty seriously impressed with my new one. I opted to spend more money to get an iron with a retractable cord – what a delightful little feature – you can find it here.
P.P.S. Eight years ago, I strongly suggested that you watch the television series "I'll Have What Phil's Having." Still a wonderful series…