January 13, 2023
She's going to be really methodical about this…
And we are going to listen in to her brain, to see what we can learn…
First, she chooses her current favorite scarf as her inspiration, and then isolates what her accent colors will be:
Hmm… packing six garments and wearing 3 on the train/plane/bus means that she will have a total of 9 garments with her on her trip. She pictures it like this: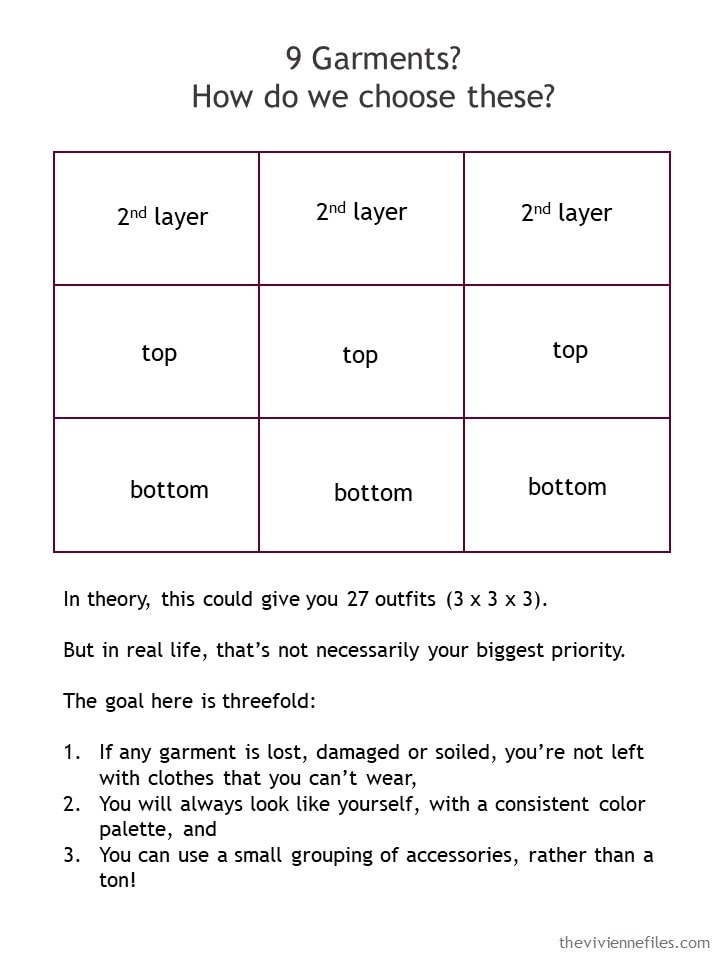 Her first outfit is straightforward – dark pants to avoid the mini-drama of spills. A warm cardigan that's pretty bulky to pack, so she chooses to wear it. And a bright tee shirt to bring color and life to her face…
She will almost certainly wear her inspiration scarf too!
Next, she chooses the accessories that she will wear while traveling. She particularly likes to have a small handbag as well as her "weekender" bag. Shoes in which she can walk a LOT, a watch (sometimes, digging out your phone is annoying), and a pretty pair of earrings that echo the floral motif of her scarf:
This next step is arguably the hardest – the 2nd wave of garments!
Our heroine's destination is a place that's moderately warm, and often sunny, even in January. Her options for a 2nd "bottom" are seemingly endless:
a navy skirt
white pants
bright blue pants
hot pink pants
navy and white gingham or other print skirt or pants
a floral skirt that includes all or most of the colors in her palette
a white skirt
a bright blue skirt
a hot pink skirt
etc. etc. etc…
Options for the other 2 garments are equally wide!
Our heroine needs to decide if she wants to bring a skirt, or a pair of cropped pants maybe?
Print? Bright colors?
This heroine is pretty traditional – a navy skirt will suit her just fine!
So far, she has 8 possible 3-piece outfits (2 x 2 x 2).
Okay, maybe a dotted sweatshirt isn't the most versatile garment she could choose, but at this point she knows that she'll have enough options, and she LIKES her sweatshirt!
Here's her wardrobe now!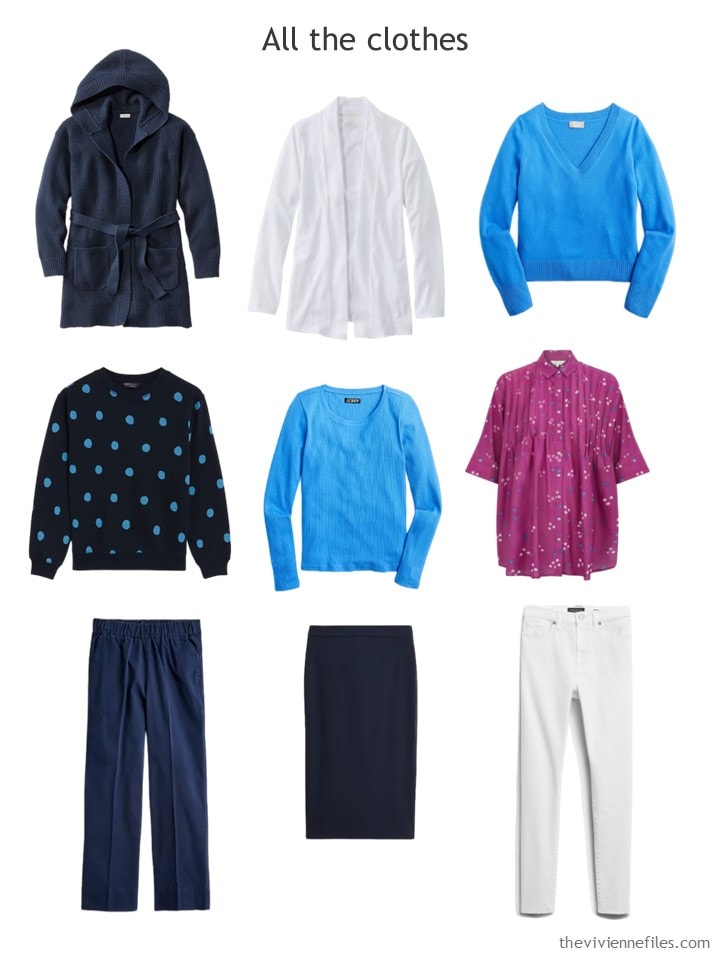 Before she finishes off her accessories, she takes a quick look at how her outfit combinations look: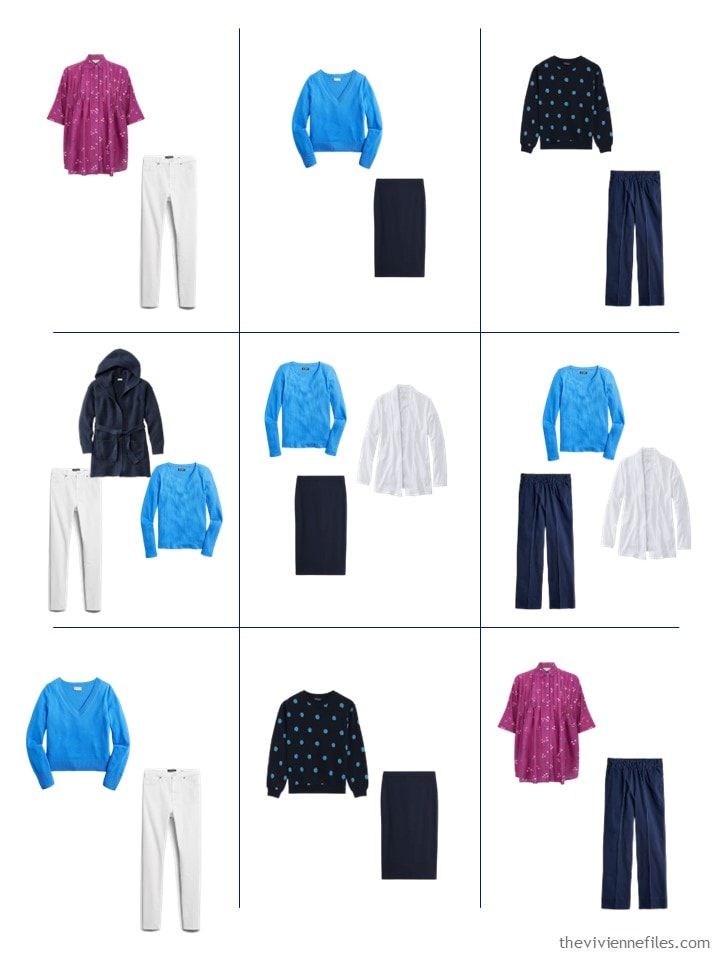 The most important accessories to remember are appropriate shoes to wear with each bottom. In this case, she will want to include something dressy-ish to wear with her skirt, and maybe some what flats to wear with her white jeans… A couple of pairs of earrings, and her original scarf, and she's finished!
NOW, she goes BACK through her outfits, and makes absolutely certain that she has the necessary accessories: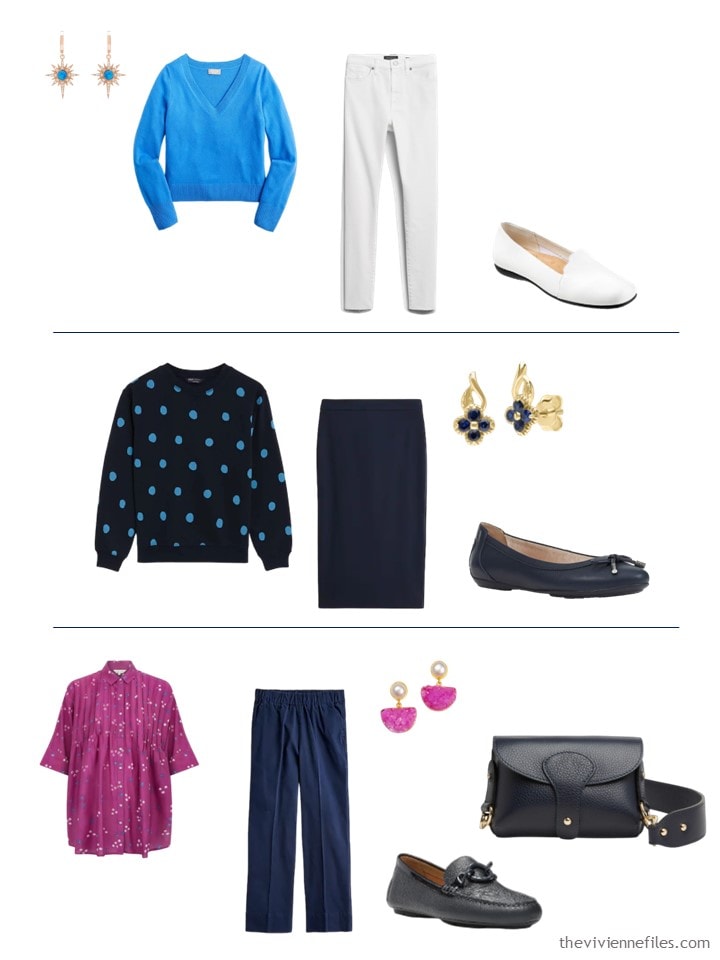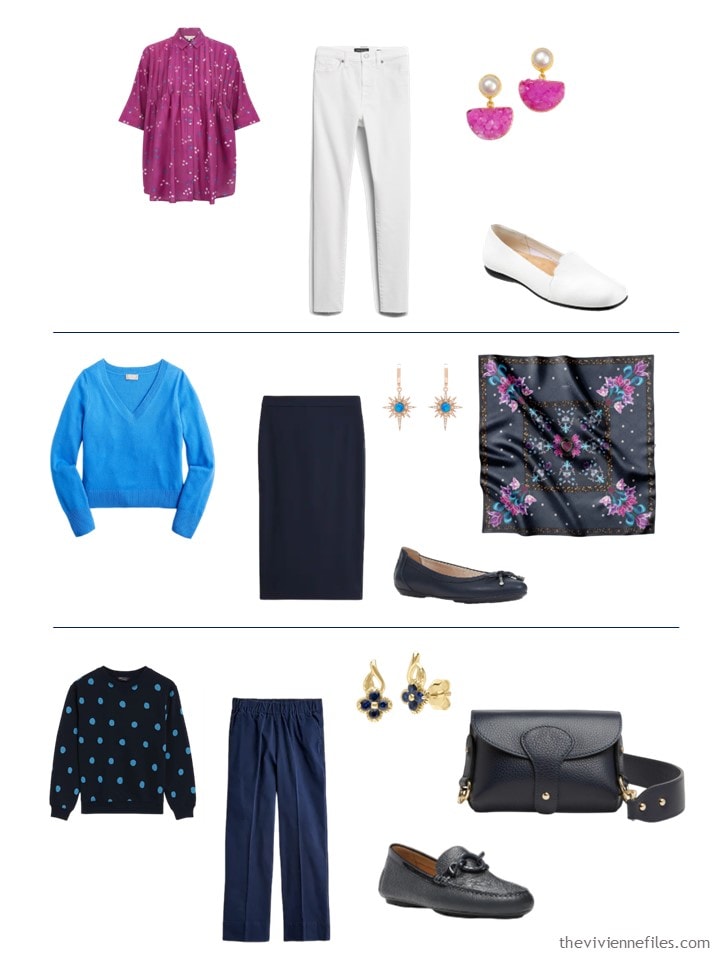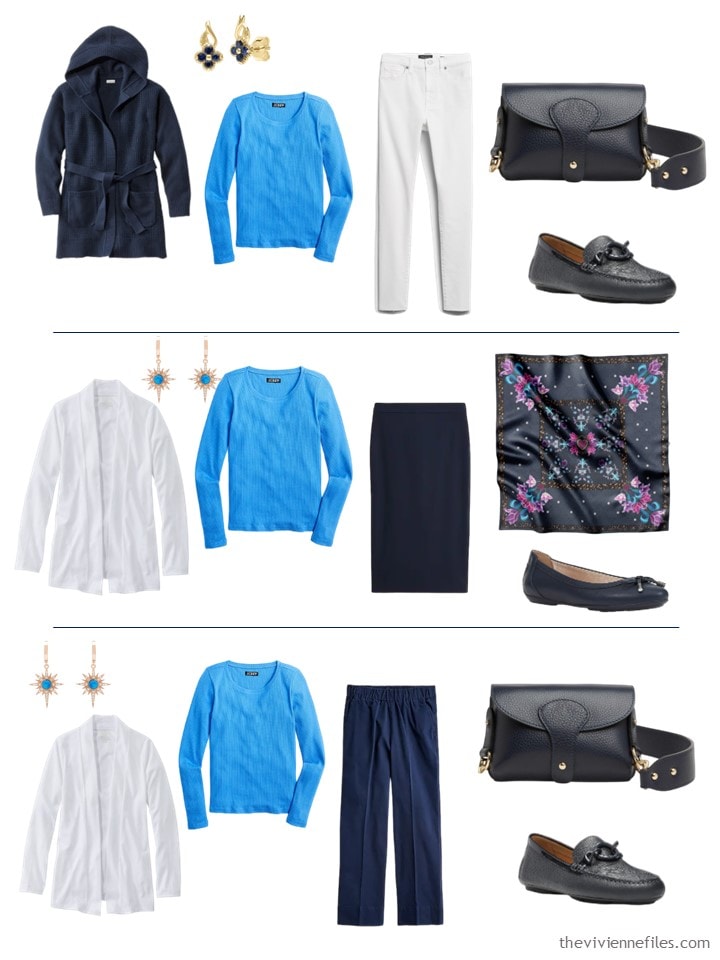 This really only took her a few minutes…
She hangs her travel outfit and accessories someplace handy, and packs everything else. This is her travel capsule wardrobe:
I'm laboring over every detail of putting together a wardrobe like this, because it seemed to me this last 2 weeks that a LOT of people would have been well-served to have only packed carry-on bags.
You will have to ship gifts or bulky equipment (like ski boots) to your destination, but that's a small price to pay for the flexibility and mobility of having ALL of your gear with you at all times!
love,
Janice
p.s. Six years ago, we packed a beautiful Six-Pack travel capsule wardrobe based on the colors in a swatch of fabric I saw at the Art Institute of Chicago!