December 2, 2022
I always think of "finishing" these wardrobes for the December posts – but I'm realizing (after a TON of these posts!) that there is never a finished wardrobe. You might well be at a point that you have everything you need for the foreseeable future, but things will wear out. You will change your tastes. Your body will change. Oh, how things wear out…
So for this last post, I'm adding jeans to EVERYBODY'S wardrobes, as well as a couple of tops…
This wardrobe has been a lovely study in a couple of things:
How you can bring an accent color into your wardrobe without matching every piece (both the green and the pink here have garments that don't match!)
How many pairs of pants you can have in your neutral without being repetitious or boring.
How you can own the same garment in more than 1 color anybody knowing or caring. (cashmere crewnecks, anyone?)
So let's shop!
Here's our heroine's current wardrobe – arranged by garment type…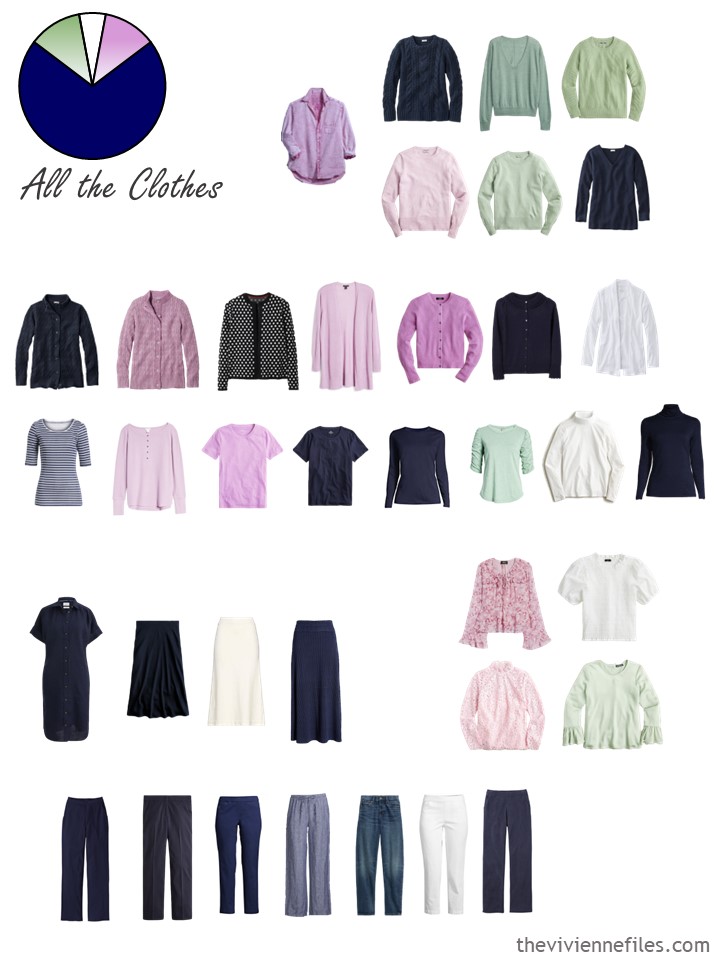 You can see that she's got a good assortment of most categories. I would probably want another dress…
And HER ACCESSORIES ARE WONDROUS…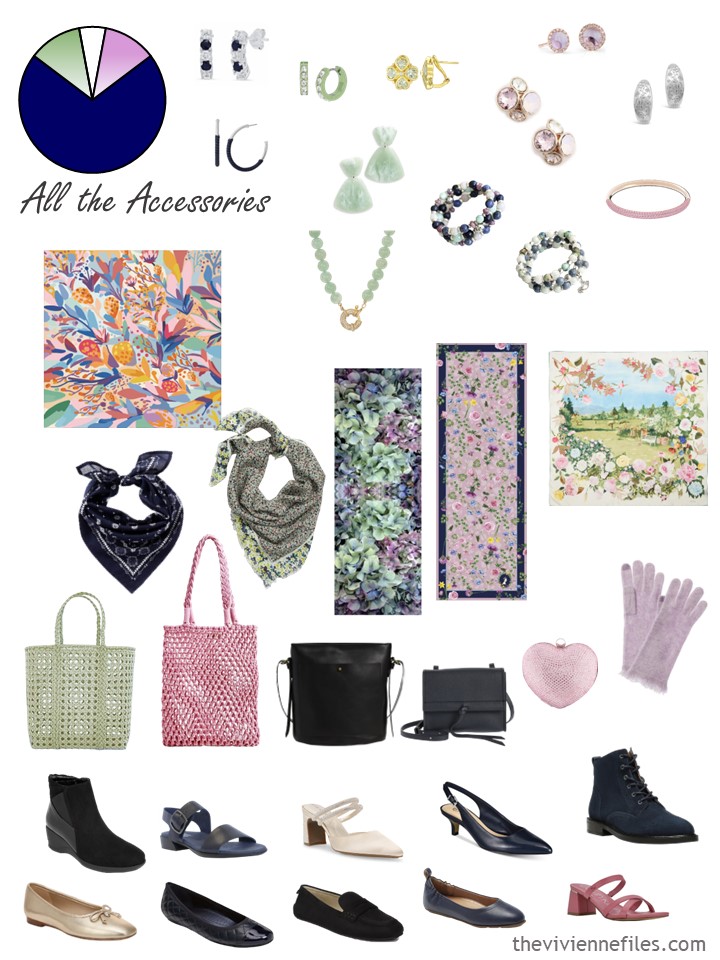 This heroine was in a pretty good spot for dressy activities; adding a couple of pretty blouses (which can be worn through most of the year), a bag, and metallic flats give her plenty more options.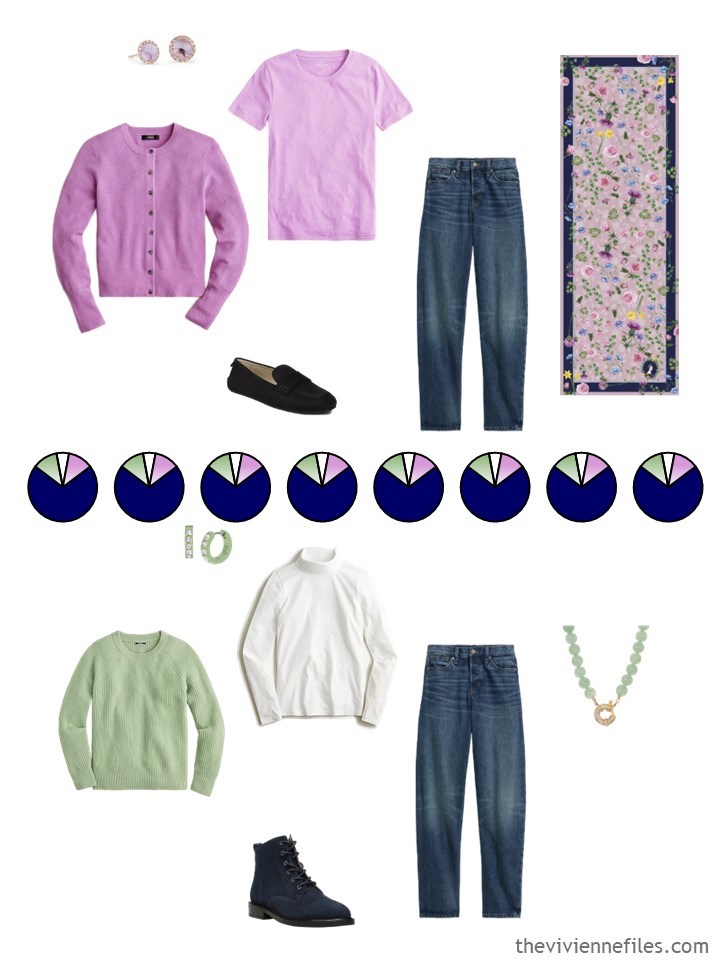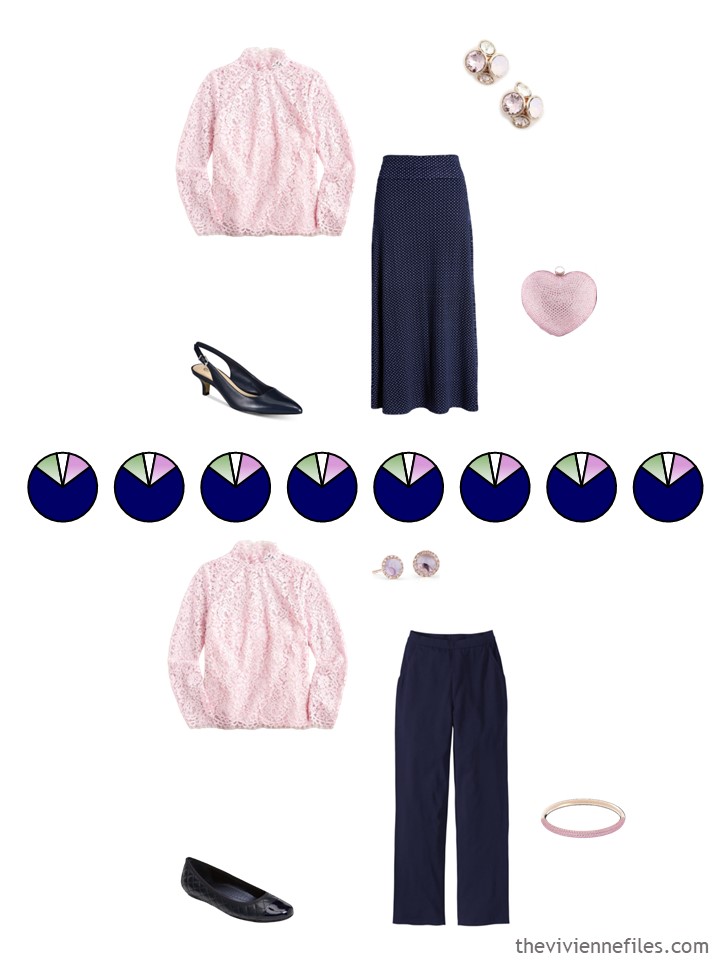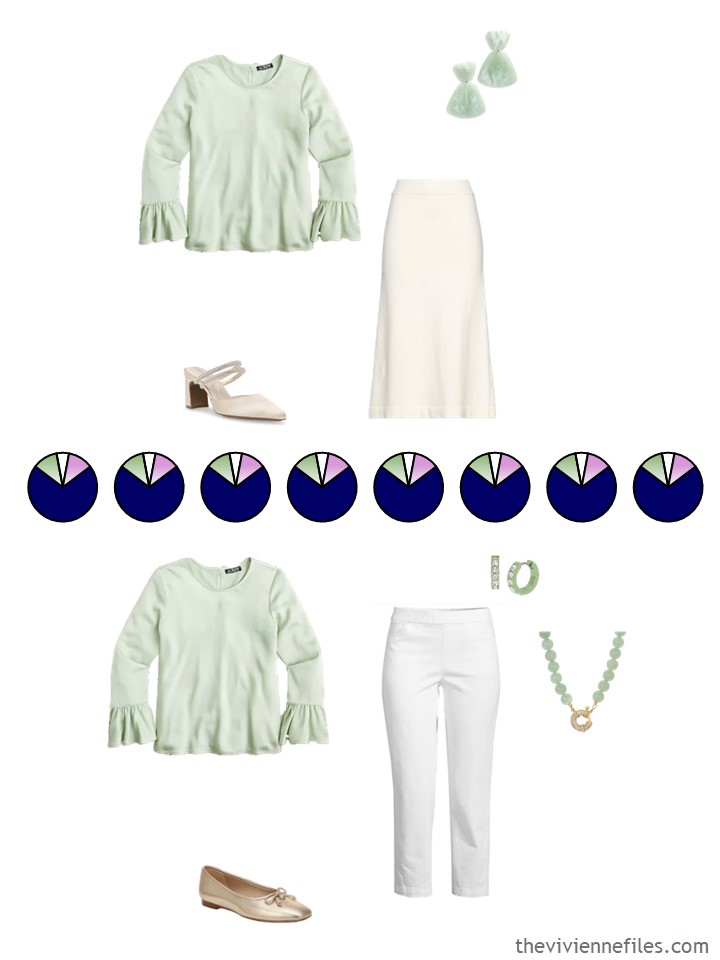 And now, one of the wardrobes with lots of brown… usually difficult to finish!
Maybe a print top doesn't include EVERY color in your wardrobe. Maybe the sneakers won't be perfect with every pair of pants… Our goal is to get dressed, not to have an absolutely flawless wardrobe, right?
This heroine could go almost anywhere, and do almost anything (okay, no rock-climbing!) with this wardrobe: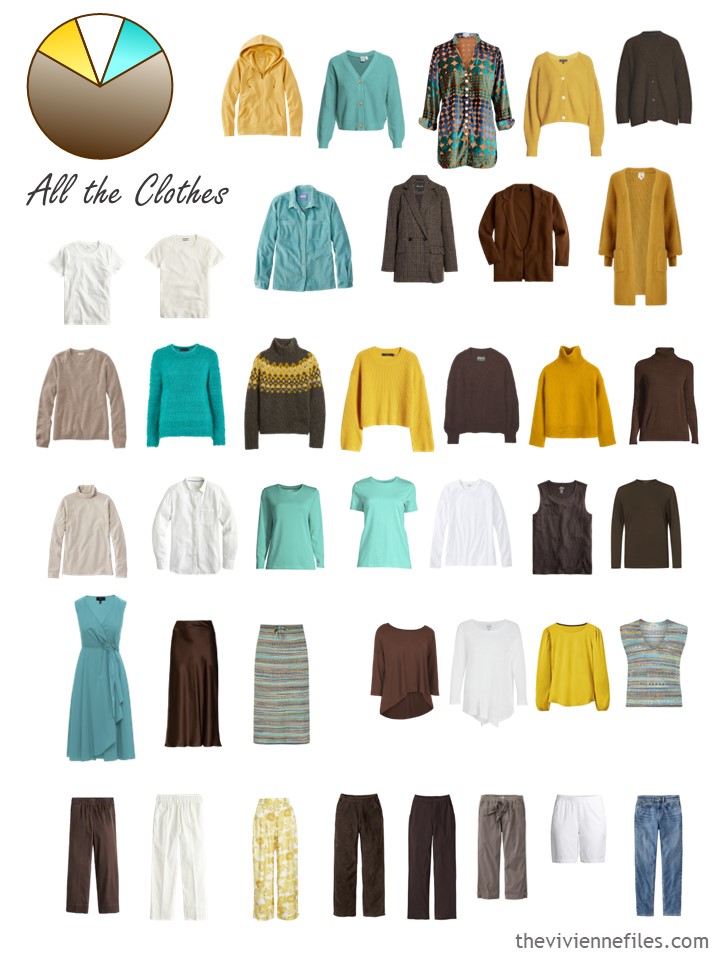 These accessories could tempt me to switch out my wardrobe to brown and turquoise, rather than black and purple!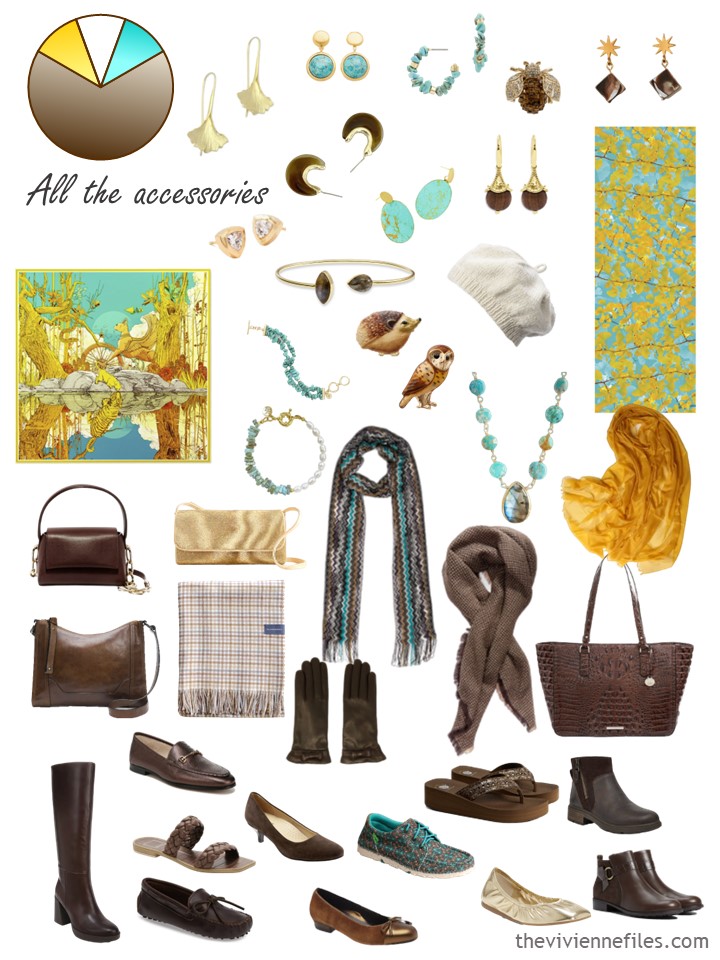 As always, 3 new garments should give any heroine at LEAST 3 new outfits. 6 is more like it. 9 is even better!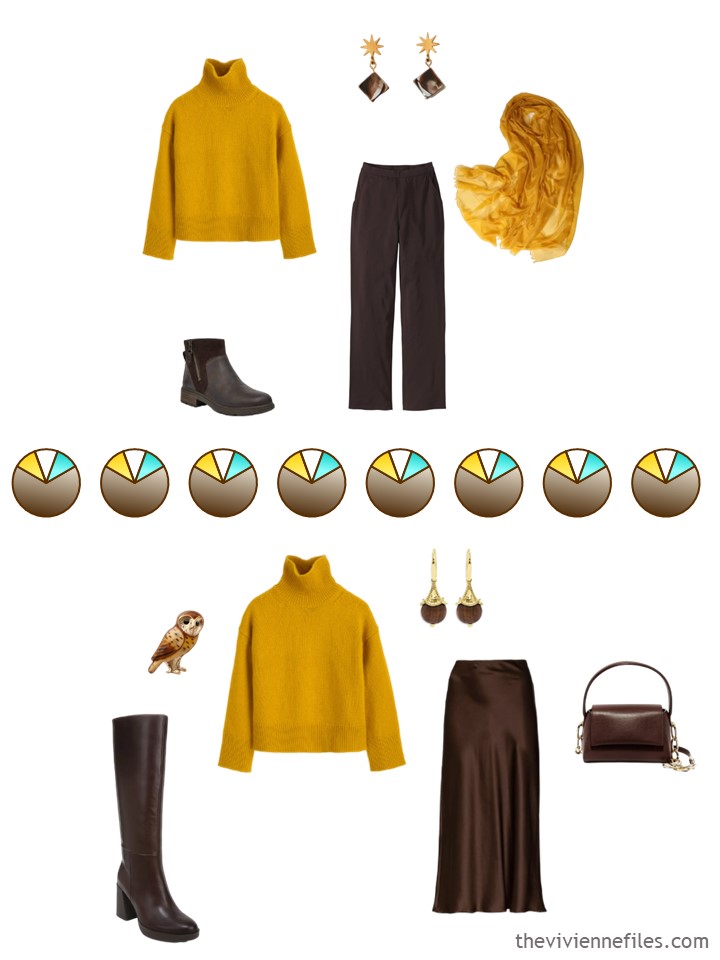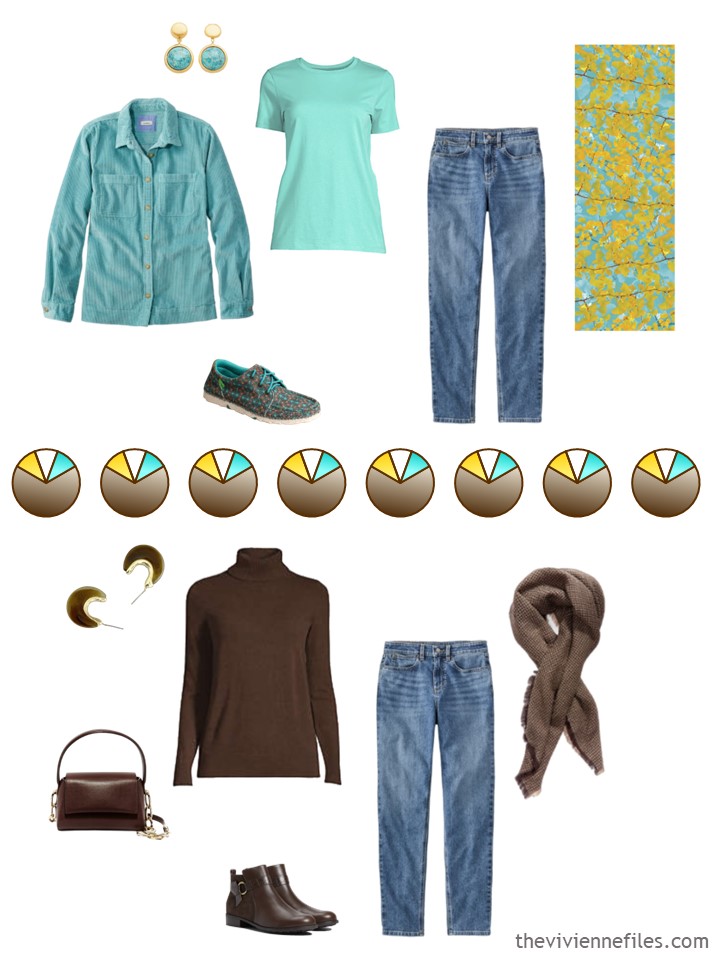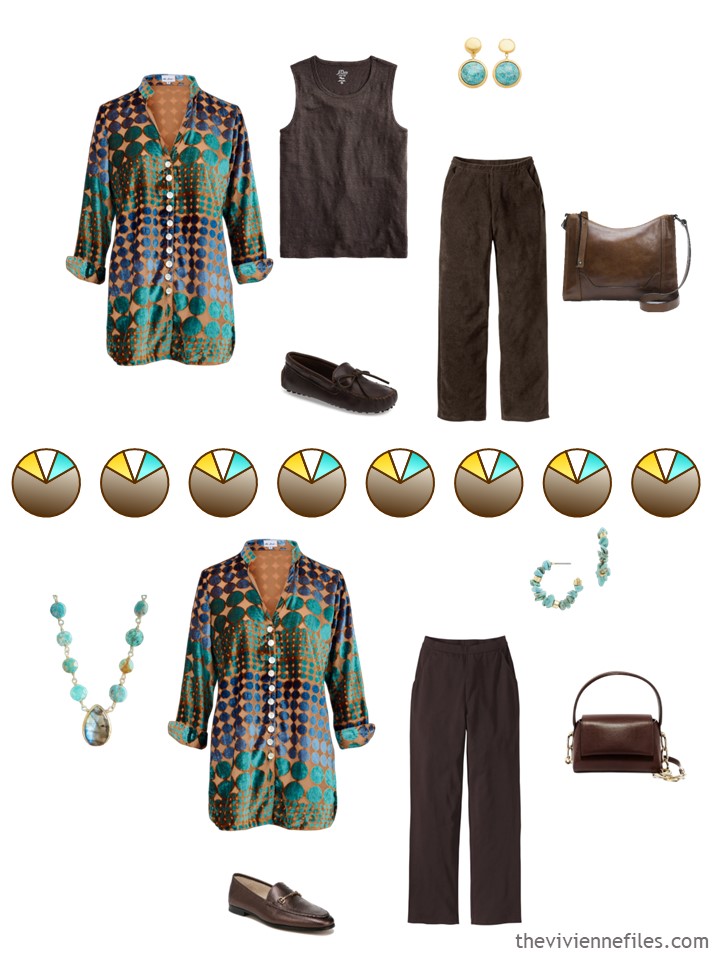 I've got a handful of new garments – including TWO new pairs of pants, queued to wear after then 100 Days of The Dress have finished… That's all of the wardrobe planning I'm doing right now!
Should I keep doing "outfit of the day" posts?
love,
Janice
p.s. Six years ago, I did a pretty rigorous evaluation of 1 of our Six Scarves wardrobes, in navy…