December 1, 2016
Back in November, when we left this wardrobe, it was in pretty good shape. Eleven outfits had been collected into a pretty coherent, and pretty comprehensive, capsule wardrobe that would see most people through a great many of their activities: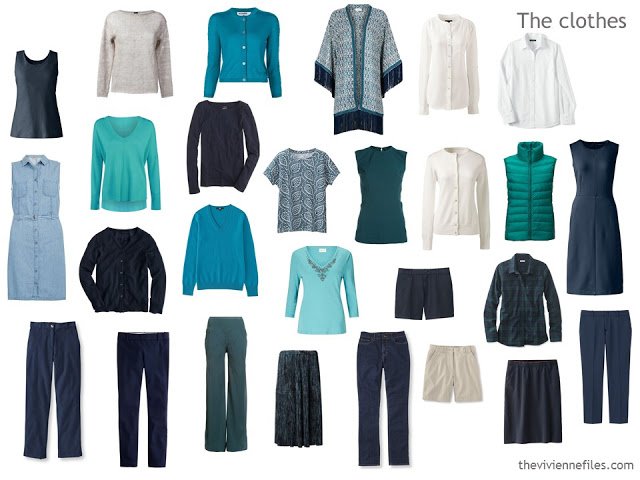 As I've said before, no wardrobe is ever really finished. Clothes wear out, or get damaged. Our sizes change, and sometimes, we just plain get completely fed up with a garment that we've worn a lot, and feel the need to replace it. So it's useful to have a few different ways to really look at a wardrobe and determine what might be needed, or useful, or helpful, to add. I thought of a couple of different ways to evaluate things…
First off, I thought that it would make sense to see if there were appropriate garments in the wardrobe to pull together a Four by Four wardrobe. There's nothing really magical about the Four by Four, but it does ensure that you have a reasonable balance of tops to bottoms, and enough neutral "second layers" to be able to use your other clothes efficiently.
For this wardrobe, I found that there are a lot of nice, basic navy garments here, but that a second navy jacket, blazer, or cardigan might be worth considering.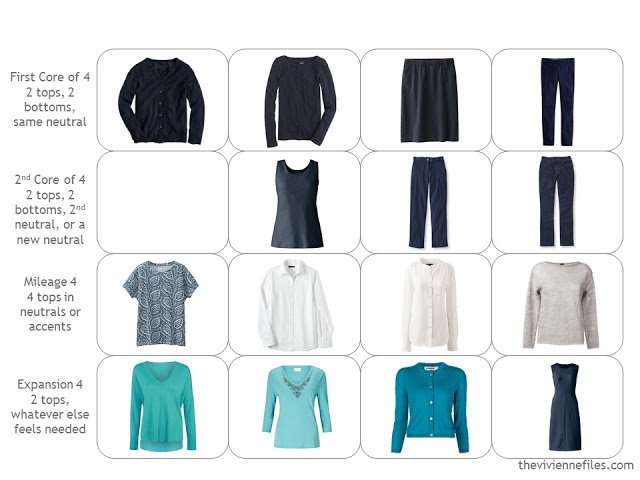 Another thing that I thought would be worth considering was the degree to which our heroine would be "covered" for a range of temperatures, and a range of "dressiness." So I built a simple grid upon which all of the clothes could be placed. (note that the location of each piece is arbitrary!)
What I notice here is that a couple of pieces for warmer weather casual might come in handy – she has 2 pair of shorts, but only 2 tops that are really ideal for them. That suggest a couple of tee shirts, to me…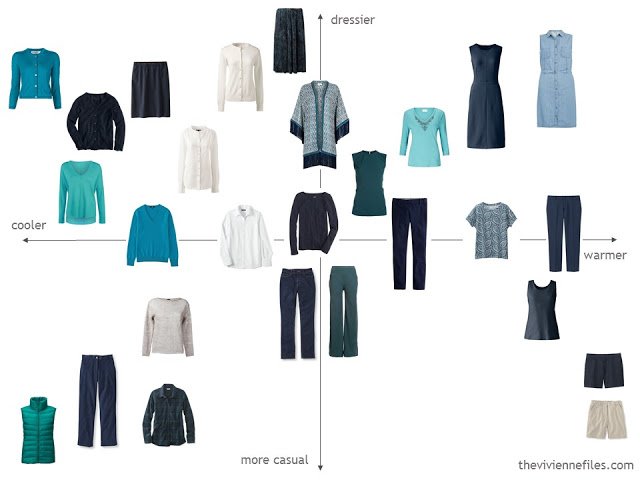 And one last evaluative technique that I wanted to consider was just to lay things out according to their "layering" role in a wardrobe.
The top row is pieces that are strictly second layers.
The middle – the upper layer of "tops" – is for pieces that can be worn on their own, or that can also be layered with something under them.
Then comes the regular tops, including dresses. (Dresses could also be considered bottoms, or they could have their own category.)
And finally, the bottoms – shorts, skirts, pants, capris….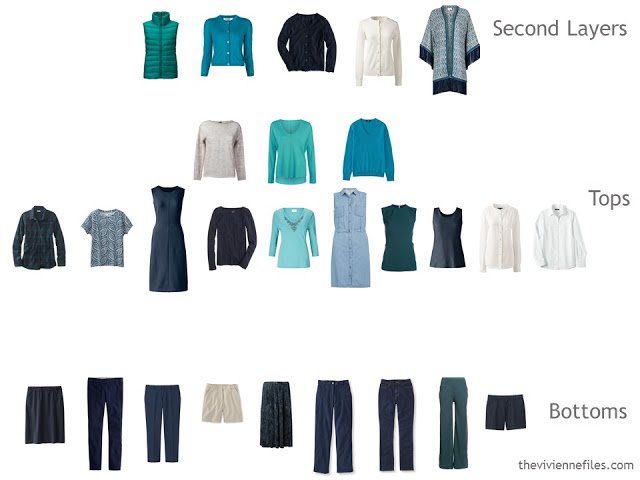 This is, in a way, a little bit harder to interpret because it doesn't really have any sort of indication of what would be a correct or appropriate amount of each type of item. But it might come in handy in the future, so I'm sticking with it.
When it comes to evaluating accessories, I'm going to focus mainly on shoes, because they're the only really important kind of accessory for which there might be a serious omission or "gap."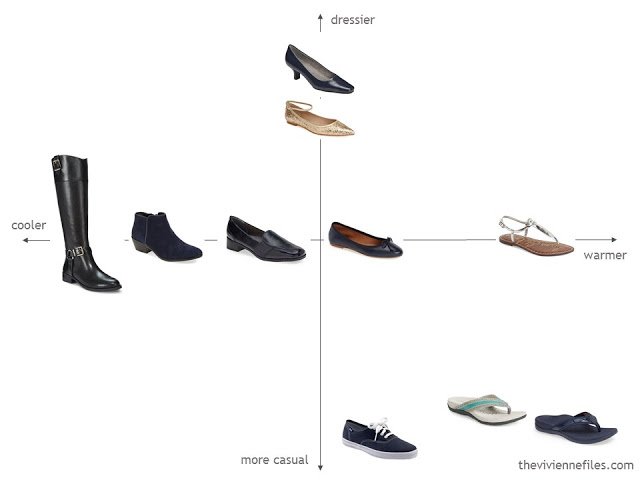 Here, you can see that there's nothing in the bottom left – that cool weather casual footwear category…
So this is what I've chosen as our final additions to this wardrobe:
After all of this, here is the "finished" wardrobe: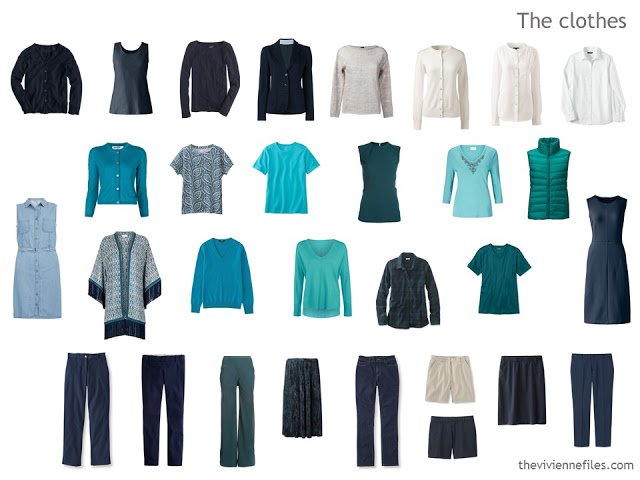 And these are the collection of accessories: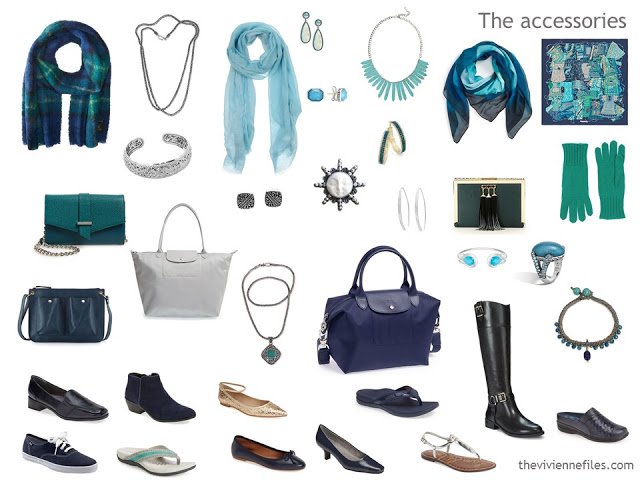 Just in the interests of making certain that our new garments are going to be useful, I'm going to put together three complete outfits using each new garment. As you look at these, you can see that the owner of this wardrobe is going to be very well-dressed for a wide variety of activities and events!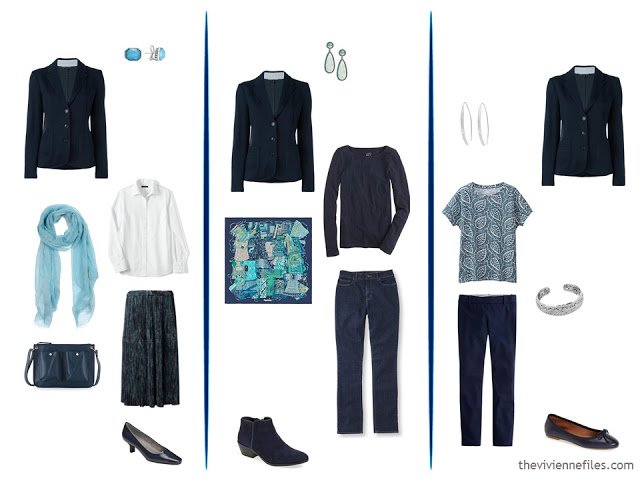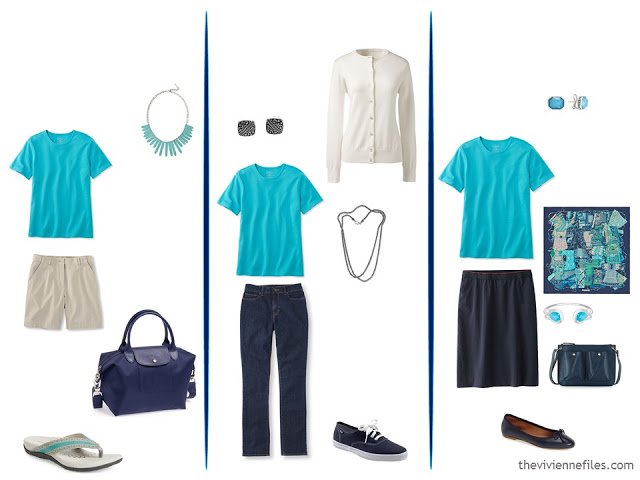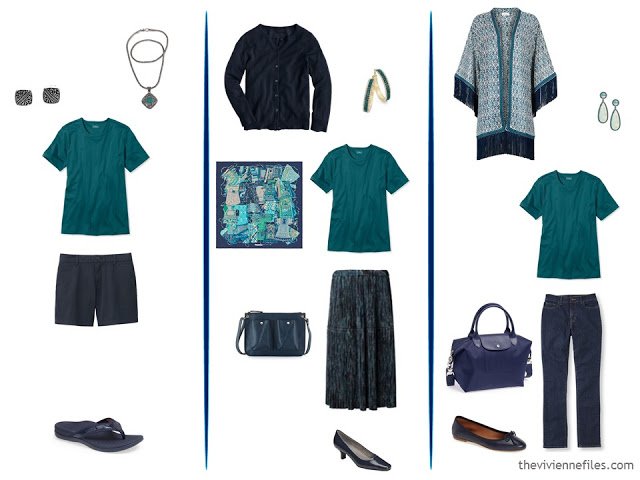 The earlier months of this series can be found here:
January, February, March, April, May, June, July, August, September, October, November.
Because there's a lot involved in these detailed evaluations, I'm going to take SIX days to finish up this series. It's interesting to see how differently these wardrobes came together, and what various pieces seem best to "complete" them.
love,
Janice