March 23, 2022
Two emails, asking the same question from 2 opposite points of view:
"I'm going to have chemotherapy, and I'm going to probably lose enough weight to be 2 sizes smaller than normal. I expect to gain all of the weight back… What to wear?"
"I'm starting a new medicine that I will have to take for 3 months; I will gain about 30 pounds during that time. I will lose all of the weight when the therapy is done… What to wear?"
Thus, I'm trying to devise a plan for all among us who might need a "Temporary Wardrobe."
This isn't just for those of us being whipped around by the whims of medicine; imagine living in Singapore and being sent to Ireland for 6 weeks to work! Or vice versa…
Of course, you could manage with a really small wardrobe – literally 2 or 3 outfits would be enough. But let's assume that your sanity would like something a little bit more substantial from which to choose!
A 4 by 4 Wardrobe might be great for many of us, but I'm going to plan around 21 pieces. That's seven 3-piece outfits…
It's also the target wardrobe number for those who are participating in "21 for 21" projects, in which one selects 21 garments to wear for 3 weeks.
Of course I'm trying out a template! I find these helpful; I'm pretty visual in my planning: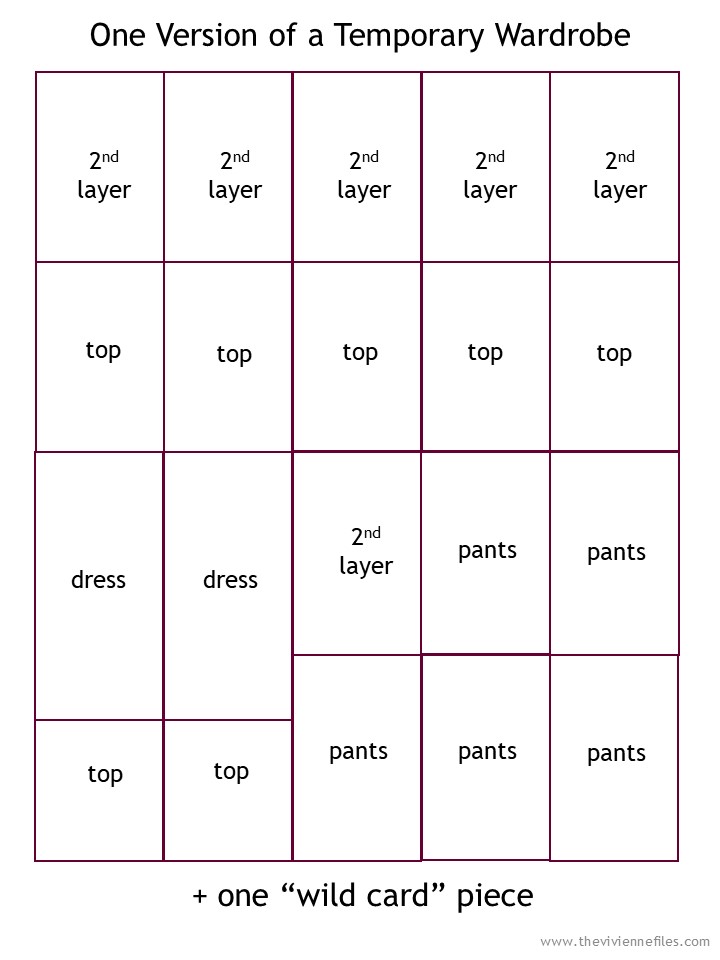 I want to start with something comfortable and basic – a denim shirt and knit pants. I know the world tries to make knit pants into some sort of a fashion crime, but that's ridiculous; there's nothing wrong with elastic!
The shirt should fit your shoulders and then skim from there – nothing tapered or fitted is going to work in this situation. Actually, this is true for how you want all of your tops, and your dresses, to fit…
Open-front cardigans are perfect for this kind of wardrobe! So long as it's the right size across your shoulders, it will fit the rest of you for quite a long time…
Treat yourself to jeans that fit the way you like them. They may not make the transition back to your "normal" wardrobe, but you deserve them!
And tee shirts should fit comfortably; they don't have to cost the moon…
this is the time to ask your friends in your temporary size for help – can they lend you or give you anything? Don't be bashful – they want to help!
Even if you're not normally a dress wearer, this is a good time to consider the possibility! A loose, straight dress that fits your shoulders and then forgivingly skims everything else is comfortable to wear when you're feeling rotten. And a denim shirtdress (take off the sash if you're larger than normal, cinch yourself in a bit if you're getting thin…) can be layered over tee shirts or worn under sweaters.
Yes, you can wear these with sneakers. It's 2022 – we're very hip to this sort of thing… (hip…. sigh…)
DEFINITELY look into the idea of tunic tank tops – extra pounds will be softly enveloped, and a smaller-than-usual torso will be gracefully concealed…
Shorts might be necessary if you're in a warm climate, or if you're "running warm." Some of us might prefer cropped pants!
Just because you're going to have a small wardrobe doesn't mean that EVERY garment has to be boring!
Even if you normally don't shop thrift stores, this is the time to start. You might be able to buy a few really lovely garments at a nice discount! A little financial boost is always welcome..
This is when I really find a template useful – I can more easily see what we have, and what we need: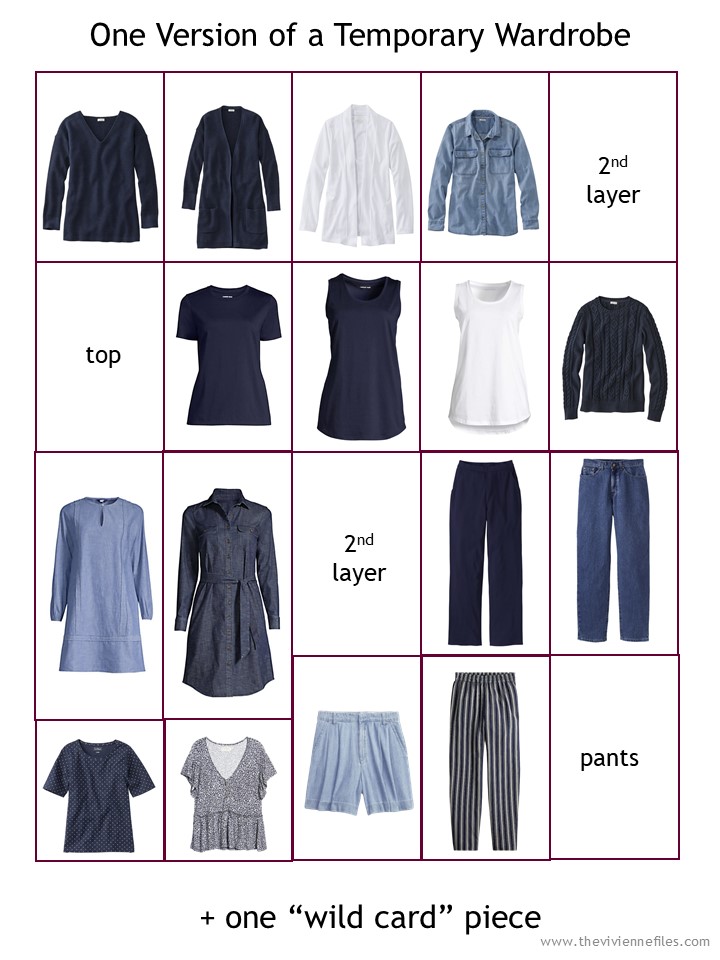 Maybe our heroine found these things thrifting, or on sale. Maybe she just wanted some warmer colors, and some variety, in her Temporary Wardrobe:
I think these oversized linen shirts would be really comfortable when having to deal with medical issues during the summer… Something sleeveless to wear under another shirt is always smart if you know that people are going to be poking holes in your arms!
So the wardrobe – all assembled?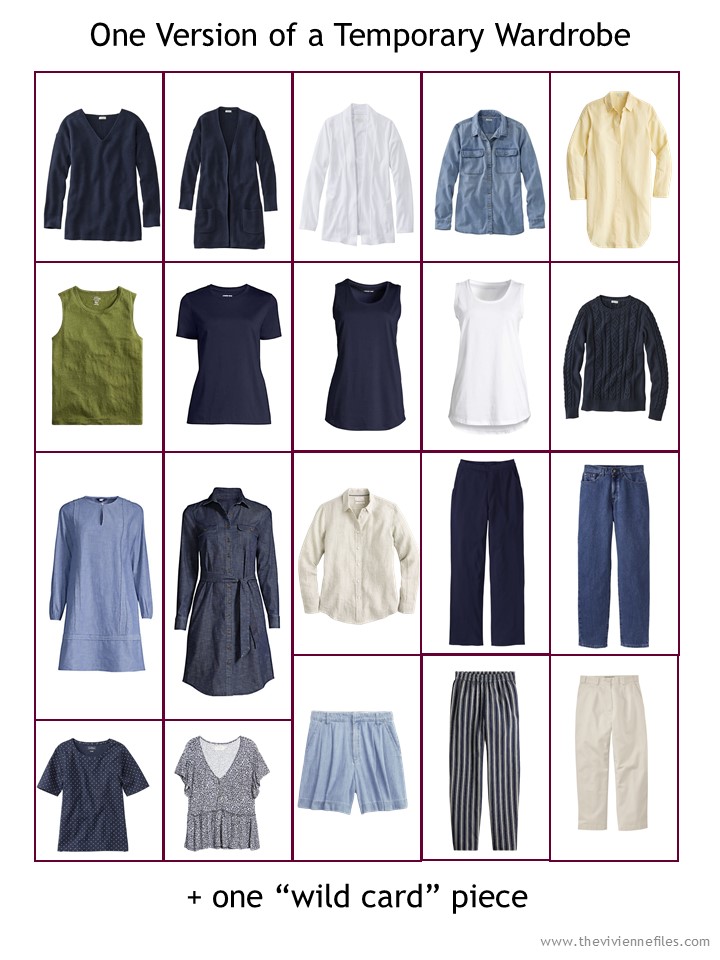 One would hope that most of your accessories will still be useful during your wardrobe interval! But bear in mind that your feet could do all kinds of weird things – especially if you're going somewhere super-warm, or if you're going to be taking new and potent medicines! Plan for a pair or 2 of new shoes – especially sandals. I find uncomfortable sandals to be the WORST thing to deal with when I'm ill…
And lean heavily on jewelry…
If you're going to want to cover your head for any reason, get thee to Wrapunzel to get a couple of really pretty things to put on your head. (they have special things for women with cancer) Yes, you can wear a baseball cap, but you deserve something pretty. Maybe your friends or co-workers would treat you to a gift certificate?
Here's my first effort at a Temporary Wardrobe: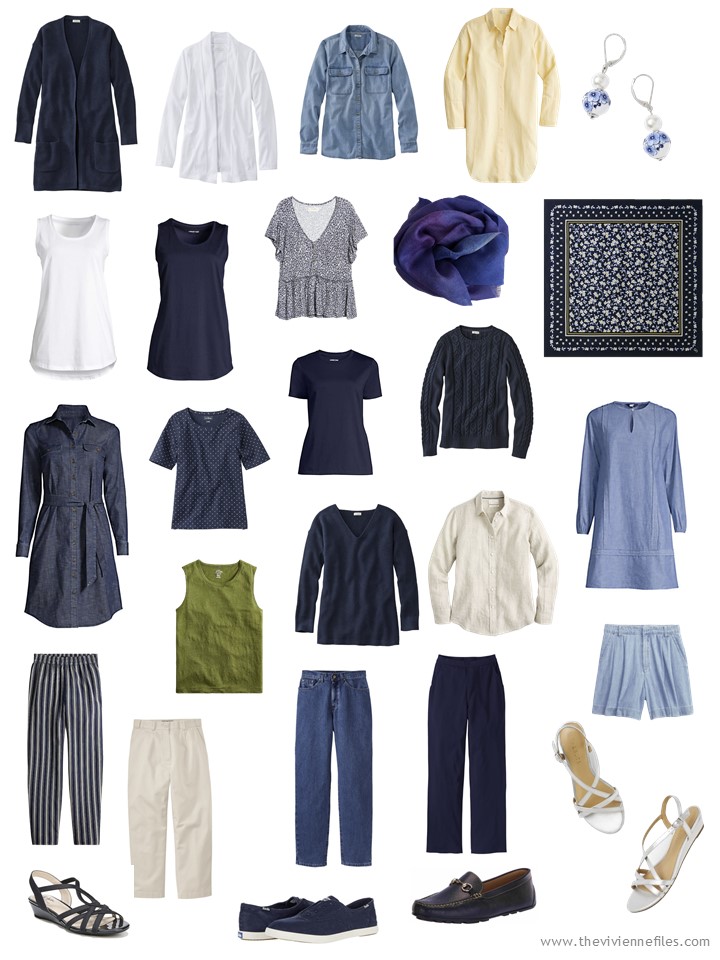 I can find a lot of ways to get dressed from this – for days when you're feverish and fidgety, for days when you're chilled and need a cuddle…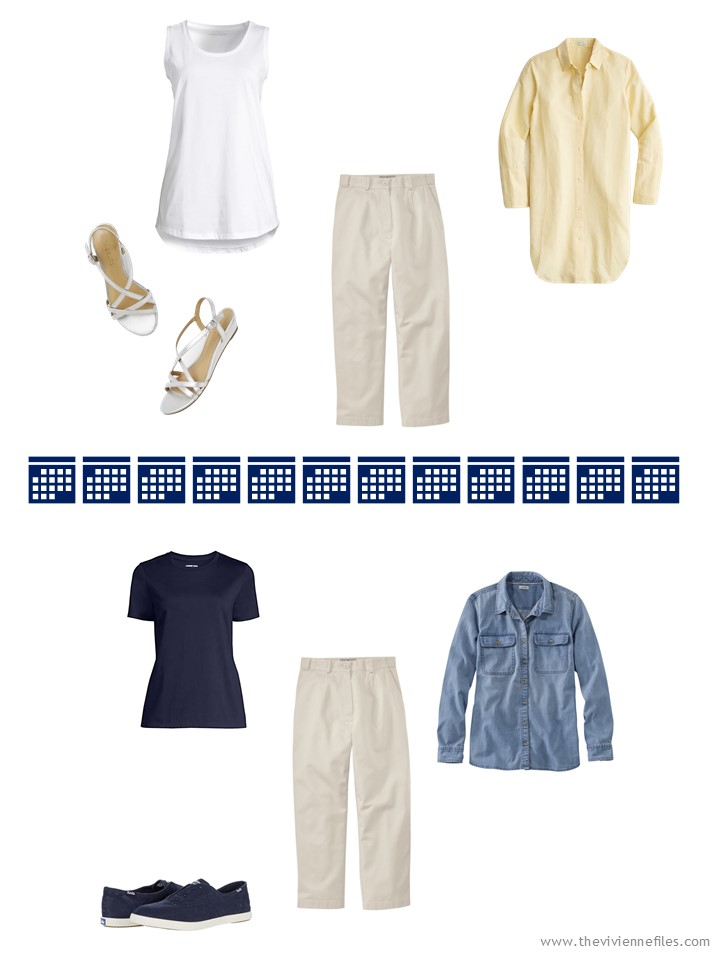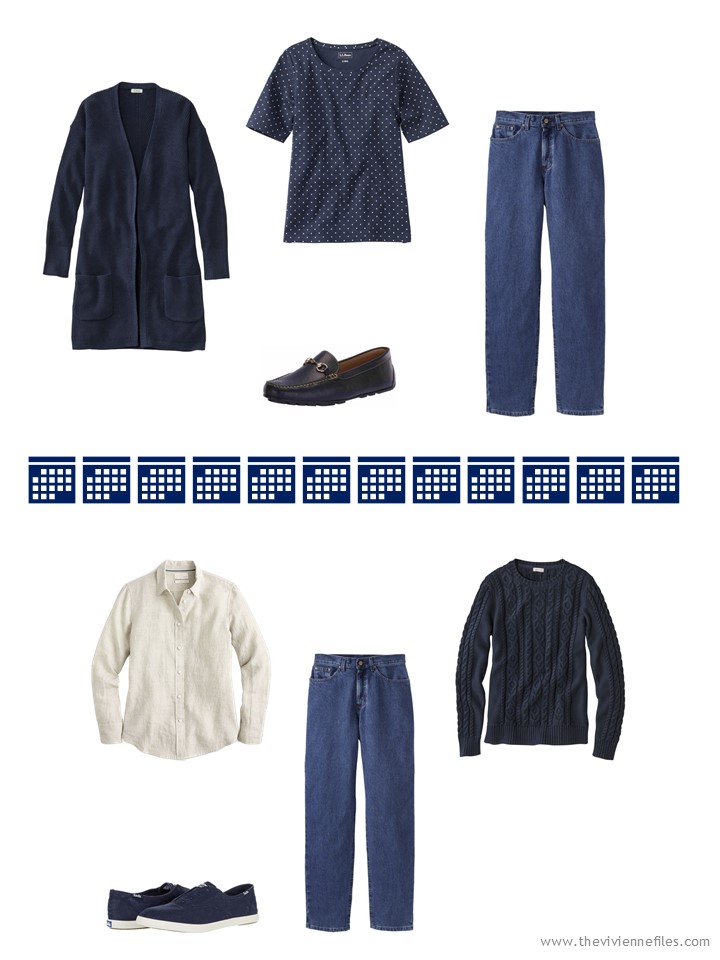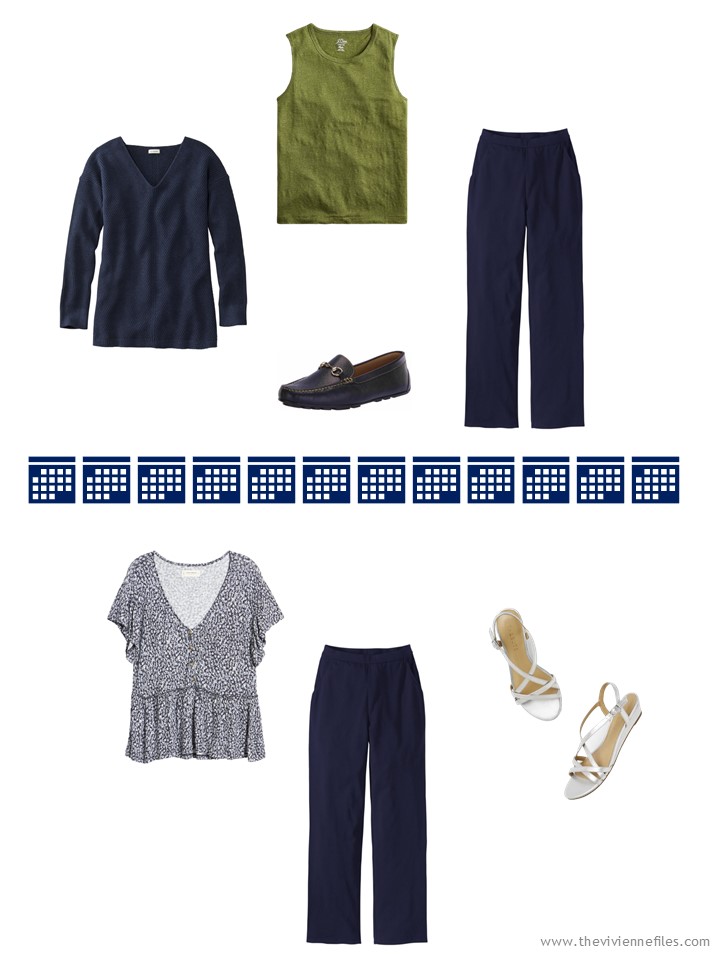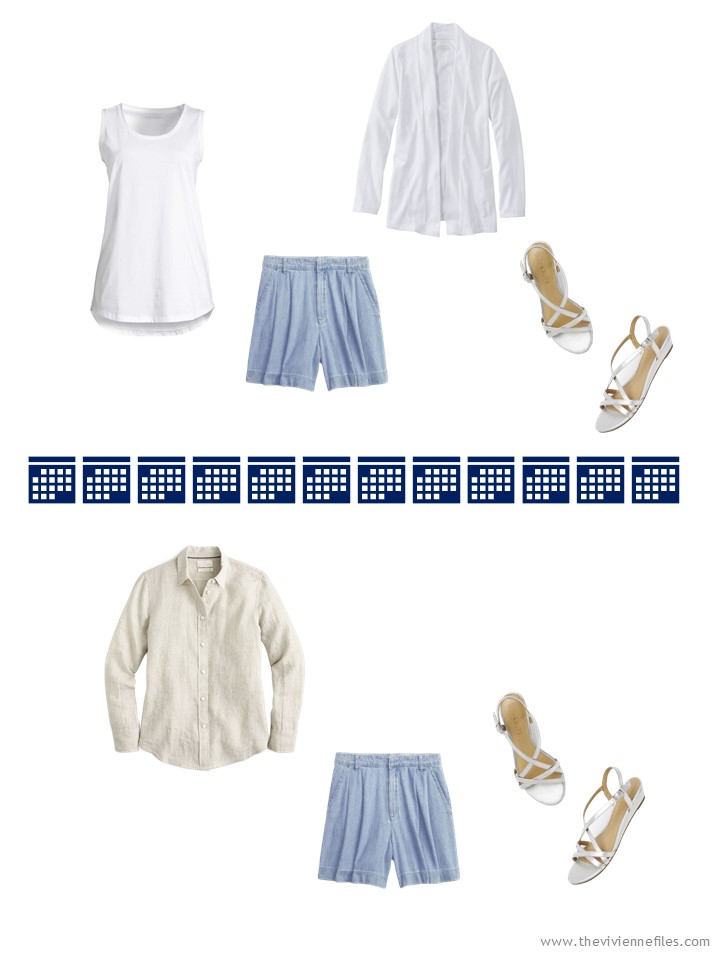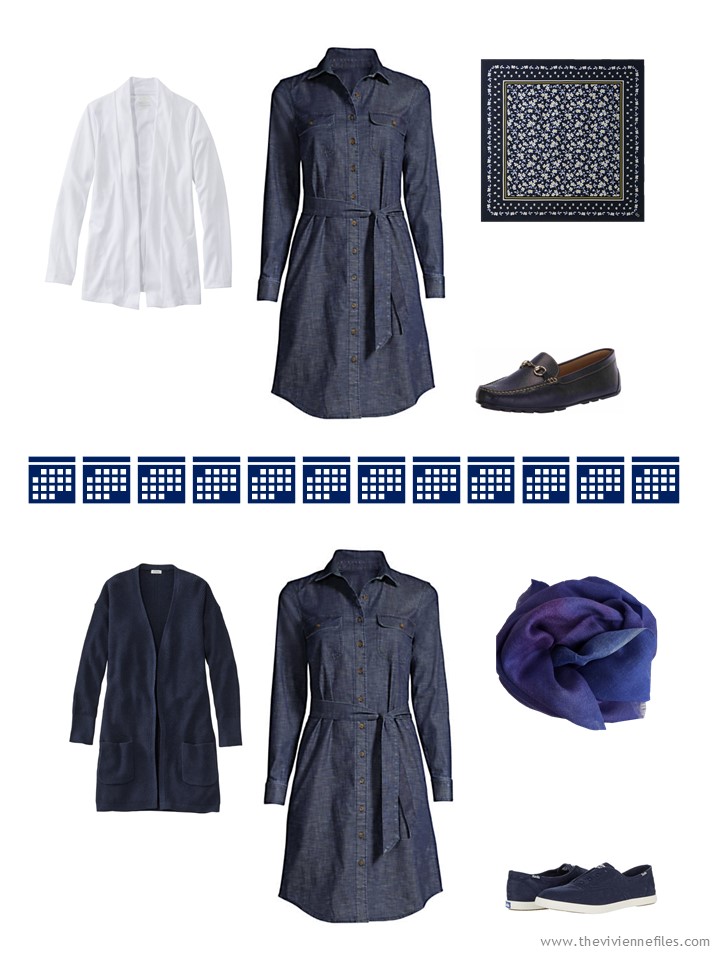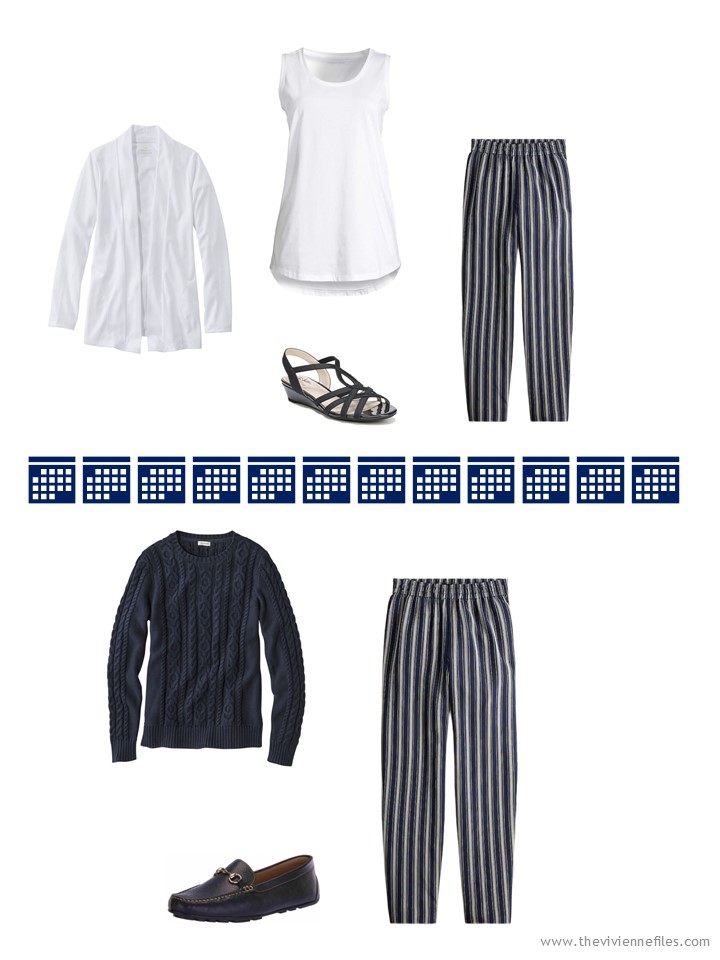 I'm going to continue to think about this – especially for those traveling from 1 climate to another…
I very much want to hear your thoughts!
love,
Janice
p.s. Five years ago, I started with a scarf, and assembled 4 outfits to go with it – in navy, violet and green!