March 21, 2022
Spring!!!
She finally realized that nobody pays much attention to what she wears… So long as she is appropriately covered, doesn't smell terrible, and isn't decked out in something garish or deliberately conspicuous, it really doesn't seem to matter!
So how does this empower her? Now she is wearing her favorite clothes more often. She's packing less and is comfortable repeating garments or entire outfits during a trip. She cares more about HER feelings in her clothes than about the reactions of the rest of the world…
So taking a long weekend away in March isn't nearly as intimidating as it once was.
The weather? Could be toasty, could be cool.
Once upon an insecure time, she could have used this as an excuse to pack everything she could fit into 2 suitcases, just in case!
But now, she looks at what weather is likely (in this case, warm!), and she plans for most of her wardrobe to reflect that. She makes sure she has just enough cool-weather stuff with her to be able to function…
Her corduroy pants aren't bulky or stiff; her linen shirt is just as useful under a sweater as it is worn over a sleeveless top; her green sweater can be worn without anything under it…
Editorial detour – I'm starting to be REALLY methodical in my thinking about Six-Packs, and the 9 garments that make up one of these travel capsule wardrobes; this is my draft of a template: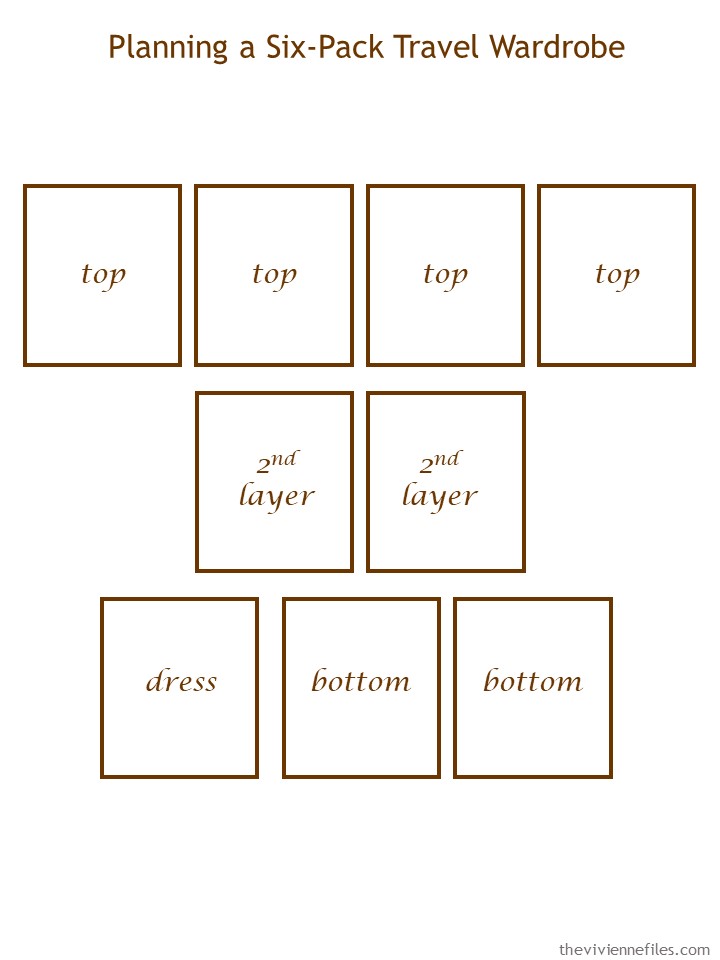 The weather forecast at her destination IS suggesting a beautiful summery weekend, but it's cool where she is right now, and she's never 100% comfortable putting her faith in the weather prognosticators!
So she packs a warm sweater, some very light linen pieces, a shirt that can go over or under, and her favorite dress!
How does this look in our "work in progress" template?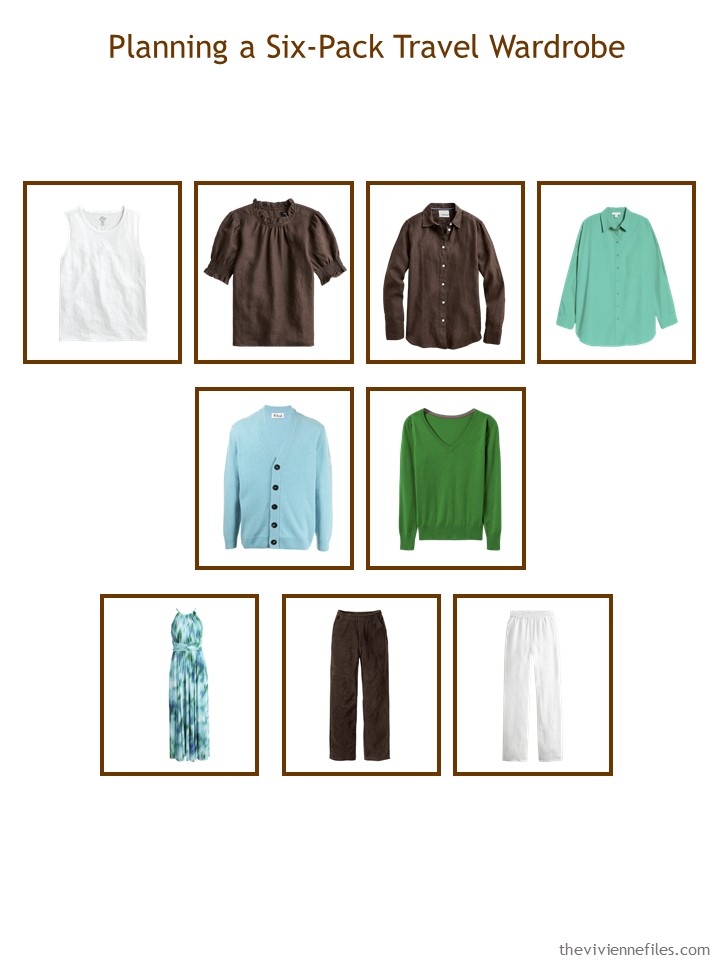 All of the clothing and accessories that she will have with her seem quite coherent; the 3 different shades of blue and green tops don't bother her too much, because she doesn't need to wear any of them together!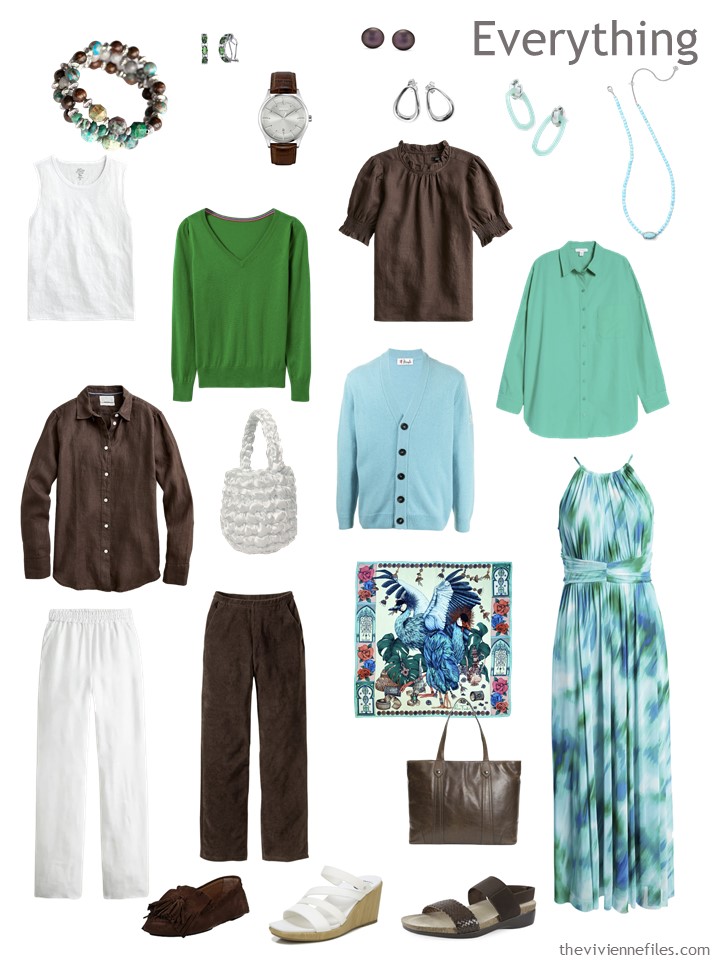 Just to be sure – as a true reader of The Vivienne Files will do – she checks her possible outfits: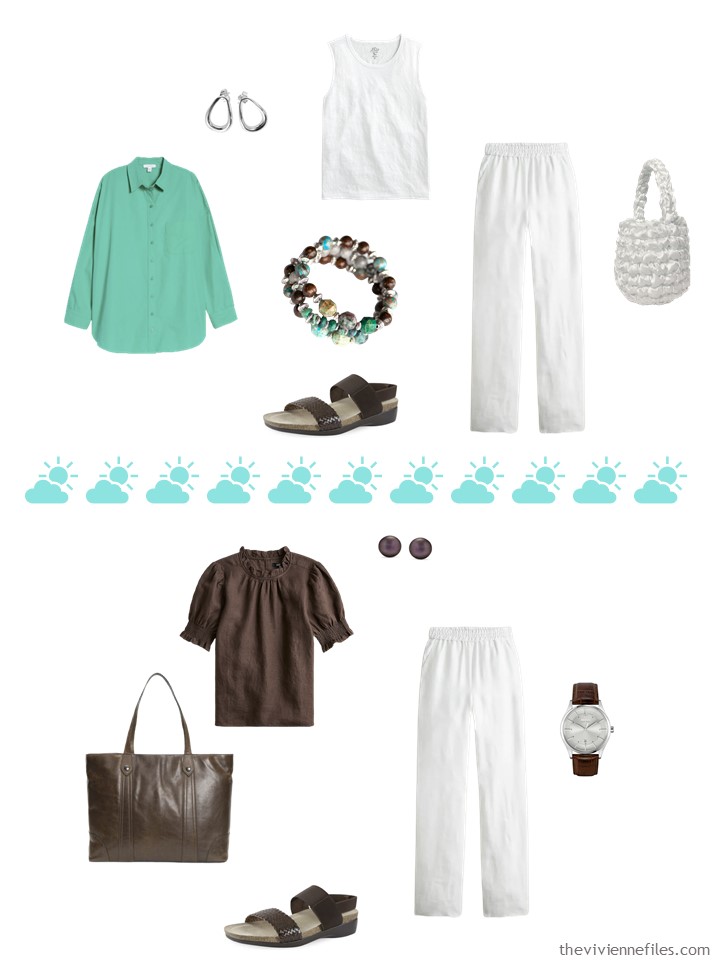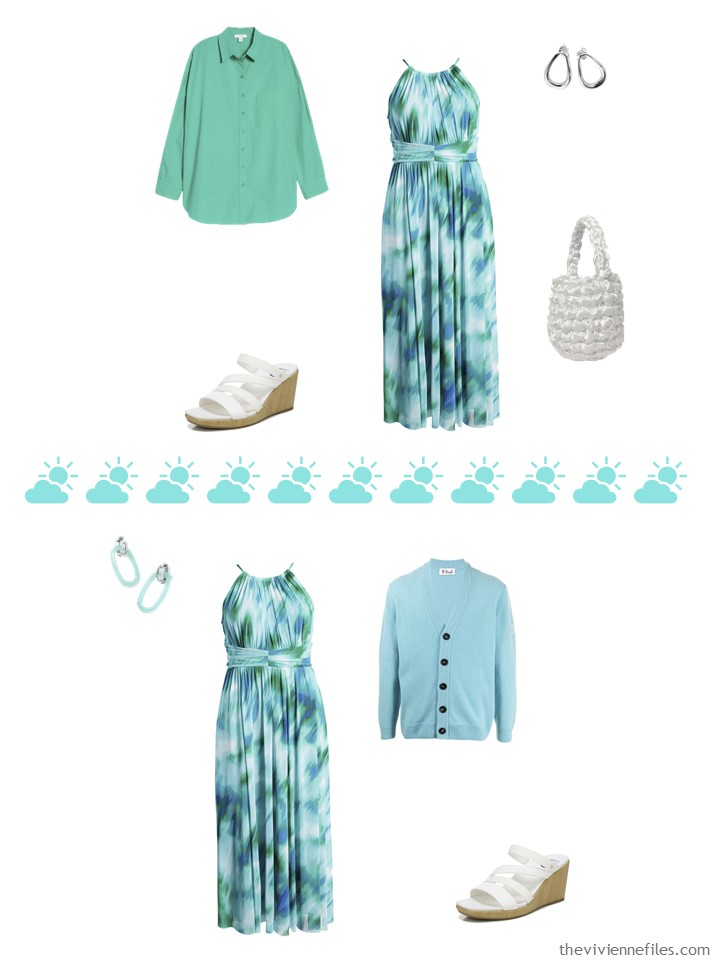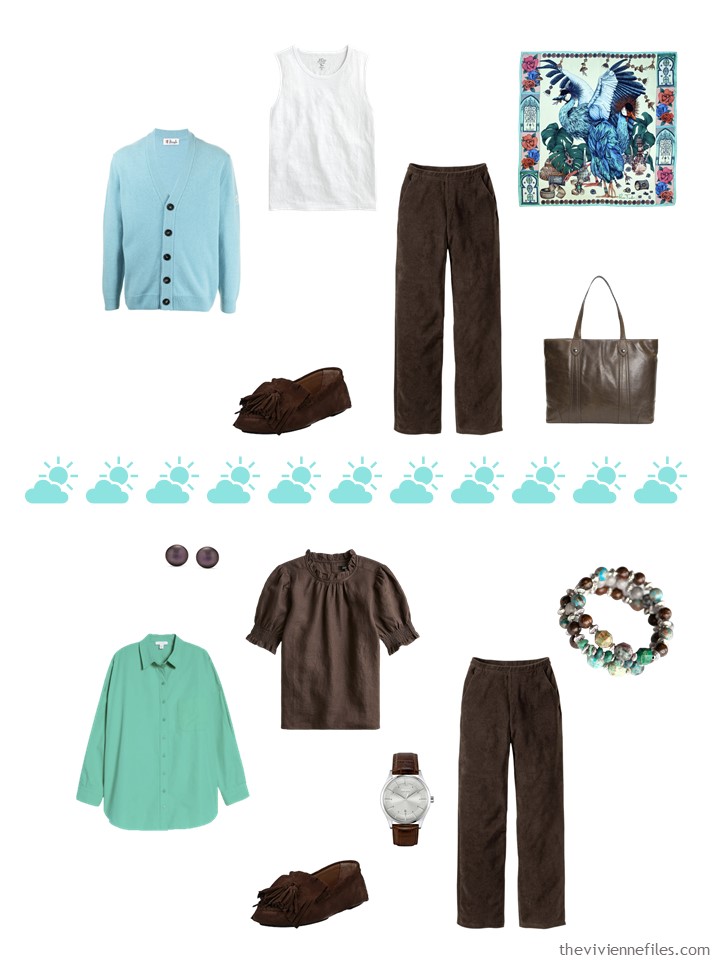 When she meets up with her travel companions, she knows that she will have BY FAR the smallest bag. She loves that feeling of being able to wrangle things on her own!
I recently bought this bag (it's not even here yet!); I envision using it for 6-Packs!
love,
Janice
p.s. Eight years ago, I was doing guest posts for A Femme d'Un Certain Age while she wrote a book… The post was "Packing for Paris – Black, White and Clouds…" It's still a pretty efficient travel wardrobe, and hasn't gone out of style!