March 11, 2022
The travel wardrobe worked well…
When she got home, she decided that it would make good sense to assemble a small but versatile summer capsule wardrobe in the same colors!
Here's what she has when she went away for the weekend…
Being a fond reader of The Vivienne Files, our heroine decided to be somewhat organized as she planned her warm weather wardrobe, so she assembled all of her garments (so far!) into a 20-piece grid. There's no labels here; she's using it for visibility and to keep from being distracted by her accessories!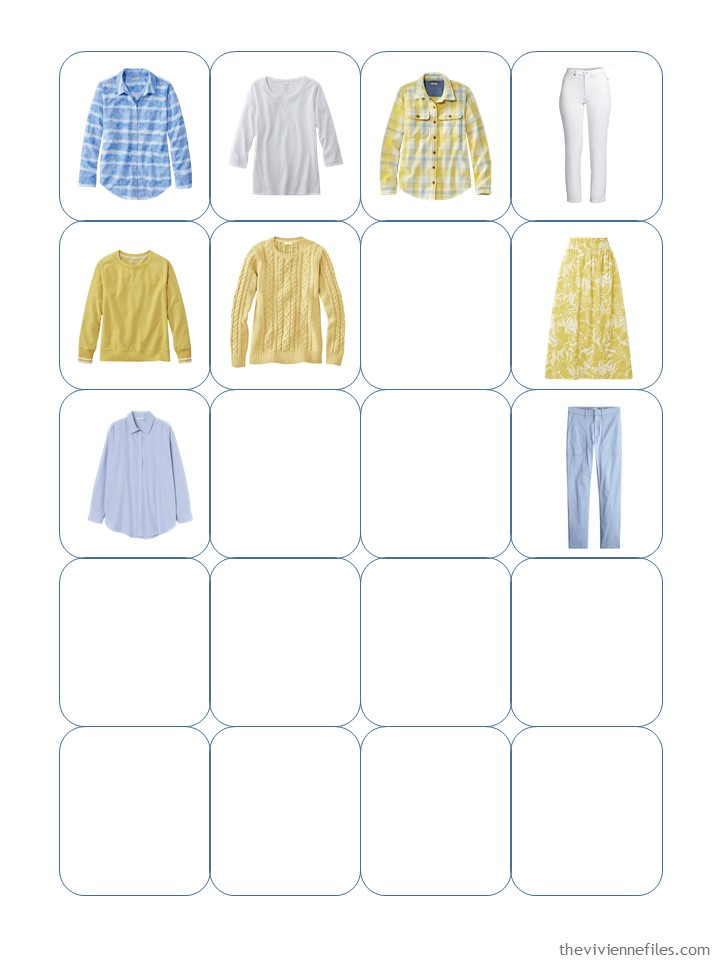 The first thing she sees is that she does NOT have any navy; can a woman live through the entire summer without a dark neutral in her wardrobe?
So she starts with this neat little cluster…
Already, her wardrobe looks more balanced! The darker garments help a lot…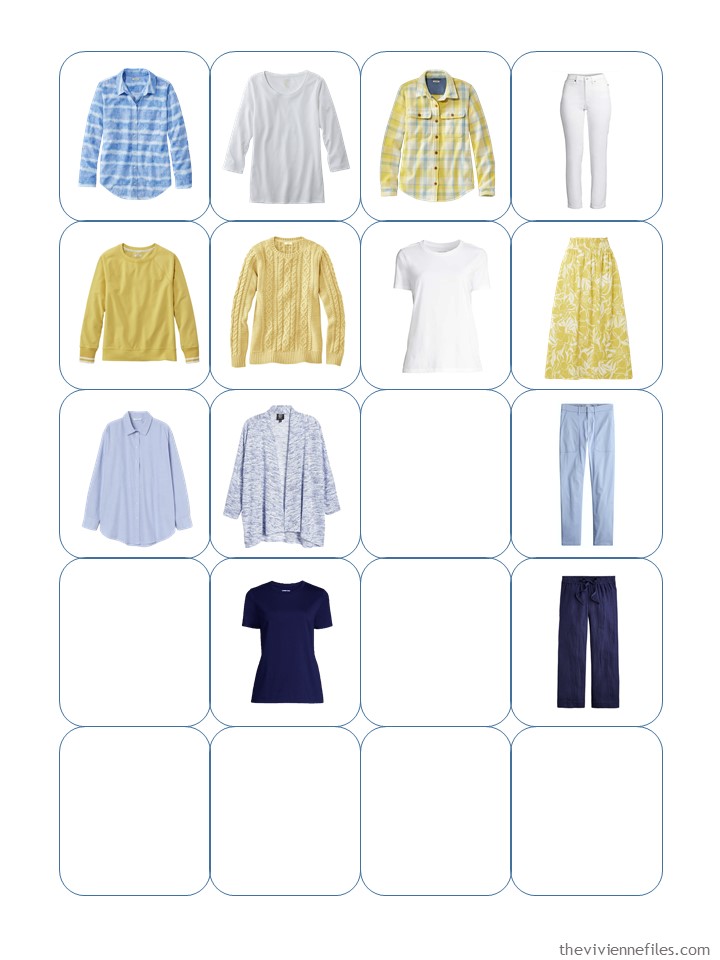 She doesn't have a white cardigan, which she feels strongly about! And when she sees this skirt, she knows that it was meant to be here:
NOW, when she looks at her 20-piece target layout, she loves what she sees, but realizes that (a) she only has room for FOUR more garments, and that (b) she still could use a wee bit more navy…
The pants were sort of a whim, but they're quite reasonably priced (for linen) and will go with so much of her wardrobe!
And the green tee shirt? It looks nice with navy, great with white, and her scarf includes just a wee bit of this shade of green…
This is where she finds herself: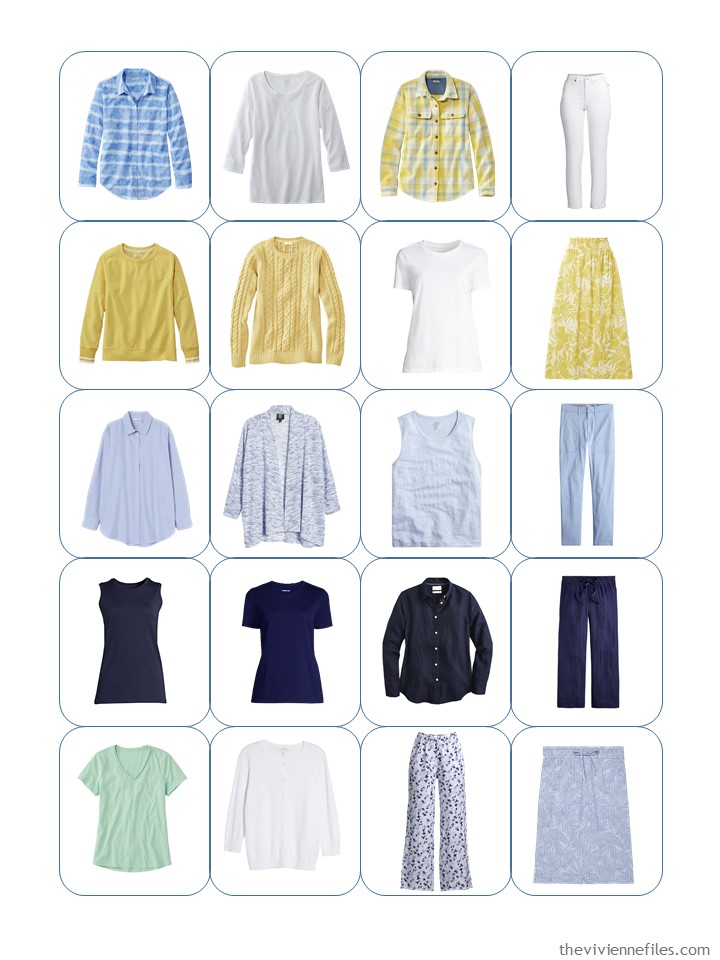 And when she includes her accessories, it's really quite lovely!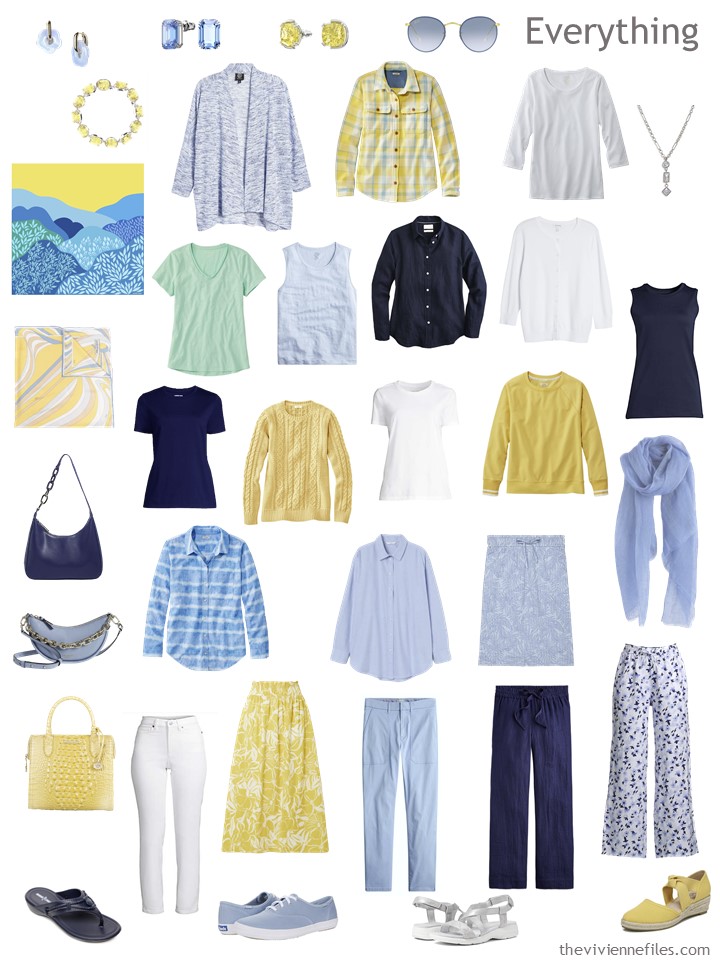 Is anybody north of the Equator ready for summer? Or even ready for SPRING???
It's supposed to snow here tonight…
love,
Janice
p.s. Not exactly six years ago, we worked on adding accessories to a navy, beige, turquoise and yellow wardrobe, assembling it one piece at a time…