December 10, 2021
I am asked 2 questions pretty often – how do you build a wardrobe around a specific garment, and how do you decide WHAT to pack?
This post is going to try to answer both questions!
First up, let's start with this classic sweater, perfect for this time of year in much of the Northern Hemisphere:
For me, the 1st step is to look, really look CAREFULLY, at the colors in our focus garment. You're looking for the easily seen, visible at a moderate distance colors.
Like these:
By now, you know full well that I'm going to go a bit nuts emphasizing how important your travel outfit is – you could easily have to wear it for 36 hours, so you need to love every stitch of it!
It's an obvious outfit, but it's also timeless, simple, and comfortable:
If you are heading off to a last-minute baby-sit, or helping with a family member, you might not need or plan to take luggage. In a zippered plastic bag, in your decent sized handbag, you can tuck these:
Nobody will expect you to make a full change of clothes, but you can switch out the top that's closest to your skin, as well as get some different shoes. Some fresh accessories will make you feel a bit like you're wearing something different too!
If you're possibly going to be in a legitimate "sleeping over" situation, in addition to your jammies and some clean undergarments, think about a pretty accent color. The joy of this ivory/gray/black palette is that you could include pretty much any color in the world!
If you are at the point where your upcoming adventure means that you're going to be carrying a tote bag, you will want clean pants. Yes, these are black too, but they don't make "the corduroy noise," and they will give you a chance to hang and air out your cords…
If you're faced with something like a 2 night trip, which might turn into 3 nights, you want another 1st layer top… and maybe you're moving up to a small suitcase. Remember that you're going to be needing undergarments; depending on where you will be, laundry might not be convenient…
Might you be going out to dine? A scarf and earrings can change a simple outfit to something much dressier…
When you're packing 5 garments, you're into suitcase territory, for many of us. And this is the point in time where at least considering a dress is reasonable. (if you're a non-dress person, another top and 2nd layer, along with accessories, makes good sense)
Is there still some room in your bag? If you're trying to pack a true "Six-Pack" wardrobe, this is your 6th garment…
I would absolutely look for a cardigan – especially one that could be worn without a 1st layer. It goes with the turtlenecks, it would be lovely with your silk blouse, and can of course go over your dress. Workhorse garment!
This wardrobe would be easy to carry about, and would get your appropriately dressed for all kinds of events: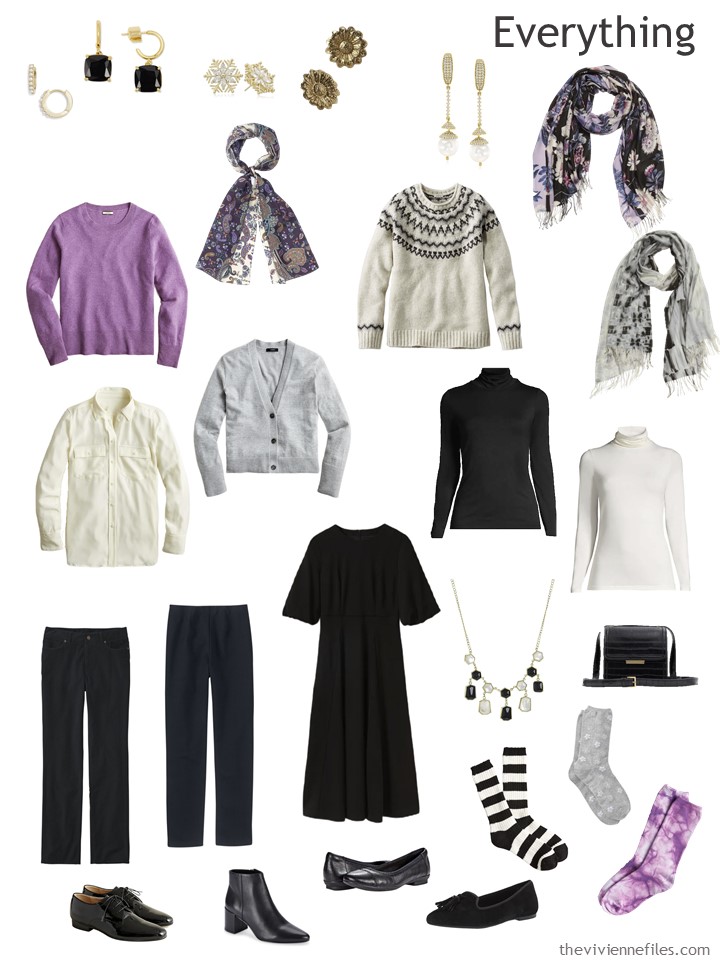 But just in case you're a bit nervous, walk through a handful of outfits in your mind. Being sure about your packing helps you put this kind of thing OUT of your mind…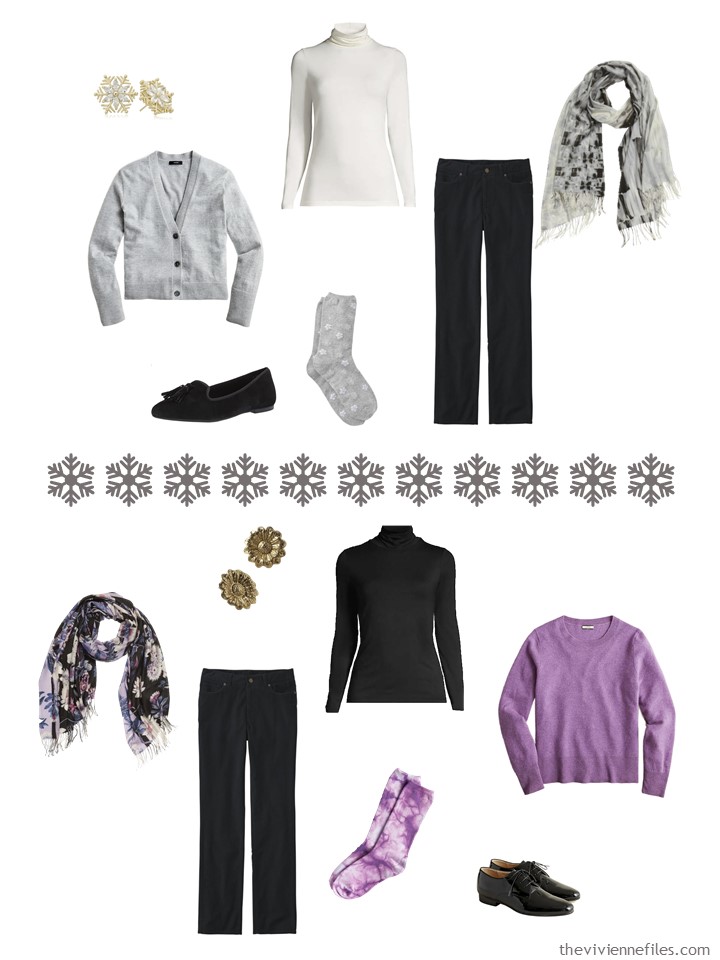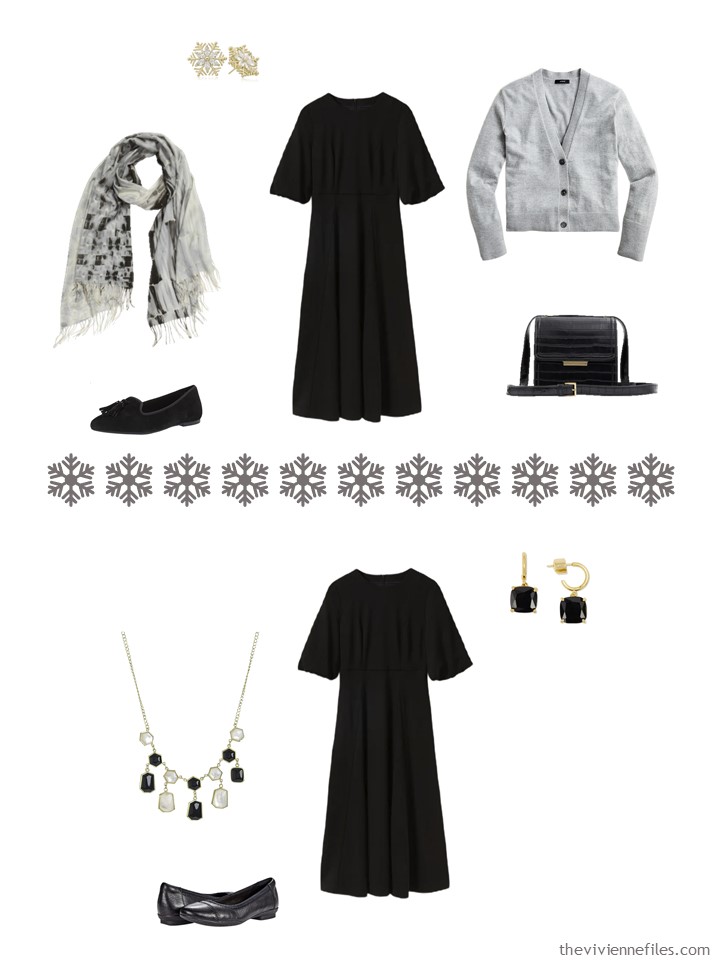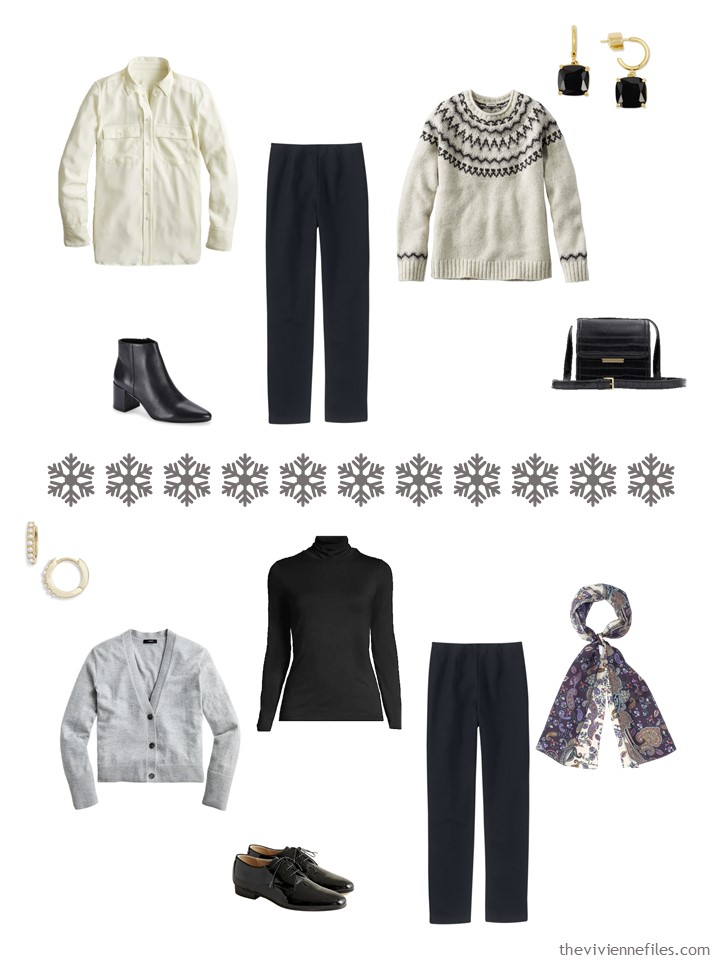 When I get dressed, I often ponder what I would pack if my outfit was going to be a travel outfit. This also helps me if the weather changes, or I spill something, and have to dash back into my closet for some change…
I think about packing pretty often!
love,
Janice
p.s. Six years ago, I was on my way to Paris. I have to share this post, because I wore the SAME star cardigan just yesterday!