December 10, 2015
I'm leaving today! Early this evening, in fact, which is a little bit irritating, because I don't get to Paris until 10 a.m. Sometimes this flight leaves much earlier, getting one to Paris in time for an early breakfast. Some day, I will understand why the airlines change things so often…But no matter! I'm going, and I'm going to have a wonderful time. If you want to keep up with my running around, please follow me on Instagram. (it's that little camera-ish thingy in the right margin area) I plan to post something there at least hourly when I'm awake, so everybody will know that I'm okay…
Differently? My primary plan originally was that I was going to be pretty informal – jeans and nice athletic shoes, and rather low-profile. Since I want to be an observer on this trip, I wanted to take the focus off of myself as much as possible, at least in my own mind, by wearing simple basics. That works well with the changed circumstances of the city; I think being conspicuous might be questionably intelligent, and I don't think it's ever in really good taste…
Otherwise, I intend, when I leave the hotel each morning, to be sufficiently self-contained that I could end the day in a different hotel, or a different city, depending on how things work out.
I hadn't wanted to carry a handbag, this trip. I will have a coat on all the time, and I thought that I would just carry my wallet and my phone in my pockets – easy peasy. But I want to be more independent of my hotel, if circumstances require, so my crossbody bag is going along…
Let me explain a little bit. I'm staying near a pretty major Paris monument – the kind of place that could be subject to security alarms. It isn't beyond the realm of possibility that I could turn a corner going back to my hotel to be greeted with the news that the area has been cordoned off for an indefinite period of time. Not likely, but not impossible.
So? I carry my prescriptions with me at all times, rather than leave them in my room. I keep my ID on my person, as well as a reasonable amount of cash, and credit cards. Maybe my toothbrush, too.
And staying in touch with people at home is essential, so in addition to my phone, I'm going to carry an Anker backup battery, and a charger cord with adapter. The Anker will recharge my phone twice, so I should have no issues with a dead phone, leaving people at home wondering about my well-being.
I'm NOT taking a rolling bag – I'm taking my Standard Bag, which converts from suitcase to shoulder bag to backpack. I'm going backpack style, again, in case I have to walk long distances. This could be caused by closed subway stations, bad weather that makes street tough to drive – lots of reasons. I will be prepared!
Specifics?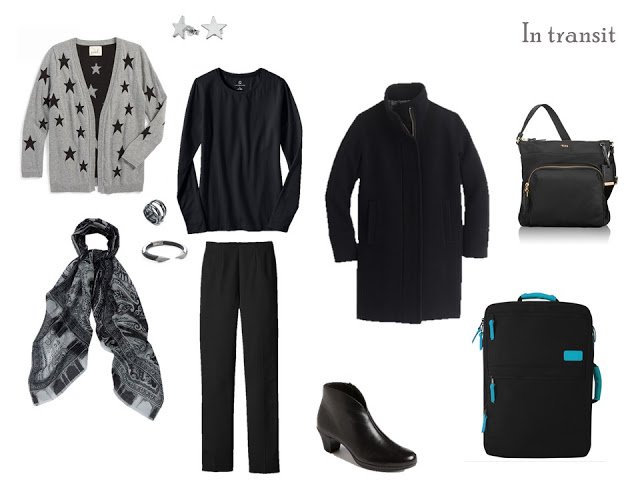 I'm packing rather more clothing than I strictly need for 4 days, but I'm trying to accommodate the possibility of getting bumped from a flight and staying an extra day, or for varying weather conditions.
This is really quite a lot – I could be stuck for a few days and still be in very good shape, clothing-wise…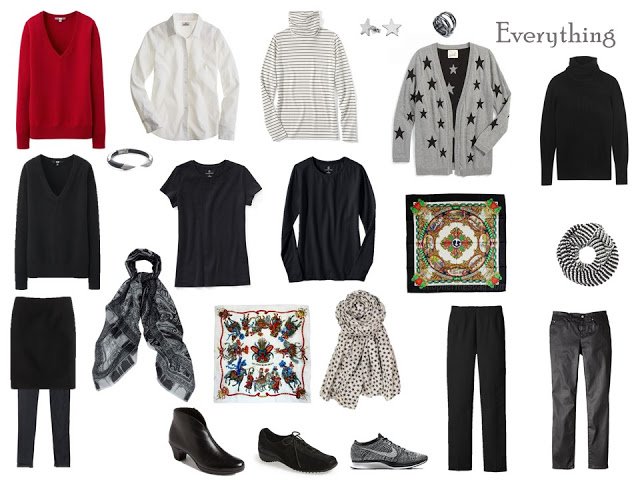 The scheme for packing was built around the 2 v-neck sweaters (I don't remember why…)
This is the "dressier" of the 2 clusters – if I get to see Tish, from A Femme, I will DEFINITELY be dressing from this side of the bag!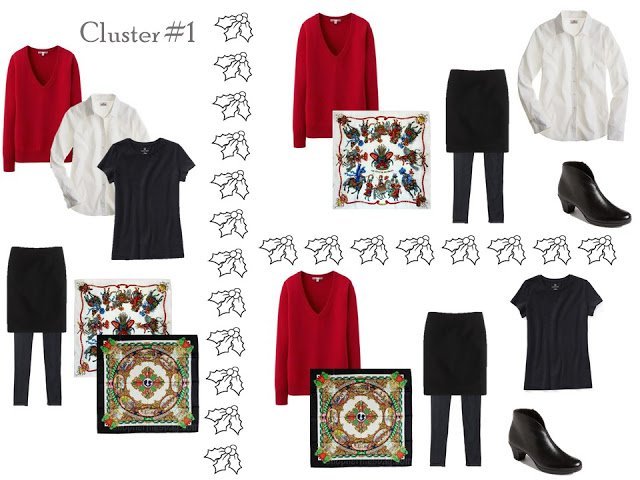 This is the more casual cluster. Of course, the white shirt and black tee shirt from above could wander into this grouping easily!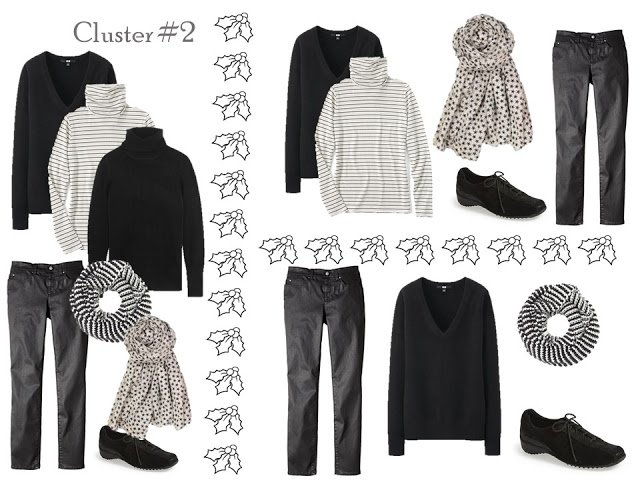 The black turtleneck is a fall-back garment in case of an extra day, or unexpected cold, or just a desire to change up something for dinner. And the Nikes are for sore feet, or just a change from the black shoes. They are feather-light, and insanely comfortable!
These are a few items that are going to be living in my handbag, and which I consider pretty important for this trip. The Buff gizmo is particularly interesting – it's essentially just a seamless cylinder of knit fabric, which can be worn as a headband, hat, face covering, or who knows what. (don't say tube top). I think between changes in temperature, and the possibility that I will be out longer than expected, this is a smart little thing to tuck into a corner of my bag.
I have an idea for a few posts while I'm away, so definitely look here tomorrow to see if I got sufficiently organized to write something useful for you.
much love,
Janice